Today's Contents – Click to Read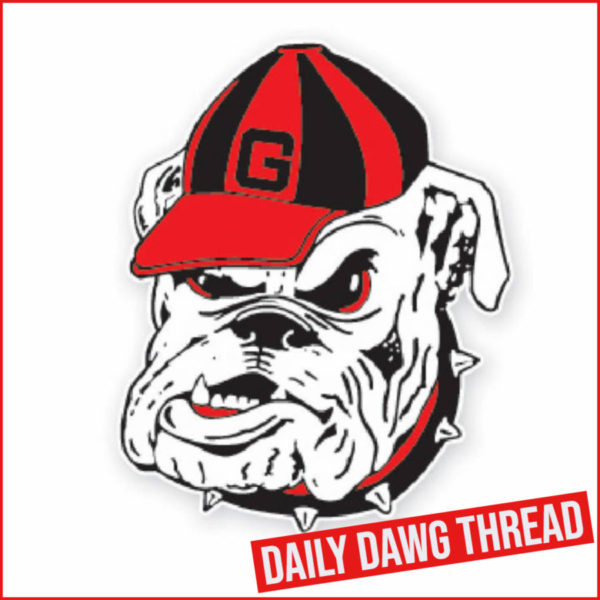 ---
BASEBALL: Dawgs Claim South Carolina Series With Sunday Win
The 17th-ranked Georgia Bulldogs claimed an SEC road series with a 13-9 victory over South Carolina Sunday at Founders Park in front of a crowd of 6,024.
Georgia (24-8, 8-4 SEC) jumped ahead 5-0 in the first, sending eight Bulldogs to the plate. With one out, Georgia collected four straight singles with Connor Tate and Parks Harber driving in runs for a 2-0 lead. Then, senior Chaney Rogers smashed a three-run home run to cap the scoring off freshman right-hander Aidan Hunter. In the fourth, the Bulldogs sent nine men to the plate and extended their lead to 8-0. Georgia scored three runs on one hit, an RB-double by Acton, plus a bases-loaded walk to Parks Harber and a wild pitch by Brett Thomas.
Sophomore left-hander Liam Sullivan returned to the rotation on a pitch count, pitching for the first time since March 13 when he tossed five scoreless frames in a win over Lipscomb. He had been out resting a sore arm. Sullivan pitched three scoreless frames before leaving with two on and nobody out in the fourth, throwing 48 pitches. Freshman Chandler Marsh came on and USC scratched for a run on one hit. However, the Gamecocks left two men in scoring position as Marsh struck out a pair, hitting 95 miles per hour three times to keep Georgia in front 8-1.
USC (15-16, 4-8 SEC) pushed across three runs on three hits in the fifth to close the gap to 8-4. Georgia answered in the top of the sixth, scoring four runs on three hits to extend its lead back up to eight at 12-4. Josh McAllister and Chaney Rogers delivered two-run singles to highlight the outburst. It gave Rogers a career-high five RBI on the afternoon. The Gamecocks responded in their half of the sixth, scoring four runs to chase Jaden Woods as the Bulldogs turned to closer Jack Gowen with the Bulldogs holding a 12-8 lead.
In the top of the seventh, Corey Collins crushed his team-leading eighth home run, a solo shot off Cade Austin to make it 13-8. Gowen, who was making his second appearance in the series and third of the week, finished the game, tossing 3.2 innings with six strikeouts for his fifth save. The only run he allowed this week was a solo home run with one out in the ninth Sunday.
"Jack was great, he was great on Tuesday at Clemson, here on Friday and again today" said Georgia's Ike Cousins head baseball coach Scott Stricklin. "He got 11 outs today starting with a double play and never really let them get comfortable. Bottom line, he really competed well. He was the MVP from this weekend. Nolan Crisp, Chaney Rogers, Parks Harber, they all came up big this weekend in winning a road series. Jack really picked our staff up.
"Chaney and Parks were locked in all day and had the big hits," Stricklin added. "It makes our lineup dangerous when everybody is going. It was a big boost to get Liam (Sullivan) back. If you would've told me that we'd be 8-4 in the SEC at this point without Dylan Ross, Will Childers, Liam Sullivan and Jonathan Cannon, no way would I have believed you. I'm really proud of this team and how they've battled."
The Bulldogs are now 17-7 against USC in the Stricklin era including winning seven of eight series.
Georgia concludes a five-game road swing Tuesday against Kennesaw State (20-9). First pitch is set for 7 p.m., and the game will be available on ESPN+ as well as the Georgia Bulldog Sports Network.
Today's Contents – Click to Read
---
WTENNIS: Dawgs Beat Vandy 4-3 in "Tough Match"
The 11th-ranked University of Georgia women's tennis team defeated the 39th-ranked Vanderbilt Commodores 4-3 Sunday afternoon, in Southeastern Conference action.
"It was a tough match," said Georgia head coach Jeff Wallace. "Hats off to Vanderbilt, they came in and played a great match… I was really excited about the crowd today. They came out and supported these seniors. The pre-match celebration for Alee and Morgan was great. They have both had great careers here at Georgia. Overall, I was really happy that they could get a win today."
In doubles, Georgia (15-3, 10-1 SEC) took two of three from Vanderbilt (12-8, 4-7 SEC). After falling behind 1-4, graduate Meg Kowalski and freshman Mell Reasco won five-straight games to take the 6-4 win over Anessa Lee and Marcella Cruz. On court one, No. 16 Ania Hertel and Morgan Coppoc fell to No. 76 Anna Ross and Holly Staff 7-5. With the doubles point on the line, the freshmen duo of Mai Nirundorn and Dasha Vidmanova defeated Dasha Kourkina and MaryAnn Rompf 7-6(4) to give the Bulldogs a 1-0 lead heading into singles play.
In singles play, Georgia earned wins from No. 29 Lea Ma, No. 122 Hertel and Coppoc. After Vidmanova fell by retirement to No. 78 Anessa Lee, Ma grabbed the first singles point of the day for the Bulldogs with a 6-4, 6-4 win over No. 46 Anna Ross. She was quickly followed by Coppoc who earned a 6-1, 6-2 straight-set win over Marcella Cruz, on senior day. Hertel clinched the win for the UGA, defeating Amy Stevens 6-2, 6-4.
While playing the match out, No. 83 Kowalski fell to Dasha Kourkina 6-3, 7-5, while Reasco lost a heartbreaker in a super tiebreaker 6-7 (5-7), 6-3, 10-8 to Holly Staff.
Next up, the Bulldogs travel to Tuscaloosa, Alabama on Friday, April 15 to take on the Alabama Crimson Tide at 6 p.m. and to Auburn, Alabama to face the Auburn Tiger on Sunday, April 17 at 1 p.m.
Today's Contents – Click to Read
---
MTENNIS: Georgia Falls 5-2 to Kentucky
The tenth-ranked Georgia men's tennis program fell to the the12th-ranked Kentucky Wildcats, 5-2 on Sunday at the Hilary J. Boone Tennis Center in Lexington, Kentucky.
The Bulldogs battled in a tight competition for the doubles point at the start of the match. However, Kentucky got the best of Georgia on courts two and three to go ahead 1-0 by taking the doubles point.
Liam Draxl and JJ Mercer defeated No.90-ranked doubles duo Blake Croyder and Erik Grevelius 6-2. Gabriel Diallo and Joshua Lapadat got the best of No.14-ranked Trent Bryde and Philip Henning in a 6-4 decision. The No.40-ranked pair of Tristan McCormick and Hamish Stewart left their match unfished against Millen Hurrion and Francois Musitelli, 4-4.
Turning to the singles competition, Georgia continued to fight with Miguel Perez Peña going up 4-0 over Mercer early in the first set. Perez Peña and three other Bulldogs, Stewart, Henning and McCormick went on to win their first sets.
Kentucky went up 2-0 after No.95-ranked Francois Musitelli defeated No.97-ranked Bryde in straight sets, 6-2, 6-2. The Wildcats extended their lead to 3-0 after Croyder fell to No.84-ranked Lapadat 3-6, 2-6.
Henning picked up a Top-20 ranked singles win to put the Bulldogs on the board. The South African native and No.64-ranked singles player defeated No.16-ranked Diallo, 6-4, 6-2. Henning extended his singles match win streak to three and improves to 20-10 overall, 11-7 in the dual season and 6-2 against conference opponents.
After a three-set dogfight on No.1, No.11-ranked Stewart fell to No.30-ranked 6-4, 3-6, 2-6. With that win Kentucky had clinched the match 4-1, but the final two matches were played out.
Perez Peña took the win at No.6 with a 6-4, 3-6, 6-3 win over Mercer. Kentucky's Hurrion got the best of No.56-ranked McCormick in a 6-7(3-7), 6-4, 6-3 decision for a final score of 5-2 in favor of the Wildcats.
The Georgia men's tennis program will finally return home for their last two matches of the regular season facing No.29 Auburn on Friday, April 15 at 5 p.m. ET and Alabama on Sunday, April 17 at 1 p.m. ET. Georgia will then host the 2022 SEC Tournament at the Dan Magill Tennis Complex the following week from April 20 through 24. Tickets for the tournament are available to purchase on georgiadogs.com.
Today's Contents – Click to Read
---
Jump To Comments