Today's Contents – Click to Read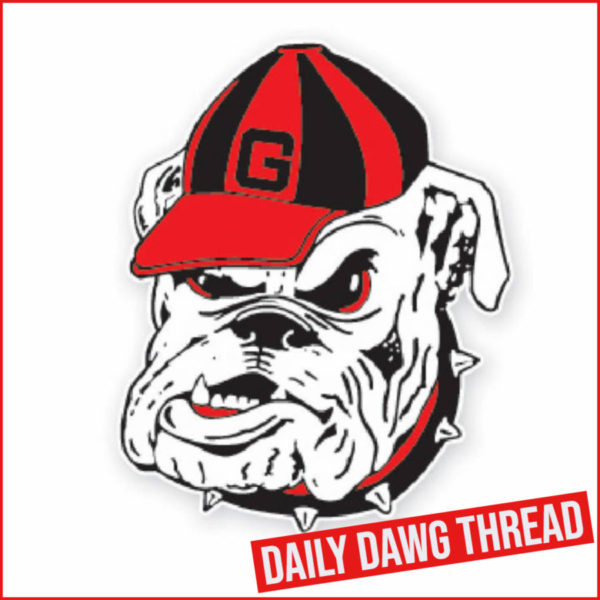 ---
BASEBALL: UGA Ends Road Swing at Kennesaw State Tonight
The Georgia Bulldogs finish a five-game road swing Tuesday against Kennesaw State. First pitch will be at 7 p.m., and the game will be available on ESPN+ and the Georgia Bulldog Sports Network.
Georgia (24-8, 8-4 SEC) is ranked as high as No. 10 this week. The Bulldogs are No. 10 in the USA TODAY Sports Top 25 Coaches poll, No. 12 in Baseball America and No. 13 in D1Baseball.com and Collegiate Baseball. The Owls, fresh off a road sweep at Stetson, are 21-9 and receiving votes in the top 25 polls but are not ranked.
Georgia, under the direction of Ike Cousins head baseball coach Scott Stricklin, is batting .292 with 38 home runs while posting a 4.90 ERA and a .976 fielding percentage. This past weekend, the Bulldogs won a road series against South Carolina despite not having ace RHP Jonathan Cannon. The Owls are batting .304 with 26 home runs while posting a 4.71 ERA and a .966 fielding percentage under first-year coach Ryan Coe. The Georgia-KSU series began in 2006, and the Bulldogs lead 18-11. The teams split a two-game set last year with each team winning at home.
Graduate LF Connor Tate (.356-4-27) leads the Bulldogs in batting and ranks among the conference leaders with a .395 average in SEC games. Graduate CF and co-captain Ben Anderson (.333-6-20, .467 OB%) has reached base safely in 30 consecutive games. Sophomore C/DH Corey Collins (.306-8-26) leads the team with eight home runs while Anderson and sophomore 1B/3B Parks Harber are next with six apiece. Last season, Collins hit eight, Harber had three while Anderson had seven for his career entering this year. Harber batted .500 (8-for-16) in four games last week with two home runs and six RBI plus four runs scored. Meanwhile on the mound, senior closer and co-captain Jack Gowen (1-0, 1.89 ERA, 5 SV) picked up a pair of saves in helping Georgia win the series at South Carolina. Overall last week, he made three appearances for a total of 5.2 innings, allowing one run on three hits with no walks and 10 strikeouts. In SEC action, he is 1-0 with a 2.00 ERA and three saves in five appearances.
On Deck: On Thursday, Georgia resumes SEC play with a home series against Texas A&M (19-12, 6-6 SEC). Game times at Foley Field are 6 pm on Thursday and 6 p.m. on Friday with Saturday's contest at 4 p.m. The Aggies are coming off an SEC home series win over Kentucky. Georgia did not face Texas A&M until the Aggies joined the SEC in 2013. Texas A&M holds an 11-6 edge in the series including winning a series in College Station last year 2-1. Georgia took the series 2-1 in 2018 when the Aggies made their last visit to Foley Field. Texas A&M faces Texas A&M-CC on Tuesday before coming to Athens.
Tuesday's Probable Pitching Matchup: UGA vs. KSU
G33 Coleman Willis (1-0, 6.35 ERA, RHP, Fr.) vs. Mackenzie Stills (1-0, 5.11 ERA, RHP, Fr.)
Georgia Baseball Radio/TV Streaming Links
Georgia Bulldog Sports Network (Announcers: David Johnston & Jeff Dantzler)
Tuesday Pregame Radio Show at 6:40 pm ET: https://georgiadogs.com/watch/?Live=4164&type=Live
ESPN+ Link: https://www.espn.com/watch/player/_/id/6978941a-e5fb-4b36-967a-3b14d5a6afae
Today's Contents – Click to Read
---
WBB: Isoken Uzamere Named Assistant Coach for Georgia Basketball
Isoken Uzamere (pronounced E-suh-ken ooh-ZAH-mer-ay) has been named an assistant coach for Georgia Lady Bulldog basketball, Katie Abrahamson-Henderson announced Tuesday.
Uzamere will work with the post players and assist with recruiting and scouting.
"Coach "EAS" has all the values you look for when it comes to knowledge of the game, skill development and recruiting," Coach "ABE" said. "The way she connects with players, recruits and their parents make her one of the best in the business. She has developed first-team All Conference and Player of the Year talent. I have no doubt she will continue to do that with our current post players here at Georgia. As I've said many times, the number one reason I coach is to empower young women. Coach "EAS" embodies just that — she is a tremendous person who will be an outstanding example for our team."
Uzamere spent four seasons at Albany from 2012-16, before joining the Knights prior to the 2016-17 campaign. This past year at UCF, she helped Brittney Smith develop into one of the top forwards in the league as she earned AAC Sixth Player of the Year honors as a two-time All-Conference selection. Forward Masseny Kaba also garnered All-AAC accolades.
Under her guidance, Nyala Shuler finished her career ranked fourth in school history with 837 rebounds and finished in UCF's career top-10 in blocks.
Uzamere was part of a staff that led UCF to five postseason appearances, three NCAA bids and the 2022 American Athletic Conference regular season and conference titles. The Knights earned their first NCAA tournament appearance, first NCAA win and highest-ever seeding.
At Albany, Uzamere was a graduate assistant from 2012-14 and served as an assistant coach from 2014-16. During her time there, the team won four America East titles with four NCAA Tournament berths, which included the team's first-ever NCAA Tournament win in 2016 against No. 5 seed Florida.
In addition to her on-court coaching duties, she had many roles during her time at Albany. She worked with the post players, oversaw managers and student assistants, was the strength and conditioning and nutrition liaison and assisted with scouting.
In 2016, her post players accumulated numerous accolades. She helped guide forward Shereesha Richards to recognition as a two-time Associated Press Honorable Mention All-American. Richards picked up her third-straight America East Player of the Year award in 2016 and was also named to the America East All-Conference First Team and All-Defensive Team. Forward/Center Tiana-Jo Carter was the conference's selection for Sixth Player of the Year.
Uzamere played forward for Hofstra and was a two-time Colonial Athletic Association All-Academic player in her junior and senior seasons. She served as the head coach of the Long Island Knights AAU Program in 2012 and was a counselor and coach at Game 7 Sports.
Today's Contents – Click to Read
---
Jump To Comments