Jump To Top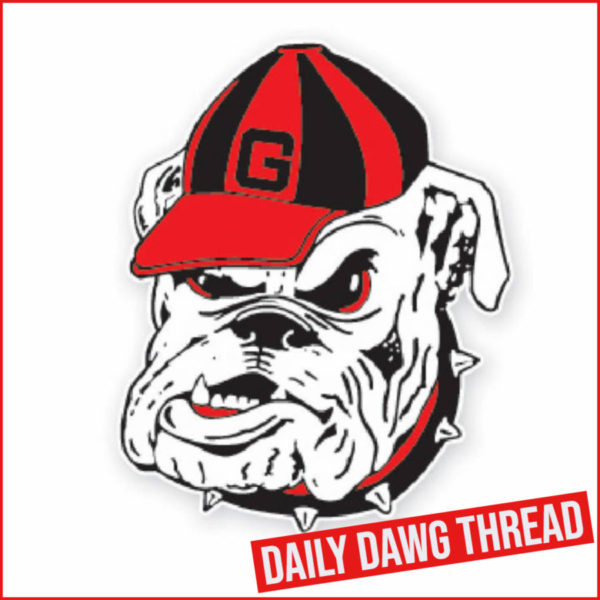 Baseball: Dawgs stun Florida 13-11
Charlie Condon hit three home runs Friday while Connor Tate's grand slam was part of a seven-run ninth as the Bulldogs stunned second-ranked Florida 13-11 in front of a crowd of 6,994 at Condron Ballpark.
The Bulldogs (19-15, 4-9 SEC) grabbed a 3-0 lead in the third highlighted by a two-run home run by Condon, his team-leading 14th of the year, and this one on his 20th birthday. The blast to left extended his on base streak to 33 games. Georgia's first run scored on a sacrifice bunt by Ben Anderson.
The Gators (29-6, 10-3 SEC) responded immediately in the bottom of the inning, on a leadoff walk, a single and sacrifice fly by Josh Rivera. After a hit-by-pitch and a walk loaded the bases, freshman Cade Kurland smashed a grand slam, his 10th home of the season to put Florida in front 5-3.
Condon pulled Georgia to within one with a solo shot to lead off the sixth. It marked the third time this year he has hit a pair of home runs in a road game, also doing it against No. 16 Georgia Tech and Georgia Southern. In the sixth, Luke Heyman's grand slam capped a five-run outburst off the Georgia bullpen to give the Gators a 10-4 advantage. However, Florida's top relievers, Philip Abner and closer Brandon Neely, combined to allow nine runs (seven earned) on nine hits in 1.1 innings.
Condon tied a school record with his third home run in the eighth, a mammoth two-run blast that traveled 446 feet over the centerfield wall to give him a team-high 16 on the year. It trimmed Florida's lead to 10-6. Condon is the 10th Bulldog in school history to hit three home runs in a game and the second to do it this year. Like Condon, graduate Connor Tate did it in three straight at bats against Charleston Southern on March 11.
Tate tied the contest with a grand slam off Neely with one out in the ninth. It was his third career grand slam including second this year. Florida then intentionally walked Condon to bring up Collins. He would reach on a fielder's choice, and Parks Harber gave Georgia an 11-10 lead with a ground-rule double to centerfield. Cole Wagner's RBI-single and a sacrifice fly by Fernando Gonzalez capped the seven-run rally as Georgia sent 12 to the plate. Coming in Georgia was 0-9 when trailing after eight while Neely had seven saves in 15 appearances and with a 2.96 ERA.
"The guys have been working hard, and we've lost some really tough ones late so we deserved something to go our way," said Georgia's Ike Cousins head baseball coach Scott Stricklin. "This is how you turn your season around right there. What we did on Sunday, winning a series against the No. 1 RPI team in 10th-ranked Kentucky, and now we've won three in a row in the conference. You can't say what if or what about what happened before because you can't change it. That was a great win for us and hopefully that can propel us to winning a series. You want to win every game but you're trying to win a series on the road. We'll get after it tomorrow and try to clinch this series."
The series will continue Saturday with first pitch at 7:02 pm on the SEC Network and available on the Georgia Bulldog Sports Network. Junior left-hander Charlie Goldstein (1-1, 6.55 ERA) will get the start for the Bulldogs.
---
Softball: Florida takes game one of series -13-4
The 12th-ranked University of Georgia softball team dropped a six-inning 13-4 decision to the No. 15 Florida Gators Friday night at Katie Seashole Pressly Stadium.
Georgia moves to 32-9 on the season and 11-4 in SEC play.
Georgia tallied seven hits, each coming from a different Bulldog. The Bulldogs recorded three doubles off the bats of junior Jayda Kearney, senior Jaiden Fields and sophomore Lyndi Rae Davis.
Florida took an early lead with a solo homerun by Skylar Wallace in the first.
The Gators added three runs in the second to lead 4-0 off an RBI ground out and a two-run homer.
Graduate Shelby Walters threw two innings and allowed four runs to start. Sophomore Kylie Macy came in to relieve Walters in the third, allowing four runs with three strikeouts. Junior Madison Kerpics was called in the fifth to close for the Bulldogs. Kerpics tossed one inning allowing five runs with three walks.
Two more runs from Florida gave the Gators a 6-0 lead in the fourth.
Georgia rallied in the fifth with four runs fueled by three consecutive doubles. With two Bulldogs on base, Kearney sent a double to left center to score senior Sara Mosely and junior Ellie Armistead. Fields stepped into the box next and blasted a double to right center as Kearney reached home. Davis then came to the plate and blasted her own one-run double up the middle to score Hayley Eaton, in to pinch run for Fields.
The Gators responded in the bottom of the frame with two runs to maintain their lead, 8-4.
A Florida two-run single gave the Gators a six-run lead in the sixth, 10-4.
Florida closed the game with a sixth inning walkoff three-run home run to claim game one of the series, 13-4.
The Bulldogs and the Gators will be back in action on Saturday at 2 p.m. in Gainesville, Fla. The game will be aired on SEC Network+.
---
G-Day: Lettermen's Game info with roster
The University of Georgia will hold its annual lettermen's flag football game prior to the G-Day spring game on Saturday, April 15 at Dooley Field at Sanford Stadium. More than 40 Georgia football letterwinners from six different decades are expected to participate in the game, which begins at 1:15 p.m., prior to the G-Day kickoff at 4 p.m.
Jeffrey Thomas, who lettered at wide receiver from 1991-94, will coach the Black Team, while Calvin Ruff, who lettered at defensive line from 1982-86, will coach the Red Team. Three-year letterman Bobby Poss (1969-71) and 1971 letterman Johnny Cobb will serve as the public address announcers during the game.
Other prominent Bulldog alums expected to participate include linebacker and 2006 co-captain Tony Taylor (2002-06), running back Richard Samuel (2008-11), wide receiver Tyson Browning (2003-05), kicker Hap Hines (1996-99) and defensive end Marcus Washington (2005-09), whose son, Marcus, Jr., is a redshirt freshman defensive back.
2023 Lettermen's Game Roster
Announcers
Poss, Bobby 1969-71
Cobb, Johnny 1971
Black Team
Thomas, Jeff (Coach) 1991-94
Beall, Jeremiah 1997
Browning, Tyson 2003-05
Brunson, Billy 2006-09
Brown, Chris 2005
Daniels, Juan 1993-96
David, Drew 1991-94
Hawk, Jacob 2008-09
Hines, Hap 1996-99
Jackson, Alfonza (AJ) 1989-92
McKever, Deshay 1992-95
Mitchell, LaBrone 1999-01
Osborne, John 1993
Parker, Thad 1997-99
Shaw, Chris 2001-03
Storm, Matt 1993-94
Taylor, Tony 2002-03, 05-06
Teasley, Joe 1995
Ullrich, Andy 1975
Ware, Clay 1989-91
Wilson, Ben 2007
Red Team
Ruff, Calvin (Coach) 1982-86
Bailey, Derrick 1991
Braue, Stephen 2009
Croffie, Patrick 2003
Douglas, Demetrius 1986-89
Freeman, David 1966-67
Geiger, Adam 1985
Jackson, Kevin "Catfish" 1980-82
Jennings, John 1968-71
Massey, Jim 1970
Moody, Steve 1974-76
Samuel, Richard 2008-11
Shaw, Chris 2001-03
Simmons, Dwayne 1990-91
Swoopes, Ronnie 1974-77
Towns, Kenneth 2012-16
Underwood, Ridge 2014-16
Van Tiflin, Steven 2018
Washington, Marcus 2005-09
Wheeler, Todd 1985-88
Zimmerman, Greg 1985
---
WTennis: UGA Sweeps Mississippi State – 4-0
The fourth-ranked University of Georgia women's tennis team swept Mississippi State 4-0 on Friday evening at the A.J. Pitts Tennis Center in Southeastern Conference action.
In doubles, Georgia (18-4, 11-1 SEC) swept Mississippi State (10-13, 0-12 SEC). In their dual season debut, the sophomore tandem of Mell Reasco and Dasha Vidmanova dominated court one. The roommates gave Georgia its first win of the day, topping Emmanouela Antonaki and Dhahran Niroshan 6-2. Georgia clinched the doubles point on court three, where Ania Hertel and Anastasiia Lopata cruised to a 6-2 win over Sydney Hrehor and Gia Cohen.
In singles play, Georgia won three matches. No. 66 Reasco dominated Dhahran Niroshan 6-1, 6-1 to give the Bulldogs a 2-0 lead in the match, while No. 3 Lea Ma and Guillermina Grant clinched the match simultaneously. Ma defeated No. 95 Emmanouela Antonaki in straight sets 6-3, 6-3, while Grant topped Maria Rizzolo 6-1, 6-4.
Up next, Georgia wraps up the regular season against Ole Miss on Sunday, April 16 in Oxford, Mississippi. First serve is set for 1 p.m.
Results
Doubles Results
1. Mell Reasco/Dasha Vidmanova (UGA) def. Emma Antonaki/Dharani Niroshan (MS) 6-2
2. Maddie Bemisderfer/Gia Cohen (MS) vs. #38 Guillermina Grant/Mai Nirundorn (UGA) 4-3, unfinished
3. Ania Hertel/Anastasiia Lopata (UGA) def. Sydney Hrehor/Alexandra Mikhailuk (MS) 6-2
Singles Results
1. #3 Lea Ma (UGA) def. Emma Antonaki (MS) 6-3, 6-3
2. Gia Cohen (MS) vs. #5 Dasha Vidmanova (UGA) 4-6, 4-2, unfinished
3. #66 Mell Reasco (UGA) def. Dharani Niroshan (MS) 6-1, 6-1
4. Alexandra Mikhailuk (MS) vs. #68 Anastasiia Lopata (UGA) 3-6, 4-4, unfinished
5. Guillermina Grant (UGA) def. Maria Rizzolo (MS) 6-1, 6-4
6. Emily Surcey (MS) vs. Mai Nirundorn (UGA) 4-6, 1-3, unfinished
---
MGolf: Dawgs host the Classic City One Day
Date: April 16, 2023
Time: All Day
Location: Athens, Georgia
Course: University of Georgia Golf Course
Season Stats: https://link.edgepilot.com/s/e759eed0/MmSC-IdlUESmfMy6vprHPQ?u=https://gado.gs/9z6
Live Stats: https://link.edgepilot.com/s/ab9bf602/zBtMDc3XXkejcn7YGvk-Jw?u=https://gado.gs/afj
THE FIELD
Francis Marion, Georgia and Mercer.
THE LINEUP
Seniors Connor Creasy and Ben van Wyk, junior Caleb Manuel, sophomores Buck Brumlow and Maxwell Ford and freshman Carter Loflin. Playing as individuals: Graduate Michael Shears, senior Nic Cassidy and sophomores JT Herman and Blake Parkman.
THE COURSE
University of Georgia Golf Course (Par 71, 7,178 yards).
THE SCHEDULE
Saturday (April 15): Practice round
Sunday (April 16): 36 holes
THE LAST TIME
The Bulldogs came in fifth at the Calusa Cup on April 4.
ON DECK
After the Classic City One Day, the Bulldogs will travel to St. Simons Island, Georgia for the 2023 SEC Championships on Apr. 19-23.
DAWG IN THE POLLS
Bushnell/Golfweek Coaches: RV
Golfweek/Sagarin: 23
Golfstat: 31
Two Bulldogs are ranked in the PGA Tour University Rankings: No. 48 Nic Cassidy and No. 80 Michel Shears.
---
Photos: Uga X – DGD
Watch a fullscreen slideshow
HERE.
Uga IX officially retired as the Bulldogs' mascot at the end of the 2014 season. After a three-month "audition" in that role, his grandson "Que" was formally crowned as his successor in a collaring ceremony prior to the Georgia- Georgia Southern game on Nov. 21, 2015. During his audition, he made appearances at the Countdown to Kickoff event in July 2015, as well as Picture Day in August, before presiding over the entirety of the 2015 football season. Que capped his inaugural season by leading the team to a 24-17 victory over Penn State at the 2016 Taxslayer Bowl.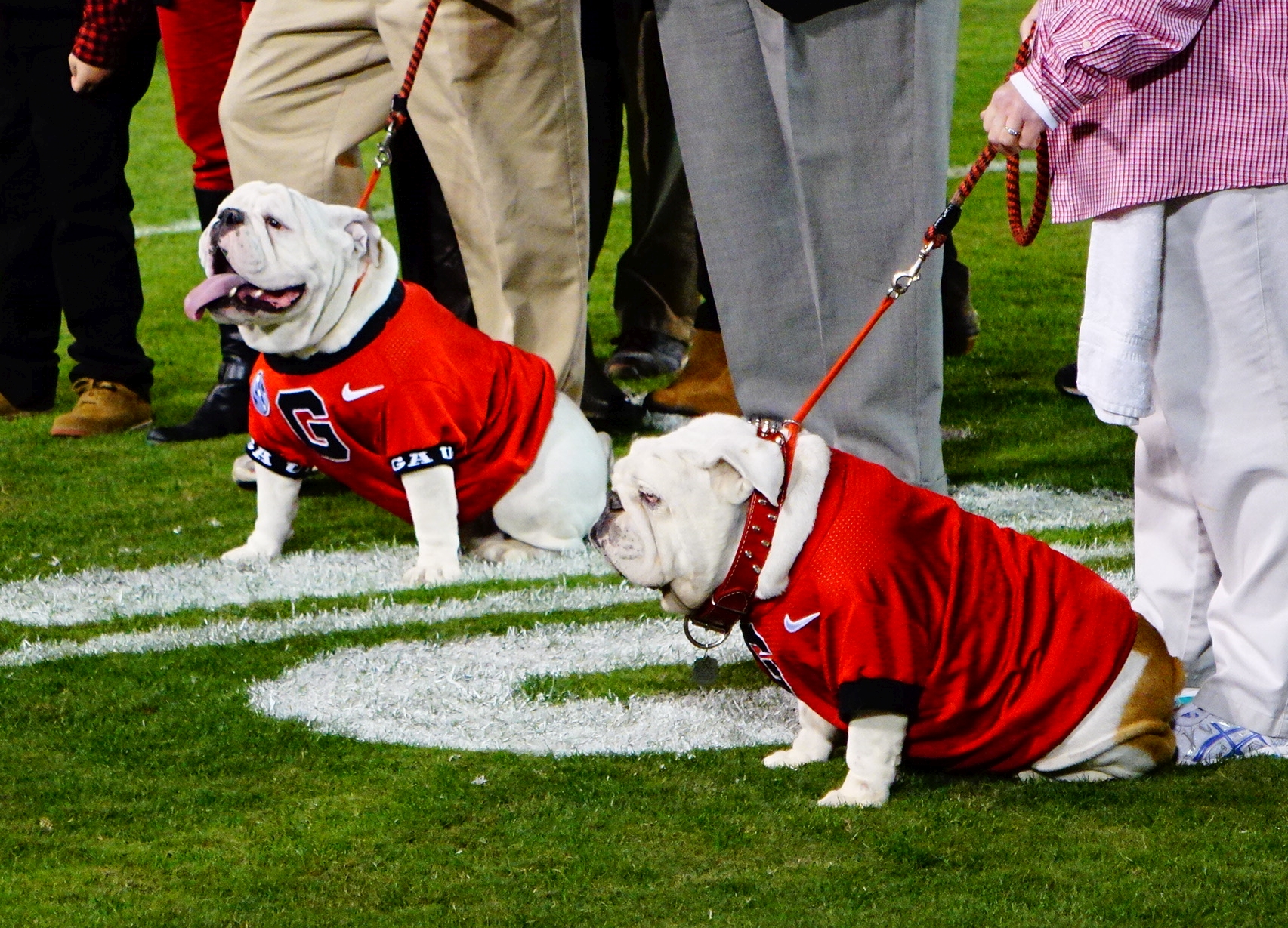 Que was two and half years old when he began his reign as Georgia's beloved mascot in 2015. He compiled an impressive 91-18 record, which included back-to-back College Football Playoff National Championships, two SEC titles and victories in the Rose, Sugar, Orange and Peach bowls.
Uga X joined "Seiler's Uga Three" as the only two Bulldogs in Georgia history to win a national championship and passed Uga VI, who reigned from 1999-2008, as the winningest Bulldog in Georgia lore.
---
Jump To Comments