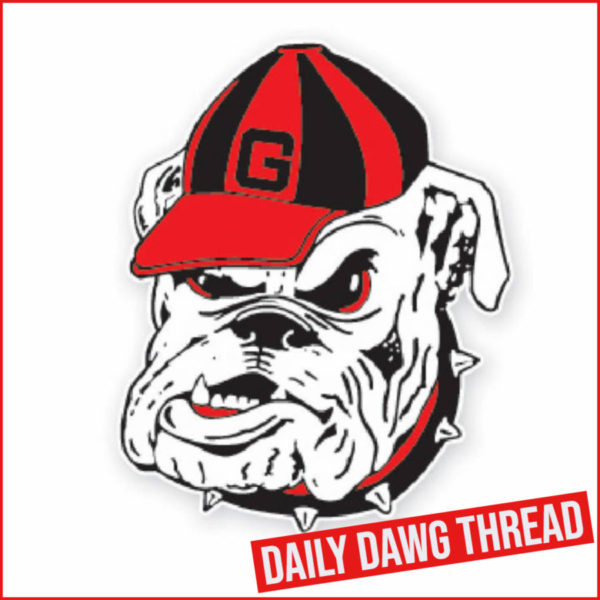 ---
BASEBALL: Dawgs Even A&M Series, Final Game Today
Watch a fullscreen slideshow
HERE.
The 12th-ranked Georgia Bulldogs defeated Texas A&M 4-3 in front of 3,391 spectators at Foley Field, evening the SEC series at 1-1.
Georgia (26-9, 9-5 SEC) built an early 4-0 lead and then the bullpen trio of Chandler Marsh, Jaden Woods and Jack Gowen preserved the victory over the Aggies (21-13, 7-7 SEC).
"You have to get that last out because there's no clock like in basketball or football," said Georgia's Ike Cousins head baseball coach Scott Stricklin. "Luke (Wagner) gave us a good start and then Chandler, Jaden and Jack all came in and did the job. It's great to have Jaden and Jack at the end."
Wagner provided four innings and allowed a run on five hits with five strikeouts before the Bulldogs looked to Marsh. He took care of the next 1.2 innings for the win to move his record to 2-0. Woods fanned five over 2.2 hitless frames while Gowen secured the final two outs for his sixth save. The Bulldog bullpen is 10-for-10 in save opportunities this season.
Offensively, Georgia was led at the plate by graduate Connor Tate (3-for-4, RBI) while Ben Anderson, Parks Harber and Fernando Gonzales all collected an RBI. Anderson's sacrifice fly in the second made it 1-0 while the Bulldogs added three runs on five hits in the third off Aggie freshman Chris Cortez (4-2). He was lifted after two innings and then the Aggies got five solid frames from Jacob Palisch who surrendered a run on six hits with five strikeouts. Texas A&M pushed across a run in the fourth, sixth and ninth.
After making it a 4-3 game in the ninth, the Aggies managed to put two on with two out before Gowen struck out Troy Claunch to end the contest.
The rubber game of the series will be Saturday at 4 p.m. (SECN+) and available on the Georgia Bulldog Sports Network.
---
SOFTBALL: Mizzou Evens Series, 6-2
No. 14/13 Georgia softball fell to the Missouri Tigers in game two of the weekend series Friday afternoon, 6-2, at the Mizzou Softball Stadium.
The two teams combined for seven home runs as all eight runs were scored via the long ball.
Georgia (34-9, 8-6) was limited to three hits in the game. Junior Sara Mosley and sophomore Jayda Kearney each provided a solo home run and freshman Lyndi Rae Davis contributed a two-out double in the seventh.
Senior Lauren Mathis (3-3) worked five innings in her start, allowing four runs on six hits. She fanned two Tigers and did not surrender a walk in her outing. Britton Rogers worked an inning out of the pen Friday.
Mosley put the Bulldogs ahead in the first inning with a two-out solo home run down the left field line, 1-0.
Missouri (25-16, 5-8) answered back in the bottom of the inning with a leadoff home run to tie the game at 1-1.
Kearney's 10th home run of the season put the Bulldogs back in front in the top of the second, 2-1.
The Tigers kept the trend going with a leadoff home run in the bottom of the inning to re-tie the game at 2-all.
The 2-2 tie stood for two and a half innings until back-to-back two-out home runs put the Tigers ahead 4-2 in the bottom of the fifth. A two-out pinch hit two-run home run in the bottom of the sixth added to the lead, 6-2.
Georgia attempted to mount a last-out comeback in the seventh on a two-out double from Davis and a pinch hit walk to Mackenzie Puckett, but the attempt fell short as Georgia fell 6-2.
The rubber game of the series is slated for 6 p.m., ET, Saturday evening in Columbia. The contest will air nationally on ESPN2.
---
MTENNIS: Freshman Provides Clincher in Win Over Auburn
With the match tied at 3-3, Georgia men's tennis freshman Miguel Perez Peña delivered the clincher at court six to give the Bulldogs a 4-3 victory against the No. 28-ranked Auburn Tigers on Friday at the Dan Magill Tennis Complex.
No. 11-ranked Georgia improves to 16-6 overall and 8-3 in the SEC. The Bulldogs host Alabama for Senior Day on Sunday at 1 p.m.
In doubles, Georgia went up by a 3-1 score at the second and third courts, but could not hang on for the win.
Following the Tigers' 6-2 victory at No. 1, Auburn's Maxwell Giddens and Josh Raab rallied for a 6-3 triumph at No. 3, reeling off wins in five-straight games to defeat Blake Croyder and Erik Grevelius.
With Auburn up 1-0, Georgia quickly turned the tide in singles thanks to dominating victories at the top two courts. Philip Henning rolled to a 6-0, 6-2 victory against Jan Galka, before Hamish Stewart ousted Tyler Stice, 6-3, 6-1. With Croyder's loss at No. 5, the match was tied at 2-2.
Knotted in a tight battle, the Bulldogs were up a set on four and six, but down on three.
McCormick came back from a first-set loss to force a third. The Berwyn, Pa., native was down early 2-1, but won a flurry of games to take the set and the match over Tad Maclean, 4-6, 6-3, 6-2.
Up 3-2, the contest came down to Bryde at court four and the freshman Perez Peña at the sixth spot. Bryde lost his contest to Raul Dobai, 6-7 (2), 6-3, 6-4. As the match approached its fourth hour, Perez Peña defeated Will Nolan, 6-3, 5-7, 7-5 to hand the Bulldogs another win.
---
Ben Anderson and Samantha Drop Nominated for SEC Award
Georgia student-athletes Ben Anderson and Samantha Drop have been nominated for the H. Boyd McWhorter Scholar-Athlete Post-Graduate Scholarship, according to an announcement Friday by the Southeastern Conference.

The H. Boyd McWhorter Scholar-Athlete Post-Graduate Scholarship has been presented by the conference since 1986 to the league's top male and female scholar-athletes. The league will name the 2022 recipients of the H. Boyd McWhorter Scholar-Athlete Post-Graduate Scholarship in early May.

Anderson, a native of LaGrange, has already earned a degree in biochemistry. He is working on a master's degree in comparative biomedical sciences while serving as the starting centerfielder for the 12th-ranked Georgia baseball team that is 25-9. A co-captain, he is batting .309 with six home runs, three doubles, three triples and 20 RBI in 32 starts this season. He has had a 31-game on base streak and twice led off games with home runs including to start the season. He owns a perfect fielding percentage in 230 total chances with six assists. In his career, Anderson has been named a preseason All-American, a CoSIDA Academic All-District selection, and made the SEC Academic Honor Roll and the Dean's List multiple times. Anderson spent the 2018 season at Furman where he earned Freshman All-America honors after batting .361 with seven triples, three home runs and 39 RBI. He became the first Paladin freshman to be named All-Southern Conference in 39 years.

Drop, a native of Durham, Conn., graduated Summa Cum Laude in Nutritional Sciences and was also a standout for both the Georgia women's track and field and cross country teams. She was named the 2020 SEC Cross Country Women's Scholar-Athlete of the Year, was a CoSIDA Academic All-District Team member and was also a USTFCCCA Academic Individual selection. She earned the 2020 Joel Eaves Scholar-Athlete Award for being the UGA female student-athlete with the highest GPA entering the fall semester of her senior year. Drop advanced to the 2017 NCAA Championships with her twin sister and teammate Jessica and earned All-America honors after taking 30th overall. She earned NCAA Cross Country All-Region honors four times, claiming the 2017 NCAA South Regional title, and finished in the top eight twice at the SEC Cross Country Championships. A competitor at 2018 NCAA Outdoor Championships in the 10,000 meters, Drop remains third on the school's all-time list in the event and owns three other times that remain on the Lady Bulldog all-time top-10 lists.
The SEC provides the league's male and female McWhorter Scholar-Athlete of the Year Post-Graduate Scholarship recipients with a $20,000 post-graduate scholarship. The 26 remaining male and female finalists for the award will also receive a $10,000 post-graduate scholarship.
The award recipients are chosen by a committee of Faculty Athletics Representatives from the 14 SEC institutions and are announced in May, as well as honored by the league membership at SEC Spring Meetings in Destin, Fla.
Last year's McWhorter Award recipients were Florida women's swimming team member Savanna Faulconer and Jon Bishop of the Texas A&M men's track & field and cross country team
---
WTENNIS: Alabama Upsets UGA, 4-3
The 10th-ranked University of Georgia women's tennis team dropped a heartbreaker to the 45th-ranked Alabama Crimson Tide 4-3 Friday evening, in Southeastern Conference action.
In doubles, Georgia (15-4, 10-2 SEC) dropped two of three to Alabama (15-9, 5-7 SEC). The freshmen duo of Guillermina Grant and Mai Nirundorn dropped the match on court three, 6-0 to Anne Marie Hiser and Sydney Orefice. The Bulldogs responded with a win on court two. Graduate Meg Kowalski and freshman Dasha Vidmanova Cruised to a 6-3 win over Ola Pitak and Kasia Pitak. The doubles point came down to court one, where despite a late effort, graduate Morgan Coppoc and junior Ania Hertel fell to Petra Sedlackova and Anna Parkhomento 6-4.
In singles play, Georgia earned wins from No. 108 Kowalski, Grant and Nirundorn. Nirundorn earned the first point of the day for the Bulldogs, dominating Sydney Orefice 6-0, 6-0. She is now 2-0 in two appearance in singles this spring season. Kowalski cruised to a 6-2, 6-2 win over Anna Parkhomento, while No. 25 Lea Ma fell to No. 87 Petra Sedlackova 7-6(?), 6-1. Hertel dropped a three-set decision to Anne Marie Hiser 1-6, 6-2, 6-4. Grant earned a thrilling 6-2, 4-6, 6-3 win over Kasia Pitak to tie the match at 3 apiece. This marked her 11th win of the season, including her second win this spring. She is 9-1 in her previous 10 matches. Despite a strong comeback, Coppoc fell to Ola Pitak 6-3, 5-7, 6-4.
Next up, the Bulldogs travel to Auburn, Alabama to face the Auburn Tiger on Sunday, April 17 at 1 p.m. in the regular season finale.
---
Jump To Comments