Today's Contents – Click to Read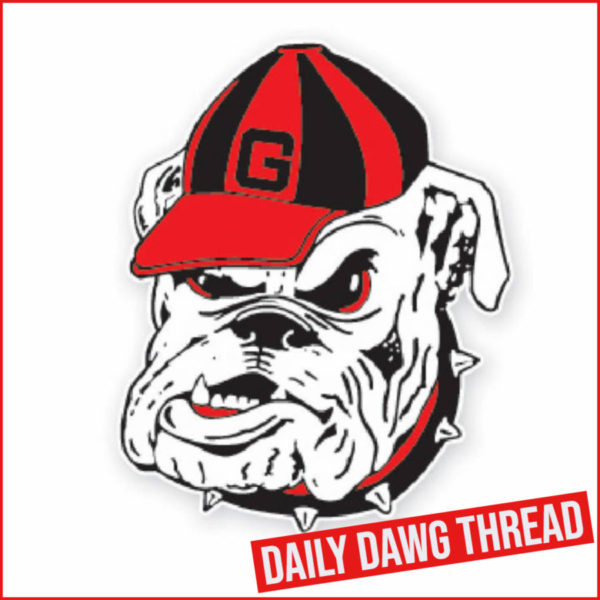 ---
MTENNIS: Dawgs End Regular Season with 5-2 SEC Win
The No. 11-ranked University of Georgia men's tennis team used a dominant performance in singles to defeat the Alabama Crimson Tide 5-2 on Easter Sunday at the Dan Magill Tennis Complex.
Georgia ends the regular season with a 17-6 record and 9-3 mark in Southeastern Conference competition. The Bulldogs have earned the No. 4 seed in this week's SEC Tournament, which will take place right here in Athens. The tournament begins on Wednesday, but Georgia has earned a double-bye and will not play until Friday.
"I was proud of the way the guys responded incredibly well after doubles," head coach Manuel Diaz said. "We did a tremendous job in The Pit. Philip winning that first set really gave us some momentum early on and then Trent Bryde got off the court quick, followed by Blake and Thomas. This was a great match going into the SEC Tournament, which will be right here at home. We are looking forward to having great crowds, and will have our guys rested for Friday."
The day began with a disappointing start in doubles. Following a 6-4 loss by the No. 27-ranked tandem of Trent Bryde and Philip Henning at court two, the remaining doubles courts were decided in a tiebreaker.
Britton Johnston and Erik Grevelius stormed out to a 6-1 lead in the tiebreaker and won their match against German Samofalov and Joao Ferreira, 7-6 (3) at No. 3, while Georgia graduate seniors Tristan McCormick and Hamish Stewart were locked in a tight battle at the top spot.
The No. 52-ranked Alabama pair of Filip Planinsek and Patrick Kaukovalta fought off a match point to earn the 7-6 (8) victory over the Bulldog duo.
As the contest moved to singles, senior Trent Bryde quickly evened the match at 1-1 with his 6-1, 6-0 triumph against Samofalov at court four. Fellow senior Blake Croyder then put the Bulldogs up 2-1 with his decisive 6-4, 6-2 win at the fifth singles position.
Freshman Thomas Paulsell added another point for the Bulldogs as he took down Zach Foster, 6-4, 6-2 at No. 6.
Senior Philip Henning clinched the contest with a 6-1, 7-6 (2) victory at court No. 2. No. 14-ranked Stewart added Georgia's final point with a 6-4, 7-6 (4) victory against No. 36-ranked Filip Planinsek at the No. 1 singles spot.
Georgia will begin play on Friday at the SEC Tournament in Athens. Tickets can be purchased at GeorgiaDogs.com.
Today's Contents – Click to Read
---
WTENNIS: Auburn Upsets UGA 4-3
The 10th-ranked University of Georgia women's tennis team fell to the 13th-ranked Auburn Tigers 4-3 Sunday afternoon, in Southeastern Conference action.
In doubles, Georgia (15-5, 10-3 SEC) dropped two of three to Auburn (19-4, 11-2 SEC). The freshman duo of Guillermina Grant and Dasha Vidmanova dropped the first doubles match on court three to Carolyn Ansari and Madeline Meredith 6-2. The Bulldogs immediately respond with a win on court two, where graduate Meg Kowalski and freshman Mell Reasco cruised to a 6-3 win over Georgie Axon and Adeline Flach. With the doubles point on the line, it all came down to the top-20 battle on court one. In the end, No. 16 Selin Ovunc and Ariana Arseneault got the best of No. 15 Morgan Coppoc and Ania Hertel, winning 6-3.
In singles play, Georgia earned wins from No. 29 Reasco, Hertel, and Nirundorn. Hertel earned the first point of the day for the Bulldogs, defeating Adeline Flach in straight sets 6-2, 7-5. The Tigers responded, taking the matches on courts two, three, and four to clinch the match. While playing the match out, Nirundorn continued her magic, picking up her third win of the dual season with a 7-5, 6-4 victory over Yu Chen. In the last remaining match, Reasco topped No. 35 Selin Ovunc 6-4, 7-6(12) in a thrilling second-set tiebreaker. With the win, Reasco moved to a team-high 23-8 on the season, including a team-high eight wins against ranked opponents.
No. 108 Kowalski fell to Georgie Axon 6-3, 6-2, while Morgan Coppoc lost to No. 107 Carolyn Ansari 6-2, 6-4. No. 66 Dasha Vidmanova dropped her match to No. 68 Ariana Arseneault 6-3, 7-5.
Next up, Georgia will travel to Gainesville, Florida for the 2022 SEC Women's Tennis Tournament. The Bulldogs will face the winner of match five on Friday, April 22 at 3 p.m.
Today's Contents – Click to Read
---
Jump To Comments