Jump To Top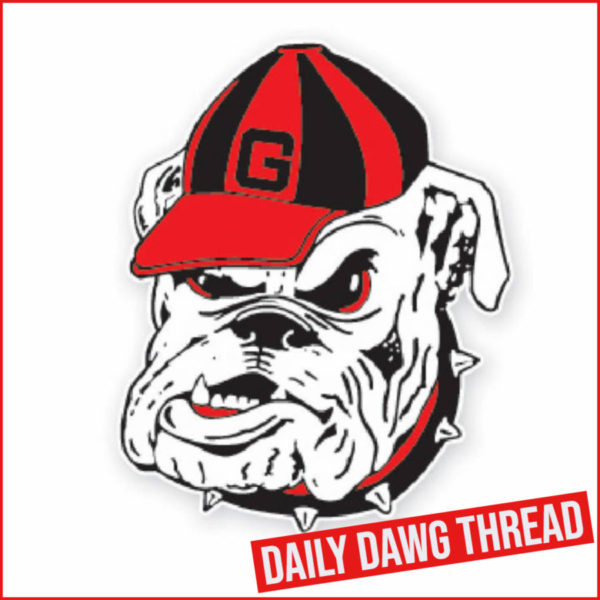 Baseball: Dawgs defeat Tigers 5-4
Georgia defeated Clemson 5-4 Tuesday in front of a crowd of 4,645 at Doug Kingsmore Stadium to earn a split in the season series.
"I thought the bullpen won us that game, and it started with Collin Caldwell settling the game down for us," said Georgia's Ike Cousins head baseball coach Scott Stricklin. "Dalton Rhadans got some big outs, Chandler Marsh, that's the best he's looked this year, and Leighton Finley closed it out. Also, (outfielder) Josh Stinson is an energy giver. He expects to do good things. He's getting an opportunity, and he's a valuable member of the team."
The Bulldogs improved to 20-17 with their first one-run victory of the year and not without some drama in the ninth. Georgia carried a 5-4 lead and Marsh struck out the first two Tigers. Then, Cam Cannarella reached on a single. Cooper Ingle followed with a double down the right field line. Stinson chased it down and threw it to Mason LaPlante who turned and fired a strike to Fernando Gonzalez who tagged out Cannarella to end the contest.
In the first with two outs, Georgia graduate Connor Tate reached on a four-pitch walk from Rocco Reid. He then stole second base to improve to 4-for-4 on the year. Junior Parks Harber compiled a 12-pitch at bat that culminated with a two-run blast, his 11th of the season, to give the Bulldogs an early lead. Clemson answered in the bottom of the inning off graduate Kyle Greenler. Georgia employed a staff approach on the mind with Greenler getting his first start since his freshman year at Elon in 2019. Tuesday's start was a planned one-inning outing as this was his first action since March 29 due to a forearm strain. The Tigers got run-scoring doubles from Ingle and Billy Amick to make it 2-all.
Clemson jumped ahead 4-2 in the second, and the Bulldogs tied the game in the third. Redshirt freshman Charlie Condon crushed his 17th home run off the batter's eye to lead off the frame and extend his on base streak to 36 games. Tate followed with a double, the 46th of his career, and eventually scored on a sacrifice fly by Corey Collins. In the fourth, Georgia went up 5-4. Sebastian Murillo got the inning started with a double and Stinson delivered a one-out, run-scoring double that proved to be the eventual game-winner.
Junior Collin Caldwell provided a career-high 2.2 scoreless innings of relief. He did not allow a hit and struck out four to improve to 2-0. Also of note from the bullpen, Dalton Rhadans pitched 1.2 scoreless innings and Chandler Marsh provided two scoreless frames with four strikeouts. Georgia freshman Leighton Finley notched his third save. B.J. Bailey dropped to 1-2 for the Tigers (22-16).
Georgia begins a Southeastern Conference series Thursday in Athens against fifth-ranked Arkansas (29-7., 11-4 SEC). First pitch will be at 7:02 pm on the SEC Network and available on the Georgia Bulldog Sports Network. 
Box Score
---
Softball: No. 12/11 Georgia (33-10) vs. USC Upstate (31-14) begins final homestand of the season
Dates: Wednesday, April 19, 2023
First Pitch: 6:30 p.m.
Location: Athens, Ga.
Stadium: Jack Turner Stadium
Admission: FREE (no tickets required // seating is first come, first served)
Media Information
Streaming: SEC Network+
Play-by-Play: Kaleb Frady
Analysis: Mary Wilson Avant
Live Stats: GeorgiaDogs.com
Twitter Updates: @UGAsoftball
The 12th-ranked Georgia softball team begins its final homestand of the 2023 season tomorrow, hosting USC Upstate at Jack Turner Stadium. First pitch between the Bulldogs and Spartans is set for 6:30 p.m.
Follow the Bulldogs
» Wednesday's game will stream live on SEC Network+. Kaleb Frady (play-by-play) and Mary Wilson Avant (analysis) will be on the call.
» Live stat links can be found on the softball schedule at GeorgiaDogs.com.
» Live Twitter updates will be available on the official Twitter page of Georgia softball, @UGAsoftball.
Upcoming Promotions at Jack Turner Stadium
» Admission to every home regular season Georgia softball game is FREE. No tickets are required. Seating is first come, first served. The UGA clear bag policy is in effect.
Wednesday, April 19
» UGA Student Greek Night: The first 100 Greek-affiliated students will receive a t-shirt and pizza. The organization with the highest attendance will receive a $500 donation to towards their philanthropy.
» Kids fifth grade and younger can run the bases following the game.
BULLDOGS BULLETIN
Series History
» Georgia leads the all-time series 6-2
» All eight meetings have been in Athens, dating back to 2011
» Georgia's lone losses to the Spartans were in 2013 and 2015
» Last season's contest went to extra innings; Lyndi Rae Davis' eighth inning two-run home run lifted Georgia to the victory
Recapping Action
The Bulldogs suffered their first SEC series loss of the season last weekend, dropping two-of-three at No. 15 Florida. The Gators handed Georgia its first run-rule loss of the season on Friday. The two teams battled it out in game two as the lead changed hands four times. Florida came out on top in the end, 8-7. Georgia avoided the series sweep with an 8-2 Sunday victory. Jayda Kearney blasted two home runs in the finale and three on the weekend, driving in seven total runs.
A Look at What's Ahead
Georgia hosts South Carolina in the final home SEC series April 21-23. The series begins Friday at 6:30 p.m. with noon starts set for Saturday and Sunday. Senior Day is set prior to first pitch of Sunday's game. Georgia's midweek against Mercer on April 26 will close the book on home games in the regular season.
Georgia in the Polls
Georgia's rankings after Week 10:
– USA Today/NFCA: 12
– ESPN/USA Softball: 11
– D1Softball: 7
– Softball America: 7
– RPI: 16
Shout Outs for Shutouts
The Bulldogs pitching staff has recorded 14 shutouts (13th most in the country) in 2023 including five in SEC play. Georgia's three-straight SEC shutouts was the longest streak since 2006 (4). Shelby Walters and Madison Kerpics had combined to pitch 24-straight scoreless innings entering the Kentucky series. Earlier in the season, Georgia closed out the month of February shutting out six-straight opponents. That scoreless-inning streak reached 40 innings.
Improving in Game Two
The Bulldogs have made significant improvement in the second game of SEC series compared to 2022. Currently, Georgia is 5-1 in the second game of SEC series this season compared to 2-3 through five series a season ago.
Game 1 Game 2 Game 3
2022 6-2 3-5 3-5
2023 4-2 5-1 3-2
Georgia has already topped its number of series wins this season, winning five compared to a total of four a year ago. Georgia and its opponents squared off in a game three rubber match five times last year.
Now Appearing on Home Run Top 10's
Jayda Kearney and Sara Mosley each homered in the series finale at Florida on April 16. After that game, they each appeared on top 10 home runs lists at Georgia: Kearney in single-season home runs (17) and Mosley on career home runs (42). Sydney Kuma currently has 40 home runs in her career right behind Mosley.
The Dogs Can Swing It
Georgia is currently slugging its way to the top of the SEC, leading the league with a .585 team slugging percentage (ranks third nationally). Additionally, UGA leads the Conference with 368 hits, 69 home runs, and 14 triples. Georgia (667) has nearly 100 more total bases than the second-place team in the league (Florida, 580).
---
MGolf: Dawgs set for SEC Championship on St. Simons
SEC CHAMPIONSHIP
Date: April 19-23, 2023
Time: All Day
Location: St. Simons Island, Georgia
Course: Sea Island Golf Club – Seaside Course
MEDIA INFORMATION
Season Stats: https://link.edgepilot.com/s/e8139265/rieX_eEfoE_UtePGrgMOBA?u=https://gado.gs/ag5
Tournament Central: https://link.edgepilot.com/s/f0d9cd4e/xpQgNt5xVEKHbxnUAi1DIw?u=https://gado.gs/aga
Live Stats: https://link.edgepilot.com/s/47dabc80/EGOpzXR9pEuqQ0qiMX2f5A?u=https://gado.gs/ag4
Social Media
Keep up with all the latest news and information on the Bulldogs by following UGA Men's Golf on Twitter @UGAGolf, on Instagram @UGAGolf or check out information online at georgiadogs.com.
SECOND TO NONE
Georgia has been a dominant force at the SECs, winning a league-best 29 conference titles. Under Coach Chris Haack, the Bulldogs have secured eight SEC titles, including six of the tournaments held at Sea Island. Haack has been named SEC Coach of the Year five times and has produced six of Georgia's seven SEC Players of the Year and seven of the Bulldogs' eight SEC Freshman of the Year honorees. Georgia boasts 16 SEC medalists, including Haack pupils Bryant Odom (2001), Brendon Todd (2004), Russell Henley (2010) and Lee McCoy (2016).
THE FIELD
Alabama, Arkansas, Auburn, Florida, Georgia, Kentucky, LSU, Mississippi State, Missouri, Ole Miss, South Carolina, Tennessee, Texas A&M and Vanderbilt.
THE LINEUP
Seniors Connor Creasy and Ben van Wyk, junior Caleb Manuel, sophomores Buck Brumlow and Maxwell Ford and freshman Carter Loflin as an alternate.
THE COURSE
Sea Island Golf Club – Seaside Course (Par 70, 7,005 yards).
THE SCHEDULE
Tuesday (April 18): Practice round
Wednesday (April 19): Round one
Thursday (April 20): Round two
Friday (April 21): Round three
Saturday (April 22): Match play quarterfinals and semifinals
Sunday (April 23): Match play championship
ON DECK
After the SECs, the Bulldogs will be assigned to an NCAA Regional and will compete May 15-17. The sites are Auburn, Alabama; Bath, Michigan; Las Vegas, Nevada; Morgan Hills, California; Norman, Oklahoma; and Salem, South Carolina, The top five teams at each regional will make up the 30-squad field for the NCAA Championship May 26-31 in Scottsdale, Ariz.
DAWG IN THE POLLS
Bushnell/Golfweek Coaches: RV
Golfweek/Sagarin: 23
Golfstat: 31
Two Bulldogs are ranked in the PGA Tour University Rankings: No. 48 Nic Cassidy and No. 80 Michel Shears.
---
Philip Henning and Ethan Quinn earn weekly SEC Awards
Two University of Georgia men's tennis student-athletes have earned weekly awards from the Southeastern Conference following the final week of the regular season, the league office announced on Tuesday afternoon.
Redshirt senior Philip Henning earned SEC Co-Player of the Week, the third time in his career winning the award, while redshirt freshman Ethan Quinn notched his fifth Freshman of the Week award this year after the Bulldogs finished the season with a perfect conference record for the 16th time in program history. With his fifth Freshman of the Week honors, Quinn ties Nathan Ponwith for the most times a Georgia player has won the award in a single season since 2017.
"It's great to see Philip earn this honor and reach his 100th singles win this past weekend," said head coach Manny Diaz. "He's been a rock for us all year and the way he carries himself at practice each and every day trying to get better. He's been competing really hard each and every week. I look forward to him finishing his career with these last couple of post season events. Ethan's had a phenomenal year and has been our number one player all season long. He's won numerous big matches for us. As one of the highest ranked players in the SEC, he continues to lead the way for our team at the top spot. I couldn't be prouder of these guys."
Henning began the weekend in doubles with partner Teodor Giusca on court two against No. 12 Mississippi State, where the pair earned their ninth win of the year on court two by an impressive 6-2 score. In singles, No. 19 Henning earned a straight set win over Petar Jovanovic, 7-6(3), 6-3, to bring his career singles win total up to 99 against No. 25 Ole Miss.
Henning reached the 100-win mark with an impressive 6-3, 6-2 result over No. 65 Nikola Slavic, clinching the match for the Bulldogs' and giving the team the final win it needed to finish conference play unscathed.
Quinn went a combined 3-1 in singles and doubles this past weekend in the team's final two regular season matches. In singles, the Fresno, Calif native picked up another straight-set win over a ranked opponent on court one, defeating No. 12 Mississippi State's No. 104 Nemanja Malesevic by a 6-2, 7-5 score. Quinn earned his fourth match-clinching win of the season and his eighth-straight set victory over ranked competition. With the win over Mississippi State, Georgia clinched the outright regular season crown.
On Saturday against No. 25 Ole Miss, Quinn began in doubles with partner Trent Bryde, the fifth-ranked duo in the nation over John Hallquist Lithen and Simon Junk, 6-1. With 12 dual match wins, Bryde and Quinn rank inside the top five in the SEC for most wins together on court one and lead the team in dual match doubles wins with 12. No. 3 Quinn brought this momentum into singles, where he defeated Hallquist Lithen by an 6-1, 6-3 score.
Georgia will begin its postseason in the SEC Tournament this week, with its first match coming on Friday at 4 p.m. ET against the winner of the No. 8 and No. 9-seed match against Florida and Auburn. By earning the top seed in the tournament, the Bulldogs will play their first match in the quarterfinals.
---
Kirby Smart will represent UGA in the Southern Company Peach Bowl Challenge charity golf tournament
Georgia head coach Kirby Smart will represent the Bulldogs in the 16th annual Southern Company Peach Bowl Challenge charity golf tournament held April 30 – May 2 at Reynolds Lake Oconee outside of Atlanta. A field of 20 current and former college football coaches will compete for a share of a $300,000 charity purse.
The nation's premier collegiate coach golf event will be played in two-man scramble format in an 18-hole tournament. The Stableford scoring system will be used to help balance handicaps and encourage aggressive play.
Proceeds from the competition benefit charitable foundations selected by the coaches. Coach Smart's winnings will go to the Kirby Smart Family Foundation, which focuses on being champions in the community by supporting and giving back to needy children and families facing adversity.
The current field of competitors for this year's Peach Bowl Challenge is projected to include:
---
Jump To Comments