Jump To Top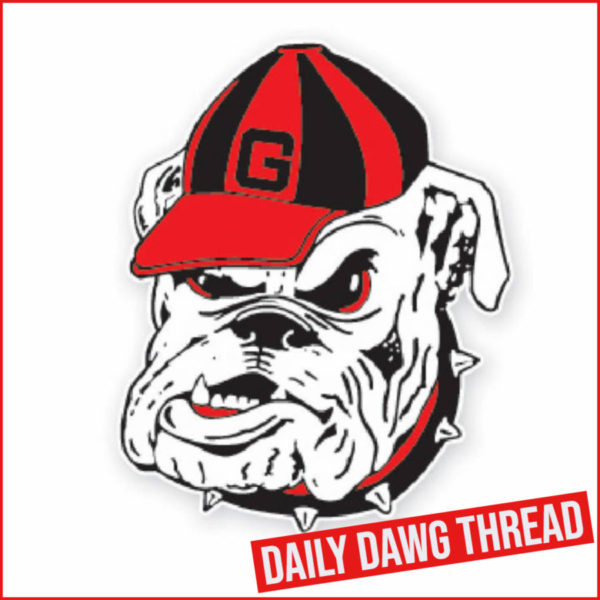 Softball Photos: Georgia defeats South Carolina 2-1 for 35th win in front of a packed Jack Turmer
Watch a fullscreen slideshow
HERE.
The 12th-ranked Georgia softball team defeated South Carolina 2-1 Friday evening in front of a crows of 2,087 at Jack Turner Stadium in the opening game of a three-game series.
Georgia climbs to 35-10 on the season and 13-5 in SEC play. The attendance was a season high and officially the fourth-largest in program history.
Madison Kerpics (14-5) worked five innings in her start, responsible for South Carolina's (32-13, 7-9) lone run. She allowed three hits, struck out four, and walked two. Shelby Walters earned her fifth save, pitching the final two innings, allowing two hits and fanning one hitter.
Georgia's offense scattered five hits, two from Ellie Armistead at the bottom of the order. Armistead drove in Georgia's first run of the game and scored its second.
Following a leadoff single from Sydney Kuma in the second, Jaydyn Goodwin drew a walk. Kuma was cut down at third on a double steal attempt, but Goodwin raced around third and scored on a two-out single to left off the bat of Armistead to put the Dogs on the board, 1-0.
Armistead led off the home half of the fifth with a triple to right center. A wild pitch with two out allowed Armistead to score and widen the lead to 2-0 for Georgia.
A leadoff hit-by-pitch in the top of the sixth proved costly as the free base ultimately came in to score, putting South Carolina on the board, 2-1. Walters entered in the sixth following the hit-by-pitch.
Walters shut down the Gamecock offense in the seventh to secure the series opening victory for Georgia.
The Bulldogs and Gamecocks face off in game two of the series Saturday at 12 p.m. live on SEC Network. Saturday's game will be the annual All For Alex game. Fans are encouraged to wear teal to join in the fight against ovarian cancer.
Head Coach Tony Baldwin
On his thoughts on the game…
"I'm really proud of our team. It was a great atmosphere. We talk about these SEC weekends as being like a Super Regional, and tonight really had that feel. Their pitcher is just tremendous. It was a great crowd. I thought we competed really well. I thought we created some of our own stress in terms free bases, hit by pitches, and some of that. I thought Madison [Kerpics] made some of her best pitches with runners in scoring position and really buckled down and did well. Shelby [Walters] came in and commanded the ball really well, and we made some really good plays on defense where we needed them."
Box Score
---
Baseball: Dawgs Slam Arkansas 7-3
Georgia left-hander Charlie Goldstein provided another gem, and the Bulldogs blasted four home run to beat fifth-ranked Arkansas 7-3 Friday and clinch another series over a top 10 opponent in front of a Foley Field crowd of 3,741.
Goldstein provided a career-high six shutout innings, allowing three hits with no walks and five stirkeouts to improve to 2-1. In his last three SEC starts (No. 10 Kentucky, at No. 2 Florida and versus No. 5 Arkansas), he has allowed just one earned run in 16.1 innings with 19 strikeouts with a pair of victories.
The Bulldogs (22-17, 6-11 SEC) tallied 12 hits, including four Bulldogs each hitting their fourth home run of the season, to build a 7-0 advantage over the Razorbacks (30-9, 11-6 SEC). Cole Wagner went a career-best 4-for-4 with a home run and two RBI to pace the attack.
"I did think it was pretty cool that the six, seven, eight and nine hitters all hit a home run in the lineup," Wagner said. "I haven't seen that very often. That is super important for us. The top half is awesome. They bring it day in and day out. For the opposing staff to know they have to worry about the depth in the lineup makes it hard. We try to lengthen our lineup and everyone be a tough out."
Three home runs from the Georgia offense gave the Bulldogs a 4-0 lead in the second. With one out on the board, Wagner kickstarted the inning with a solo home run to left field. Junior Sebastian Murillo stepped into the box and blasted a home run of his own. This was the second time Georgia has had back-to-back home runs since the Presbyterian game earlier this season.
Junior Fernando Gonzalez drew a walk to get on base as graduate Mason LaPlante cranked a two-run homer to left field to boost Georgia's lead. Georgia added a fifth run to the board in the third. Graduate Connor Tate hit a leadoff single to left field then advanced to second on a wild pitch and third after a ground out by graduate Will David. A single from Wagner brought Tate home for a 5-0 advantage. The Bulldogs used a fourth home run in the fourth to bolster their lead as Gonzalez connected for a solo shot.
After Goldstein, the bullpen of Chandler Marsh, Dalton Rhadans and Will Pearson pitched an inning apiece to preserve the win. Arkansas got on the board in the eighth with three runs. A double from Caleb Coll set up a two-run home run for Brady Slavens. A sacrifice fly by Jace Bohrofen scored Hudson Polk to make it 7-3.
Pearson came in to close for Georgia in the ninth, retiring the first three batters. Arkansas starter Will McEntire got the loss to fall to 5-2, tossing four innings with six runs on six hits with three walks.
"We're trending in the right direction and that's three straight starts for Charlie Goldstein where he's been really good. The bottom of the order came through. Tomorrow is a new ball game and they're going to be ready to play," said Georgia's Ike Cousins head baseball coach Scott Stricklin. "Hagen Smith, I'm sure, is going to pitch for them. He's really good, so we're going to have our work cut out for us for sure. Happy with the first two wins and then we've got to turn the page, get some rest and get this thing tomorrow."
Box Score
---
Tennis: Georgia Men and Women advance in SEC Tournament
Women
The fourth-ranked University of Georgia women's tennis team swept LSU 4-0 on Friday evening at the Billingsley Tennis Center, in the quarterfinals of the 2023 Southeastern Conference Tournament.
In doubles, Georgia (20-4, 12-1 SEC) swept LSU (13-10, 5-8 SEC). The sophomore tandem of Dasha Vidmanova and Mell Reasco dominated court one, defeating Noor Carrington and Safiya Carrington 6-1. They were quickly followed by Meg Kowalski and Lea Ma who cruised to a 6-1 win over Nina Geissler and Mia Rabinowitz in their season debut together.
In singles play, the Bulldogs won three matches. Sophomore Guillermina Grant topped Noor Carrington 6-2, 6-3 and improved her win streak to seven matches. She was followed by Kowalski who defeated Nikita Vishwase 7-5, 6-0 on court five. No. 6 Vidmanova clinched the win for the Bulldogs with a 6-4, 6-0 victory over No. 33 Safiya Carrington – her 13th-ranked win of the season.
Up next, second-seed Georgia face third-seed Tennessee in the semifinals of the 2023 SEC Tournament. First serve is scheduled for 4 p.m. ET. The match will be streamed on SEC Network +.
Doubles Results
1. Dasha Vidmanova/Mell Reasco (UGA) def. Noor Carrington/Safiya Carrington (LSU) 6-1
2. #35 Guillermina Grant/Mai Nirundorn (UGA) vs. #53 Anastasiya Komar/Nikita Vishwase (LSU) 5-1, unfinished
3. Meg Kowalski/Lea Ma (UGA) def. Nina Geissler/Mia Rabinowitz (LSU) 6-1
Singles Results
1. #3 Lea Ma (UGA) vs. #14 Anastasiya Komar (LSU) 7-6 (7-5), 1-2, unfinished
2. #6 Dasha Vidmanova (UGA) def. #33 Safiya Carrington (LSU) 6-4, 6-0
3. #66 Mell Reasco (UGA) vs. Nina Geissler (LSU) 6-1, 2-6, 0-1, unfinished
4. #71 Anastasiia Lopata (UGA) vs. Mia Rabinowitz (LSU) 6-0, 3-6, 2-0, unfinished
5. Meg Kowalski (UGA) def. Nikita Vishwase (LSU) 7-5, 6-0
6. Guillermina Grant (UGA) def. Noor Carrington (LSU) 6-2, 6-3
Men
The top-seeded University of Georgia men's tennis team blanked No. 8-seed Florida, 4-0, in the quarterfinals of the Southeastern Conference Tournament on Friday afternoon at the Yarbrough Tennis Center.
The Bulldogs (19-5, 12-0 SEC) earned the sweep against the Gators (14-13, 5-7 SEC) by notching the doubles point and wins in singles competition on courts one, five and six, with redshirt freshman Ethan Quinn earning his fifth match-clinching victory of the year.
Georgia advances to the semifinals and will play the winner of No. 4 South Carolina and No. 5 Texas A&M tomorrow at 4 p.m. ET. The Bulldogs previously defeated the Aggies 5-2 at home on March 9 and went 2-0 against the Gamecocks, with wins at the ITA National Team Indoor Championships and during conference action in Columbia.
"We had phenomenal effort from everyone today," said head coach Manny Diaz. "The biggest thing I took from this match was that our guys responded to some of the challenges that we had against Florida in our previous match. We got beat on five and six in singles and lost the doubles point in the previous match, and we turned all of those around in our favor today. I'm very proud of our effort, focus and the way we battled out there.
The Bulldogs came out strong in doubles competition, earning the point swiftly with impressive wins on courts one and three. No. 7 Trent Bryde and Quinn picked up their 13th win together on court one with a 6-2 victory against No. 4 Will Grant and Axel Nefve, their ninth over a ranked opponent this year. Blake Croyder and Britton Johnston earned their sixth point-clinching win of the season after a 6-1 result over Jonah Braswell and Lukas Greif gave Georgia a 1-0 lead heading into singles.
The Bulldogs carried the momentum into singles, where the team earned four first sets. Teodor Giusca extended the team's match lead with his fourth on court six, defeating Tanapatt Nirundorn in straight sets by a 6-2, 6-3 score. The redshirt senior won his 20th match of the year and 11th in the dual match season. Miguel Perez Peña gave the Bulldogs match point with a 6-2, 6-3 win against Nate Bonetto, his ninth victory in the previous 10 matches. A sophomore, Perez Peña now leads the team in singles wins on the year with 26 and in the spring with 16.
On court one, No. 4 Quinn notched his seventh consecutive singles win and the match with a 6-4, 6-4 defeat of No. 37 Nefve. The Fresno, Calif. native improved to 14-8 on the season from court one and now has 16 ranked wins with the result.
"For me to be able to clinch the match, especially my first SEC tournament match, is pretty special," said Quinn.
Keep up with all the latest news and information on the Bulldogs by following UGA Men's Tennis on social media on Twitter and Instagram @UGATennis, on Facebook @UGAMensTennis, and online at GeorgiaDogs.com.
#4 Georgia 4, #24 Florida 0
Singles competition
1. #4 Ethan Quinn (UGA) def. #37 Axel Nefve (UF) 6-4, 6-4
2. #15 Philip Henning (UGA) vs. #95 Will Grant (UF) 6-7(8), 2-0, unfinished
3. #119 Trent Bryde (UGA) vs. #86 Jonah Braswell (UF) 3-6, 3-2, unfinished
4. #101 Blake Croyder (UGA) def. Lukas Greif (UF) 7-6(4), 3-1, unfinished
5. Miguel Perez Peña (UGA) def. Nate Bonetto (UF) 6-2, 6-3
6. Teodor Giusca (UGA) def. Tanapatt Nirundorn (UF) 6-2, 6-3
Order of finish: 6, 5, 1*
Doubles competition
1. #7 Trent Bryde/Ethan Quinn (UGA) def. #4 Will Grant/Axel Nefve (UF) 6-2
2. Teodor Giusca/Philip Henning (UGA) vs. Nate Bonetto/Tanapatt Nirundorn (UF) 3-4, unfinished
3. Blake Croyder/Britton Johnston (UGA) def. Jonah Braswell/Lukas Greif (UF) 6-1
Order of finish: 1, 3*
---
ICYMI: RJ Melendez will join Georgia Basketball as a transfer
RJ Melendez will join Georgia Basketball as a transfer, head coach Mike White announced on Friday. A native of Puerto Rico and former four-star prospect, Melendez played the last two seasons at Illinois.
A 6-7, 205-pound guard, Melendez played in 54 games at Illinois and helped the Illini earn bids to each of the past two NCAA Tournaments. He compiled 276 points (5.1 ppg) and 149 rebounds (2.8 rpg), with 10 double-digit scoring performances, one double-figure rebound count and one double-double.
Last season, Melendez started 18 of 32 games played, including seven of the season's final eight outings. He averaged 6.0 points and 3.5 boards, with eight double-digit scoring tallies. He posted career highs of 17 points against Lindenwood and 11 rebounds versus Minnesota. Melendez saw action in 22 games, including one start, as a freshman and averaged 3.8 points and 1.7 rebounds while shooting 56.9 percent from the field, 60.0 percent from 3-point range and 85.0 percent from the line.
Melendez, a native of Arecibo, Puerto Rico, played high school basketball at Central Pointe Christian Academy (CPCA) in Kissimmee, Florida. He was a consensus four-star recruit who was ranked as the nation's No. 56 overall prospect, No. 11 small forward and No. 4 player in Florida by ESPN.com. Melendez scored a school-record 2,006 points at CPCA and led the White Tigers to the Sunshine Independent Athletic Association (SIAA) state title as a junior. As a senior, he averaged 24.3 points, 6.1 rebounds, 3.4 assists, 2.3 blocks and 2.2 steals en route to earning SIAA Player of the Year honors.
Melendez also helped Puerto Rico earn a silver medal at the 2019 U17 Centrobasket Championships in the Dominican Republic. He averaged 9.2 points, including a 21-point outburst against El Salvador, 3.2 rebounds and 1.6 steals in five contests.
Melendez is the third newcomer to sign with the Bulldogs for the 2023-24 season. Last November, Georgia inked a pair of ESPN.com top-100 high school prospects – No. 83 Lamariyon "Mari" Jordan, a small forward from Norcross High School, and No. 90 Dylan James, a power forward from Winter Haven (Fla.) High School.
---
Jump To Comments