Jump To Top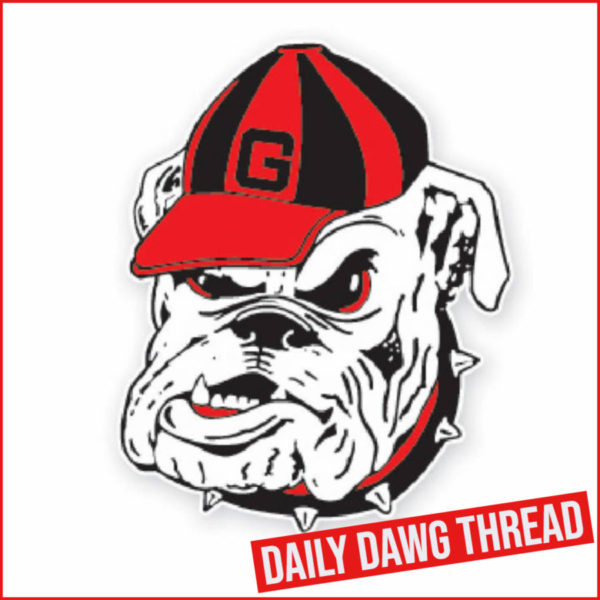 Softball: Dawgs sweep South Carolina with 3-0 Sunday win
The 12th-ranked Georgia softball team blanked South Carolina Sunday afternoon 3-0 to complete the series sweep of the Gamecocks in front of a crowd of 2,224 at Jack Turner Stadium.
Georgia climbs to 37-10 on the season and 15-5 in SEC play with one Conference series remaining (at LSU, May 5-7).
Madison Kerpics (15-5) and Shelby Walters combined for a one-hit shutout of the Gamecocks (32-15, 7-11). Walters tossed a one-hitter in Saturday's contest. Kerpics earned the win, working five and a third innings, allowing one hit with six strikeouts. Walters pitched the final inning and two-thirds en route to her sixth save of the season.
The offense scattered six hits from six different hitters. Sydney Chambley provided the hit of the game, a two-RBI double in the fourth.
Dallis Goodnight drew a leadoff walk in the third and stole second to put herself in scoring position. The speedy Goodnight came around to score on a base hit through the left side past a diving shortstop off the bat of Sara Mosley to put Georgia in front 1-0.
A leadoff Sydney Kuma single and a walk to Jaydyn Goodwin put two on. Both runners moved into scoring position on a passed ball. In a pinch-hit opportunity, Chambley dropped a double down the left field line to drive in both runners and widen the lead to 3-0 after four innings.
The 3-0 UGA lead held as the Bulldogs swept the series against South Carolina.
Georgia welcomes in-state foe Mercer to Athens Wednesday in the 2023 regular-season home finale. Wednesday's 7 p.m. game will air live on SEC Network.
Head Coach Tony Baldwin's Remarks
On Sunday's game…
"I'm really proud of our team proud of the competitiveness over the course of the weekend. Proud of our pitching staff just commanding the ball; back-to-back one hitters is certainly going to put you in a position to win. And when I tell you, [South Carolina's Donnie Gobourne] is as good as anybody in the country and I thought we competed against her really well. We just found ways to create pressure and ultimately get some timely hits, and that's what it takes. I thought our defense was really sharp after we got off to a rocky start yesterday in the first inning, but since then we've played really solid and that's what it takes to win as we keep moving forward. It's just being solid and competitive on all three sides of the ball."
On the crowd…
"It was an unbelievable weekend. Over 6,000 fans were in attendance over the three games. I think it's the fourth largest crowd ever today. I'm thankful for Bulldog Nation being out here and supporting us and hopefully we can get them back out here again."
Box Score
---
WTennis: Georgia wins SEC Championship with 4-2 win over TAMU
The fourth-ranked University of Georgia women's tennis team defeated second-ranked Texas A&M 4-2 on Sunday afternoon at the Billingsley Tennis Center to claim the 2023 Southeastern Conference Tournament Championship. This marks the ninth SEC Tournament title in program history and the 20th overall SEC crown. Graduate Meg Kowalski and sophomore Guillermina Grant earned All-SEC Tournament team honors and Kowalski was tabbed the Most Valuable Player.
"I'm really, really happy, excited and proud of this team," said Georgia head coach Jeff Wallace following the match. "We have put in a lot of work and they came together this weekend and played some absolutely incredible tennis. Our doubles against LSU was the best doubles we've played this season, only giving up three games total. Our semifinal match came right down to the end, (Anastasiia Lopata) coming back from down 5-1 in the third set to win it. We just battle like crazy all afternoon and into the night. To come back and play Texas A&M, who has had such a good year. We played probably our most complete doubles point today and for Guillermina (Grant) and Mell (Reasco) to get those quick points. It was very fitting that it came down to our fifth-year senior Meg who has been such a clutch performer for us in her five years. She fought like crazy and got it done for us. I'm really happy and really excited for this team and we are fired up now for the NCAA Tournament."
In doubles, Georgia (22-4, 12-1 SEC) took two of three from Texas A&M (27-2, 13-0 SEC). After the sophomore tandem of Dasha Vidmanova and Mell Reasco fell to No. 25 Salma Ewing and Jayci Goldsmith on court one, the Bulldogs responded with wins on courts two and three. Meg Kowalski and Lea Ma defeated Jeanette Mireles and Gianna Pielet 6-4, while No. 35 Guillermina Grant and Mai Nirundorn clinched the doubles point over No. 55 Mia Kupres and Mary Stoiana. This marked the first time the duo of Kupres and Stoiana have dropped a doubles match this season.
In singles play, the Bulldogs won three matches. Grant gave Georgia an early 2-0 match lead after defeating Jeanette Mireles 6-3, 6-1. The Aggies answered with a straight-set win on court four as No. 71 Anastasiia Lopata fell to No. 115 Jayci Goldsmith 7-6(5), 6-2. No 66 Reasco quickly responded with a 6-4, 6-3 win over No. 57 Mia Kupres to draw the Bulldogs within one point of winning the title. Texas A&M added another point on court one as No. 3 Ma fell to No. 2 Mary Stoiana 6-2, 6-4. With two matches left on court, the graduate Kowalski provided the final punch, defeating Daria Smetannikov 4-6, 6-2, 6-2 to clinch the 2023 SEC Tournament Championship.
Up next, the Bulldogs await their regional assignment for the first and second rounds of the NCAA Tournament on Friday through Sunday, May 5-7.
Results
Doubles Results
1. #25 Jayci Goldsmith/Salma Ewing (TAM) def. Dasha Vidmanova/Mell Reasco (UGA) 6-1
2. #35 Guillermina Grant/Mai Nirundorn (UGA) def. #55 Mia Kupres/Mary Stoiana (TAM) 6-3
3. Lea Ma/Meg Kowalski (UGA) def. Gianna Pielet/Jeanette Mireles (TAM) 6-4
Singles Results
1. #2 Mary Stoiana (TAM) def. #3 Lea Ma (UGA) 6-2, 6-4
2. #73 Salma Ewing (TAM) vs. #6 Dasha Vidmanova (UGA) 6-3, 3-6, 1-0, unfinished
3. #66 Mell Reasco (UGA) def. #57 Mia Kupres (TAM) 6-4, 6-3
4. #115 Jayci Goldsmith (TAM) def. Anastasiia Lopata (UGA) 7-6 (7-5), 6-2
5. #71 Meg Kowalski (UGA) def. Daria Smetannikov (TAM) 4-6, 6-2, 6-2
6. Guillermina Grant (UGA) def. Jeanette Mireles (TAM) 6-3, 6-1
---
MTennis: Dawgs fall to Kentucky in SEC Final
The top-seeded University of Georgia men's tennis team fell to No. 3-seed Kentucky, 4-3, in the finals of the Southeastern Conference Tournament on Sunday afternoon at the Yarbrough Tennis Center.
The Bulldogs (20-6, 12-0 SEC) lost the match after dropping singles matches on courts two, three, four and five to the Wildcats (24-4, 9-3 SEC). Georgia earned the doubles point and won courts one and six in singles competition. Ethan Quinn and Teodor Giusca were named to the all-SEC Tournament Team.
"Credit to Kentucky, they played better than we did during some of the most important points," said head coach Manny Diaz. "We had opportunities to win, but I'm so proud of the way we competed and fought today. This will make us stronger."
The Bulldogs clinched the doubles point for the 15th time this season with wins from courts one and three. Blake Croyder and Britton Johnston held serve through 3-3 but won two breaks in the final three games to take the match 6-3, earning their 20th doubles win together this year and fourth in a row. No. 7 Trent Bryde and Ethan Quinn won their team-best 15th match of the spring with a 6-4 defeat of No. 23 Alafia Ayeni and Taha Baadi, earning their fifth point-clinching win of the season.
Kentucky managed to tie up the match after a straight set win on court three, where No. 119 Trent Bryde fell to No. 56 Joshua Lapadat by a 6-2, 6-4 score. The Bulldogs managed to regain the lead, though, after Giusca notched his fifth win on court five with a 6-4, 6-3 decision over Charlelie Cosnet. The redshirt senior earned his 21st victory of the year and 12th of the dual match season.
No. 4 Quinn defeated No. 19 Liam Draxl for the second time this season in straight sets, by a 7-5, 6-2 score, and gave the Bulldogs match point. The Bulldogs were unable to find the last point they needed, though, as the Wildcats would take third sets on courts two, four and finally on five to clinch the win and the SEC Championship.
Georgia will now await its regional assignment for the first and second rounds of the NCAA Tournament on Friday through Sunday, May 5-7.
Keep up with all the latest news and information on the Bulldogs by following UGA Men's Tennis on social media on Twitter and Instagram @UGATennis, on Facebook @UGAMensTennis, and online at GeorgiaDogs.com.
Results
Singles competition
1. #4 Ethan Quinn (UGA) def. #19 Liam Draxl (UK) 7-5, 6-2
2. #25 Alafia Ayeni (UK) def. #15 Philip Henning (UGA) 1-6, 6-3, 6-3
3. #56 Joshua Lapadat (UK) def. #119 Trent Bryde (UGA) 6-2, 6-4
4. Taha Baadi (UK) def. #101 Blake Croyder (UGA) 7-6(5), 2-6, 7-5
5. Jaden Weekes (UK) def. Miguel Perez Peña (UGA) 3-6, 6-2, 7-6(7)
6. Teodor Giusca (UGA) def. Charlelie Cosnet (UK) 6-4, 6-3
Order of finish: 3, 6, 1, 2, 4, 5*
Doubles competition
1. #7 Trent Bryde/Ethan Quinn (UGA) def. #23 Alafia Ayeni/Taha Baadi (UK) 6-4
2. Teodor Giusca/Philip Henning (UGA) vs. No. 67 JJ Mercer/Joshua Lapadat (UK) 6-5, unfinished
3. Blake Croyder/Britton Johnston (UGA) def. Liam Draxl/Jaden Weekes (UK) 6-3
Order of finish: 3, 1*
---
Jump To Comments