Today's Contents – Click to Read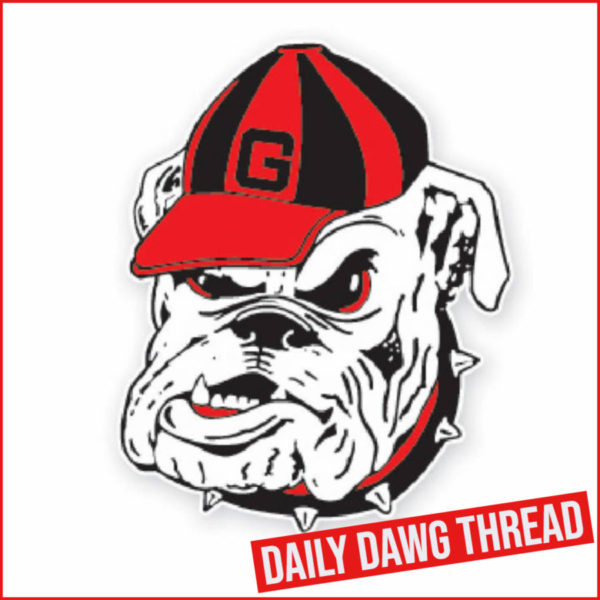 ---
 T&F: Matthew Boling Named National Athlete Of The Week 
Georgia junior Matthew Boling has been named the U.S. Track & Field and Cross Country Coaches Association National Men's Athlete of the Week for the second time in 2022, according to a USTFCCCA announcement Tuesday.
Boling, a native of Houston, Texas, earned a similar honor during this year's indoor season in January. His latest accolade gives the Bulldog men five National Athlete of the Week honors outdoors in history. Karel Tilga was the last Georgia male to earn the honor (April 13, 2021). In fact, all four of the others were decathletes (Tilga, Devon Williams, Garrett Scantling, Maicel Uibo).
Boling shot out of the blocks in the 200-meter dash at the Georgia Tech Invitational to top his former school record of 20.06 from last year with a 19.92 into a -0.9 meter/second wind over the weekend in Atlanta. This made him the No. 10 all-time collegiate performer with the No. 12 all-time collegiate performance. Boling leads the nation in the event and is tied for third in the world this year.
The current wind-legal national leader in the 100m as well, Boling also ran a leg on the winning 4x400m relay after the Bulldog foursome clocked a 3:06.10 with the next team nearly two seconds behind them.
Up Next: The Bulldogs play host to this year's only home meet, the fifth-annual Torrin Lawrence Memorial, at the Spec Towns Track in Athens, Ga., on Friday-Saturday.
Today's Contents – Click to Read
---
BASEBALL: Georgia State Visits Athens Tonight
The Georgia Bulldogs play host to Georgia State Tuesday at Foley Field. First pitch will be at 6:02 p.m., and the game will be available on SECN+ and the Georgia Bulldog Sports Network.
Georgia (28-12) is a consensus top 25 team again this week and ranked as high as No. 11 (USA TODAY Sports Top 25) in the major polls, plus has the nation's No. 5 RPI according to the NCAA. The Bulldogs, who are led by Ike Cousins head baseball coach Scott Stricklin, are batting .286 with 42 home runs, a 5.39 ERA, and a .975 fielding percentage. The Panthers (24-16) are hitting .295 with 56 home runs, a 4.96 ERA, and a .965 fielding percentage. Georgia beat Ga. State 10-3 on March 22 at Coolray Field in Lawrenceville to extend its series advantage to 45-8. The Bulldogs will start redshirt-sophomore Garrett Brown (0-1, 8.37 ERA) while the Panthers counter with sophomore RHP Duncan Lutz (2-0, 5.40 ERA).
Graduate CF Ben Anderson (.297-6-25) is a co-leader in the SEC with four triples. Earlier this year, he had a 31-game on-base streak. Graduate LF Connor Tate (.340-5-34) leads the team in batting. He has a team-best 18 multi-hit games. Sophomore 3B Parks Harber (.284-6-37) makes his hits count, tallying 38 hits to go with 37 RBI this season. In Saturday's shutout over Alabama, he went 3-for-4 including a three-run double to account for all the scoring. Meanwhile, senior RHP Jack Gowen (1-0, 1.57 ERA) ranks second in the SEC with eight saves including six of those in league play. Overall, the Bulldogs are 12-for-12 in save chances this season.
Tuesday's Probable Pitching Matchup: UGA vs. GSU
G41: Garrett Brown (0-1, 8.37 ERA, RHP, RSo.) vs. Duncan Lutz (2-0, 5.40 ERA, RHP, So.)
Georgia Baseball Radio/TV Streaming Links
Georgia Bulldog Sports Network (Announcers: David Johnston & Jeff Dantzler)
Free audio streaming of all Georgia Bulldogs games can be heard using the Gameday LIVE app.
Optimized for iOS7+ and Android 4.0+, Georgiadogs.com Gameday LIVE is now available for both smartphone and tablet in App Store and Google Play marketplaces. Georgiadogs.com Gameday LIVE is the official mobile application of Georgia athletics. Get the app here: georgiadogs.com/wireless/.
Tuesday Pregame Radio Show at 5:40 pm ET: https://georgiadogs.com/watch/?Live=4171&type=Archive
SECN+ Link: https://www.espn.com/watch/player?id=3923136
Baseball Home Game Tickets/Parking
Fans can purchase seats through UGAAA online on georgiadogs.com or from other fans through our official secondary ticketing partner StubHub. https://www.stubhub.com/georgia-bulldogs-baseball-tickets/performer/400525/
Also, there are three new flexible ticket packages available. They can include any game on the home schedule. The prices for these packages are $40 for five games and $70 for ten games.
Single game tickets for most non-conference games along with Thursday and Sunday SEC games are options too. Single game tickets are $10 while group tickets (10+ tickets) are $5 each. Currently, single game sales and group tickets are not available for SEC games on Friday or Saturday. For ticket or group info questions, please call (706) 542-1231, Ext. 1. Free parking is available in the commuter surface lot behind the outfield.
Gates open one hour before game time.
Ticket sales are available online here: https://gado.gs/8hg
Promotions For Ga. State Game
-See the promotions table each game for Georgia Baseball posters, roster cards and statistics
Today's Contents – Click to Read
---
Nakobe Dean and Mollie Belisle Named Athletes of the Year
Nakobe Dean (football) was named the Vince Dooley Athlete of the Year, while Mollie Belisle (soccer) was named the Liz Murphey Athlete of the Year at the Dawgs Choice Awards Ceremony hosted by the University of Georgia Athletic Association on Monday night.
The Dawgs Choice Awards, supported by The Georgia Way, is put together annually by the UGA Student-Athlete Advisory Committee (S.A.A.C.).
Other top award recipients include track and field athlete Courtney Long who was presented with the Marilyn Vincent Scholar-Athlete Award as the graduating female senior with the highest GPA; and football player Owen Condon, who earned the Dick Bestwick Scholar-Athlete Award as the male senior with the highest GPA.
The 2022 Georgia recipients for the H. Boyd McWhorter Post-Graduate Scholarship were Ben Anderson (baseball) and Samantha Drop (track and field). Miller Lantis (equestrian) and Keegan Walsh (swimming and diving) were presented with the Brad Davis SEC Community Service Post-Graduate Scholarships.
Owen Condon (football) and Shelby Tyler (track and field) were presented with the Joel Eaves award for being the male and female student-athletes with the highest grade point average upon entering the fall semester of their senior year, based on academic hour rather than eligibility.
Other award winners include:
Clifford Lewis Leadership Award: Alyssa Perez-Lugones, gymnastics
Dick Copas Leadership Award: Keegan Walsh, swimming and diving
Hornsby Howell Community Service Award: Kathryn Jernick, equestrian
Sportsmanship Ethics: Matthew Boling, track and field, and Titiana Marsh, track and field
Inspiration: Elsie Igberaese, track and field
Bulldog Cup: Gymnastics
Today's Contents – Click to Read
---
Jump To Comments