Jump To Top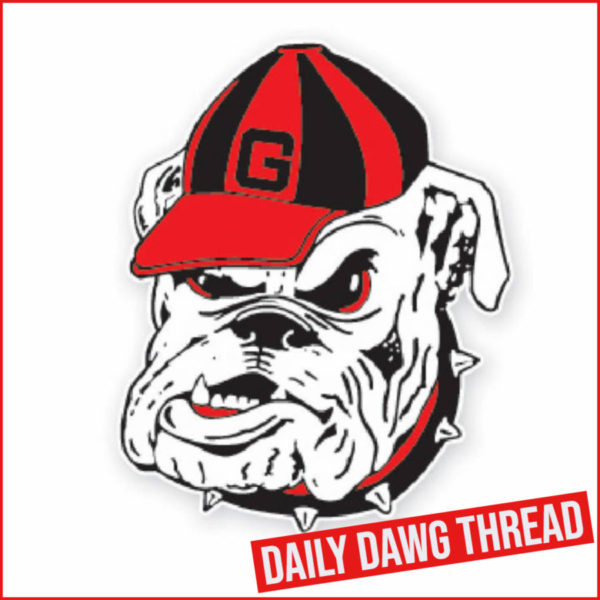 Three Dawgs selected in the first round of the NFL Draft
Georgia had three players taken during the first round of the 2023 NFL Draft Thursday outside of Union Station, giving the Bulldogs a pick in the opening round for the sixth straight year.
The Bulldogs' three first-rounders tied for the second-most players selected in the first round in school history (2018).  Following a record-breaking five in 2022, Georgia has now had eight players selected in the opening round over the last two years.
The Philadelphia Eagles traded up to take defensive lineman Jalen Carter with the ninth overall pick, marking the seventh Georgia defensive player taken in the top 10 picks since 1999.  Five picks later, the Pittsburgh Steelers traded up to get offensive tackle Broderick Jones with the 14th overall pick.  This marks the fifth Georgia offensive lineman taken in the first round since 2000.  The Eagles returned later in the round to select linebacker Nolan Smith with the 30th overall pick after the organization advanced to this past season's Super Bowl.
At least one Bulldog defensive player has been selected in the first round in five of the past six NFL drafts.  With Carter and Jones both going, there have now been eight instances since 2013 of the same school having a first-round offensive and defensive lineman in the same draft.  The Bulldogs have now had 27 linebackers drafted since 2000, which is tops in the nation.
Carter and Smith mark the third and fourth Bulldogs taken by the Eagles in the last two drafts and the 24th and 25th Georgia players taken by Philadelphia since 1943. Most recently, Jordan Davis was taken 13th overall last year by the Eagles and Nakobe Dean was the 83rd overall pick in the third round of the 2022 draft by the organization. While the Bulldogs have had two No. 9 overall selections in history, the most recent pick at that spot was Leonard Floyd by the Chicago Bears in 2016.
Carter, a native of Apopka, Fla., was a unanimous All-American in his third and final year of play in 2022. The Rotary Lombardi Award finalist finished with 32 stops in 13 games, including seven tackles for loss and three sacks, and forced two fumbles. For his career, Carter tallied 83 tackles, including six sacks and 18.5 tackles for loss, and blocked two kicks. In addition, he caught a touchdown pass during the victory over Tennessee in 2020.
Jones is the second Bulldog taken by the Steelers in as many years after receiver George Pickens was a second-round pick in 2022.  There have been two other No. 14 overall picks who were Bulldogs, including Pro Bowler Thomas Davis (Carolina Panthers) in 2005.  Jones is the 19th Georgia player taken by Pittsburgh since 1948.
Jones, a native of Lithonia, Ga., started the final four regular season games for Georgia's 2021 national championship squad and then all 15 during their back-to-back campaign last season. The AP All-SEC First Team selection helped the Bulldogs pile up a school record 501.1 yards per game while the offensive line allowed only nine sacks to quarterback Stetson Bennett through 15 games. Jones, who redshirted in 2020, protected Bennett on his way to 4,127 yards and 27 touchdowns in 2022 and the top two Bulldog running backs combined for more than 1,600 yards.
Smith gives the Eagles four players off the 2021 Bulldog defense that allowed opponents an average of only 10.2 points per game. Georgia is one of the country's elite having 19 defensive players drafted since 2000.
Smith, a native of Savannah, Ga., was the captain and leader of the Georgia defense that allowed only 14.3 points per game last season, which ranked fifth nationally. Despite playing in only eight games because of an injury, Smith collected 18 stops, including seven tackles for loss and three sacks, in his fourth and final year. He completed his career by starting 23 games and registering 114 tackles, including 11.5 sacks and 21 tackles for loss, three forced fumbles, one fumble recovery and an interception.
The NFL Draft continues Friday with the second and third rounds starting at 7 p.m. ET. On Saturday, rounds 4-7 are slated to begin at 12 p.m.
---
MTennis: Ethan Quinn earned SEC Freshman of the Year honors and head coach Manny Diaz was awarded SEC Coach of the Year for the seventh time
The University of Georgia was well represented in the Southeastern Conference annual awards, highlighted by Ethan Quinn earning SEC Freshman of the Year honors and head coach Manny Diaz being awarded SEC Coach of the Year for the seventh time in his storied career. In total, five Bulldogs were recognized for seven SEC honors.
Redshirt seniors Trent Bryde and Philip Henning as well as Quinn were named to the All-SEC First Team, while redshirt senior Blake Croyder earned a spot on the All-SEC Second Team. In addition to his Freshman of the Year award, Quinn was also named to the All-SEC Freshman Team. Diaz has previously won conference Coach of the Year in 1989, 1995, 2001, 2006, 2007 and 2017.
"This is a tremendous recognition for all of these guys who have put in a lot of work," said Coach Diaz. "They have shown incredible focus throughout our spring season and done a great job of playing for one another. I'm very proud of this group."
Coach Diaz led Georgia to a 20-5 regular season record and 12-0 in conference play, marking the 16th time the program finished with an unblemished SEC schedule. During the Bulldogs' run to their 32nd SEC regular season title, Diaz's team won 10 of their 12 matches by at least a two-match margin, including four sweeps. After finishing the season on a 13-match win streak, Georgia entered the postseason 18-5, its best win percentage heading into the SEC Tournament (.783 percent) since 2016 (.857 percent).
Quinn earned spots on the All-SEC First Team, All-SEC Freshman Team and becomes the third player in program history to earn freshman of the year honors. A five-time SEC Player of the Week, Quinn finished the season with a 23-10 record in singles, including a team-best 15 ranked wins and went 10-1 against SEC competition. The Fresno, Calif. native began the spring ranked as the No. 1 singles player in the nation and has not left the top five since. Quinn is the only freshman in the nation to rank in the top 10 of both doubles and singles, currently ranking No. 3 in singles and No. 5 in doubles with partner Bryde. The two led the team in dual match wins with 12 this season, eight of which came against ranked competition, including wins against No. 1 and No. 5 tandems in the country.
Bryde earns his second All-SEC honors and first on the First Team. The Suwannee native won nine of his 14 regular season singles matches in straight sets and went 8-1 in SEC action. He primarily played on court three this season, where he finished 10-5, which ranks within the top five in the conference from the position. He also won the fifth-most doubles matches on court one with 12 in the conference with partner Quinn. The redshirt senior was also named an Intercollegiate Tennis Association All-American twice in both singles and doubles.
For the second straight year, Henning was named to the All-SEC First Team after finishing the conference slate as the only player to go undefeated with a minimum of two matches. The Bloemfontein, South Africa native ended the regular season on a 10-match win streak in singles and a team-best dual match winning percentage of .789 percent with a 15-4 record. The redshirt senior reached his 100th career singles win on April 15 in the team's match against Ole Miss, where he clinched the match. The three-time All-SEC winner reached a career-best singles ranking of No. 8 on February 8 this season.
Croyder earned his first All-SEC nod with a spot on the second team. The redshirt senior was tied for the most singles wins on the team with 25 and was one of three Bulldogs to finish the season on a six-match win streak. He finished the spring 16-6, going 10-3 in his last 13 match results. In doubles, Croyder played with Johnston on court three and clinched the doubles point seven times, including in the first two rounds of the SEC Championship.
Georgia will now await to hear its regional assignment for the first and second rounds of the NCAA Tournament, which will be announced Monday, May 1 at 6:30 p.m. ET. The Bulldogs finished as the 2023 regular season champions and in the finals of the SEC Championship this past weekend at Auburn, Ala.
WTennis: SEC announced five Bulldogs received yearly Conference awards
The Southeastern Conference announced on Thursday that five Bulldogs from the University of Georgia women's tennis team have received yearly awards.
Lea Ma, a senior from Dix Hills, New York, and Dasha Vidmanova, a sophomore from Prague, Czech Republic, were named First-Team All-SEC. Meanwhile, Meg Kowalski, a graduate from Chicago, Illinois, and Mell Reasco, a sophomore from Quito, Ecuador, were named Second-Team All-SEC. Anastasiia Lopata, a freshman from Kiev, Ukraine, made the SEC All-Freshman team.
Ma, who is currently ranked No. 3 by the Intercollegiate Tennis Association (ITA), has a 29-5 overall record, going 15-3 at the top spot and 10-1 in conference play. She has recorded 14 wins over ranked opponents, including 10 top-50 victories, and is one of two players in the country to defeat top-ranked Fiona Crawley (UNC) this season. Ma previously took home First-Team honors in 2022 and 2020.
Vidmanova, who is currently ranked No. 4 by the ITA, has a team-best 30-5 overall record, going 16-3 at the No. 2 spot and 7-2 in league play. She has recorded 14 wins over ranked opponents, including nine top 50 victories, and was named to the ITA National Team Indoors All-Tournament Team and ITA National Team Indoors Most Outstanding Player. Vidmanova previously took home Second-Team honors in 2022.
Kowalski, who is currently on a 10-match win streak, has recorded a 24-6 overall record, going 15-5 in the middle of the lineup, and 7-1 in SEC play. After clinching the 2023 SEC Tournament Championship match, she was named to the SEC All-Tournament team and SEC Tournament MVP. In doubles, she has a 23-9 overall record, going 8-2 in league play, and is ranked No. 61 with Mell Reasco. Kowalski previously took home First-Team honors in 2020 and Second-Team honors in 2022 and 2019.
Reasco is currently ranked No. 66 by the ITA and has a 21-6 overall record, going 16-6 in the middle of the lineup and 10-2 in conference play. She has logged five wins against ranked opponents, including three top-50 wins. Reasco is ranked No. 61 with Meg Kowalski in the ITA doubles rankings and previously took home First-Team honors in 2022.
Lopata, who is currently ranked No. 75 by the ITA, has a 17-10 record, including 7-4 in dual play and 5-2 in conference play. She has logged three ranked wins on the season, including a straight-set win over No. 19 Alexa Noel (Miami). Lopata clinched a pair of matches this season, including Coach Wallace's 800th career win and the Bulldogs' SEC Tournament Semifinal match against Tennessee. After splitting the first two sets with Tennessee's Eleonora Molinaro, Lopata overcame a 5-1 game deficit to send the Bulldogs to the championship match.
The Bulldogs are now preparing for the NCAA Tournament, and the bracket and regional location will be announced on Monday, May 1 at 6 p.m.
Complete All-SEC list
First Team
Carolyn Ansari, Auburn
Sara Dahlstrom, Florida
Lea Ma, Georgia
Dasha Vidmanova, Georgia
Anastasiya Komar, LSU
Ayana Akli, South Carolina
Sarah Hamner, South Carolina
Daria Kuczer, Tennessee
Rebeka Mertena, Tennessee
Elza Tomase, Tennessee
Carson Branstine, Texas A&M
Mary Stoiana, Texas A&M
Celia Belle Mohr, Vanderbilt
Second Team
Loudmilla Bencheikh, Alabama
Carolina Gomez Alonso, Arkansas
Ariana Arseneault, Auburn
Carly Briggs, Florida
Alicia Dudeney, Florida
Meg Kowalski, Georgia
Mell Reasco, Georgia
Florencia Urrutia, Kentucky
Kylie Collins, LSU
Ludmila Kareisova, Ole Miss
Emmanouela Antonaki, Mississippi State
Salma Ewing, Texas A&M
Mia Kupres, Texas A&M
Jayci Goldsmith, Texas A&M
All-Freshman
Carolina Gomez Alonso, Arkansas
DJ Bennett, Auburn
Rachel Gailis, Florida
Anastasiia Lopata, Georgia
Mia Kupres, Texas A&M
Bridget Stammel, Vanderbilt
Player of the Year
Mary Stoiana, Texas A&M
Freshmen of the Year
Carolina Gomez Alonso, Arkansas
Co-Coaches of the Year
Allison Ojeda, Tennessee
Mark Weaver, Texas A&M
---
Baseball: Georgia resumes SEC play Friday against Ole Miss in Oxford
After spending the past four weekends facing a top 10 SEC opponent, the Bulldogs (23-18, 7-11 SEC) look to improve their standing in the "Road To Hoover" for the SEC Tournament which features just 12 teams. After a 1-9 start to league play, Georgia is 6-2 in its last eight games against No. 10 Kentucky, at No. 2 Florida and No. 5 Arkansas. Meanwhile, the Rebels (21-20) are 3-15 in the SEC after being swept by top-ranked LSU in Oxford last weekend. The Rebels have dropped all six SEC series with one road win over Texas A&M and Mississippi State plus one home victory over No. 5 Arkansas.
Series History: Ole Miss holds a 48-40 edge in the series with Georgia including winning the past four series (2014, '16, '18, & '21). Ole Miss is 12-4 against the Bulldogs in this stretch which includes four wins at the SEC Tournament. Georgia's last trip to Oxford was in 2018. Georgia's last series win over the Rebels came in 2012 in Athens (2-1) and the last in Oxford was 2011 (2-1).
On The Mound: The Bulldogs have a 6.32 ERA with 386 strikeouts and 205 walks. Opponents are batting .265. The Rebels sport a 5.52 ERA with 395 strikeouts and 188 walks. Opponents are hitting .252 against Ole Miss.
Georgia junior ace Jaden Woods (3-2, 5.59) was not active in last weekend's SEC series versus #5 Arkansas due to arm fatigue. He is listed as day-to-day. For the second straight SEC series, the rotation will feature freshman RHP Kolten Smith (2-1, 4.74) and juniors LHP Charlie Goldstein (2-1, 4.64) and Liam Sullivan (4-2, 4.37). The Rebels have not announced their rotation as of Thursday morning.
At The Plate: Georgia is batting .290 with 77 home runs, a .389 OB% and is 21-for-24 in stolen base attempts. Redshirt freshman 1B/OF Charlie Condon (.416-18-55) and graduate OF Connor Tate (.364-13-44) and junior 3B/1B Parks Harber (.281-14-43) headline the offense. Ole Miss is batting .287 with 62 home runs, a .381 OB% and is 34-for-42 in stolen base attempts. The Rebels leading hitters are juniors OF Kemp Alderman (.360-17-55), C Calvin Harris (.344-6-30) and SS Jacob Gonzalez (.322-7-37).
Tough Glove: Georgia and Ole Miss lead the SEC and rank in the top 10 nationally in fielding at .981.
Radio/TV/Live Stats Information
Thursday at 7:30 pm ET at Swayze Field, Athens (SECN+)
Radio: 960TheRef: https://georgiadogs.com/watch/?Live=4398&type=Archive
TV: SEC Network (Jake Hromada & Matt McLauglin): https://www.espn.com/watch/player?id=0634101b-41a1-427b-9ccd-8ce5b218a3a3
Live Stats: http://stats.statbroadcast.com/broadcast/?id=446466
Saturday at 2:30 p.m. ET at Swayze Field, Athens (SECN+)
Radio: 960TheRef: https://georgiadogs.com/watch/?Live=4399&type=Archive
TV: SEC Network (Jake Hromada & Matt McLauglin): https://www.espn.com/watch/player?id=7dc48ef3-feb0-44c8-91b9-b26c54c1a827
Live Stats: http://stats.statbroadcast.com/broadcast/?id=446467
Sunday at 2:30 p.m. ET at Swayze Field, Athens (SECN+)
Radio: 960TheRef: https://georgiadogs.com/watch/?Live=4400&sport=1&type=Archive
TV: SEC Network (Jake Hromada & Matt McLauglin): https://www.espn.com/watch/player?id=29e970b6-3979-4f6e-b5b3-14bc266c19b1
Live Stats: http://stats.statbroadcast.com/broadcast/?id=446468
---
Jump To Comments