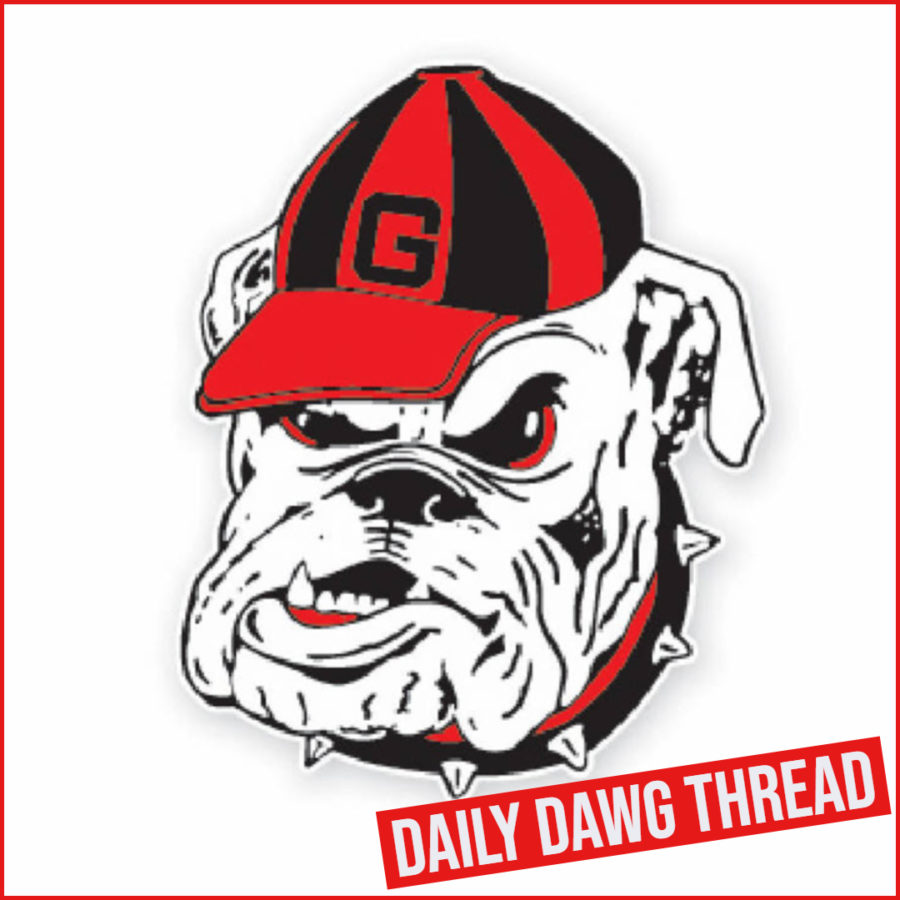 Daily Dawg Thread – Bulldawg Illustrated Exclusive Interview With Class Of 2023 WR DeAndre Moore Jr. – By Matthew Hall
Class of 2023 WR DeAndre Moore Jr. has quickly become a name on the scene in the world of college football recruiting. The rising Freshman is currently the only member of the 2023 Class that holds offers from any major collegiate football programs. The young phenom wide receiver was the recipient of 6 separate offers over the course of two days this month. Hawaii was the first program to offer Moore Jr. on May 15 and that offer was followed up by Auburn, Florida, Arizona State, Georgia, and Alabama on May 16. Bulldawg Illustrated was recently afforded an opportunity to speak with Moore Jr. about the recruiting events that unfolded a few days ago and about who he really is as a person, an athlete, a football player, and in being the only athlete of his respective class holding Power 5 offers.
Class Of 2023 WR DeAndre Moore Interview Of May 20, 2019:
Q: First and foremost, congratulations on being the first and only player in the class of 2023 to have been extended offers from any Power 5 football programs or any other collegiate football programs in the country for that matter. So you are planning on attending Desert Pines High School in Las Vegas, Nevada, next year as a Freshman in high school correct?
A: Thanks for the congratulations and I am very honored and humbled to have received any offers from any programs whatsoever. As far as where I will be attending school this upcoming year, there is still some question. I will either be attending Desert Pines High School in Las Vegas, Nevada, or Mater Dei High School in Santa Ana, California. Desert Pines really does not take part in out of state games and Mater Dei does do so and plays against other high school nationally ranked programs. As so, I am still currently deciding what is best for me moving forward at this point and the decision is one that is not set in stone as of yet.
Q: On May 15, you received your first collegiate offer from Hawaii am I right?
A: Yes sir, the first offer that was extended to me was by Hawaii on that day.
Q: You would then go on to receive 5 more offers on the following day?
A: Yes sir, it was pretty crazy and definitely surprising to say the least. It was a pretty surreal moment altogether.
Q: How did you go about finding out that you had received an offer from the Georgia Football program out of curiosity?
A: I learned about the offer from Georgia from my coach David Hill. We were taking part in football drills and what not on the campus there at Desert Pines and a host of coaches from college football programs were there on that day. At the end of the day Coach Hill came to me and informed me that I had received an offer from Georgia. I looked at Coach Hill and said to him, Coach, no I don't. He reiterated to me that it was not a joke and that I did indeed have a scholarship offer to the University of Georgia. It was a very surreal moment for me as I had just spent some time down in Athens last summer for three to four days as we had a football tournament in Buford. I loved the feel of Athens and it was a very nice place in an absolute beautiful area.
Q: So were you or have you ever been inside Sanford Stadium or have you ever seen any of the UGA Athletics facilities?
A: No, unfortunately I have not been able to do that yet but I look forward to doing so in the future and in time.
Q: With your overall recruiting process really getting off the ground and all, have any other college football programs expressed any interest in you in a major way other than the six that have already extended an offer to you?
A: No, not as of yet. Not yet.
Q: Did you grow up as a fan of a particular football program?
A: Well, not really. I have grown up as a fan of the Pittsburgh Steelers of the NFL and all. My father is a little different though and he is a huge fan of the University of Oklahoma.
Q: In looking ahead as a potential college football recruit, what are looking for in a program?
A: As of right now I would say that the answer to this question is that I am just looking for a school that fits on how I am able to play at the receiver position. I am also looking for a school that feels like home, where I am welcomed, and that I feel natural and comfortable at. I am also looking to find a place that would feel the same for my parents and my twin sisters as they will transition and be close to whatever school of choice I end up at in the end.
Q: Do you have a certain workout routine or trainers that have helped you to get to the point you are at this far in terms of football?
A: No, not really anyone other than my father. We have worked out together, go through football drills and activities collaboratively, and he has pushed me to do my best and give it my all without fail. I have not really been on any form of routine dietary program as an athlete though or had any personal trainers other than my dad.
Q: If you were at the point that you were eligible to play now and were selling yourself to a program out there, how would you sell or pitch yourself as a football player and an athlete to that program of interest?
A: First of all that I am a hard worker. I have grown up around older guys including my brother who is three years older than me and attending the University of New Mexico. They are Seniors and I am just an eighth grader working out with them to try to get better and being around them and others that are more seasoned will only make me better as a player and with my development. I will be a player that will take his academics seriously and will be a player that will push the others around him to be better as an athlete, as a student, and as a person in this life.
See more info on Class On 2023 WR DeAndre Moore Jr. at his 247Sports recruiting profile page at https://247sports.com/Player/DeAndre-Moore-Jr-46084735/ and be sure to check out his highlights below.