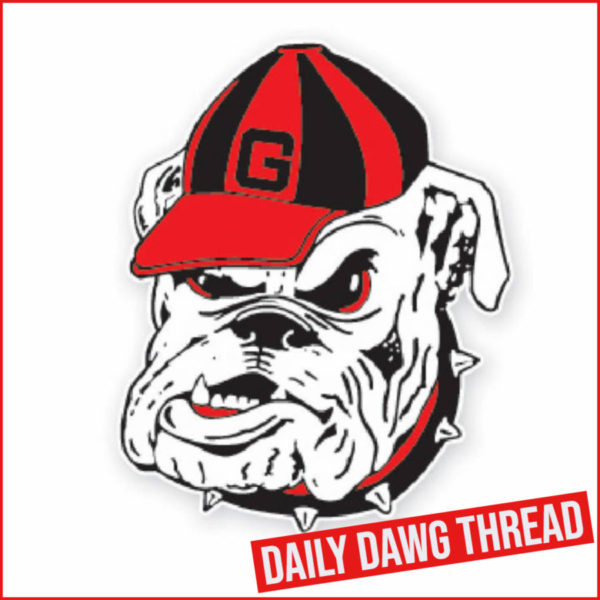 ---
Stetson Bennett Wins the 2022 Burlsworth Trophy
Georgia quarterback Stetson Bennett has been named the recipient of the 2022 Burlsworth Trophy, which is awarded annually to the most outstanding college player who began his career as a walk-on.
In addition, Bennett was also named one of four Heisman Trophy finalists earlier in the day Monday.
Bennett received the Burlsworth Trophy on Monday during a ceremony at the Crystal Bridges Museum of American Art in Arkansas. The other two finalists were Troy senior linebacker Carlton Martial (like Bennett, a 2021 finalist) and Purdue senior quarterback Aidan O'Connell.
The trophy is named in honor of Brandon Burlsworth, who walked on at Arkansas in 1994 and eventually became a three-year starter and an All-American. He was selected by Indianapolis in the 1999 NFL Draft, but was tragically killed in a car accident 11 days later. The Burlsworth Foundation was created in his memory to support the physical and spiritual needs of children, in particular those who have limited opportunities.
Previous Burlsworth Trophy recipients include Oklahoma's Baker Mayfield and Clemson's Hunter Renfrow.
Bennett walked on at Georgia in 2017 and drew high praise from coaches and teammates for his scout team play. He transferred to Jones College in 2018, passing for 1,840 yards and 16 touchdowns. Bennett returned to Athens in 2019, seeing reserve action in five contests. In 2020, Bennett started five games and passed for 1,179 yards and eight touchdowns.
The 2021 campaign was the storybook season for Bennett and the Bulldogs. Starting 12 times, including the final 10 contests, he threw for 2,862 yards and 29 touchdowns in leading Georgia to its first national championship since 1980. Bennett was the Offensive MVP for both the College Football Playoff (CFP) Championship Game and the Semifinal Capital One Orange Bowl.
Bennett led the top-ranked Bulldogs to the 2022 Southeastern Conference title on Saturday and was chosen as the game's Most Valuable Player. He went 23-of-29 for 274 yards and four touchdowns as Georgia topped LSU 50-30. For the year, Bennett has completed 269-of-395 passes for 3,425 yards and 20 touchdowns. His 269 completions match the school single-season record set by Eric Zeier in 1993. Bennett also has rushed for seven touchdowns.
In his career, Bennett has passed for 7,726 yards and 59 touchdowns. With an additional 11 rushing scores, he has accounted for 70 career touchdowns.
Bennett is also a finalist for the Manning Award and the Johnny Unitas Golden Arm Award.
ICYMI: Stetson Bennett is a Heisman Finalist
Watch a fullscreen slideshow
HERE.
"I don't even know what to think right now. We have a lot of good players who make me look good. It's special. This honor is all about my teammates and this team. I wouldn't be here if we didn't have the team that we have. This honor is for them. I understand what Coach Smart means when he says that success comes to those who don't look for it or are too busy working to look for it. I have never thought about the Heisman. I just wanted to play quarterback at Georgia. I just wanted to play football. I'm thinking of the players and people who have been in this with me. Regardless of who wins, it's a huge honor to be in this group. The wideouts, tight ends, running backs, offensive line, defense, coaches – I wouldn't have this opportunity without them so a ton of gratitude for them."
–Stetson Bennett, UGA QB, Dec. 5, 2022
University of Georgia quarterback Stetson Bennett has been named one of the four Heisman Trophy finalists announced Monday night. The four finalists will be in New York this Saturday night for the ESPN-televised Heisman ceremony and announcement of the 2022 winner.
Bennett led the Bulldogs to the College Football Playoff national championship in the 2021 season and has the undefeated Georgia team currently at the top of the rankings heading into this year's Playoff.
The Blackshear, Ga., sixth-year senior is 27-3 as the starting Georgia quarterback. He's the third Heisman finalist invited to New York, joining 1982 Heisman winner Herschel Walker and 1992 running back Garrison Hearst. Georgia's other Heisman winner was 1942 quarterback Frank Sinkwich.
About Stetson Bennett
Walter Camp National Offensive Player of the Week, Manning Award Quarterback of the Week, Davey O'Brien Great 8 (vs. #11 UO); Manning Award Stars of the Week, Davey O'Brien Great 8 (@ SC); Johnny Unitas Golden Arm Award Top 10 QB; Davey O'Brien Class of 2022; SEC Co-Offensive Player of the Week, Davey O'Brien Great 8, Manning Award Quarterback of the Week (#1 UT); Davey O'Brien Award/Walter Camp National Player of the Year semifinalist; Burlsworth Trophy finalist; Johnny Unitas Golden Arm Award finalist; Manning Award finalist; SEC Championship Game MVP
Bennett 27-3 As A Starter at Georgia
* Senior Stetson Bennett, a native of Blackshear, Ga., began his career with the Bulldogs as a walk-on in 2017 when he was redshirted. Bennett transferred to Jones College (Miss.) where he started in 2018 and then returned to the Bulldogs on scholarship in 2019. He saw action that season in five games including throwing passes in four of them. In 2020, he started five games and then got the nod in the final 11 contests of the 2021 national championship season.
* In his Bulldog career, Bennett has won a national championship and an SEC title and is 27-3 as a starter. He has completed 64.8 percent of his passes (560-for-864, 7,726 yards, 59 TDs, 20 INTs).
* In school history, Georgia is 3-5 all-time against the No. 1 team and Bennett is 2-0. He led Georgia to a victory over No. 1 Alabama in the 2022 CFP National Championship Game and then against top-ranked Tennessee this season.
* Currently ranks third nationally among active players in Total Offense Yards Per Play for a career at 8.28, which is on pace for both an SEC and school record (8.30 by Johnny Manziel, Texas A&M; 7.69 by Aaron Murray, Georgia). The current active national leader is C.J. Stroud (9.12, Ohio State) followed by Grayson McCall (8.45, Coastal Carolina).
* Most recently, Bennett completed 79 percent of his passes, going 23-for-29 for 274 yards, and threw four touchdown passes against No. 14 LSU in the SECCG. He has tied the school record with 269 completions on the season (Eric Zeier, 1993).
* After falling behind for only the second time this season (No. 1 Tennessee 3-0, 10:05 1stQ), Bennett directed an 80-yard touchdown drive that was capped by his 13-yard scamper to the pylon. The Bulldogs would never trail again against the Vols.
* Bennett took off for a career-long 64-yard touchdown run during the win over Auburn, giving the Bulldogs a 28-3 edge at the start of the fourth quarter. His scoring scamper was the longest for a Georgia QB since 1976 when Ray Goff flew 73 yards for paydirt in a 41-0 win at Clemson.
* Bennett and Tim Tebow (four) are the only two SEC players since 2004 to have at least four consecutive games with 250 passing yards and one rushing score. Aaron Murray is the only other Bulldog quarterback to have at least 250 passing yards and at least one rushing score in four games overall during a season (2013).
* Bennett earned Walter Camp National FBS Offensive Player of the Week and Manning Award National QB of the Week honors while leading No. 3 Georgia to a 49-3 rout of No. 11 Oregon in this season's opener. He directed the Bulldogs to seven touchdowns on their first seven drives and finished 25 of 31 for a career-high 368 yards and two touchdowns. Bennett also had a 1-yard rushing score against the Ducks. Bennett's 368 passing yards in the win was the most in a season opener by a Bulldog since 1994 when Eric Zeier tallied 485 yards in a road win over South Carolina.
* He ranked fourth nationally in Passing Efficiency (176.7) last year, which broke the school record in that category previously belonging to Aaron Murray (174.8, 2012).
* In 2021, Bennett helped Georgia complete historic 8-0 SEC regular seasons in 2021 and 2022
* During the CFP National Championship Game versus No. 1 Alabama, Bennett finished 17-for-26 passing with 224 yards, two touchdowns and no picks. Trailing 18-13 with 10:14 left in the game, Bennett directed a four-play, 75-yard scoring drive that gave the Bulldogs a one-point lead at the 8:09 mark (a two-point conversion failed). Georgia never relinquished its lead to collect its first national championship in 41 years. Bennett was named the game's Offensive MVP as was the case in the CFP Semifinal Orange Bowl victory over Michigan.
---
WBB: NC State pulls away from Dawgs late to win by 11
The No. 8 NC State Wolfpack outlasted the University of Georgia women's basketball team, 65-54, Monday night at Stegeman Coliseum.
Fifth-year guard/forward Audrey Warren led Georgia (8-2) in scoring, setting a season high in points and three-pointers made, with 18 points, four three-pointers and grabbed five boards. Three Lady Bulldogs, Diamond Battles, Brittney Smith and Alisha Lewis, followed Warren's effort with 10 points each. Smith led Georgia in the paint with nine. Lewis contributed four assists.
"I tell our team all the time, we can be so special," Georgia head coach Katie Abrahamson-Henderson said. "We're also changing different kids from different systems. We're changing them to try to come together and obviously he (NC State Head Coach Wes Moore) has had his system in for such a long time, whereas we're just slowly putting in time with ours. I keep telling them we can be really special. When I went in there I said, 'I'm not mad, but I'm actually disappointed. You just played with one of the top 10 teams in the country. You have to believe what I'm saying to you.' I think our biggest thing is consistency. Every game that you come in, it's always Audrey (Warren), Brittney (Smith), Diamond (Battles), Jordan (Issacs) and Alisha (Lewis) and everybody else needs to be consistent. They're very talented, but they all need to step up and be consistent in their roles. I hope that a game like this shows them that they can play with these players out there today in NC State, and there's going to be many more great teams we're going to play. We have to really start being consistent in our roles, and we talked about that in the locker room. I think once we get more consistent with everybody else, because we play with a high number of people, the consistency needs to be a lot better from everybody."
The Wolfpack (8-1) jumped out with an early 4-0 lead to start the first quarter. Five points from Warren on back-to-back possessions sparked a 11-0 run for the Lady Bulldogs to take a 15-10 lead. A three-pointer from Lewis and layup from Z. Smith gave Georgia a five-point boost to finish the first quarter with an eight-point lead, 22-14.
Six unanswered points helped Georgia maintain their lead at the start of the second quarter. A strong defensive effort saw the Lady Bulldogs outrebound the Wolfpack, by a 15-7 margin in the opponents' paint. NC State used an eight-point run at the end of the second quarter to close the scoring gap to three points but were unable to regain the lead as Georgia took a 32-29 lead into the locker room at the half.
10 points from NC State gave the Wolfpack a seven-point lead in the third quarter. A pair of three-pointers from Lewis and Warren fueled Georgia's scoring efforts to put the Lady Bulldogs within seven points, 48-41, going into the final quarter.
The Wolfpack held their lead for the start of the fourth quarter. Warren's fourth made three-pointer of the night followed by a jumper from B. Smith put Georgia within two points with less than four minutes remaining in the game. The Wolfpack scored 10 uncontested points to close the fourth with the win.
MBB: UGA meets Tech in Atlanta tonight
Tuesday, December 6, 2022 at 7:00 p.m.
McCamish Pavilion (8,600) in Atlanta, Ga.
Series History: GT leads, 106-91
Last meeting: GT, 88-78, on Nov. 19, 2021
Video: ESPN2 (Wes Durham, pbp; Randolph Childress, analyst)
Audio: Georgia Bulldogs Radio Network (WSB AM 750; SiriusXM: 387; SXM App: 977) (Scott Howard, pbp; Chuck Dowdle, analyst; Adam Gillespie, producer)
The Starting Five
• UGA travels to Atlanta on Tuesday evening for the Bulldogs' 198th meeting against arch-rival Georgia Tech.
• Mike White recorded his 250th career victory with last Friday's win over Florida A&M in Athens.
• UGA held its last 3 opponents under 55 points, a 1st for the Bulldogs in 12 seasons…since Dec. 2010.
• UGA won 6 games in November, which matched the Bulldogs' win total for the entire 2021-22 season.
• UGA's bench has scored 237 points and posted a +148 margin over its opponents' reserves to date.
The Opening Tip
The Georgia Bulldogs make the 90-minute trek from Athens to Atlanta on Tuesday to face arch rival Georgia Tech at McCamish Pavilion for the first time in quite a while.
Georgia last ventured to 10th Street on Dec. 22, 2018. The Bulldogs' last trip to Tech was canceled during the pandemic-shortened 2020-21 season.
Keepin An Eye On: Entering Today's Game . . .
Braelen Bridges is…
• 69 points from 1,000 for his career
• 29 rebounds from 500 for his career
Jailyn Ingram is…
• 54 points from 1,500 for his career
• 10 rebounds from 700 for his career
Series History With Tech
The Yellow Jackets a 106-91 lead in the all-time series between UGA and GT, including a 62-27 edge on Tech's campus.
Georgia's five-game winning streak over Tech – which matched the Bulldogs' second-longest ever in 196 meetings with the Yellow Jackets – ended last Nov. 19 with a 88-78 loss at Stegeman Coliseum.
The Bulldogs led 73-71 with 4:34 remaining before Tech surged.
Aaron Cook led the Bulldogs with 18 points and six assists, while fellow "super senior" Jailyn Ingram chipped in 17 points and a team-high six rebounds.
Michael DeVoe and Jordan Usher combined to score 58 of Tech's 88 points while connecting on 23-of-32 (71.9 percent) of their shots from the floor.
Last season was the Jackets' first win over Georgia since the season opener of the 2014-15 campaign on Nov. 14, 2014. The Bulldogs haven't lost at McCamish Pavilion since that contest, a span of 2,944 days as of Tuesday.
However, Tuesday will be the Bulldogs' first trip to Tech's campus in nearly four years. The matchup between UGA and GT was canceled during the pandemic-shortened 2020-21 campaign.
The Bulldogs have won in their last two trips to Tech, most recently a 70-59 decision on Dec. 22, 2018. Current Brooklyn Net Nicolas Claxton's extremely thorough linescore of 13 points, 13 rebounds, six assists and six blocks led Georgia in that outing.
The Bulldogs never trailed and used a 13-0 run to build a 25-9 lead with 3:02 left in the opening half. The Jackets closed that gap to 10 at the intermission and pulled within 29-26 less than two minutes into the second stanza before the Bulldogs thwarted that surge with a 3-pointer.
Tech made it a one-possession game three more times, but a different Bulldog answered on each occasion.
---
MTENNIS: Georgia signed Alex Michelsen, the top-ranked American in the 2023 class
The University of Georgia men's tennis program has signed Alex Michelsen, the top-ranked American-born player in the 2023 class according to tennisrecruiting.net, head coach Manny Diaz has announced on Monday morning.
Michelsen comes from Aliso Viejo, Calif., and will graduate from Laurel Springs School this spring. He holds an International Tennis Federation Junior world ranking of No. 25 and has the seventh-highest Universal Tennis Rating among all 18-and-under players internationally.
"We consider Alex to be a tremendous player that is going to be capable of playing towards the top of the lineup in both singles and doubles," said Coach Diaz. "His resume speaks for itself. We cannot wait for Alex to get here and start working with him. He's been on our radar for quite a long time, and we feel great about him officially becoming a Bulldog."
Michelsen climbed inside the ATP Top 600 at No. 597 in the world after defeating a top-200 player in main draw at 2022 ATP Tiburon Challenger, reaching the Round of 16. This ranking is a new career-best for the 18-year-old.
Michelsen's loaded resume is highlighted with a 2022 Grand Slam doubles title in the boys' division of Wimbledon. He also was a 2022 Australian Open doubles finalist, the 2022 International Tennis Federation Easter Bowl champion in both singles and doubles and was a quarterfinalist in singles and finalist in doubles at the 2022 USTA Boys' Nationals in Kalamazoo, Mich. He also advanced to at least the quarterfinals in four ITF Futures events this calendar year.
"Alex is no doubt an incredible talent, but the thing that drew us to him the most is the passion that he plays with and the fact that he is such a fierce competitor," said associate head coach Jamie Hunt. "We love his drive and just how he battles on the court."
He holds an impressive 22-10 record at the ITF Futures and Association of Tennis Professionals Challenger level in 2022, including most recently reaching the finals of the Winston Salem 15k on November 13 and winning the singles and doubles titles at the East Lansing 15k on November 20.
Michelsen holds a 39-11 record since November 2021, including an impressive 14-2 tally going against fellow blue-chips, including a win against Nishesh Basavreddy of Stanford, the current No. 2 singles player in the Intercollegiate Tennis Association rankings.
He is No. 1 of the 25 blue-chip prospects in the incoming graduating class. Michelsen stands at 6-foot-4, 175 pounds and plays right-handed.
The incoming freshman trains at the acclaimed Tier 1 Performance Academy in Newport Beach, Fla., which is led by Coach Diaz's son Eric and his partner Jay Leavitt.
---
Jump To Comments