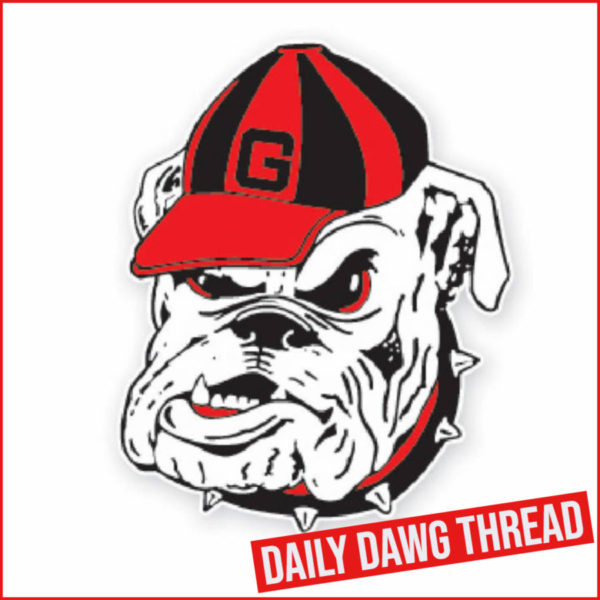 ---
Nakobe Dean named captain of Allstate AFCA Good Works Team
University of Georgia linebacker Nakobe Dean has been named captain of the 30th annual Allstate AFCA Good Works Team. Dean was one of the 22 players selected for the 2021 Allstate AFCA Good Works Team, for their remarkable commitment to community service.
"Nakobe is an exceptional example of what it means to be a well-rounded student-athlete who makes time to give back," said Bulldog head coach Kirby Smart. "It is an outstanding honor to be named captain of the Allstate AFCA Good Works Team and I believe that there could be no better person named to fill that spot than Nakobe."
Georgia's Malcolm Mitchell (2015) was also a captain of the Good Works Team making the Bulldogs the only school to have a pair of captains in history.
Dean was deservingly voted as captain thanks to his community service efforts with Dawgs for Pups, a program Dean helped launch to directly support the youth community in Athens County. To date, the program has raised more than $200,000, which helped secure 27,000 pounds of food donations and clothing for local children, among other area contributions.
Since the September 2021 Allstate AFCA Good Works Team announcement, with a $1 million pledge from Allstate to recognize college football athletes – across all divisions – and the non-profits they serve, fans have been voting on ESPN.com for their honorary captain. As part of Allstate's historic Name, Image and Likeness deal, Dean selected to contribute his donation to The Hope Center: Community Center of North Mississippi.
"We continue to be amazed by the incredible work of our Good Works Team members, especially Nakobe Dean," said Terrance Williams, Good Works Team selection committee member and Executive Vice President and General Manager, Allstate Agency Distribution. "We were so proud to honor them in new ways in 2021 and enable even more community impact."
Thanks to the new NCAA name, image and likeness decision, Allstate was able to advance the opportunity to financially empower these athletes and open the door to further positive societal change with financial support for the athletes and a donation to their chosen nonprofits. It was the largest NIL investment yet for community impact by a college football sponsor—and insurer.
Dean will be virtually recognized at The Home Depot College Football Awards on Dec. 9, on ESPN, as well as at the Allstate Sugar Bowl on Jan. 1, 2022.
---
Video: How David Pollack Learned of His Selection to the CFB Hall of Fame
---
MBB: Georgia (3-5) vs. Jacksonville (4-2) Tonight
The Starting 5…
• After scoring 32 points in his first 14 career outings, Jabri Abdur-Rahim has put up 35 in UGA's last two games.
• Aaron Cook entered the week ranked No. 2 nationally in average assists per game with a 7.0 APG mark.
• Kario Oquendo has had #SCTop10 dunks during two of UGA's three Tuesday night games.
• Tom Crean earned his 400th career victory with UGA's 82-79 upset of No. 18 Memphis on Dec. 1.
• UGA's seven first-year transfers combined to score 4,782 points at their previous schools.
The Opening Tip
Georgia returns to action on Tuesday when it hosts Jacksonville in the third contest of an eight-game, 37-day homestand.
The Bulldogs are coming of a thrilling 82-79 upset of No. 18 Memphis last Wednesday which also represented the 400th career victory for head coach Tom Crean. The largest lead either team enjoyed was seven points (by Georgia) and the nail-biter was either tied or a one- or two-possession game for all but 59 seconds of the 40 minutes of action.
Keeping An Eye On . . . Entering Today's Game:
Jailyn Ingram is…
• 4 steals from 100 for is career
Noah Baumann is…
• 1 game from his 100th career outing
Series History Against Jax
Georgia owns a perfect 10-0 record all-time versus Jacksonville, with seven of those victories coming in Athens.
In the most recent matchup on Dec. 4 last season, six Bulldogs scored in double figures in a 98-65 victory over the Dolphins.
After leading 46-36 at the half, the Bulldogs doubled that advantage midway through the second stanza and topped the 90-point plateau for the 12th time in 67 games under Tom Crean.
The series between UGA and JU began with a two-for-one contract spanning the 1965-66 through 1967-68 seasons. The teams met on a home-and-home basis during the late-80s and again in the mid-90s, while the last three matchups have been at Stegeman Coliseum.
Scouting The Dolphins
Jacksonville improved to 4-2 on the season with a double-digit road win at Charleston Southern last Thursday.
The Dolphins are in their first campaign under head coach Jordan Mincy, who spent the previous six seasons on the staff at Florida.
Jordan Davis is the Dolphins' leading scorer at 11.7 ppg and the only Jacksonville player to start every game this season. A graduate transfer from Middle Tennessee, Davis is 6-3 and 195 points – three inches shorter and 145 pounds lighter than the uber-popular Georgia defensive lineman he shares a name with.
A balanced offensive attack features a quartet of Dolphins averaging between 8.0-9.2 ppg. Mike Marsh is Jacksonville's second-leading scorer, Tommy Bruner is adding 8.8 ppg, and Osayo Osifo and Bryce Workman are chipping in 8.0 ppg apiece. Osifo is the team's top rebounder, collecting 5.8 rpg.
---
Jump To Comments