Today's Contents – Click to Read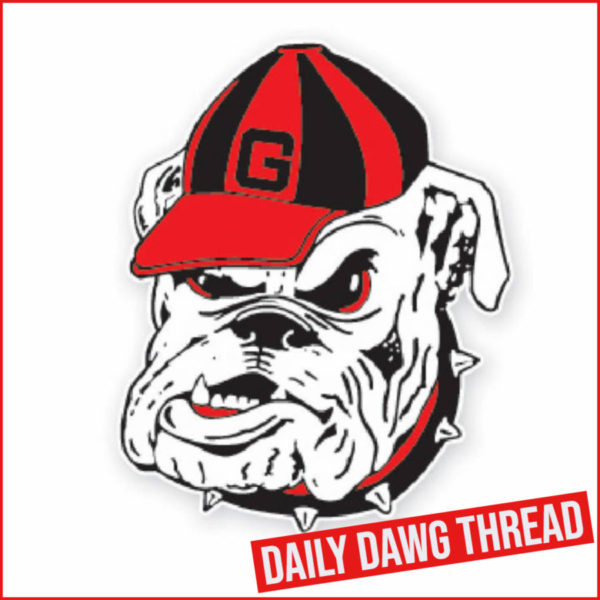 ---
MBB: Tech escapes with a win in Atlanta
Despite a valiant effort, the University of Georgia men's basketball team dropped a heartbreaker to Georgia Tech 79-77 on Tuesday evening before 5,810 spectators at McCamish Pavilion.
Senior Terry Roberts led Georgia (7-3) in scoring with 16 points and seven assists, while junior Kario Oquendo tallied 15 points and seven rebounds. Junior Matthew-Alexander Moncrieffe pitched in with 11 points. For the evening, the Bulldogs shot 53.4 percent from the field and outscored the Yellow Jackets 48-44 in the paint.
"Our execution down the stretch failed us," said Georgia head coach Mike White following the game. "That starts with me. We had an opportunity on the baseline out of bounds and we kind of froze. We didn't execute a play that we ran earlier in the game. That said, this team has been through an incredible amount of adversity here lately. I am proud of our guys' fight. We are a much better team than we were a month ago. I'm not a moral victory guy, but I'll tell you what. We played a lot better tonight than we did those last couple (of games) at home. There is some progress and some positives there. I loved how hard our guys played. We really had every chance to win on the road here in the ACC."
The opening minutes of the game were slow. Baskets were hard to come by as both squads locked down the paint and forced multiple turnovers before Georgia Tech (6-3) took a 9-4 lead into the first media break. After trading baskets, the Yellow Jackets extended their lead to eight, with nine minutes remaining in the first half, however, a trio of stops and a 7-0 run drew the Bulldogs within one with 8:24 left on the clock. Moments later, a corner three from Oquendo gave Georgia its first lead of the game, 26-24.
Both the Bulldogs and Yellow Jackets battled back-and-forth before Georgia extended its lead to three on a Frank Anselem fast-break dunk. Tech immediately responded with a 4-0 run to regain the lead, however, the Bulldogs answered with a quick spurt to take the lead right back and enter the half up 39-34. The Bulldogs shot 55.2 percent from the field in the first half.
Coming out of the locker room, Tech used a 7-0 run to take a 41-39 lead resulting in a Georgia timeout. After three scoreless minutes, Mardrez McBride drained a deep 3-pointer to give the Bulldogs their first basket of the half. That was quickly followed by a pair of triples from Jailyn Ingram, which gave Georgia a 49-48 lead. The two squads continued to trade buckets over the next eight minutes of play.
The Bulldogs eventually took a 69-68 lead into the under-eight media break. Coming out of the timeout, Georgia and Georgia Tech continued to dual until the squads found themselves deadlocked at 73-73, with four minutes remaining in the game. Looking to create a defensive spark, the Bulldogs switched to a 2-3 zone. The defensive strategy proved effective as Georgia forced three consecutive stops while adding a pair of buckets to take a 77-73 lead with two minutes remaining.
Georgia led by one with 36.3 seconds left on the clock before Tech's Miles Kelly drained a floater to give the Yellow Jackets a 78-77 lead, however, a pair of late turnovers proved costly, as Tech would go on to win 79-77.
---
WBB: UGA hosts Mercer this morning
Wednesday, Dec. 7 | 11 a.m. ET | Stegeman Coliseum | SEC Network+
TV: SECN+ (Matt Stewart and Anne Marie Armstrong)
Radio: Georgia Bulldog Sports Network (Jeff Dantzler)
Watch Link: Click Here
Listen Link: Click Here
Live Stats: Click Here
Storylines
» The Georgia Lady Bulldogs host the Mercer Bears on Wednesday morning's matchup. The game will be aired on SEC Network+.
» This marks the 41st all-time meeting between the Bears and the Lady Bulldogs. Georgia leads the series 28-12, with the last meeting in 2021.
» Georgia has won every game against Mercer since 1981, 26 wins in a row for the Lady Bulldogs.
» Mercer head coach Susie Gardner played for the former Georgia head coach Andy Landers and the Lady Bulldogs, making two NCAA Final Four appearances in 1983 and 1985 and was on the 1985 national runner-up team. Gardner served as a graduate assistant for Georgia for the 1986-88 seasons. Gardner helped the Lady Bulldogs to NCAA Tournament appearances while on the coaching staff.
» Georgia welcomes Mercer after a 65-54 loss against No. 8 NC State on Monday night. The Lady Bulldogs are now 5-1 in Stegeman Coliseum this season.
» Four Lady Bulldogs' offense tallied double figure points against NC State. Audrey Warren led Georgia, scoring a season-high 18 points with for three-pointers. Diamond Battles, Alisha Lewis and Brittney Smith had 10 points each.
» Preseason All-SEC and Naismith National Player of the Year Watch List selection Diamond Battles leads the Lady Bulldogs this season. She paces the team in points (14.5), assists (40 total) and minutes played (34.3 per game). Battles was named Tournament MVP in the Paradise Jam and tallied15 points against Furman. Battles is 4 points away from reaching 1,000 career points. She has scored in double figures in eight of 10 games played this season.
» The Georgia defense held NC State to 65 points on Monday night. This is the least number of points scored by the Wolfpack's offense this season.
» Wednesday' game will be Elementary School Day. Close to 6,000 students from Athens-Clarke County will be in attendance. The Foley Field parking lot will be closed to fans.
---
Dawgs in the NFL – Week 13
BILLS 24, PATRIOTS 10
James Cook, RB: Led Buffalo with 14 carries for 64 yards and caught six passes for 41 yards.
Isaiah McKenzie, WR: Hauled in five passes for 44 yards for the Bills.
David Andrews, OL: Appeared on all 54 offensive plays and helped the Patriots accumulate 242 total yards.
Isaiah Wynn, OL: Was on New England's inactive list with a foot injury.
PACKERS 28, BEARS 19
Quay Walker, ILB: Had seven tackles for Green Bay. Leads NFL rookies with 100 tackles.
Devonte Wyatt, DL: Appeared on nine defensive plays with one tackle for Green Bay.
EAGLES 35, TITANS 10
Jordan Davis, DE: Returned from injured reserve and appeared on seven special teams and six defensive plays with no stats for Philadelphia.
Nakobe Dean, ILB: Had a career-high six tackles — five, including one for loss, on defense and another on special teams — for the Eagles.
Ben Jones, OL: Returned from a 2-game absence due to a concussion, appearing on 45 plays and helping the Titans accumulate 209 total yards.
Monty Rice, ILB: Rolled up six tackles, including one for loss, on defense and an additional stop on special teams for Tennessee.
LIONS 40, JAGUARS 14
D'Andre Swift, RB: Rushed for 62 yards and a touchdown on 14 carries and caught four passes for 49 yards for the Lions.
Tyson Campbell, DB: Had four tackles and defended a pass for Jacksonville.
Travon Walker, OLB: Had five tackles, including one for loss, and a quarterback hurry for the Jaguars. Stands sixth among NFL rookies with 2.5 sacks.
BROWNS 27, TEXANS 14
Nick Chubb, RB: Rushed for 80 yards on 17 carries for the Browns. Ranks second in the NFL with 1,119 yards and 12 touchdowns.
BUCCANEERS 17, SAINTS 16
Jake Camarda, P: Punted five times for a 49.4-yard average, kicked off four times, held on two extra points (including the game-winner with three seconds left) and a field goal, and made a special teams tackle for Tampa Bay. Stands eighth in the NFL with a 48.8-yard average.
STEELERS 19, FALCONS 16
George Pickens, WR: Caught a 2-yard pass for the Steelers. Ranks fourth among NFL rookies with 512 yards.
Lorenzo Carter, OLB: Had three tackles and two quarterback hurries for Atlanta.
GIANTS 20, COMMANDERS 20 (TIE)
Lawrence Cager, TE: Placed on New York's inactive list as a healthy scratch.
Tae Crowder, ILB: Appeared on 26 special teams plays with two tackles for the Giants.
Azeez Ojulari, OLB: Returned from injured reserve with a sack, a forced and recovered fumble, and two quarterback hurries for New York.
Andrew Thomas, OL: Played all 66 snaps at left tackle, plus five more on special teams, and helped the Giants roll up 316 total yards.
RAVENS 10, BRONCOS 9
Ben Cleveland, OL: Appeared on two special teams plays for the Ravens.
Justin Houston, OLB: Registered one tackle and one quarterback hurry for Baltimore. Ranks 10th in the NFL with nine sacks.
Nick Moore, LS: Snapped on six punts, one field goal, and one extra point, and had one special teams tackle for the Ravens.
Roquan Smith, ILB: Led Baltimore with 11 tackles, including two for loss. Stands seventh in the NFL with 114 tackles.
49ERS 33, DOLPHINS 17
Charlie Woerner, TE: Appeared on 27 special teams plays and four special teams plays with no stats for the 49ers.
John Jenkins, DL: Logged 26 defensive plays and nine special teams plays with three tackles for the Dolphins.
Channing Tindall, OLB: Appeared on 13 special teams plays with no stats for Miami.
BENGALS 27, CHIEFS 24
Trey Hill, OL: Appeared on five special teams plays for the Bengals.
Malik Herring, DL: Was on the Chiefs' inactive list as a healthy scratch.
RAIDERS 27, CHARGERS 20
Zamir White, RB: Carried twice for six yards, appearing on four offensive plays and five special teams plays for the Raiders.
Tre' McKitty, TE: Appeared on 25 offensive plays, including an 8-yard catch, for Los Angeles.
Sony Michel, RB: Was on the Chargers' inactive list as a healthy scratch.
Jamaree Salyer, OL: Appeared on all 75 offensive plays, plus five more on special teams, as Los Angeles rolled up 386 total yards.
SEAHAWKS 27, RAMS 23
Leonard Floyd, OLB: Had one tackle and a quarterback hurry for the Rams.
Derion Kendrick, DB: Led Los Angeles with a career-high 10 tackles.
On A Bye:
Cardinals: A.J. Green, WR; Jonathan Ledbetter, DE
Practice Squads
Cardinals: Javon Wims, WR
Chargers: Mark Webb, DB
Commanders: Jake Fromm, QB
Dolphins: Lamont Gaillard, OL
Giants: Solomon Kindley, OL
Titans: Chris Conley, WR
Reserve Lists (IR, PUP, NFI, COVID)
Bengals: Elijah Holyfield, RB
Chiefs: Mecole Hardman, WR
Commanders: Eli Wolf, TE
Falcons: John FitzPatrick, TE; Justin Shaffer, OL
Packers: Eric Stokes, DB
Raiders: Jordan Jenkins, OLB
Rams: Matthew Stafford, QB
Vikings: Lewis Cine, DB
Today's Contents – Click to Read
---
Jump To Comments