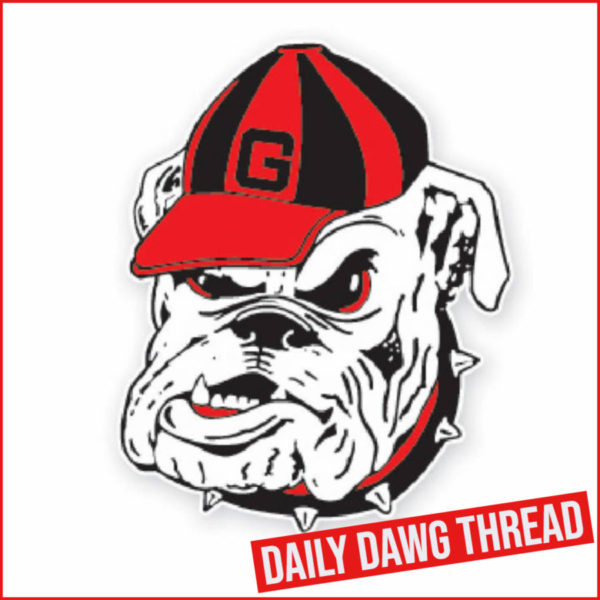 ---
Brock Bowers Named Finalist for Shaun Alexander Freshman of the Year Award
Bulldog true freshman tight end Brock Bowers has been named one of five finalists for the fourth annual Shaun Alexander Freshman of the Year Award, according to an announcement from the Maxwell Football Club.
Bowers, a native of Napa, Calif., is the only 2021 finalist from the Southeastern Conference. He joins former Bulldog and current New York Giant Azeez Ojulari as another finalist for the honor after Ojulari was on the list in 2019.
The winner of the Shaun Alexander Freshman of the Year award will be unveiled Jan. 10, 2022. The formal presentations of these awards will be made at the Maxwell Football Club Awards Gala hosted by Harrah's Hotel & Casino Atlantic City on March 18, 2022.
Bowers was a USA Today, ESPN and The Athletic First Team All-American and was the SEC Freshman of the Year in his first year with the Bulldogs. He has a team-best 47 catches for 791 yards and 12 touchdowns (11 receiving, one rushing). The Mackey Award semifinalist has tied the UGA record for receiving touchdowns in a season (Terrence Edwards, 2002).
---
WBB: Georgia Tunes up for Conference Schedule, Beats South Alabama 89-50
A dominant second-quarter offensive showing helped the No. 13-ranked Georgia Lady Bulldogs basketball team to an 89-50 win over the South Alabama Jaguars this afternoon in Stegeman Coliseum.
Jenna Staiti led all scorers with 17, while Malury Bates matched her season-high with 12. Georgia shot 55 percent from the floor and held its opponent to 50 points for the seventh time this season. The Lady Bulldogs improve to 11-1, and the Jaguars fell to 6-7.
"Our young ladies haven't been home," shared head coach Joni Taylor. "And they know they're going home today, so you're always concerned that they're not thinking ahead to their flight they have to catch or not getting in the stands and being with their family. I thought we showed really good focus, and we were focused on that task at hand."
Click
HERE
for our mobile photo app.
The Lady Bulldog offense struck first following a Staiti lay-up off an assist from Que Morrison. Moments after, Sarah Ashlee Barker drilled a three-point attempt after gliding past her defender. Georgia forced seven turnovers in the first quarter and finished with a 19-11 lead.
The Lady Bulldogs kept up the offensive pressure in the second quarter. Barker opened second-quarter scoring with a drive to the basket and a smooth finish. Following a steal, Bates knocked down a jumper to grab her first of six points in the quarter. Georgia led South Alabama at halftime, 47-26.
Staiti signature jumper in the paint open second-half scoring for the Lady Bulldogs as they pulled away to a 32-point lead. Georgia ended the third quarter up 71-39.
A 6-0 run to finish the fourth quarter saw the Lady Bulldogs end their non-conference play with a convincing win.
---
WBB: Jenna Staiti Named SEC and ESPN National Player of the Week
Click
HERE
for our mobile photo app.
Georgia graduate center Jenna Staiti, who has scored in double figures in four-straight games and in 42 of the last 49 contests overall, has been named the ESPN National Player of the Week and the Southeastern Conference Player of the Week, it was announced Tuesday.
Steady Staiti has been sensational. She has led No. 12-ranked Georgia to an 11-1 record, averaging nearly a double-double of 14.2 points and 7.3 rebounds per game.
Last week, the Cumming, Ga., native had a dominant performance against one of the nation's best players when she scored 21 points to go with 11 rebounds against second-ranked NC State. Going against 2021 All-American and Preseason ACC Player of the Year Elissa Cunane, Staiti hit close to 60 percent from the field, nailed a trio of 3-pointers, and tied a season-high with six blocks. She played almost the entire way and helped Georgia to its first true road win against a top-2 team in program history.
Staiti followed that performance with 16 points against St. Francis and 17 versus South Alabama. She has hit 15-of-17 (88 percent) from the field over the last two games.
This is the latest honor of Staiti's distinguished career. She was a 2021 All-SEC selection, made the SEC All-Tournament Team, and was a 2021 WBCA All-America honorable mention honoree.
Entering this year, Staiti landed on the Lisa Leslie Award Watch List for the nation's best center and the Naismith National Player of the Year watch list.
The Lady Bulldogs are off the rest of this week to celebrate the Christmas holiday. Georgia returns home to host No. 21-ranked LSU on Dec. 30 at 7 p.m. ET.
---
Georgia (5-6) vs. East Tennessee State (7-5) Tip at Stegeman Tonight
Date: Wednesday, December 22, 2021
Tipoff: 7:00 p.m. ET
Location: Stegeman Coliseum (10,523) in Athens, Ga.
Watch: SEC Network+ (Jeff Dantzler, pbp; Mark Slonaker, analyst)
Listen: Georgia Bulldog Sports Network – Flagship: WSB AM 750; XM: 381; SXM App: 971. (Scott Howard, play-by-play; Chuck Dowdle, analyst; Adam Gillespie, producer)
The Starting 5…
• Through games of 12/20, Aaron Cook ranked No. 2 in the SEC and No. 5 nationally in assists at 7.1 apg.
• Georgia has used 6 different starting lineups in the first 11 games…largely due to injuries and illnesses.
• Braelen Bridges leads UGA with eight double-figure outputs…and has two more games with nine points.
• Jaxon Etter has drawn 11 offensive fouls this year…and 19 in UGA's last 22 games dating back to last season.
• UGA's seven first-year transfers combined to score 4,782 points at their previous schools.
The Opening Tip
The Georgia Bulldogs will play their third game five days – a span of just under 100 hours – on Wednesday when they host East Tennessee State's Buccaneers.
Georgia began the stretch with dates against George Mason and Western Carolina on Saturday and Monday, respectively. Following the ETSU contest, the Bulldogs will earn a well-earned week away from competition before rounding out their non-conference schedule versus Gardner-Webb on Dec. 29.
All told, Georgia is in the midst of an eight-game, 37-day homestand covering Nov. 28-Jan. 4.
Keeping An Eye On . . . Entering Today's Game:
Aaron Cook is…
• 20 assists from 400 for his career
• 7 outings from 150 games played in his career
• 21 steals from 200 for his career
Series History Against ETSU
Georgia and East Tennessee State have split their four all-time meetings.
Most recently, Kentavious Caldwell-Pope's game-high 13 point performance led the Bulldogs in a 54-38 victory over the Buccaneers on Nov. 23, 2012 at Stegeman Coliseum.
Donte' Williams added 12 points for the Bulldogs, who raced to a 31-13 halftime lead and cruised to the easy victory.
Caldwell-Pope, then a sophomore, went on to earn SEC Player of the Year accolades that season before declaring for the NBA Draft. KCP was the No. 8 overall pick by the Detroit Pistons in 2013. He's now in his ninth season in the league – and his first with the Washington Wizards. His solid NBA resume is headlined by a 2020 NBA Championship with the Lakers.
Scouting The Buccaneers
ETSU sports a 7-5 record to date under first-year coach Desmond Oliver, who was an assistant coach for the Bulldogs for five seasons from 2005-09.
The Bucs are playing their first game since a 69-67 setback to North Carolina A&T on Dec. 14.
ETSU dropped its first two games of the season before stringing together a five-game winning streak. The Bucs are 2-2 since center Silas Adheke left the team following the eighth game of the season.
Ledarrius Brewer paces a trio of double-figure scorers for ETSU by putting up 12.4 points per game, while Jordan King and David Sloan are chipping in 11.4 and 10.8 ppg, respectively. Ty Brewer, Ledarrius' brother, is just shy of giving the Bucs a fourth double-digit point producer at 9.7 ppg and is the ETSU's top rebounder at 6.4 rpg.
---
Jump To Comments