Today's Contents – Click to Read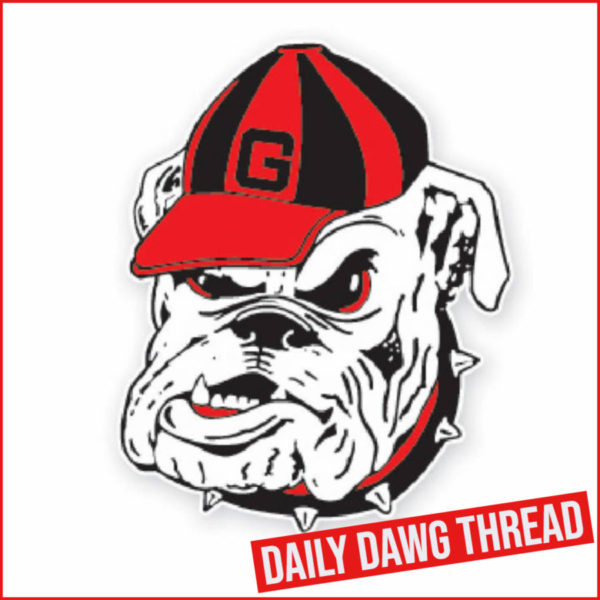 ---
Charley Trippi is 100 years old today
In 2018 Mr. Trippi threw out the first pitch on Lettermen Day – photo gallery below.
From Wikipedia:
In addition to football, Trippi was highly sought-after for his baseball skills. As a senior on Georgia's baseball team in 1946, he recorded a batting average of .475 and hit 11 home runs in 30 games while playing as a shortstop and outfielder. In 1947, Trippi played one season of minor league baseball with the Southern Association's Atlanta Crackers. He recorded a batting average of .334 through 106 games while drawing large crowds.[21][19] Multiple Major League Baseball teams attempted to sign him, including the New York Yankees, Boston Red Sox, Boston Braves, and Philadelphia Phillies, but those deals fell through when he joined the NFL. Between NFL seasons in 1948 and 1949, Trippi served as Georgia's baseball coach, compiling a 34–18 win-loss record.
Watch a fullscreen slideshow
HERE
.
Click
HERE
for our mobile photo app.
Today's Contents – Click to Read
---
Baseball First Pitch Banquet: Alex Wood Headlines
Tickets are now on sale to attend the University of Georgia's 1st Pitch Banquet in the William Porter Payne and Porter Otis Payne Indoor Athletic Facility on Saturday, Feb. 5 featuring veteran Major Leaguer and former Bulldog Alex Wood and the 2022 Georgia baseball team.
The highlights of the dinner event include hearing from Wood who has enjoyed a nine-year career in the Major Leagues including winning a World Series and being named an All-Star, meeting the 2022 Georgia Bulldogs and coaching staff plus a silent auction. Ike Cousins head baseball coach Scott Stricklin is in his ninth season leading the Bulldogs who will feature their deepest team in his tenure. Georgia's 2022 squad has eight returning starting position players and 13 pitchers who logged innings a year ago.
Wood posted a 10-4 record and 3.83 ERA in 26 starts for the San Francisco Giants in helping them capture the 2021 National League Western Division title with a franchise-record 107 wins. He made his Major League debut in 2013 with the Atlanta Braves who selected him out of the University of Georgia in the second round of the 2012 MLB draft. He has played for the Braves, Los Angeles Dodgers, Cincinnati Reds and Giants. He was named an All-Star with the Dodgers in 2017 and won the 2020 World Series with the Dodgers. Earlier this month, he re-signed with the Giants.
Doors open at 5:30 p.m. with the dinner to begin at 6:30 p.m. The deadline to reserve your seat(s) or table is Feb. 3. The Payne Indoor Athletic Facility is located right across the street from Foley Field. Parking will be available in the Foley Field commuter lot. Fans can reserve their spot(s) for the banquet with online registration – HERE.
Today's Contents – Click to Read
---
Jump To Comments