Today's Contents – Click to Read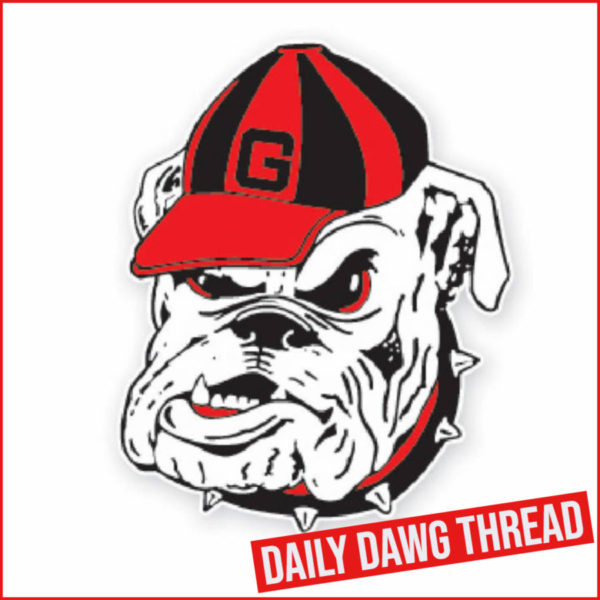 ---
Four Bulldogs Garner More All-America Honors
Georgia senior safety Christopher Smith, junior defensive lineman Jalen Carter and sophomore tight end Brock Bowers were named to the American Football Coaches Association (AFCA) FBS Coaches' All-America First Team while sophomore linebacker Jamon Dumas-Johnson was included on the Second Team, according to an announcement Wednesday.
Georgia (13-0), the Southeastern Conference champion and top seed in the College Football Playoff, led all schools with three First-Team selections. Carter checked in as a Second Team selection in 2021.
Smith, a native of Atlanta, Ga., was a finalist for the Bronko Nagurski Trophy. He has started all 13 games, leads the squad with three interceptions and ranks fourth in tackles with 50. In the SEC Championship Game victory over LSU, Smith returned a blocked field goal 96 yards for a touchdown, had three tackles, including a TFL, and an interception.
Carter, a native of Apopka, Fla., was a Rotary Lombardi Award finalist. Despite starting only seven games because of an early season knee injury, he has 29 tackles, including seven tackles for loss (TFL) and three sacks, to go with two forced fumbles and 25 quarterback hurries. Over the last six games, Carter has accounted for 24 tackles, 6.5 TFLs, three sacks and a pair of forced fumbles.
Bowers, a native of Napa, Calif., won the John Mackey Award last week as the nation's top tight end. He has a team-best 52 catches for 726 yards and six touchdowns. Bowers also has six carries for 93 yards and three scores. In addition, he has been a pivotal blocker for a Bulldog offense that averages 207 yards on the ground and has allowed only seven sacks this year. Bowers was a Rotary Lombardi Award finalist and was named to the College Sports Communicators Academic All-District team.
Dumas-Johnson, a native of Hyattsville, Md., was a Butkus Award finalist. He is the team's co-leader in tackles with 64, including eight tackles-for-loss, three sacks and 21 quarterback hurries. Dumas-Johnson has started all 13 games and served as one of the team captains seven times.
Smith, Carter, Dumas-Johnson were named Sporting News First Team All-Americans on Tuesday while Bowers was a Second Team selection. On Monday, Smith and Carter were named Associated Press (AP) First Team All-Americans while Bowers and Dumas-Johnson were Second Team selections. Last week, Smith and Carter were named to the Walter Camp Football Foundation and Football Writers Association of America (FWAA) All-America First Team while Bowers made the FWAA First Team and Walter Camp Second Team.
Today's Contents – Click to Read
---
Video/Transcript: Kirby Smart's Press Conference – December 14, 2022
Happy and fired up to have an opportunity to play in what I always thought is one of the best bowls in the country because Atlanta is home to so much of college football, especially when you've been part of the SEC. So it makes for an awesome opportunity.
Our players are excited for the opportunity to play in a CFP Semifinal against an opponent that we all have immense respect for. Ohio State is one of the premier teams in the country. Coach Day has done a fabulous job with his team, in terms of recruiting across the country, putting out NFL talent, and playing in the CFP over recent history. So the challenge lays in front of us, and our guys are excited to do it. We're honored to be in this game.
I know a lot about the Chick-Fil-A Peach Bowl and have for a long time. Like Gary mentioned, having played in it, coached in it, and been around it, it's pretty special when you get an opportunity to play in it in your own state. 
Q. With the news yesterday about Mike Leach and you look around College Football today, how much influence do you see from Coach Leach?
KIRBY SMART: His impact is wide and broad. He traveled all over the country to coach. He went from bottom right, Valdosta State, all the way to Washington State and coached all over the country.
His impact is really felt more at the high school level, I think, because we see the vision that he had in terms of passing the ball, throwing the ball, from his young years with Coach Mumme all the way through now.
But what you don't see is the trickle down effect that he's had where we go watch a high school team play and the elements of his offensive system are pervasive. It's like all over the place.
He changed the game from years ago when it was wishbone, triple option. You couldn't watch a high school game without Wing T, veer option, triple option, wishbone, to now you actually see more air raid elements than you do those. And he had a large part to do with that.
A special man and heartfelt feelings going out to his family, his wife and his kids. 
Q. Kirby, when will you guys start practicing for this game? And when you do, Ladd and Warren McClendon, what will their statuses be at that point?
KIRBY SMART: We've been practicing. Not specifically for Ohio State, we've been practicing to maintain staying in shape and making sure our guys are ready, sharp physically and ready to do things. So we've kind of been practicing ongoing.
I don't know when exactly we'll get those guys back. I don't know that. They're not practicing with us right now. They're conditioning, they're running, they're moving around, but they're not practicing just yet. We're still, I guess, 16, 17 days out.
Q. In a similar vein, an update on Marvin Jones Jr. And then Bill Norton, is he practicing with the team, or once you go in the portal, you're no longer practicing?
KIRBY SMART: There's a set standard on that, so that's not really important. We're worried about the guys that are getting ready to play.
Marvin Jones has been great. He's run. He's conditioned. He's been doing a ton of conditioning things with us on the side. Probably going to be able to start practicing with us here soon, if not today.
Q. I know this time of year is always big for younger players getting practice. Has anybody really caught your eye in what they've been able to do through the practices to this point?
KIRBY SMART: They all have. They do a great job working. It's great to put them at the forefront and let them get quality reps where they're not necessarily the scout team. They make up the twos and the threes and sometimes the fours in some positions that get a lot of reps and a lot of growth.
This is, at the end of the day, almost another set of spring practice. We get 15 practices for spring practice. We may not get that many in, but we get a lot of practices in, once you include walk-throughs. So I've seen these guys have exponential growth and really become good players before spring even starts.
Q. Kirby, after losing 15 guys to the NFL, at what point this year did you maybe realize this team was capable of putting together a run like this? And can you just expound a little bit on your decision not to go into the transfer portal to get help? I think you guys were the only team in the FBS that didn't.
KIRBY SMART: Well, we didn't make a decision not to go in. We called and recruited several guys that fit our criteria. Number one, need. Number two, culture. Number three, we knew something about them out of high school. They'd been on our campus. But we didn't get any of those guys.
So it wasn't a philosophy. It was more of that's the way it played out.
As far as this team, I thought in the spring we were going to have a good team. We were a long way away defensively from where we needed to be during the spring, but I knew we had a good football team. I knew we had a good football team when the season ended last year because we have a core of good players.
Q. Kirby, you guys are obviously going up against some good receivers. I'm curious what your impressions are of Marvin Harrison Jr., watching him, what kind of challenge he presents?
KIRBY SMART: All of those guys, really good receivers. Not just him, across the board very talented, probably one of the most talented groups we've faced. When you combine it with the talent of the quarterback, it really grows because he has the ability to get the ball to him all parts of the field — vertically, horizontally, side to side. Really good job.
Historically, Ohio State's had great wideouts. When you play Ohio State, you know they're going to have really good wideouts. When you look across the NFL, they've produced really good wideouts, and that's no different than what they have on their roster right now.
Q. With Buster Faulkner taking a job at Georgia Tech, will he still be involved with the program leading up to the bowl game? If not, does Mike Bobo's position or job, whatever you want to call it, kind of get increased a little bit?
KIRBY SMART: We're going to determine that probably at a later date. Still in conversation with Buster and Brent. It's not something that's pressing right now because he doesn't really need to do anything at practice.
So we're practicing right now. He's a supplement to ideas with Coach Monken, and he can certainly still do that from the position he's in, and we'll determine that at a later date.
Q. You talked a lot towards the beginning of this year about all the guys who might not have been huge contributors last year stepping into bigger roles this year. What's it been like watching the growth from those guys, like Pop and Zion, all the guys that had to step up this year to get you all to where you are now? 
KIRBY SMART: It's great. The maturation process, really Zion was already very mature and a leader before this year. He's kind of earned it and done it. He's been around here for a while. A lot of guys have stepped up to give us an opportunity to be where we are.
A lot of coaches have done a fabulous job. We took on four new coaches, had 13, whatever it is, guys leave in the portal, and we had a lot of guys step up.
We had a freshman class who a lot of them came in last year at this time and have been mayor contributors. I think we had the third most, or fourth most true freshman snaps, so we did a good job of onboarding our incoming freshmen to give us depth behind the guys we had on our team.
So I think that's a big part of college football right now, how fast you can transition your team each year.
Q. Kirby, what offenses have you faced that might have some of the elements that Ohio State has, and what lessons are there for you in maybe some past games?
KIRBY SMART: I'm not sure who to relate them to. They're different probably than really anybody we faced maybe in years past. I can't say they're exactly like anybody we've played this year.
Q. Kirby, last week Stetson becomes the first Georgia player to be a finalist for the Heisman in 30 years. As someone who's been around this program for a long time, and especially you being there to see what Stetson has gone through, just what did that accomplishment mean to you to see Stetson get a chance to go to New York?
KIRBY SMART: It's a great honor for his resiliency. I mean, to be named one of the four finalists, I don't know anybody could have written a script with what he's done in terms of start to finish with trials, tribulations, ups and downs, highs and lows, throughout his career.
To have that be near the end of it is pretty special. It's special for Georgia. It's special for our program, our university, and it's special for Stetson and his family because he earned it by the way he played on the field.
Q. Kirby, you talked a lot over the years about accelerated schedules in terms of recruiting, and now we throw the portal on it, we throw NIL on it. Transfer policies have changed. My question is about retention of players. A scenario that could be way off here. Like a guy like Nolan Smith is injured, maybe an NIL gets put together. What can you offer? Can you offer these guys NIL money? Can you offer them insurance policies? How quickly do you got to determine this because you're looking in the portal for needs as well.  So I guess I'm just kind of wondering about that process and what you can do to maybe make it worthwhile for a guy to come back to improve his draft stock. 
KIRBY SMART: Complicated question. I really don't know honestly how to answer it. Just not like pressing need. I mean, we have a process that we follow, so our process is step by step.
There's a day in the month of each calendar month that I go through and say, okay, it's time to do this. It's time to have this conversation. It's time to gather this information. It's time to educate our players on this in this process. I think communication is the key on that.
You reference Nolan, and I'm confused because Nolan is kind of done. He's through playing. If you're talking about this time last year, sure, we have conversations with every player that has eligibility remaining.
I think you're juggling a spreadsheet that I keep, we keep, that has what each guy's doing and where their eligibility is. And over here where each guy potentially that could come in. And you're trying to match in flow and outflow is essentially what you're trying to do.
NIL is a part of that, but NIL is not — it may be dangled as a carrot at some places, but really it's about do you want to be part of this team? Do you want to grow and get better? Do you want to get a chance to do what Devonte Wyatt did? Do you want a chance to do what Chris Smith did? Do you want to have a chance to do what Jordan Davis did? Do you want to have a chance to do what Quay Walker did?
So there's great opportunities to move from a late round draft pick with your grade to an early round draft pick. That's not really what I'm concerned with right now. I'm concerned with making sure our football team is developing at all stages and phases. We have guys who are at the stage of, man, he's going to start next year. He really needs to get ready.
And the phase is offense, defense, special teams. How are we improving? That's my focus. It's really not on NIL, not on portal, not on those things, because the focus is on our team.
---
Jump To Comments