Today's Contents – Click to Read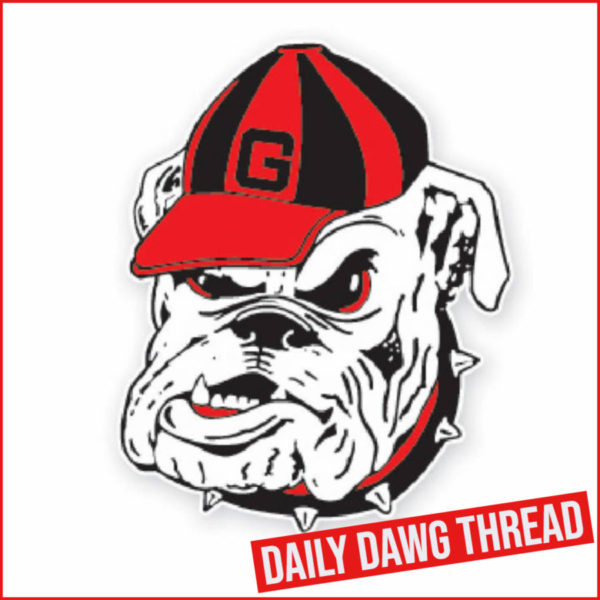 ---
MBB: Georgia (4-5) vs. George Mason (5-5) Preview
Date: Saturday, December 18, 2021
Tipoff: 7:00 p.m. ET
Location: Stegeman Coliseum (10,523) in Athens, Ga.
Watch: SEC Network+ (Jeff Dantzler, pbp; Mark Slonaker, analyst)
Listen: Georgia Bulldog Sports Network – Flagship: WSB AM 750; XM: 386; SXM App: 976. (Scott Howard, play-by-play; Chuck Dowdle, analyst; Adam Gillespie, producer)
The Starting 5…
• As of 12/16, Aaron Cook and Braelen Bridges ranked No. 8 nationally in assists and FG pct., respectively.
• After scoring 32 points in his first 14 career outings, Jabri Abdur-Rahim has put up 45 in UGA's last three games.
• George Mason associate head coach Dennis Felton was UGA's head coach from 2003-09.
• Tom Crean earned his 400th career victory with UGA's 82-79 upset of No. 18 Memphis on Dec. 1.
• UGA's seven first-year transfers combined to score 4,782 points at their previous schools.
The Opening Tip
Following an 11-day break from competition during Final Exams, the Georgia Bulldogs return to action on Saturday evening when they host the George Mason Patriots at Stegeman Coliseum.
The matchup is the first a trio of outings in roughly 98 hours for the Bulldogs. Georgia also will host Western Carolina on Monday and ETSU on Wednesday. All told, the Bulldogs are in the midst of an eight-game, 37-day homestand.
Georgia is looking to extend its two-game winning streak. The Bulldogs bested No. 18 Memphis, 82-79, on Dec. 1 to give Tom Crean the 400th victory of his head coaching career and followed that with a double-digit decision over Jacksonville on Dec. 7.
Keeping An Eye On . . . Entering Today's Game:
Aaron Cook is…
• 37 assists from 400 for his career
• 9 outings from 150 games played in his career
• 24 steals from 200 for his career
Series History Against GMU
Georgia and George Mason will be meeting for the first time on the hardwood this weekend.
Today's Contents – Click to Read
---
Thirty Three Dawgs Graduate
Thirty-three University of Georgia student-athletes officially received their undergraduate or graduate degrees Friday.
The student-athletes receiving degrees include:
Baseball
Zac Kristofak (Consumer Economics, Marietta, Ga.), Ryan Webb (Sport Management, Roswell, Ga.)
Women's Basketball
Stephanie Paul (Masters in Nonprofit Management and Leadership, Naples, Fla.)
Football
Latavious Brini (Human Development and Family Science, Miami Gardens, Fla.), Jake Camarda (Sport Management, Norcross, Ga.), Warren Ericson (Sport Management, Suwanee, Ga.), Kearis Jackson (Housing Management & Policy, Fort Valley, Ga.), Jaylen Johnson (Communication Studies, Duluth, Ga.), Natrez Patrick (Communication Studies, Atlanta, Ga.), Jack Podlesny (Environmental Health, St. Simons Island, Ga.), William Poole (Communication Studies, Atlanta, Ga.), Jamaree Salyer (Sport Management, Atlanta, Ga.), Justin Shaffer (Sociology, Ellenwood, Ga.), Ameer Speed (Sociology, Jacksonville, Fla.), Brady Tindall (Finance, Atlanta, Ga.), Reid Tulowitzky (Real Estate and Finance, Augusta, Ga.), Zamir White (Housing Management & Policy, Laurinburg, N.C.)
Men's Golf
John Hilliard Catanzaro (Finance, Gadsden, Ala.)
Soccer
Kayla Bruster (Management, Atlanta, Ga.), Kristen Edmond (Sport Management, Suwanee, Ga.), Delaney Erwin (Management Information Systems, Marietta, Ga.), Hale Otto (Management Information Systems, McKinney, Texas), Emory Wegener (Psychology, Johns Creek, Ga.)
Women's Swimming and Diving
Olivia Anderson (Genetics, Mississauga, Ontario), Courtney Harnish (Marketing, York, Pa.), Emmaline Peterson (Dietetics and Culinary Science & Nutrition, Hickory, N.C.), Julia Von Biberstein (Finance, Atlanta, Ga.)
Softball
Janie Beth Webb (Advertising, Demorest, Ga.)
Women's Tennis
Meg Kowalski (Sport Management, Chicago, Ill.)
Men's Track and Field
Justes Nance (Risk Management and Insurance, Calabasas, Calif.)
Women's Track and Field
Imani Carothers (Sociology and Criminal Justice, Chicago, Ill.), Halle McClintock (Elementary Education, Chagrin Falls, Ohio)
Volleyball
Delaney Hans (Journalism, Marietta, Ga.)
---
Jump To Comments