Jump To Top
Today's Contents – Click to Read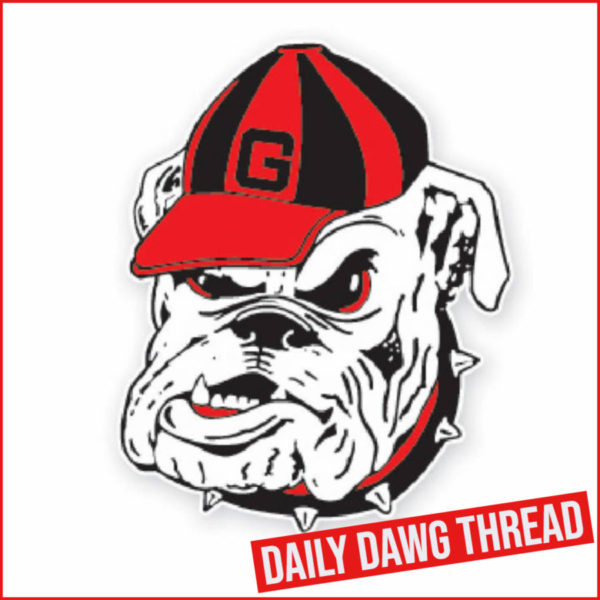 MBB: Georgia (14-8, 4-5 SEC) vs. Texas A&M (15-7, 7-2 SEC) tonight at 8:30
Saturday, February 4, 2023 at 8:30 p.m. ET
Reed Arena (12,989) in Byan-College Station, Texas
Series History: TAMU leads, 7-5
Last meeting: TAMU, 91-77, on 2/22/22
Video: SEC Network (Dave Neal, pbp; Jon Sundvold, analyst)
Audio: Georgia Bulldogs Radio Network (WSB AM 750; SiriusXM: 380; SXM App: 97) (Scott Howard, pbp; Chuck Dowdle, analyst; Adam Gillespie, producer)
The Starting Five
• Eight different Dogs have been used to comprise 10 different starting lineups for UGA this season.
• No Dog has started every game, though M-A Moncrieffe, K. Oquendo and T. Roberts have started every GP.
• M. McBride has led UGA offensively the last 2 games, scoring 37 points after having 14 in the 1st 7 SEC games.
• UGA is on pace to hold opponents under 30.0 from 3-point range for just the 2nd time in program history.
• UGA's assist-to-TO ratio is up by +.23 since Thanksgiving, the best improvement by an SEC team during that span.
The Opening Tip
Georgia completes a two-game road swing on Saturday when the Bulldogs venture to Bryan-College Station to face Texas A&M.
Georgia is currently 14-8 overall and 4-5 in the SEC play, marks which are significantly improved over the Bulldogs' finishes of 6-26 overall and 1-17 in the league competition a year ago.
Georgia is 11-1 at Stegeman Coliseum – improving first-year head coach Mike White to 18-2 all-time in the arena – and 2-1 at neutral sites this season, a combined 13-2 record.
Conversely, the Bulldogs are just 1-6 on the road. Reed Arena does not appear like a welcoming environment to improve upon that mark, as the Aggies are 10-1 at home during the 2022-23 campaign.
Series History With A&M
By virtue of winning the last three meetings, Texas A&M now possesses a 7-5 edge in the all-time series between the Bulldogs and the Aggies. A&M also owns a 4-2 advantage in contests played in Bryan-College Station.
Texas A&M swept both ends of a home-and-home series last season after the Bulldogs and Aggies did not meet during the 2020-21 campaign. They were slated to play on Feb. 10 in College Station; however, that contest was postponed – and later canceled – due to COVID issues within the Texas A&M program.
In the last meeting on deuces wild day (Feb. 22, 2022), Kario Oquendo exploded for 33 points; however, Georgia still dropped a 91-77 decision at Texas A&M.
Oquendo's outburst represented the Bulldogs' largest offensive output since Anthony Edwards' 37-point performance versus No. 3 Michigan State at the 2019 Maui Jim Maui Invitational. The 33-point tally also equaled the single-game high by any SEC player in a conference game last season.
Braelen Bridges added 10 points and Aaron Cook handed out a game-high seven assists for Georgia.
The Bulldogs produced better shooting percentages than the Aggies from everywhere on the floor (60.0 to 56.1 on field goals, 54.2 to 34.8 on 3-pointers and 90.0 to 76.0 at the free throw) line in the loss.
Today's Contents – Click to Read
---
---
---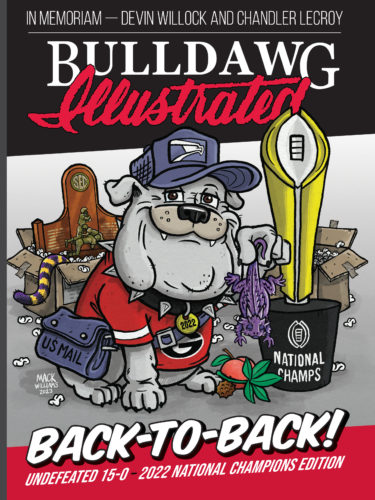 Purchase your print copy of our 2022 Bulldawg Illustrated National Champions Edition now. Or get a back-to-back set, which includes both the 2021 and 2022 Bulldawg Illustrated National Champions Editions.
The mega-editions includes game, scene, fan, and final perspective content, plus over 150 fan photos from the games and the epic National Title campus celebrations in Athens.
Available in singles and 5-packs. All orders include sales tax and shipping.
Order 5 copies of 2022 National Champions Edition $70.00 – Click HERE
Order a single copy 2022 National Champions Edition $28.00 – Click HERE
Order 5 sets of both the 2021 and 2022 Nat. Champions Editions $99 – Click HERE
Order one set of both the 2021 and 2022 Nat. Champions Editions $50 – Click HERE
---
---
---
Jump To Comments