Jump To Top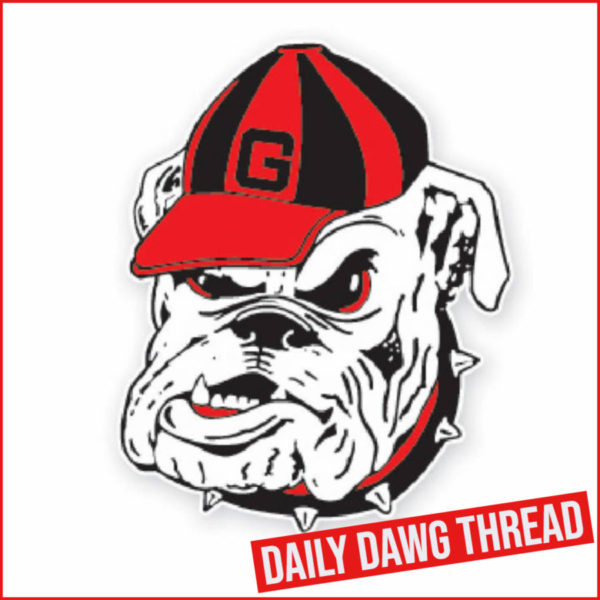 SB: Georgia blasts Ohio State and Boise State
The 15th-ranked Georgia softball team knocked seven home runs en route to victories over Ohio State, 11-4, and Boise State, 12-4 in five innings, Friday afternoon at the UCF Softball Complex.
In total, Georgia, who improves to 3-0 on the young season, scattered 25 hits, 16 of which went for extra bases on the day: seven home runs, two triples, and seven doubles. Junior Jayda Kearney knocked three home runs in the first game of the day, driving in six runs. Senior Sydney Kuma added six RBI of her own in the second game. Sophomore Lyndi Rae Davis scattered four hits on the day.
Georgia 11, Ohio State 4
Kearney highlighted the opening game of the day after a 4-for-4, three-home run, six-RBI performance at the plate. She became the first Bulldog to knock three home runs in a game since Alyssa DiCarlo in the 2018 Athens Regional.
Davis put together a three-hit game, while Jaiden Fields added two of her own, including a home run. As a team, Georgia doubled up the Buckeyes (0-1) in the hit column, 14-7.
Four pitchers saw time in the circle for the Bulldogs. Madison Kerpics worked one and two-thirds innings in her start, allowing three runs on three hits. Freshman Destin Howard relieved Kerpics to pitch two and third innings in her collegiate debut. Sophomore Kylie Macy saw two-thirds of an inning in the circle.
Graduate Shelby Walters (1-0) earned her first victory in a Georgia uniform as she became the pitcher of record, pitching the final two and third scoreless, hitless innings with three strikeouts.
The Buckeyes quickly produced a run using a leadoff triple and a sac fly off the bat of Melina Wilkison to go ahead 1-0 in the opening frame.
Georgia immediately responded with two runs in the bottom of the first to find the lead. A leadoff walk and a groundout put Dallis Goodnight into scoring position. Sara Mosley drove her in with a triple to left center, tying the game at 1-1. The next batter, Kearney, dropped a base hit down the line in right to drive in Mosley and put Georgia ahead 2-1.
Ohio State got both runs back in the top of the second when Kaitlyn Farley picked up a two-run one-out single to right to put the Buckeyes back in the lead, 3-2. Howard entered with two out in the inning for her collegiate debut, striking out the first batter she faced to end the inning.
A wild pitch in the bottom of the second allowed pinch runner Hayley Eaton to score, tying the game at 3-all.
Following a scoreless top of the third from the Buckeyes, Kearney put the Dogs back in front with a solo home run to left, the first for Georgia of the young season, 4-3.
Ohio State's Meggie Otte led off the fourth with a base hit, was bunted to second, and took third on a groundout. She scored on a wild pitch to re-tie the game at 4-4.
Georgia put up a five spot in the bottom of the fifth to break the tie. A pair of two-run home runs from Kearney and Fields, along with an RBI double from Davis, completed the big inning for Georgia, 9-4.
Kearney's third home run of the game in the sixth inning lengthened Georgia's lead to seven at 11-4.
Walters slammed the door shut in the seventh to finish the game.
Georgia 12, Boise State 4 (5 inn.)
The Bulldogs concluded the day with a comeback run-rule victory over Boise State (0-1). The Broncos went ahead 4-0 before a six-run third put the Bulldogs in front then another six spot in the fourth enacted the run rule.
Four of Georgia's six doubles on the day came against Boise State. Four Bulldogs all tallied two hits led by a home run and a double with six RBI from Kuma. Sydney Chambley and Mosely each drove in two for the Dogs.
Britton Rogers pitched one and two-thirds in her start, allowing two wins on one hit. Walter (2-0) made her third appearance in as many games and worked one and a third, earning the victory as the pitcher of record when Georgia took the lead. She allowed two runs on three hits. Kerpics pitched two scoreless, hitless innings to close the game.
Boise State's Sydney Groves put the Broncos ahead 2-0 in the second with a two-run home run. The Broncos added two, two-out runs in the third to widen their lead to 4-0.
Mosley's first home run of the season, a solo shot in the bottom of the third, put the Bulldogs on the board, 4-1. Two walks and a base hit loaded the bases with two out. Kuma stepped in and blasted the first pitch over the wall in right center for a grand slam to give the Dogs the 5-4 advantage. Armistead followed with a solo bomb of her own, Georgia's seventh home run of the day, to widen the new lead to 6-4.
Another six-run inning in the fourth doubled the Bulldogs' lead to 12-4. The scoring started with an RBI double off the bat of Mosley, scoring Jaydyn Goodwin. With bases juiced, Chambley drove in two with a double to center. Kuma followed with a double of her own, plating two more and bringing the lead to 11-4. Goodnight drove Kuma in to bring the lead to 12-4 heading to the fifth inning.
Kerpics held the Broncos scoreless for the second-straight inning to close the game for Georgia.
Georgia will play UMass Saturday morning at 9:30 a.m. on day three of the Black & Gold Classic. The game will stream live on ESPN+.
---
---
---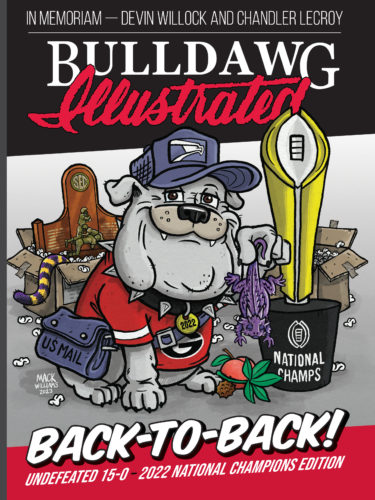 Purchase your print copy of our 2022 Bulldawg Illustrated National Champions Edition now. Or get a back-to-back set, which includes both the 2021 and 2022 Bulldawg Illustrated National Champions Editions.
The mega-editions includes game, scene, fan, and final perspective content, plus over 150 fan photos from the games and the epic National Title campus celebrations in Athens.
Available in singles and 5-packs. All orders include sales tax and shipping.
Order 5 copies of 2022 National Champions Edition $70.00 – Click HERE
Order a single copy 2022 National Champions Edition $28.00 – Click HERE
Order 5 sets of both the 2021 and 2022 Nat. Champions Editions $99 – Click HERE
Order one set of both the 2021 and 2022 Nat. Champions Editions $50 – Click HERE
WTEN: Georgia (#5) tops Stanford (#6) 4-2
The fifth-ranked University of Georgia women's tennis team topped sixth-ranked Stanford 4-2 on Friday afternoon to advance to the quarterfinals of the 2023 ITA National Team Indoors.
In doubles action, Georgia (3-2) took two of three from Stanford (3-1). On court one, Guillermina Grant and Mai Nirundorn fell to Angelica Blake and Alexis Blokhina 6-2, while Ania Hertel and Anastasiia Lopata defeated Sara Choy and Connie Ma 6-4 on court three. Despite trailing 4-1, the tandem of Meg Kowalski and Mell Reasco came back to top No. 43 Valencia Xu and Alexandra Yepifanova on court two, 7-5 to earn the doubles point.
In singles, the Bulldogs won three matches. Stanford quickly tied the match up at one-all after No. 39 Mell Reasco fell to No. 31 Angelica Blake 6-0, 6-2. Georgia responded, taking the matches on courts two and four. No. 40 Dasha Vidmanova defeated No. 41 Alexandra Yepifanova 6-1, 7-6(6), while Kowalski picked up a 6-3, 7-5 win over No. 56 Alexis Blokhina. Stanford's Sara Choy quickly answered with a 7-5, 6-4 win over Guillermina Grant. With the match on the line, No. 11 Lea Ma topped No. 3 Connie Ma 5-7, 6-4, 6-1. This marked Ma's second top-5 win in a week and her sixth-ranked win of the season.
The Bulldogs will return to action on Saturday, Feb. 11 in the quarterfinals of the ITA National Team Indoors Championship. The Bulldogs will take on the winner of the Duke vs. Oklahoma match at 12 p.m. ET.
Doubles Results
1. Angelica Blake/Alexis Blokhina (STAN) def. Guillermina Grant/Mai Nirundorn (UGA) 6-2
2. Meg Kowalski/Mell Reasco (UGA) def. #43 Valencia Xu/Alexandra Yepifanova (STAN) 75
3. Ania Hertel/Anastasiia Lopata (UGA) def. Sara Choy/Connie Ma (STAN) 6-4
Singles Result
1. #11 Lea Ma (UGA) def. #3 Connie Ma (STAN) 5-7, 6-4, 6-1
2. #40 Dasha Vidmanova (UGA) def. #41 Alexandra Yepifanova (STAN) 6-1, 7-6(6)
3. #31 Angelica Blake (STAN) def. #39 Mell Reasco (UGA) 6-0, 6-2
4. Meg Kowalski (UGA) def. #56 Alexis Blokhina (STAN) 6-3, 7-5
5. Ania Hertel (UGA) vs. #88 Valencia Xu (STAN) 5-7, 6-4, 4-4 unfinished
6. Sara Choy (STAN) def. Guillermina Grant (UGA) 7-5, 6-4
MBB: Georgia (14-10, 4-7 SEC) vs. Kentucky (16-8, 7-4 SEC) tips at noon Today
Saturday, February 11 at 12:00 p.m. ET
Stegeman Coliseum (10,523) in Athens, Ga.
Series History: UK leads, 131-27
Last meeting: UK, 85-71, on 1/17/23
Video: ESPN (Rich Hollenberg, pbp; Jimmy Dykes, analyst)
Audio: Georgia Bulldogs Radio Network (WSB AM 750; SiriusXM: 137 or 190; SXM App: 961) (Scott Howard, pbp; Chuck Dowdle, analyst; Adam Gillespie, producer)
The Starting Five
• Eight different Dogs have been used to comprise 11 different starting lineups for UGA this season.
• UGA played its last 2 games without leading scorer Terry Roberts, who is among SEC leaders in 6 stats.
• UGA will honor its 1983 Final Four team at halftime at Saturday, with 10 players and all 4 coaches on hand.
• UGA is ranked No. 2 nationally in bench minutes, with reserves logging 45.5 percent of the Dogs' PT.
• UGA's assist-to-TO ratio is up by +.24 since Thanksgiving, the best improvement by an SEC team during that span.
The Opening Tip
The Georgia Bulldogs will host Kentucky's Wildcats in a matinee matchup at noon on Saturday in Stegeman Coliseum. The contest will serve as an 40th anniversary reunion for Georgia's 1983 Final Four team.
Georgia is 14-10 overall and 4-7 in SEC play this season; however, the Bulldogs are 11-2 at Stegeman Coliseum.
Mike White is now 18-3 all-time in Stegeman, an 85.7 winning percentage. He was 1-0 at Louisiana Tech and 6-3 at Florida before arriving in Athens this season.
Kentucky is one of five SEC teams that Georgia will face on a home-and-home basis during the 2022-23 season. The Bulldogs are currently 3-4 against those foes, including a 2-1 record in Athens.
Series History With Kentucky
Kentucky owns a 131-27 advantage in the all-time series between UGA and UK, including a 44-18 edge in Athens.
In the last matchup at Stegeman Coliseum on Jan. 21, 2021, Georgia snapped a 14-game losing streak to Kentucky with a dramatic 63-62 victory.
The Bulldogs outscored the Wildcats 7-0 over the outing's final 109 seconds to secure the victory, their first over UK since March 7, 2013.
Graduate transfer P.J. Horne scored on a layup with 1.3 seconds remaining to give Georgia the win.
Current Wildcat Sahvir Wheeler played a key role in the Bulldogs' victory that evening, scoring 10 points and dishing out seven assists in a game-high 35 minutes of action.
Georgia and Kentucky also met earlier this season on Jan. 17 at Rupp Arena, with Wildcats rallying from an 11-point, first-half deficit en route to an 85-71 win.
Terry Roberts scored 21 points – his third 20-point outing in five SEC games – to lead the Bulldogs. Roberts also paced Georgia with five rebounds (along with Matthew-Alexander Moncrieffe) and three assists. Kario Oquendo added 17 points for the Bulldogs.
Oscar Tshiebwe scored 37 points and grabbed 24 rebounds, the second-most boards ever by a Georgia opponent (behind the 27 by Vanderbilt's Clyde Lee on Jan. 11, 1965).
The Bulldogs played an exceptional first half, shooting 55.6 percent from the floor and 88.9 percent at the line en route to a 42-34 advantage at the intermission. Georgia's first-half lead topped out at 11 points on four occasions, lastly at 42-31 with 56 seconds left in the period.
Tshiebwe scored all of the Wildcats' points in an 11-3 surge to pull Kentucky within 45-43 just 2:41 into the second stanza. He then gathered his own miss off a free throw and assisted a CJ Frederick 3-pointer, which gave the Wildcats their first lead since 14-13.
After the game was tied 57-57, Kentucky went on to outscore the Bulldogs 28-14 over the final 11:26.
WBB: Alumni Weekend – Georgia (16-9, 5-6 SEC) vs. Florida (14-10, 3-8 SEC) tomorrow
Sunday, Feb. 12 | 1 p.m. ET | Stegeman Coliseum (10,523) | Athens, Ga.
TV: SEC Network (Sam Gore and Tamika Catchings)
Radio: Georgia Bulldog Sports Network (Jeff Dantzler)
» Around 80 former players and staff return to Athens this weekend and will be in attendance during Georgia's game against Florida. As part of the festivities, members of the 1983 NCAA Final Four team will be honored at halftime.
» Georgia made history in 1983 as the first school to have both its men's and women's basketball programs reach the NCAA Final Four in the same season — a distinction the school held until 1999. Hall of Famer Andy Landers guided the youthful Lady Bulldogs, led by Janet Harris, Teresa Edwards, Wanda Holloway and Lisa O'Connor, to the program's first-ever SEC title and Final Four.
» The Lady Bulldogs have won 10 of the last 11 meetings and own a 63-18 lead in the all-time series against the Gators.
» Georgia defeated Florida, 82-77, earlier this year in Gainesville. The Lady Bulldogs outscored Florida 34-20 in the fourth quarter to erase a 13-point deficit. Brittney Smith led Georgia with 22 points.
» Overall, Georgia has won three of its last four games this season, defeating Missouri, Mississippi State and Vanderbilt. The only loss in the month of February has come at the hands of No. 3 ranked LSU — an overtime game that Georgia led for over 25 minutes.
» Georgia's nine losses this year have come by an average of eight points per game. Six of the nine defeats have come by single digits.
» Georgia leads the SEC in steals (10.68) and is second in turnover margin (+3.76).
» Fifth-year senior Brittney Smith hit her first eight shots and finished 9-of-10 from the field with 24 points in last Sunday's win against Vanderbilt. She has hit 79 percent of her shots and is 7-of-8 from the free-throw line over the last two games. As a team, Georgia shot 67 percent from the field and nailed its first 11 baskets against the Commodores. That percentage was the team's best in a game since 1988.
» Coach ABE's teams boast an 18-3 record in the month of February over the last three seasons (two at UCF and this year at Georgia).
» Georgia picked up its 10th win on Dec. 17. It marked the program's quickest 10th win in a season since the 2014-15 campaign.
---
Jump To Comments