Today's Contents – Click to Read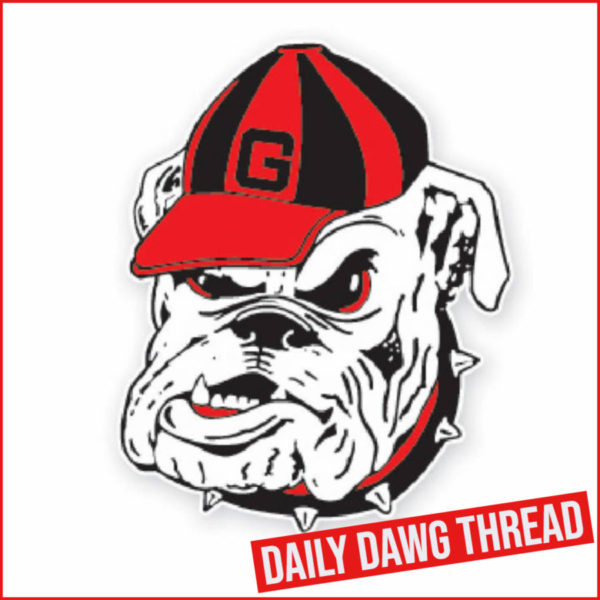 ---
SOFTBALL: Georgia Run Rules Longwood, Ends Weekend 5-1
The 12th-ranked Georgia softball team earned its first run rule victory of the season, defeating Longwood 16-3 on Sunday at the UCF Softball Complex.
Georgia concludes the opening weekend with a 5-1 record.
"I'm really proud of the offense responding," said head coach Tony Baldwin. "The game…you can't predict how it's going to go. They came right out and punched us in the mouth. They squared up some balls and put us back on our heels, but really proud of the way we responded. That's been something we've done well all weekend. We've had a good answer back—just about every time the other team scored, we answered right back. It would be nice to not let them score, but at the end of the day, we put together some really quality at-bats. We had a number of girls stick to the plan and see the result of doing that. Proud of the girls and back to work this week."
The Bulldogs' 16 runs came on 18 hits, the most hits Georgia since had 21 against San Diego on opening day in 2018.
Four Bulldogs recorded multiple hits including three each from freshman Lyndi Rae Davis, sophomore Jayda Kearney, and junior Sydney Kuma. Kearney drove in four runs while Kuma drove in three.
In the circle, Britton Rogers (1-0) pitched the complete five innings, allowing three runs and striking out four Lancers.
Longwood (1-4) used a sacrifice fly and an errant throw into the infield to plate two runs in the opening frame and take a 2-0 lead on the Bulldogs. The Lancers widened the early lead to 3-0 in the second with a two-out RBI base hit.
Georgia's offense came alive in the bottom of the inning, scoring 10 runs on 10 hits including five extra-base hits. Inning highlights included doubles by Sydney Chambley and Davis, a triple and three RBI from Kuma, and a two-run home run and a double off the bat of Kearney. Georgia sent 14 batters to the plate and seven hitters in the lineup recorded at least one hit while three had two each. Georgia led 10-3 after two.
Three-straight base hits opened the bottom of the fourth to load the bases. Kearney knocked her second double of the game to right, driving in two and lengthening the lead to 12-3. Ellie Armistead hit a sac fly to center to plate scored Georgia's 13th run of the game. The scoring kept going on a Hayley Eaton RBI single to center, 14-3. Back-to-back RBI base hits from DJ Landrum and Payden Bordeau brought the final tally to 16-3.
Rogers induced three-straight groundouts to work a 1-2-3 fifth inning to close out the game.
Georgia will open the home schedule next weekend when Boston University, Delaware, and Purdue come to Athens for the Red & Black Showcase Presented by T-Mobile. The Bulldogs host Delaware at 3:30 p.m. and Boston University at 6 p.m. Friday.
Today's Contents – Click to Read
---
MTENNIS: Tristan McCormick Delivers Clincher Over Tech
With the match tied at 3-3, Georgia men's tennis graduate Tristan McCormick delivered the clincher in a 4-3 win over Georgia Tech in Atlanta Sunday afternoon.
No.9-ranked Georgia has won the last 35 of the last 36 meetings against Tech and owns a 68-9 all-time series record over Georgia Tech. Georgia head coach Manuel Diaz boasts an impressive 34-1 coaching record against Georgia Tech.
"Our team showed tremendous poise and resolve under pressure today," said head coach Manuel Diaz. " We played a great doubles point to start the day but Tech played inspired tennis in the singles and put us in a hole. Our boys did not blink. Proud of all our guys, in particular, Blake Croyder and our two Graduate Seniors Hamish Stewart and Tristan McCormick for bringing it home."
In doubles competition, Georgia grabbed early breaks on No.1 and No.3 to get the match off to a dynamic start. On Court 1 the No.52-ranked doubles team of graduate transfers Tristan McCormick and Hamish Stewart defeated Marcus McDaniel and Keshav Chopra 6-3 to claim the first win. Senior Blake Croyder and junior Erik Grevelius on Court 3 held off the Yellow Jackets winning 6-2 over Brandon McKinney and Angel Guerrero. While the No.48-ranked doubles team of Philip Henning and Trent Bryde left their match unfinished 5-4 against Tech's Andres Martin and Chen Dong.
Georgia went into the singles competition with a 1-0 lead.
The Yellow Jackets evened the match 1-1 with Chopra's 6-3,6-2 win over No.23-ranked Bryde. Soon after Georgia Tech tacked on two more wins going up 3-1. In a Top-25 match-up, No.12-ranked Martin defeated No.25 Henning 7-5,6-1. Freshman Miguel Perez Peña fell to McKinney 4-6,1-6.
With the score in Tech's favor, the Bulldogs got to work on the three remaining courts.
No.104-ranked Croyder powered through to win his eighth straight match with a 6-4,6-1 triumph over Pablo Schlecher to bring the score to 3-2. Croyder remains perfect in dual match competition, 4-0.
After winning the tiebreaker in the first set No.19 Stewart pulled away in the second to secure another win for Georgia and tie the score 3-3. Stewart defeated McDaniel 7-6(7-5),6-1.
Tied at 3-3 it all came down to one match.
With all eyes on No.4, McCormick fought Dong in a physical match but left no doubt with a clinching 7-5,7-5 victory. No.101-ranked McCormick improves to 6-0 in the dual season while keeping a seven-match win streak alive.
Next up, Georgia will travel to Seattle, Wash. February 18-22 for the 47th annual ITA Team Indoor Championship.
Georgia 4, Georgia Tech 3
Singles Competition
1. #12 Andres Martin (GT) def. #25 Philip Henning (UGA) 7-5, 6-1
2. #19 Hamish Stewart (UGA) def. Marcus McDaniel (GT) 7-6 (7-5), 6-1
3. Keshav Chopra (GT) def. #23 Trent Bryde (UGA) 6-3, 6-2
4. #101 Tristan McCormick (UGA) def. Chen Dong (GT) 7-5, 7-5
5. #104 Blake Croyder (UGA) def. Pablo Schlecher (GT) 6-4, 6-1
6. Brandon McKinney (GT) def. Miguel Perez Pena (UGA) 6-4, 6-1
Doubles Competition
1. #52 Tristan McCormick and Hamish Stewart (UGA) def. Marcus McDaniel and Keshav Chopra (GT) 6-3
2. Andres Martin and Chen Dong (GT) vs. #48 Philip Henning and Trent Bryde (UGA); match was unfinished: 4-5
3. Blake Croyder and Erik Grevelius (UGA) def. Brandon McKinney and Angel Guerrero (GT) 6-2
Today's Contents – Click to Read
---
WBB: Georgia vs. South Carolina Photo Gallery
Watch a fullscreen slideshow
HERE
.
Today's Contents – Click to Read
---
Jump To Comments