Jump To Top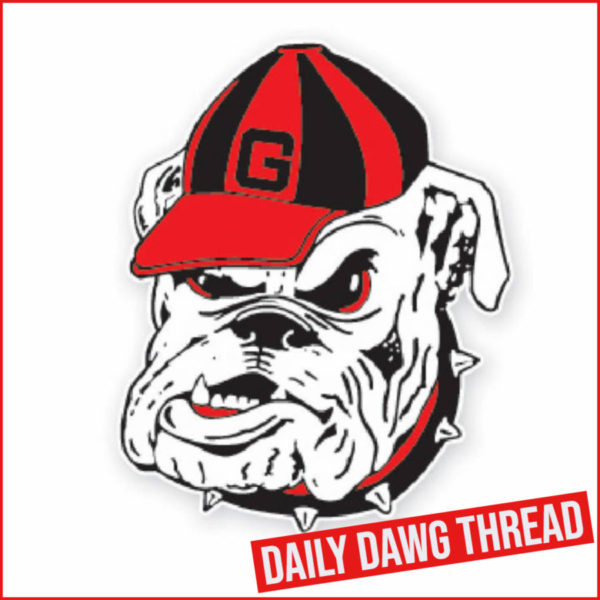 WBB: Dawgs roll by Auburn in the last home game of the regular season
The University of Georgia women's basketball team topped the Auburn Tigers, 70-59, Thursday night for its last home game of the regular season in Stegeman Coliseum.
Diamond Battles recorded her fifth 20-point scoring performance of the season with 21 points and four assists. Brittney Smith followed closely behind with 19 points. Javyn Nicholson tallied her fourth double-double of the season with 12 points and grabbed a team-high 10 boards. 
"The players that were here that are seniors now, they took a chance on us and stayed," Georgia head coach Katie Abrahamson-Henderson said. "I had some team meetings with them right when I got here and just kind of told them my vision, what I saw in them as players, how they would fit into our system and they all really evolved into those players that I kind of told them how they're going to play. It's just been awesome. I wish I had more time to coach them because I feel like every single one of them has gotten better just in the short amount of time that we've been here."
Back-to-back Smith layups opened the first quarter for Georgia (20-9, 9-6 SEC) to build a five-point lead over the Tigers. A pair of blocked shots and an Auburn (14-13, 4-11 SEC) turnover gave life to the Georgia offense. Attacking the paint, the Lady Bulldogs scored 10 of their 13 first quarter points in the key. Five Tiger points closed in on the Lady Bulldogs' lead to close the first frame trailing, 13-9.
The Lady Bulldogs added three points from Battles to their lead at the start of the second quarter and boosted their lead to five, 16-11. The Tigers used a 7-2 run to knot the score at 20 with under four minutes remaining in the first half. Two lead changes and eight-straight Lady Bulldog points gave Georgia a 28-25 lead at the half.
Six Auburn points in the paint had the Tigers trailing by two, 34-32. Free throws from Chloe Chapman, Battles and Nicholson extended Georgia's lead to eight. A 12-4 run gave the Lady Bulldogs a 10-point lead, 48-38. A triple from Battles boosted Georgia ahead as Auburn trialed, 54-43, heading into the final frame.
Short scoring runs for the Lady Bulldogs gave Georgia a 12-point lead before four unanswered Tigers points had Auburn trailing by eight. Auburn used a 9-4 scoring run to inch closer to Georgia's lead, but free throws from Smith and Battles solidified the Lady Bulldogs' 70-59 game-winning advantage.
Georgia will now travel to Columbia, S.C. to conclude regular season play against the Gamecocks on Sunday, Feb. 26 at 12 p.m. The game will be aired on ESPN2.  
---
BB: Georgia welcomes Princeton to Foley Field for weekend series
The University of Georgia welcomes Princeton to Foley Field Friday to start a four-game series with first pitch at 5 p.m.. Saturday's action will feature a doubleheader starting at 1 p.m. and a single game Sunday at 1 p.m.
All games will be nine innings, and the 10-run rule will be in effect for the Saturday doubleheader. This will be the season opener for the Tigers as all Ivy League teams begin play on Feb. 24.
Last weekend, Jacksonville State spoiled Georgia's season opener last weekend, and then the Bulldogs bounced back to win the series. The Bulldogs fell behind in each game. Georgia outscored Jacksonville State 25-16 to win the series 2-1 but posted a 4.33 ERA and fielded just .955 with five errors. The Bulldogs hit .301 and smashed four home runs. Junior Parks Harber and redshirt-freshman Charlie Condon led the way as 14 different players saw action.
Swinging It: Harber batted .500 (6-for-12) with four runs scored, two doubles, two home runs and six RBI in the series. In game two with the Bulldogs trailing 3-0, Harber's three-run blast tied the game as Georgia rallied back for a 10-3 win. In the rubber game of the series, Georgia fell behind 1-0 in the first and Harber came through again in the bottom of the first with a two-run blast to put Georgia in front for an eventual 10-5 win. Overall, he reached base in all three games and had two hits in each game. He started two games at third base and one at first base.
After going 0-for-4 in his debut, Condon bounced back to go 4-7 with six RBI in the final two games. He batted .364 (4-11) with six RBI in the series while starting three different positions (LF/1B/RF) and posted perfect fielding in 10 total chances. He provided the go-ahead RBI in Sunday's victory.
Pitching Update: Junior LHP Jaden Woods and junior LHP Liam Sullivan are the top two candidates for the Bulldog rotation while the third spot has plenty of competition. Freshman Blake Gillespie got the Sunday start against JSU while junior Charlie Goldstein and senior Nolan Crisp will get a look in the Princeton series. Six Bulldogs (Nolan Crisp, Leighton Finley, Kyle Greenler, Dalton Rhadans, Kolten Smith and Pace Mercer) combined to throw 13.1 scoreless innings in the JSU series. Crisp pitched 3.1 scoreless innings with five strikeouts for the Sunday series win while Mercer notched a save in game two, going 1.1 innings with three strikeouts.
Ivy League Insider: Graduate transfer Mason LaPlante (.455 BA), who started all three games of the JSU series (2-2B, 1-SS), can give this weekend's scouting report. A Yale graduate, he's used to playing Princeton. In fact, LaPlante's first career home run came on a leadoff shot against Princeton in a 13-6 win in 2022. Against JSU, LaPlante went 5-for-12 including a double, a bunt single, a stolen base and flawless defense in 14 total chances. Look for LaPlante to bat either ninth or leadoff this season. LaPlante, Harber and graduate Connor Tate hit safely in all three games against JSU. LaPlante and Harber have eight-game hitting streaks dating back to 2022.
About The Tigers: Princeton is led by former Major Leaguer Scott Bradley who enters his 25th season. The University of North Carolina graduate was a left-handed hitting catcher (New York Yankees second pick behind NFL Hall of Famer John Elway in 1981) who made his debut in Yankee pinstripes in 1984. The Tigers went 7-33 last year. Princeton is projected to finish seventh in the eight-team Ivy League as voted on by the sports information directors and media from around the league. Columbia is the favorite. Georgia is 0-1 all-time versus PU, falling 7-2 in 1924.
Princeton welcomes back a majority of its team including its starting nine and rotation. The top returning hitters are senior OF Brendan Cumming (.366-7-30), senior Alpharetta native OF Nadir Lewis (.329-10-36) and senior Jackson Emus (2-6, 4.76, 68 IP, 11 starts; .318-1-9 in 88AB).
Probable Rotation For UGA-PU Series
#17 Jaden Woods (0-0, 18.80, LHP, Jr.) vs. #21 Jackson Emus, RHP, Sr.
#14 Liam Sullivan (0-0, 0.00, LHP, Jr.) vs. #10 Tom Chmielewski, LHP, Jr.
#29 Charlie Goldstein (0-0, 3.38, LHP, RJr.) vs. TBA
#11 Nolan Crisp (1-0, 0.00, RHP, Sr.) vs. #8 Matt Scannell, LHP, Jr.
Radio/TV/Live Stats Information (Radio/TV simulcast: Jeff Dantzler and David Johnston)
Friday at 5 pm
960TheRef: https://georgiadogs.com/watch/?Live=4361&sport=1&type=Live
Streaming: ESPN+: https://www.espn.com/watch/player?id=be7283c5-4f1e-4e35-be48-0b6f021269a4
Live Stats: https://georgiadogs.com/sidearmstats/baseball/summary
Saturday at 1 pm (Doubleheader)
960TheRef: https://georgiadogs.com/watch/?Live=4362&sport=1&type=Live
Streaming: ESPN+ Game One: https://www.espn.com/watch/player?id=3ac922fc-8c5a-44d9-8149-fba888d8ac77
Game two: https://www.espn.com/watch/player?id=e9ed2f85-a3ce-46e9-9c28-f7ddc59158ba
Live Stats: https://georgiadogs.com/sidearmstats/baseball/summary
Sunday at 1 pm
960TheRef: https://georgiadogs.com/watch/?Live=4363&sport=1&type=Live
Streaming: ESPN+: https://www.espn.com/watch/player?id=6f0c2a37-867a-49df-bd89-4072a12e26a6
Live Stats: https://georgiadogs.com/sidearmstats/baseball/summary
Promotions: Family Fun Day features children having the option to be an Anthem Buddy before the game and Run the Bases after the game.
Ticket/Parking Information
A limited number of tickets are available in the Left Field Bleachers and in the Right Field Bleachers.
For non-conference games not including Clemson and Georgia Tech, Friday tickets in the Left Field Bleachers are $8.
Tickets for Saturday non-conference games not including Ga. Tech in the Left Field Bleachers are $10 while Sunday's game there will be $8.
All Right Field Bleacher tickets are $5 for non-conference games not involving Clemson or Georgia Tech.
Fans can get seats from other fans through our official secondary ticketing partner StubHub.
Fans with tickets who are unable to come are encouraged to transfer them to other Bulldog fans, return them to UGAAA or resell them on StubHub.
Foley Field Gates open one hour before game time.
Free parking is available in the commuter surface lot behind the outfield.
---
SB: No. 17/16 Georgia (7-4) hosts the 20th Annual Georgia Classic this weekend
Dates: Feb. 24-26, 2023
Location: Athens, Ga.
Stadium: Jack Turner Stadium
Admission: FREE (no tickets required // seating is first come, first served)
Participating teams:
Hofstra (0-5)
Cal Baptist (4-6)
Lipscomb (2-5)
Georgia's Schedule:
Friday, Feb. 24
3 p.m. – vs. Hofstra
5:30 p.m. – vs. Cal Baptist
Saturday, Feb. 25
12:30 p.m. – vs. Cal Baptist
3 p.m. – vs. Hofstra
Sunday, Feb. 26
1 p.m. – vs. Lipscomb
Streaming: SEC Network+
The Georgia Bulldogs will welcome Hofstra, Cal Baptist, and Lipscomb in the 20th Annual Georgia Classic this weekend at Jack Turner Stadium.
Georgia will begin its tournament action Friday against Hofstra at 3 p.m. and Cal Baptist at 5:30 p.m. The nine-game round robin tournament will wrap up Sunday at 1 p.m. when Georgia takes on the Lipscomb Bisons.
Every Georgia game of the Georgia Classic will stream live on SEC Network+. Jack Sadighian will be on the call.
Series History
Hofstra
» Georgia leads all-time series 1-0
» The lone meeting was on March 5, 1999 in Tampa, Florida; Georgia won 10-2
Cal Baptist
» First meeting
Lipscomb
» Georgia leads the all-time series 2-0
» Both meetings have been in Athens: 2001, 2011
Recapping Last Week's Action
Georgia fell on the road to No. 5 Clemson on Tuesday, 7-1. Clemson opened the game with a five-run first inning. Shelby Walters entered the game and held the Tigers scoreless until a two-run sixth. Jayda Kearney led the Bulldogs at the plate, scattering two hits.
A Look at What's Ahead
February will come to a close Tuesday when Georgia travels to Atlanta for a midweek matchup with rival Georgia Tech. The first pitch between the Bulldogs and Yellow Jackets is set for 6 p.m. Georgia will then return home to host the Bulldog Classic next weekend. Georgia will welcome Ball State, Stetson, and Samford to Athens for the 10-game tournament.
Georgia in the Polls
Georgia's rankings after Week 2:
– USA Today/NFCA: 17
– ESPN/USA Softball: 16
– D1Softball: 14
– Softball America: 13
---
T&F: SEC Indoor Championships begin today at Arkansas
The 10th-ranked Georgia men and the 13th-ranked Lady Bulldogs traveled to Fayetteville, Ark., on Wednesday in preparation for the Southeastern Conference Indoor Championships at the Randal Tyson Track Center scheduled for Friday and Saturday.
When Do The Bulldogs Start On Friday?: Freshman Ella Rush will start the action in the pentathlon at 1 p.m. ET on Friday. The Repton, U.K., native will compete in the 60-meter hurdles, high jump, shot put, long jump and 800m over the course of the first day.
Senior Johannes Erm, who won SEC heptathlon titles in 2018 and 2019, is scheduled to begin his first conference indoor combined events competition in four years with the hep (60m) at 1:15 p.m. on the first day. Erm will also complete the other three day-one events (long jump, shot put, high jump) before finishing the final three events (60m hurdles, pole vault, 1000m) on Saturday.
While this marks Erm's first collegiate hep since 2021, his teammate, senior Kyle Garland, is the current collegiate leader and No. 2 all-time in the event. He will join Erm in the multi-events at the NCAA Championships should Erm qualify. The Bulldogs have won the last 10 SEC heptathlon titles. Garland is expected to compete in the open hurdle and long jump at SECs.
Sophomore Nikolai van Huyssteen scored at his first SECs last year, and freshman Alon Rogow will start the open events in the pole vault at 2:30 p.m. Senior Wesley John and sophomore KC Heron will be the first Bulldog competitors on the track in the men's mile prelims at 5 p.m. on Friday.
Who Is Ranked In The SEC?: 20 SEC men's and women's track and field programs are included in the latest U.S. Track & Field and Cross Country Coaches Association (USTFCCCA) top 25 national rankings released Monday, including four in the top five.
A nation-leading 11 SEC men's teams are ranked: No. 1 Arkansas, No. 4 Tennessee, No. 7 Florida, No. 10 GEORGIA, No. 12 Alabama, No. 14 Kentucky, No. 17 South Carolina, No. 18 Texas A&M, No. 20 Mississippi State, No. 21 Ole Miss and No. 24 Auburn.
Also, a nation's best nine SEC women's teams are also ranked in the top 25: No. 2 Arkansas, No. 3 Florida, No. 6 Alabama, No. 8 LSU, No. 10 Tennessee, No. 11 Texas A&M, No. 13 GEORGIA, No. 15 Ole Miss and No. 18 Kentucky.
Broadcast info for SEC Indoor Championships:
Friday (2:30-4pm) – SECN+
LINK: http://gado.gs/a4f
Friday (5-9:30pm) – SECN+
LINK: http://gado.gs/a4g
Saturday (3-4pm) – SECN+
LINK: http://gado.gs/a4h
Saturday (5-8:30pm or until the awards are done) – SECN+
LINK: http://gado.gs/a4i
Sunday (8-11:30pm) – SECN (re-air)
SECN+ LINK: http://gado.gs/a4j
Live Results: For results throughout the weekend, please visit: http://gado.gs/a3v
---
Jump To Comments