Today's Contents – Click to Read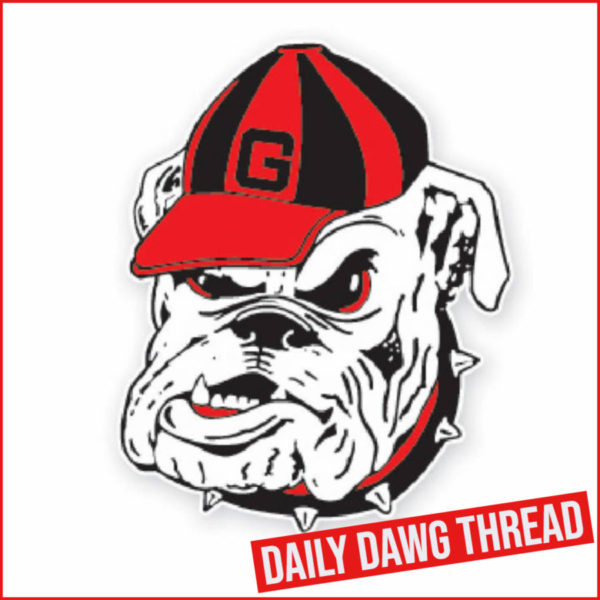 ---
BASEBALL: Jonathan Cannon Leads Dawgs to 1-0 Win
Carrying a perfect game into the seventh inning, junior right-hander Jonathan Cannon powered the 15th-ranked University of Georgia baseball team to a 1-0 series opening win over Akron Friday evening before 3,254 spectators at Foley Field.
Cannon (2-0) allowed just three hits and struck out five in 8.1 innings of work, helping Georgia (5-0) prevail in a night marked by strong pitching from both sides. Senior right-hander Conor Steinbaugh (0-2) earned the loss for Akron (1-3), allowing three hits and one run in four innings of work.
"That's as good as I've seen him," said Ike Cousins Head Coach Scott Stricklin following the game. "I thought Akron did a really good job. They had some good at-bats off of him, but we played great defense behind him. Bottom line, Jonathan was really good, defense was really good, and that's we want for us."
After graduate left fielder Connor Tate worked back from an 0-2 count to reach on a two-out walk in the first, senior designated hitter Corey Collins scored the Bulldogs' lone run with a roping double down the right field line. Following a scoreless frame, graduate center fielder Ben Anderson led off with a double to left but was stranded at third.
With the one-run lead, Cannon settled in for his dominant night, retiring the first 19 Zips batters he faced. Cannon's perfection was saved in the top of the sixth when senior second baseman Cory Acton laid out to keep a grounder from heading into the outfield. Meanwhile, the Akron pitching staff held the Bulldogs' bats in check, not allowing a base runner for three straight innings before sophomore first baseman Parks Harber reached with a leadoff walk in the seventh.
In the top half of the seventh, a dropped foul ball by sophomore catcher Fernando Gonzalez ended the perfect game, with the no-hitter halting two pitches later on a single by freshman infielder Cameron Benson. The Zips again threatened in the eighth with a leadoff single and subsequent wild pitch, but the runner was stranded at third to end the frame.
After Georgia stranded two in the bottom of the eighth, Cannon came out to start the ninth but was lifted after a one-out single. Sophomore reliever Collin Caldwell came in for the save, working around two Zips on base to induce a game-sealing flyout to center.
Today's Contents – Click to Read
---
MBB: Georgia (1-14 SEC) vs. Florida (7-8 SEC) Today at Noon
Date: Saturday, February 26, 2022
Tipoff: 12:00 p.m. ET
Location: Stegeman Coliseum (10,523) in Athens, Ga.
Watch: ESPN2 (Tom Hart, pbp; Carolyn Peck, analyst)
Listen: Georgia Bulldog Sports Network – Flagship: WSB AM 750; XM: 380; SXM App: 970. (Scott Howard, play-by-play; Chuck Dowdle, analyst; Adam Gillespie, producer)
The Starting 5…
• Aaron Cook's 152 assists is No. 5 among UGA's all-time season leaders…and just two from the No. 3 spot.
• Braelen Bridges' current field goal percentage of .635 is No. 2 among UGA's all-time season leaders.
• With 33 points at Texas A&M, Kario Oquendo upped his scoring averages by 0.7 ppg overall and 1.1 ppg in SEC play.
• Jaxon Etter has drawn 28 charges in 27 games played this season…and 36 in his last 38 dating back to last season.
• UGA leads the SEC in free throw percentage and nationally ranks No. 6 in FT makes (443) and No. 15 in FT takes (589).
The Opening Tip
Georgia and Florida will face off in a matinee matchup at Stegeman Coliseum on Saturday, the 225th meeting between the interstate rivals.
The Gators are Georgia's most frequent for, by a pretty wide margin. Trailing Florida are two more of UGA's biggest rivals – Georgia Tech with 197 contests and Auburn with 195.
The Bulldogs and Gators have met multiple times during 87 of the previous 91 seasons dating back more than nine decades to the 1930-31 campaign.
In fact, UGA and UF contested double home-and-home series – meeting four times each season – from 1930-31 through 1941-42.
Of the four seasons Georgia and Florida failed to meet twice during that span, two were during World War II (when they didn't play at all in 1942-43 and 1943-44) and the others were in 2013-14 and 2014-15. That was after Missouri and Texas A&M joined the SEC and the league schedule included one permanent home-and-home foe, pairing Georgia with South Carolina and Florida with Kentucky.
Today's Contents – Click to Read
---
Jump To Comments