Jump To Top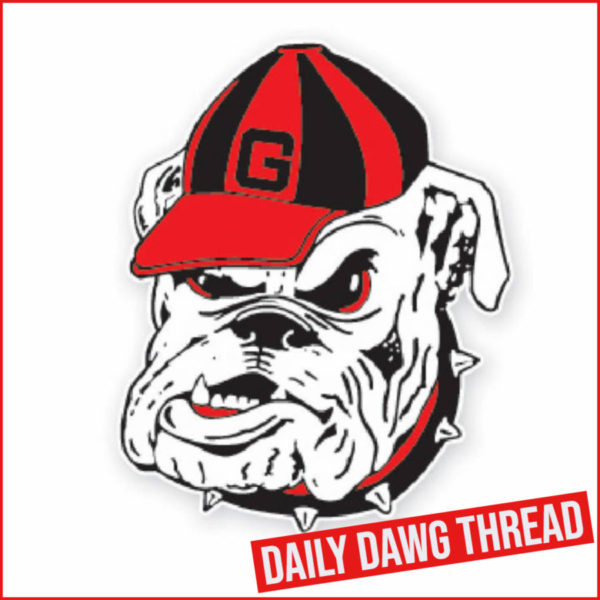 ---
GYM: Dawgs open 2023 with a second at Super 16
The University of Georgia gymnastics team opened the 2023 season with a score of 195.950 to finish second at the Super 16 on Friday night at the Orleans Arena in Las Vegas.  
 
Stanford finished first with a score of 196.175.  Behind Georgia was Oregon State (195.450) and Rutgers (194.700). The GymDogs' best event score came in the final rotation on bars, which was the highest among the four teams on that apparatus. Graduate Josie Angeny notched the highest bars score of the night with a 9.900 and senior Amanda Cashman's floor routine received the second-highest mark of the night on that event- a 9.925.  
 
Georgia started the meet on beam scoring a 48.950.  Senior Vanessa Deniz, a transfer from Oklahoma, led the GymDogs with a 9.850 in the third spot of the lineup.  Freshman JaFree Scott and graduate Josie Angeny, a transfer from Kentucky, both contributed a 9.825. Senior Soraya Hawthorne moonwalked her way to a 9.750 and freshman Naya Howard made her debut with a 9.700.  
 
Moving on to floor, the GymDogs gave a show with their routines, tallying a 48.975. Competing for the seventh time of her career and the first since her sophomore year, senior Amanda Cashman notched the high score on floor with a 9.925. Hawthorne followed with a 9.875 from the anchor position.  Howard contributed a 9.850 and after a slight step out of bounds on her last pass, freshman Eryn Williams received a 9.700.  
 
Georgia rotated to vault next, adding a 48.850 to the total.  Graduate transfer from Ball State, Sandra Elsadek led the group with a 9.850, followed by a pair of 9.775 from senior Haley de Jong and freshman Nicole King. Howard and Cashman contributed scores of 9.800 and 9.650 respectively.  
 
The GymDogs performed on bars in the final rotation, scoring a 49.025.  Angeny led the team and won the event title with a 9.900 in her GymDog debut.  Scott and de Jong followed, both adding a 9.875 for Georgia.  Junior Katie Finnegan contributed a 9.825 and Cashman scored a 9.700 in the leadoff spot.  
 
Georgia heads to Missouri next week to face the Tigers on Friday, January 13 at 7 p.m. ET on the SEC Network. Georgia will host a quad meet in the annual MLK Day Meet on Monday, January 16 at 2 p.m. in Stegeman Coliseum with Rutgers, Fisk, and Ohio State. 

 
FINAL RESULTS
STANFORD: 196.175 (VT- 49.125, UB- 49.025, BB- 48.725, FX- 49.300)
GEORGIA: 195.950 (VT- 48.850, UB- 49.175, BB- 48.950, FX- 48.975)
OREGON STATE: 195.450 (VT- 48.925, UB- 48.375, BB- 49.100, FX- 49.050)
RUTGERS: 194.700 (VT- 48.800, UB- 48.250, BB- 48.500, FX- 49.150)
---
MBB: Dawgs meet Gators in Gainesville tonight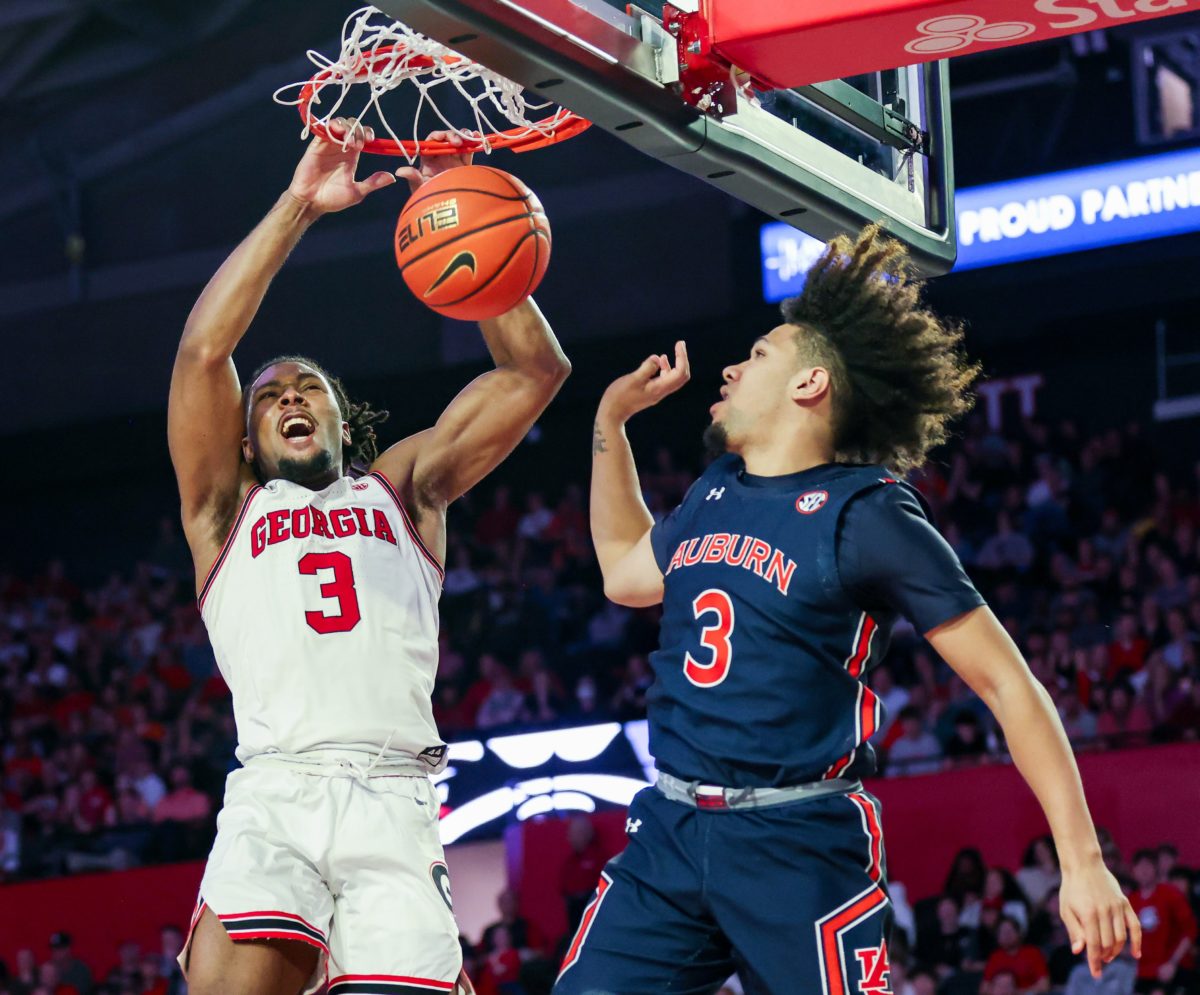 Georgia (11-3, 1-0 SEC) vs. Florida (7-7, 0-2 SEC)
Saturday, January 7, 2023 at 7:00 p.m.
Exactech Arena at the O'Connell Center (10,151) in Gainesville, Fla.
Series History: UF leads, 120-105
Last meeting: UF, 84-72, on Feb. 26, 2022
Video: SEC Network (Dave Neal, pbp; Jon Sundvold, analyst)
Audio: Georgia Bulldogs Radio Network (WSB AM 750; SiriusXM: 384; SXM App: 974) (Jeff Dantzler, pbp; Brett Holcomb (producer)
The Starting Five
• UGA defeated No. 22/20 Auburn on Wednesday, its first "W" in an SEC opener since the 2017-18 season.
• With a win, UGA would double both its overall and SEC win totals for the entire 2021-22 season.
• Only 3 Dogs have played in every game and 6 have recorded a combined 16 DNPs due to injury or illness.
• UGA's bench has scored 355 points with a +186 (13.3 ppg) margin over its opponents' reserves to date.
• Mike White secured the 250th victory of his head coaching career with UGA's win over Florida A&M on Dec. 2.
Plus One
• Georgia freshman Brandon Klatsky is the brother of Gator redshirt junior Alex Klatsky and both his parents – Brian and Nicole – are Florida graduates.
The Opening Tip
The Georgia Bulldogs and their modest four-team winning streak travel to Gainesville on Saturday afternoon to meet the Florida Gators.
The Bulldogs are coming off an impressive 76-64 victory over No. 22/20 Auburn on Wednesday night. Georgia led for 38:28 of the contest and trailed only once – at 24-23 – for all of 14 seconds.
The win was the Bulldogs' first in an SEC opener in five seasons, since Georgia defeated Auburn, 96-84, on Dec. 29, 2017.
The Bulldogs' 11 victories to date is one "W" shy of doubling their win total from last season. In fact, Georgia won six games in November, taking just 24 days in Mike White's first season to reach the number of "Ws" earned during the entire 2021-22 campaign.
---
MTENNIS: Georgia won four singles and two doubles contests on the first day at the Miami Fall Invite
The University of Georgia men's tennis team won four singles matches and two doubles contests on the first day of action at the Miami Fall Invite.
The Bulldogs' No. 106-ranked Trent Bryde, Britton Johnston, Thomas Paulsell and Miguel Perez Peña picked up the four wins in singles, while No. 19 Bryde and Ethan Quinn as well as Paulsell and Perez Peña earned the two victories in doubles.
Georgia will open the invite's second day in doubles against competition from host Miami at 1 p.m. ET and then face Texas student-athletes in singles thereafter.
"Miami is a very deep team, they were comfortable at home and played very well," said head coach Manny Diaz. "We looked very good in some spots and rusty in others after a long layoff. A mixed bag today, but it served us well and I am sure we will benefit from today. Overall, I think we can do a better job of taking care of our service games. Bright spots in Trent, Miguel, Thomas and Britton's singles matches as well as our number one doubles team. Philip served for his match, but his opponent did a great job in the closing moments of the second and third set. I am confident our guys will come back ready tomorrow and look to improve."
Georgia returned to action for the first time in 2023 beginning in doubles against Miami. The Bulldogs split their eight matches against the Hurricanes sweeping the back half of the lineup and winning on courts five, six, seven and eight.
Paulsell was the first match to finish of the day, defeating Nacho Serra Sanchez in a swift 6-2, 6-2 decision. The sophomore improved to 7-5 while getting the Red and Black its first win of the event. This was the second time a Georgia player has played Serra Sanchez in the fall, as he previously lost to Johnston at the Intercollegiate Tennis Association Southeast Regional in a three-set battle by a 7-6 (7-4), 6-7 (2-7), 7-6 (11-9) score.
Perez Peña, now with an 8-5 record, followed Paulsell, who also earned a straight set win over Martin Vergara Del Puerto in a 6-1, 7-5 match. No. 106 Bryde claimed Georgia's third win of the day by beating Leonard Bierbaum for the team's first three-set decision, winning by a 6-2, 3-6, 6-4 score. The senior has now won four of his last five singles matches.
Johnston claimed the last win of the day for Georgia in singles. The senior picked up his fifth win of the season by defeating Jackson Armistead in three sets, winning by a 6-7(0), 6-3, 6-4 final.
Doubles began shortly afterward, with the Bulldogs taking on Texas in all but one match.
The team's top-ranked tandem, No. 19 Bryde and Ethan Quinn earned the first win for the Bulldogs in doubles competition. They picked up their fourth victory of the year together by defeating Texas' Pierre-Yves Bailly and Siem Woldeab by an 8-3 margin.
Paulsell and Perez Peña were the lone doubles team for Georgia who did not play an opponent from Texas. The two sophomores defeated Serra Sanchez and Armistead of Miami, 8-5, to close the day for the Red and Black.
Keep up with all the latest news and information on the Bulldogs by following UGA Men's Tennis on social media on Twitter and Instagram @UGATennis, on Facebook @UGAMensTennis, and on the web at GeorgiaDogs.com.
Singles Results
#73 Dan Martin (Miami) def. #1 Ethan Quinn (Georgia) 6-4, 6-4
Martin Katz (Miami) def. #10 Philip Henning (Georgia) 3-6, 7-5, 6-3
Franco Aubone (Miami) def. #21 Blake Croyder (Georgia) 6-4, 6-3
Antonio Prat (Miami) def. #70 Teodor Giusca (Georgia) 7-5, 6-3
#106 Trent Bryde (Georgia) def. Leo Bierbaum (Miami) 6-2, 3-6, 6-4
Miguel Perez Pena (Georgia) def. Martin Vergara (Miami) 6-1, 4-3
Thomas Paulsell (Georgia) def. Nacho Serra Sanchez (Miami) 6-2, 6-2
Britton Johnston (Georgia) def. Jackson Armistead (Miami) 6-7, 6-3, 6-4
Doubles Results
#19 Trent Bryde/Ethan Quinn (Georgia) def. Pierre-Yves Bailly/Siem Woldeab (Texas) 8-3
Evin McDonald/Eliot Spizzirri (Texas) def. Teodor Giusca/Philip Henning (Georgia) 8-0
Chih Chi Huang/Eshan Talluri (Texas) def. #55 Blake Croyder/Britton Johnston (Georgia) 8-2
Thomas Paulsell/Miguel Perez Pena (Georgia) def. Nacho Serra Sanchez/Jackson Armistead (Miami) 8-5
---
Jump To Comments