Today's Contents – Click to Read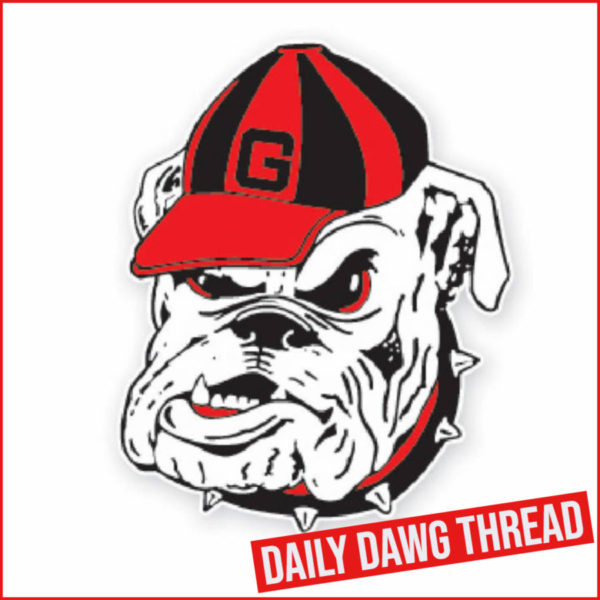 ---
T&F: Matthew Boling Breaks School Record at Clemson Invitational
Bulldog junior Matthew Boling erased his own school record in the long jump with a fresh mark to highlight the opening day of the Clemson Invitational on Friday.
Boling traveled 8.25 meters (27 feet, ¾ inches) on his second try to top the nearest collegiate competitor by more than a foot in the long jump before passing on his final four attempts.
The Bulldogs will compete again at the Clemson Indoor Complex on Saturday with action starting in the women's high jump (freshman Elena Kulichenko, junior Shelby Tyler) at 11 a.m. Sophomore Gavin Beverage, junior Kyle Garland, and junior Ziggy Zoller (shot put) will also begin day two for the men at 11 a.m.
Boling, a native of Houston, Texas, soared 7.73m (25-4.50) in the first round and was just behind Nike's Steffin McCarter, who opened at 7.75m (25-5.25), after the first jump. However, in the next round, Boling took off for a record-breaking mark of 8.25m (27-0.75), surpassing his previous career-best and school-record performance of 26-5.75 to take fourth at last year's SEC meet.
Freshman Eddiyah Frye shot to sixth on the school's all-time top-10 list in the 60-meter hurdles with an 8.25 for ninth in the opening round during her career debut. Senior Imani Carothers, who owns the school's third-best 60m hurdle clip in history at 8.06 from last year, ran an 8.26 on Friday for 10th place.
Also breaking into the school record books was senior Delano Dunkley, whose personal record of 6.75 gave the Bulldogs a five-way time at 10th on the all-time list. Dunkley was ninth in the prelims.
Fellow freshman Kenondra Davis tied the seventh-best 60m time in school history during the prelims with a 7.43 to take ninth during her first time on the track in red and black.
Junior decathlete Kyle Garland broke eight seconds for the first time in his career to bump from ninth to eighth (7.95) on the school's all-time list in the 60m hurdle prelims and advance to the final. His finish earned him sixth place in the prelims before taking eighth in the final (8.03).
In the long jump, senior Titiana Marsh worked up to a third attempt of 6.28m (20-7.25) to easily clinch second place.
Senior Anna Marian Block ran a personal best of 2:49.54 to be the top collegiate finisher and second overall in the 1000m during the first day of the year.
The Bulldog men went 2-3 in the 1000m as junior Sam Bowers registered a 2:26.33 for runner-up honors. Sophomore KC Heron finished one spot behind with a 2:26.35.
Senior Alencar Pereira made his season debut and reached 20.14m (66-1) on his second attempt for third place. Former Bulldog NCAA champion Denzel Comenentia launched a winning toss of 23.65m (77-7.25) to win by nearly nine feet.
This marked the first meet with Caryl Smith Gilbert leading the Bulldogs as head coach. The Georgia men were third and the women were fifth at the 2021 NCAA Indoor Championships. The Bulldog teams have combined for nine top-10 national indoor finishes since 2013, including the 2018 women's title, in addition to the 2021 finishes.
Today's Contents – Click to Read
---
MBB: Georgia (5-11, 0-3 SEC) vs. Vanderbilt (9-6, 1-2 SEC) Tonight
Date: Saturday, January 15, 2021
Tipoff: 6:00 p.m. ET
Location: Stegeman Coliseum (10,523) in Athens, Ga.
Watch: ESPN2 (Tom Hart, pbp; Carolyn Peck, analyst)
Listen: Georgia Bulldog Sports Network – Flagship: WSB AM 750; XM: 380; SXM App: 970. (Scott Howard, play-by-play; Chuck Dowdle, analyst; Adam Gillespie, producer)
The Starting 5…
• UGA has won four straight meetings with Vanderbilt…and seven of the last 10 matchups with the Commodores.
• Kario Oquen-do and Scotty Pippen Jr. are the SEC's top scorers in league play, both averaging 23.7 ppg.
• Noah Baumann is tied for the SEC lead in 3-pointers per game in league play, averaging 3.7.
• Through games of 1/12, Aaron Cook ranked No. 9 nationally in both assist average (6.5) and total assists (97).
• UGA's seven first-year transfers combined to score 4,782 points at their previous schools.
The Opening Tip
Georgia returns to Stegeman Coliseum to host Vanderbilt on Saturday evening following a two-game road swing to No. 13/16 Kentucky and Mississippi State.
Despite some positive signs – the Bulldogs were ahead or were tied for 12:19 of the first half at Rupp Arena and led at the intermission in Starkville – Georgia lost both contests to fall to 5-11 overall and 0-3 in SEC play.
Saturday's game features the SEC's co-leading scorers in league play.
Georgia's Kario Oquendo and Vanderbilt's Scotty Pippen Jr. enter the weekend tied as the SEC best point producers in conference games at 23.7 ppg.
Oquendo has been a very efficient shooter in his three SEC outings, ranking No. 4 in field goal percentage (.581) and No. 8 in free throw percentage (.818). He is riding a three-game streak of 20-point performances, the first Bulldog to top the 20-point plateau in a trio of consecutive games since Anthony Edwards did so in 2020.
Today's Contents – Click to Read
---
Jump To Comments