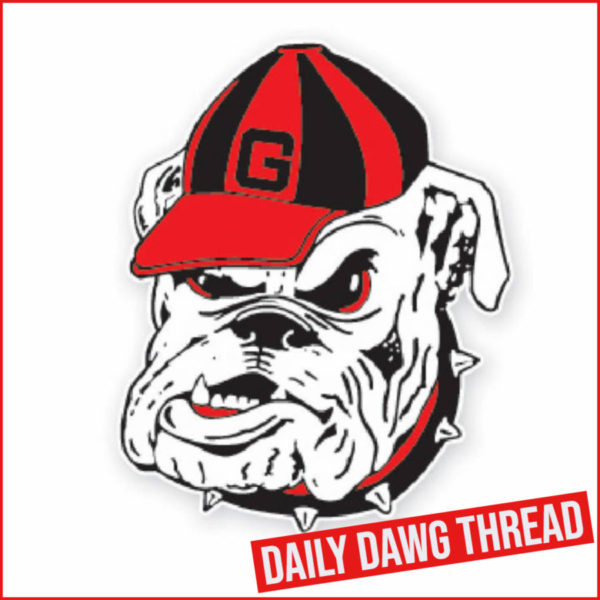 ---
---
GYM: Baumann Scores Perfect 10 in Loss to Gators
Senior Rachel Baumann scored a Perfect 10 on floor as the Georgia gymnastics team fell to Florida, 196.975-194.475, at Stegeman Coliseum on Friday Night.
Baumann's Perfect 10 is the first by a GymDog since Marissa Oakley earned the score on bars at the 2019 Athens Regional. It's the first Ten on floor since Sydney Snead in 2018, also against Florida.
The GymDogs showed much improvement from the season opener on vault, bars, and floor. Georgia scored a 49.525 on floor, the highest mark the team has reached on this event since 2020.
"This team is an overcoming team," head coach Courtney Kupets Carter said. "They've shown it in the gym and they showed it tonight.  Compared to our first meet we improved on three events massively and had what I'm going to call the biggest fluke I've ever seen on beam. Looking at the progress they made, it was fantastic. There is so much progress that they have made and there is so much potential for the coming meets ahead."
The GymDogs got off to a great start, posting a 49.225. In the anchor spot, senior Megan Roberts paced the squad with a 9.925 and fellow senior Mikayla Magee followed with a 9.900.
The GymDogs also enhanced their performance on bars this week, collectively scoring a 49.100. Again, it was Roberts with the high score for the GymDogs with a 9.850. Senior Abbey Ward swung to a career-best score of 9.825. 
The GymDogs struggled on beam. Magee started off with a 9.825 and then the team had to count four falls.
The GymDogs shined on floor, posting a 49.525. With her Gator sister Alyssa Baumann cheering her on, Rachel Baumann wowed the crowd and the judges with a perfect routine and the first Perfect 10 of her career. Soraya Hawthorne nearly matched that score with a 9.975. Alyssa Perez-Lugones, Rachael Lukacs, and Roberts, all contributed scores of 9.850.
The GymDogs are back in action against LSU next Friday, January 28 at 7:00 in Stegeman Coliseum.
"When I went up, I was so confident in this floor lineup that I could just relax, have fun, actually do what I love and dance," Baumann said. "I landed that last pass and it was a good feeling. Honestly, I didn't realize it until they turned the score around. It felt amazing, it's still unreal."
"She hits several routines that are 10s on beam and floor in practice," Kupets Carter said. "So, it's just about letting her do her normal. When I saw that first pass go straight down, beautiful angle. I sometimes give them a 10 in my head, so I was going to tell her that. Then I said, 'alright we did it girl.' It's just beautiful, it's so exciting and it's just one of those moments you know that she and the team is never going to forget. It just makes me really proud of her."
---
T&F: Bulldogs Rack Up Eleven Wins at Samford Invite
The Bulldogs accumulated 11 wins during the one-day Samford Invite in Birmingham, Ala., on Friday, highlighted by two of the country's top-five marks.
Fresh off a long jump/200-meter dash sweep in last weekend's opener, junior Matthew Boling ran the fifth-fastest 60m time in the country this year with a 6.60 to win.  This time ranks second on Georgia's all-time top-10 list and is the best for the Bulldogs since 2017. 
Boling won the prelims with a 6.65. His senior teammate Delano Dunkley tied for the fourth in the final after speeding to a 6.69, which ties for fourth in the school record books.
Freshman Elena Kulichenko recorded two straight second attempt clearances in the high jump, including a collegiate personal best of 6 feet to win the event. This stands at the fifth-best mark in the nation this year.
This was the first of two trips to the Birmingham CrossPlex for the Bulldogs this year. This season's NCAA Indoor Championships will also be at the facility on March 11-12.
Full Results: For results of Friday's meet, please visit here.
The Lowdown: Junior transfer Ana da Silva started the day off in fine fashion for the Bulldogs by winning the women's shot put with the longest throw of her career.  The Ribeirao das Neves, Brazil, native lifted her fifth attempt a personal record distance of 16.82m (55-2.25).  This meet record is the second-longest in Georgia history and best for the Lady Bulldogs since 2013.  da Silva's toss ranks sixth in the NCAA this year and helped complete a sweep of the shot put for UGA on Friday.
Freshman Victoria Perrow demanded more attention in her career debut by winning the 60m with a 7.35. This time ranks fourth on Georgia's all-time top-10 list and in the top 20 nationally coming into the weekend. Junior Brandee Presley (7.44), who was also making her Lady Bulldog debut, finished third with what tied as the 10th-best time in UGA history.
One spot behind Presley in the final was freshman Kenondra Davis, who is the reigning SEC Freshman of the Week and who finished in 7.49. Davis' 7.39 from the prelims on Friday improved her previous personal best of 7.43 from last week and shot her to No. 6 on the all-time list.
In the opening round of the 60m, Perrow won the group with an identical 7.35.
Sophomore Gavin Beverage complemented da Silva's finish by winning the men's shot put with a personal record. Working up to a mark of 18.17m (59-7.50) on his third attempt, Beverage then lifted his fifth try 18.47 (60-7.25). This personal best paired with his second-best mark that came on his third attempt topped Alabama's Jerimiah Evans (18.47m, 60-7.25), who had a second-best mark of 18.15m (59-6.75).
Junior Kyle Garland also competed in the shot put as he trains for his first heptathlon of the season. He opened with a season-best mark of 15.38m (50-5.50) and then passed on his final three attempts to finish seventh.
Competing for the first time as a Bulldog, freshman Nikolai van Huyssteen tallied a victory after passing over the pole vault bar at 5.07m (16-7.50).
The Bulldogs went 1-2-3 in the men's 400m with 2020 Olympian Elija Godwin leading the charge,  The Covington, Ga., native was the only competitor to break 48 seconds with a 47.73 while junior Caleb Cavanaugh was second with a 48.23, and freshman Bryce McCray earned bronze honors with a 48.40.
Another victory came from senior Halle McClintock in the 800m. Leaving the field behind by nearly three seconds, McClintock ran a 2:09.95 for the win after finishing fourth in the event last weekend.
Freshman Eddiyah Frye secured another first-place finish for Georgia in the 60m hurdle final after completing the distance in 8.27. Fellow true freshman Bella Witt, who was making her career debut, earned runner-up honors with an 8.33, which is tied for ninth on the school's all-time top-10 list. During the 60m hurdle prelims, Frye was the top qualifier at 8.31 and Witt ran an 8.42 to be second.
In the women's long jump, senior Titiana Marsh bumped up her runner-up finish from last week to a victory this week. Improving throughout her series, Marsh concluded her six-jump series with a mark of 6.17m (20-3) to win by more than a foot.
The mile was highlighted by junior Wesley John continuing his improvement with a personal best of 4:12.04 for second place.  Clay Pender, Will Bray, Noah Hayes, and Tyler Fox completed the 4-5-6-7 spots, respectively.
In the men's 800m, junior Clay Pender completed the sweep after registering a 1:54.52. John finished just behind with a 1:54.72 for second.
Reaching a personal record of 17.30m (56-9.25) on her third try in the weight throw, redshirt sophomore Elsie Igberaese watched her fourth attempt sail a personal best 17.55m (57-7) and she completed the competition in fourth.  Mia Anderson (16.44m, 53-11.25 – 8th) and da Silva (16.12m, 52-10.75 – 9th) combined to give the Lady Bulldogs three personal bests in the event.
Senior Alencar Pereira wrapped up the weight throw with a second-place finish after his fourth throw measured 20.32m (66-8).
Up Next: Following Friday's meet, the Bulldogs are slated to compete at the Razorback Invitational in Fayetteville, Ark., on Jan. 28-29.
---
MBB: Georgia (5-13, 0-5 SEC) vs. South Carolina (10-7, 1-4 SEC) Today
Date: Saturday, January 22, 2022
Tipoff: 3:30 p.m. ET
Location: Colonial Life Arena (18,000) in Columbia, S.C.
Watch: SEC Network (Dave Neal, pbp; Jon Sundvold, analyst)
Listen: Georgia Bulldog Sports Network – Flagship: WSB AM 750; XM: 386; SXM App: 976. (Scott Howard, play-by-play; Chuck Dowdle, analyst; Adam Gillespie, producer)
The Starting 5…
• At Auburn, Aaron Cook became just the 18th MBB player in D-I history to reach 150 career games played.
• Of Noah Baumann's 255 FGs in his career, 182 have been 3-pointers …71.4 percent of all his makes.
• Jaxon Etter haw drawn 18 offensive fouls this season…and 26 in UGA's last 29 games dating back to 2020-21.
• In games vs. ranked Tigers (No. 18 Memphis & No. 2 Auburn), Christian Wright averaged 16.5 ppg and 36.0 mpg.
• UGA's seven first-year transfers combined to score 4,782 points at their previous schools.
The Opening Tip
Georgia's week of interstate travel continues on Saturday when the Bulldogs venture to Columbia to face the South Carolina Gamecocks. Georgia will make the roughly three-hour trek eastward on I-20 to Colonial Life Arena a couple day afters returning from a westward three-hour journey down I-85 to The Plains of Auburn on Wednesday.
The Bulldogs are 5-13 overall and 0-5 in SEC play and looking to snap a seven-game losing skid.
There have been some positive signs for Georgia and its roster which features 10 newcomers. As Tom Crean stated before the SEC opener against Texas A&M: "I like the spirit. I like the energy. We just need something to go right for us. These kids are working so hard, so hard…I like the way they're working."
The Bulldogs led Texas A&M with 1.2 seconds left before a heart-breaking 3-pointer. Georgia was ahead or were tied for 12:19 of the first half at Rupp Arena and led both Mississippi State and Vanderbilt at halftime.
---
Jump To Comments