Jump To Top
Today's Contents – Click to Read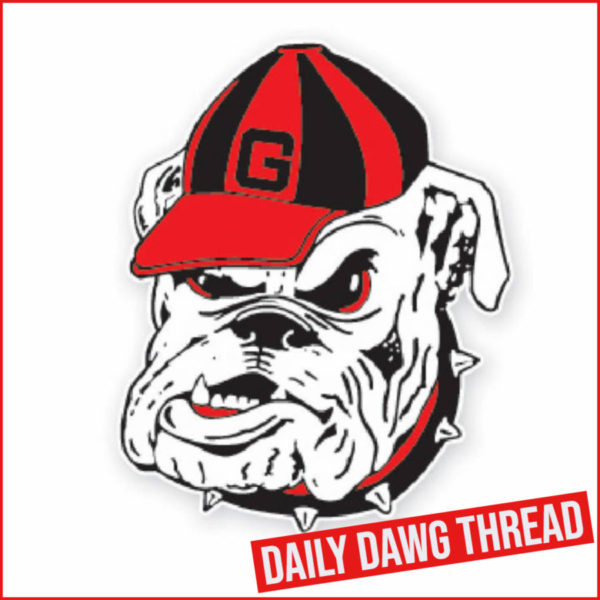 WTENNIS: UGA Sweeps Stetson
The sixth-ranked University of Georgia women's tennis team swept Stetson 4-0 on Friday afternoon, during day one of the ITA Kickoff Weekend.
"I thought it was a great start for our season," said Georgia head coach Jeff Wallace following the match. "We always love playing here at the Dan Magill Tennis Complex. It was fun, even though it was cold today. I thought our players did a really good job of coming out and playing some great doubles and getting that doubles point. We've been working a lot on that, so it is great to see some success. We're looking forward to that round of 32 match tomorrow. An opportunity to advance to the ITA Team Indoors. A trip to Seattle on the line. Notre Dame had a great win today. We are not going to take them lightly at all and we're looking forward to another great match tomorrow."
In singles, Georgia picked up three wins on the day. Sophomore Mell Reasco topped Anais Gabriel 6-2, 6-0. She was followed by sophomore Guillermina Grant who defeated Pilar A. Harper 6-0, 6-3, while graduate No. 100 Meg Kowalski clinched the match with a 6-1, 6-1 win over Magda Hedrzak.
In doubles action, the Bulldogs swept the Hatter, picking up wins on courts two and three. Hertel and Lopata cruised to a 6-1 win over Noa Cohen and Anais Gabriel, while Kowalski and Reasco topped Cheri Darley and Pilar Astigarraga Harper 6-2.
Georgia will take on Notre Dame on Saturday, Jan. 28 at 2:30 p.m., during day two of the ITA Kick-off Weekend at the Dan Magill Tennis Complex. The winner will advance to the 2023 ITA Indoor National Championship in Seattle, Wash. Stetson and USC will square off in a consolation match on Saturday, Jan. 28 at 11 a.m.
Today's Contents – Click to Read
---
GYM: Gators Top Dawgs
The University of Georgia gymnastics team record its best road score of the season but fell to the Florida Gators, 197.900-196.850 on Friday night at the Exactech Arena at the Stephen C O'Connell Center.
Seven GymDogs improved or matched their season-best scores. Freshman Naya Howard notched season high scores in the first two rotations with a 9.875 on vault and a 9.900 on bars. Also on vault, senior Haley de Jong and junior Katie Finnegan received a 9.825 to increase their season highs. Senior Amanda Cashman swung to her top score of the season (9.775), while Finnegan matched hers (9.900) on bars. In the first two spots on floor, freshman Nicole King tumbled to a 9.825 and Eryn Williams matched her 9.850. Finally on beam, senior Vanessa Deniz matched her season high with a 9.900.
"This was a good meet in a competitive atmosphere," Georgia head coach Courtney Kupets Carter said. "It was our best road score and we had really solid performances throughout the meet- so many season high scores. We have five freshmen competing eight routines and they continue to progress. We're eagar to take on the challenge of improving the next two week on the road."
Georgia started the meet with a solid performance on bars, scoring a 49.350. Senior Haley de Jong, junior Katie Finnegan, and freshman Naya Howard all scored a 9.900 to begin the meet. Freshman JaFree Scott and graduate Josie Angeny both contributed a 9.825.
Moving onto vault, the GymDogs added a 49.200 to the total score, which is the team's best score on the road thus far this season. Freshman Naya Howard led the charge with a season best 9.875 and senior Soraya Hawthorne followed from the anchor position, scoring a 9.850. Senior Amanda Cashman, de Jong, and Finnegan all scored a 9.825.
Continuing on floor, the GymDogs compiled a 49.225. Cashman earned the top score among GymDogs with a 9.900 and Williams followed with her 9.850. King, Howard, and Hawthorne all contributed a 9.825.
Finishing on beam, Georgia added a 49.075 to the total. De Jong and Deniz were Georgia's top performers, both receiving a 9.900. Hawthorne scored a 9.825, followed by Hawthorne's 9.750, and a 9.700 from freshman Jacquie Moran.
---
BASEBALL: MLB veteran joins strength staff
Jim Malone has been named the senior associate director of athletic performance for the Georgia Bulldog baseball program, Ike Cousins head coach Scott Stricklin announced Thursday.
A native of Buffalo, N.Y., Malone has more than 30 years of experience in the strength and conditioning field including 25 years in professional baseball. He has worked with the Cleveland Indians, Kansas City Royals, San Diego Padres, New York Mets, St. Louis Cardinals and Pittsburgh Pirates. Most recently, he worked for Major League Baseball (MLB) as the director of strength and conditioning for the Appalachian League and helped plan and coordinate the physical testing at the inaugural 2021 and 2022 MLB Combines. He has been the Head Strength and Conditioning coach for the Mets (2002, '13-14), Padres (2006-12) and Pirates (2018-20).
"We're thrilled to have Jim leading our athletic performance program," said Stricklin. "He has a tremendous amount of experience in professional baseball including directing strength and conditioning programs at the Major League level. Our players are excited to start working with him, and we're looking forward to him joining our staff."
Along with his MLB experience, Malone has eight years of college coaching experience in football, wrestling and strength and conditioning, most recently as the Assistant Athletic Director for Physical Development/Strength and Conditioning at Campbell University in 2017. Also, he has spent time at Columbia University, Albright College, the University of Rochester and Princeton.
A four year-letterman as a defensive tackle for the University of Rochester, he earned NSCA All-America honors in 1988. He placed fifth in the 1989 US Powerlifting Federation Collegiate Nationals, also garnering All-America honors. He graduated from Rochester in 1989 with a bachelor's degree in economics and did post-graduate work in applied physiology at Columbia University.
---
T&F: Kyle Garland, Kaila Jackson Set School Records
Bulldog senior Kyle Garland toppled the school record by 151 points and moved to No. 2 on the all-time collegiate list thanks to six personal bests to win the heptathlon at the Texas Tech Open & Multis on Friday.
In addition, freshman Kaila Jackson set a second school record after rocketing to a 7.16 to earn runner-up honors in the 60-meter dash. This surpassed Kate Hall's 7.17 from the 2018 NCAA Championships en route to the Lady Bulldogs' team national championship. In addition, two spots behind Jackson was fellow first-year runner Autumn Wilson in fourth (7.27).
Garland, a native of Philadelphia, Pa., scored 6,415 points through his seven events to tie the eighth-best score in world history and to become the No. 3 American in history. His score topped the previous Georgia record of 6,264 held by Karel Tilga at the 2021 NCAA Championships as well as the facility record of 6,021 set last year. Garland's previous total of 6,205, which earned him his third consecutive Southeastern Conference title last year, previously made him the No. 5 all-time collegiate performer.
On Thursday, Garland posted combined event personal records in all four of his events (60m, long jump, shot put, high jump) to jump out to a 241-point lead in the heptathlon. He ended up winning the meet by 318 points.
Also a day ago, freshmen Ella Rush shot to No. 10 in the school record books after scoring 4,100 points in the pentathlon for third place during her first collegiate combined events competition.
When Do The Bulldogs Start Saturday: Sophomore Nikolai van Huyssteen will compete in the men's pole vault following the completion of the women's vault, which starts at 11:30 a.m. ET. At 12:30 p.m., Mikeisha Welcome and Madison McConico (women's triple jump) and a number of Lady Bulldogs will run in the 200m.
Where To Catch The Meet: There will be streaming coverage of Friday and Saturday's action as well as live results.
Live Stream: Saturday 11 a.m.: http://gado.gs/9ys
Live Results: For results throughout the weekend, please visit: http://gado.gs/9yf
The Lowdown: Another group of Georgia team members also thrived in the second day of action. First-year sprinter Aaliyah Butler shaved nearly a second off her collegiate debut in the 400m with a 52.95 to win. Her finish ranks third in school history behind the great Shaunae Miller-Uibo and Lynna Irby. Butler's time would rank in the top five nationally coming into the week.
Racing in his fiinal year with the Bulldogs, Elija Godwin ran a season-best 46.12 to win the men's 400m.
Elsie Igberaese improved upon her top showing at last year's SEC meet to take sixth on Friday with a personal record of 19.35 meters/63 feet, 6 inches. This shot her into a tie for seventh on the school's all-time list with the best mark for the Lady Bulldogs since 2017.
On the men's side, Alencar Pereira opened with a mark of 20.90m/68-7 and that gave him a fourth-place finish.
A freshman, Alon Rogow, collected a personal record in the pole vault of 5.09m/16-8.25 to win his first collegiate meet. This third attempt clearance edged him closer to joining the Bulldogs' all-tine top-10 list.
Bella Witt bumped from ninth to eight in the school record books with an 8.29 for third place in the 60m hurdle final. During the qualifying round, Witt also ran an 8.29 to be third in the standings.
Following a Thursday that featured four personal records in a row, Garland made it five by taking second in the 60m hurdles to start the day. He ran a 7.84 to improve his No. 4 spot in the school record books and added 1,022 points to give him 4,754 overall. This upped his lead on the nearest competitor by 324 points headed into the pole vault.
Garland attacked the pole vault with seven clearances, including a third-try clearance at 4.80m/15-9. He completed his round at a career best 5.00m/16-4.75 for 910 points and to take third in the event. This finish narrowed his pursuit for the collegiate record to just 835 points.
In the finale, Garland ran 34 seconds or better in his first three 200-meter laps and finished out the 1000m in 2:51.40. This helped deliver him the school's new No. 1 mark while missing the collegiate record by just 85 points.
---
Jump To Comments