Today's Contents – Click to Read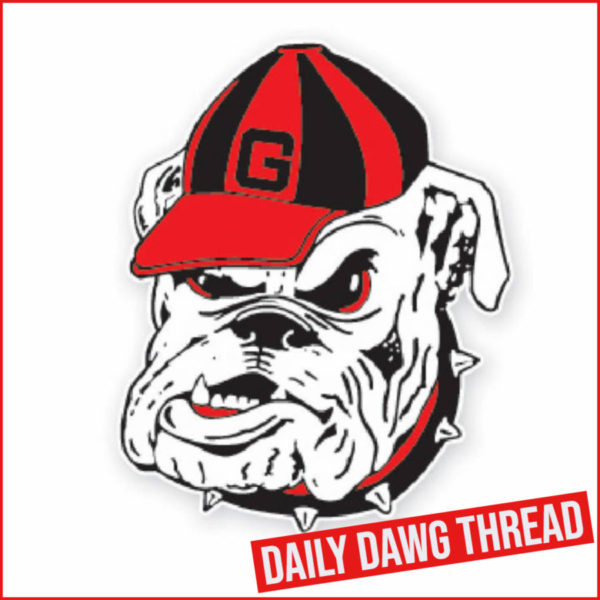 ---
GYM: LSU Visits UGA Tonight
The University of Georgia gymnastics team will compete against LSU on Friday, January 28 at Stegeman Coliseum with competition scheduled to begin at 7:00 p.m. The meet will be broadcast live on the SEC Network.
PERFECT 10 FOR RACHEL BAUMANN
Senior Rachel Baumann earned a Perfect 10 on floor against Florida. It marked the first Perfect 10 by a GymDog since Marissa Oakley earned the score on bars at the 2019 Athens Regional.
Georgia's last three Perfect 10s on floor were all against Florida (Sydney Snead in 2018 and Courtney Kupets in 2009).
COURTNEY KUPETS CARTER EXPECTING BABY No. 4
Head coach Courtney Kupets Carter and her husband Chris are expecting their fourth child in July. The couple has two daughters, Brooklyn (6) and Savannah (3), and a son Bentley (4).
GYMDOGS IN THE RANKINGS
After two meets, senior Rachel Baumann is tied as the best gymnast in the country on the floor. Junior Soraya Hawthorne is ranked 18th.  On vault, senior Megan Roberts is ranked as the sixth-best vaulter.
COACHING AGAINST HER FORMER COACH
LSU head coach Jay Clark was an assistant coach at Georgia while Courtney Kupets Carter was a GymDog. Under Clark's direction, Kupets earned three Perfect 10's on bars (against Alabama in 2007 and 2009, and in the NCAA Finals in 2009).
FACING COVID CHALLENGES EARLY
The GymDogs had to postpone meets two and three- at Kentucky and home against Iowa- due to COVID protocols within the program. The rescheduled date for Kentucky is February 4 in Lexington, the Iowa meet has yet to be determined.
COMPETING NEW SKILLS
Haley de Jong is competing a round-off, back handspring, back layout 3/1 in the first pass of her floor routine. She competed this skill prior to coming to Georgia, but this is the first season she is competing it as a GymDog.
STEPPING UP FOR THE TEAM
Prior to this season, senior Abbey Ward had only competed bars twice in her collegiate career. When she saw the lack of depth on the event, she stepped up and consistently trained the event so that she would be ready to compete for the GymDogs.
HAWTHORNE CONTINUES THE MOONWALK
Junior Soraya Hawthorne assumed the responsibility of taking over the Georgia moonwalk tradition on beam as a sophomore and debuted the move at LSU in 2021. She is the seventh GymDog to perform the moonwalk on the balance beam, following Nikki Childs, Cassidy McComb, Lindsey Cheek, Mary Beth Box, Morgan Reynolds, and Sabrina Vega.
Today's Contents – Click to Read
---
WTEN: Georgia Hosts ITA Kick-off Weekend
ITA KICK-OFF WEEKEND
Date: January 28-29, 2022
Time: 10:00 a.m. / 2:00 p.m.
Location: Athens, Georgia
Site: Dan Magill Tennis Complex (Lindsey Hopkins Indoor Facility)
QUICK HITS
773 Wins, 19 SEC Titles, 6 National Championships
Georgia head coach Jeff Wallace is now in his 37th year at the helm of the Bulldogs' tennis program. As the nation's winningest active women's tennis coach, Wallace is one of only two coaches to record 750 wins in women's tennis history. Wallace enters the 2022 dual season with 773 career victories.
Adding to the Mix
Dasha Vidmanova, a native of Prague, Czech Republic, signed with the Bulldogs in November. Projected at the No. 1 spot, Georgia will look for the early enrollee to make an immediate impact.
The Field
Georgia opens the 2022 dual season in Athens, hosting Iowa, Mississippi State and North Florida for the ITA Kick-off Weekend. The Bulldogs will face North Florida on Friday at 2:00 p.m. and either Iowa or Mississippi State on Saturday. Georgia has been a host site in all but two years since the ITA Kick-Off inaugural season in 2009. The Bulldogs are 22-0 in Athens, and 23-1 overall in the opening spring event.
The Stakes
The teams will compete for one of 16 spots in the 2022 ITA National Women's Indoor Championship, which takes place Feb. 11-14 in Madison, Wisconsin. The Bulldogs own four National Indoor Titles (1994, 1995, 2002, 2019) in 31 appearances, dating back to its inception in 1988.
The Schedule
Friday, Jan. 28
10:00 a.m. Iowa vs. Mississippi State (Women's 2v3)
2:00 p.m. #3 Georgia vs. North Florida (Women's 1v4)
Saturday, Jan. 29
10:00 a.m. Women's Consolation
2:00 p.m. Women's Championship
Coaches Comments
"We are all excited to get our 2022 season started," said Georgia head coach Jeff Wallace. "We have a big weekend in front of us and my hope is we will get a ton of fans out to support this amazing team."
Dawgs in the Rankings
No. 3 Georgia boasts seven rankings: A quintette of individuals, No. 11 Reasco, No. 33 Kowalski, No. 52 Ma, No. 63 Coppoc and No. 78 Hertel; A pair of doubles teams in No. 45 Coppoc and Hertel and No. 51 Grant and Reasco. In the fall, the ITA also ranks the Top-10 Freshman/Newcomer, Reasco came in at No. 4.
Scouting the Hawkeyes
Iowa holds one ranking in No. 3 Alexa Noel.
Scouting the Bulldogs
Mississippi State brings a trio of rankings to Athens in No. 50 Emmanouela Antonaki, No. 67 Magda Adaloglou, and the tandem of No. 28 Magda Adaloglou and Chloe Cirotte.
Scouting the Ospreys
North Florida owns two rankings in No. 32 Catherine Gulihur and the 2021 ITA Southeast Regionals Doubles Champions No. 9 Catherine Gulihur and Ana Paula Melilo.
Today's Contents – Click to Read
---
Jump To Comments