Today's Contents – Click to Read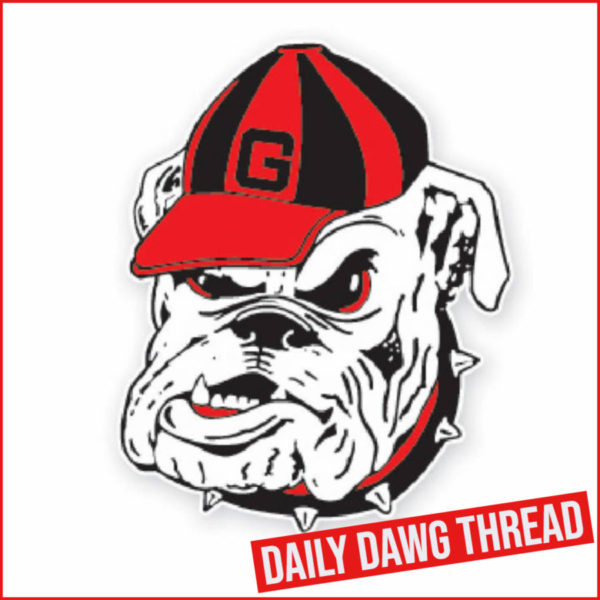 ---
WTENNIS: Georgia Advances to National Indoor
The third-ranked Georgia Bulldogs defeated Mississippi State 4-1 Saturday at the Dan Magill Tennis Complex to punch their ticket to the ITA National Team Indoor Championships.
With the win, the Bulldogs (2-0) earned a spot in the 16-team field competing in Madison, Wisc., Feb. 11-14. Also, Georgia improved to 24-0 all-time when playing host to an ITA Kickoff event. MSU dropped to 4-1 on the year. On Friday, Georgia won its opening match, blanking North Florida 5-0.
MSU captured the doubles point for a 1-0 lead. In the No. 2 match, the 28th-ranked duo of Magda Adaloglou and Chloe Cirotte defeated Morgan Coppoc and Mell Reasco 6-1. It was only the second loss of the year for the Bulldog tandem as they dropped to 6-2. Then in the No. 1 match, Emmanouela Antonaki and Tamara Racine clinched the point for MSU with a 6-2 win over Ania Hertel and Dasha Vidmanova. The No. 3 match featuring Georgia's Meg Kowalski and Guillermina Grant was suspended with the Bulldogs leading 5-1.
Georgia evened the match at 1-all when Vidmanova picked up a straight set win at No. 3, beating Racine 6-4,6-3. Seconds later, Georgia went on top 2-1 when junior Lea Ma, ranked No. 52, defeated No. 67 Adaloglou at No. 1 singles, 6-4,6-2. The Bulldogs surged ahead 3-2 in the match when the 11th-ranked Reeasco outlasted No. 50 Antonaki at No. 2, winning 2-6,6-2,6-2. Reasco improved her team-best singles record to 14-3.
The match was clinched at No. 4 singles when Hertel, ranked No. 78 claimed a victory in three sets. She fell behind 4-2 and came back to win the first set 7-5 before Cirotte responded by taking the second set 6-3. Hertel answered with a 6-4 decision in the final to improve to 9-2 this season. With the team match clinched, Coppoc and Kowalski's singles matches at No. 5 and 6 were halted. Coppoc led 5-4 while Kowalski was up 6-2,0-3.
"I was super impressed with our crowd today," said Georgia head coach Jeff Wallace. "It was great to see that many people come out and support this team. It helped us a lot. any time you lose a doubles point, you feel like your back is up against a wall. We're not going to win every doubles point. we have a lot of you players and we have some veterans too. It's good for them all to learn that you can bounce back after the doubles.
"We're on to the Round of 16. It's a great opportunity for us to go up to Madison, Wisconsin, and see the 15 other best teams in the country at this point in time. We'll learn a lot. we'll grow a lot. I'm super excited with the play that we had this weekend."
The 2022 ITA event in Wisconsin will be the 35th annual Division I National Team Indoor Championship. The Bulldogs have won the team title in 1994 and 1995 in Madison and most recently in 2019 when it was held in Seattle.
Today's Contents – Click to Read
---
T&F: Bulldog 4x400m Relay Sets School Record To Conclude Razorback Invite
The Georgia track and field's 4×400-meter relay set a school record with the country's fastest time this year to finish the Razorback Invitational in Fayetteville, Ark., on Saturday.
Matthew Boling, Caleb Cavanaugh, Bryce McCray, and Elija Godwin combined to pass the baton for the fastest time in school history of 3:04.07 to win one of the meet's final events.  This dropped Georgia's 4×4 time of 3:04.72 from 2021 to No. 2 on the school's all-time list.  The group's time on Saturday was the national leader coming into the weekend and moves the Bulldogs to No. 10 on the all-time collegiate performer list.  Boling's opening leg of 45.33 was the race's third-fastest and put Georgia in position to win.
Coach's Comments: "Our teams did not disappoint on a fast track versus some of the country's best this weekend at the Razorback Invitational," said head coach Caryl Smith Gilbert. "We have more in the tank and more goals to reach, but this was a great launching point in anticipation for the postseason. Looking forward to training consistently through next weekend before we return to action but I love our energy and I am confident in the direction all of our student-athletes are moving in."
Junior Ana da Silva won her third meet in a row after her opening mark traveled 16.50 meters (54 feet, 1 ¾ inches) in the shot put. This also marked her third meet of going at least 54 feet during her first season with the Lady Bulldogs.
Catching a fourth-round triple jump of 13.32m (43-8.50), senior Titiana Marsh earned runner-up honors for the second straight time in 2022.
Freshman Eddiyah Frye completed the 60m hurdle final in 8.23, which ties for No. 5 on UGA's all-time list, to take eighth. She earned the last spot into the final after registering a then personal record of 8.24.
Freshmen Victoria Perrow (7.27) jumped from fourth to third in the Lady Bulldog record books and took third in the 60m final while Kenondra Davis was eighth in the final (7.45).  Perrow was the top finisher in the prelims thanks to a then personal best of 7.28.  Davis snuck into the final with a career-best of 7.38, which improved her No. 6 spot on the school's all-time top-10 list.
Also of note, junior Brandee Presley moved to No. 9 on the school's all-time list with a 7.42 for ninth in the 60m prelims.
Senior Halle McClintock slid into the UGA top-10 list after battling for a 2:09.05 for 12th place in the 800m.
Leading by 152 points heading into day two, Garland jumpstarted his final three events with a personal record 7.86 in the 60m hurdles to win the event for 1,017 points.  His time ranks fourth on the school's all-time list.  Garland posted a third attempt clearance at 4.25m (13-11.25) in the pole vault and then returned to reach 4.35m (14-3.25) for his best height of the day.  He concluded his two-day competition with an eighth-place showing in the 1000m after he completed his laps in 2:46.57.
Today's Contents – Click to Read
---
Jump To Comments