Today's Contents – Click to Read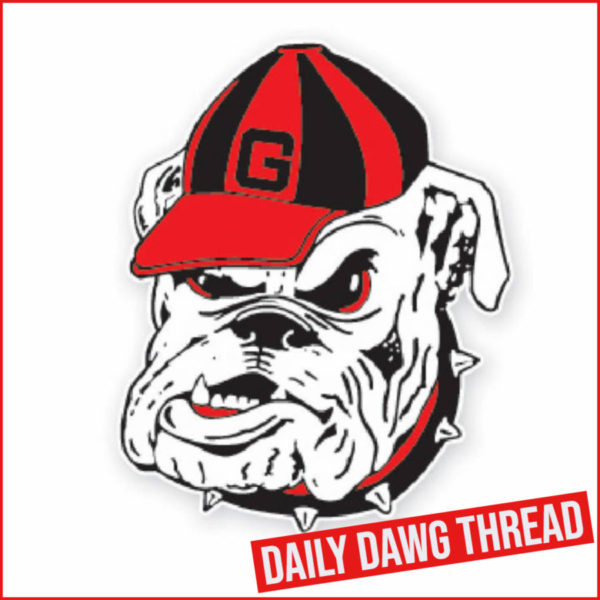 ---
MTENNIS: Georgia Downs VCU, Meets South Florida Today
In an ITA Kickoff Weekend match filled with tight, grind-it-out battles, Hamish Stewart won the clinching point at No. 3 singles to lift the seventh-ranked Georgia men's tennis team to a 4-1 win over VCU on Sunday afternoon at the Lindsey Hopkins Indoor Courts.
In their first qualifying match for the ITA National Team Indoor Championships. and playing their first match in nearly two weeks, since opening the season with a strong 6-1 win over then-No. 11 UCF on Jan. 17, the Bulldogs (2-0) dropped the doubles point to the Rams before coming back and grinding their way to four singles wins.
"It was a tough match," Georgia coach Manuel Diaz said. "They've got a great team and we dug a hole for ourselves."
VCU (1-2) earned wins at Nos. 1 and 3 to capture the doubles point and take a 1-0 lead in the match. At No. 1, the Rams' identical twin duo of Charles and Maxence Bertimon knocked off Georgia's Trent Bryde and Philip Henning, 6-3. Moments later, at No. 2 doubles, the Bulldogs evened things up with Tristan McCormick and Stewart's 6-2 victory over Rayane Stable and Inigo Torre Martin.
The match at No. 3 would decide the doubles point and VCU's duo of Joaquim Almeida and Matisse Bobichon served for it at 5-4, only to see the Bulldogs' Erik Grevelius and Blake Croyder break serve and tie the set 5-5. Soon after, the teams headed to a tiebreaker.
In the tiebreaker, Georgia went ahead 3-0, VCU answered with three straight points. and then the Bulldogs won the next three for a 6-3 advantage and multiple match points. The Rams fought off all three to draw even at 6-6, and then went ahead 7-6 after a Georgia miss, winning the set on the next point.
"You've got to give VCU credit, they played with a lot of energy and really went after it and earned it," Diaz said of the doubles point.
Once singles play began, Georgia and VCU split the first set in the opening four matches. Bryde earned the Bulldogs' first point of the match, beating VCU's Charles Bertimon, 6-3, 6-2, at the No. 1 spot to level the score at 1-1. About 30 minutes later, Georgia went ahead 2-1 with Henning's 3-6, 6-2, 6-2 win over Maxence Bertimon at No. 2.
After splitting two tight sets in his match against Stable at No. 4, McCormick dominated the third to win 6-4, 6-7 (7-5), 6-2, and put the Bulldogs ahead 3-1 in the match with three singles matches remaining. Stewart and Torre Martin traded a lot of heavy groundstrokes and emphatic screams over three sets. In the end, Stewart let out a celebratory yell on match point after clinching the Bulldog win with a 4-6, 7-6 (7-3), 6-3 win.
"This was not our best match. It's certainly early in the season and we showed a lot of rust after not playing a match in two weeks," Diaz said. "We also hadn't played a match indoors this year and we didn't seem to be catching up with the ball, and struggled in many areas. Props to the guys for really competing hard."
Georgia will wrap up ITA Kickoff Weekend play at 2 p.m. Monday against South Florida, with a spot in the ITA National Indoors, Feb. 18-22 in Seattle, on the line. South Florida (1-1) defeated Virginia Tech 4-2 in Sunday's first match.
Today's Contents – Click to Read
---
Dawgs In the NFL: Championship Edition
The matchup for Super Bowl LVI is set, and the Georgia Bulldogs are represented once again.
The Cincinnati Bengals and the Los Angeles Rams will square off Feb. 13 at SoFi Stadium (the home of the Rams) in Inglewood, Calif.
The Bengals feature offensive lineman Trey Hill on the 53-man roster as well as offensive lineman Lamont Gaillard and running back Elijah Holyfield on the practice squad.
The Rams are led by quarterback Matthew Stafford, running back Sony Michel, and linebacker Leonard Floyd. The Los Angeles staff includes assistant head coach/running backs coach Thomas Brown and offensive line assistant Nick Jones.
The Bulldogs extended to a national-best 21 straight years having a player (active, practice squad, or reserve) on a Super Bowl roster.
Here are how the Bulldogs fared in the Conference Championship Games:

Rams 20, 49ers 17
Matthew Stafford, QB: Stafford went 31-of-45 for 337 yards and two touchdowns for the Rams.
Sony Michel, RB: Michel rushed 10 times for 16 yards and caught a pass for minus-4 yards for Los Angeles.
Leonard Floyd, OLB: Floyd started at a linebacker for the Rams, but he did not register any stats.
Charlie Woerner, TE: Woerner saw action for the 49ers on both offense and special teams, but he did not post any stats.
Bengals 24, Chiefs 21 (OT)
Trey Hill, OL: Hill was a reserve lineman who saw action on special teams, including the game-winning field goal in overtime.
Lamont Gaillard, OL: Gaillard has spent the entire season on Cincinnati's practice squad.
Elijah Holyfield, RB: Holyfield has been on Cincinnati's practice squad all year.
Mecole Hardman, WR: Hardman hauled in three passes for 52 yards, including a 3-yard touchdown, rushed twice for 18 yards and made a fair catch on one punt for Kansas City.
Deandre Baker, DB: Baker was not active for the Chiefs.Malik Herring, DE: Herring spent the entire season on the Chiefs' non-football injury reserve list.
Today's Contents – Click to Read
---
Jump To Comments