Today's Contents – Click to Read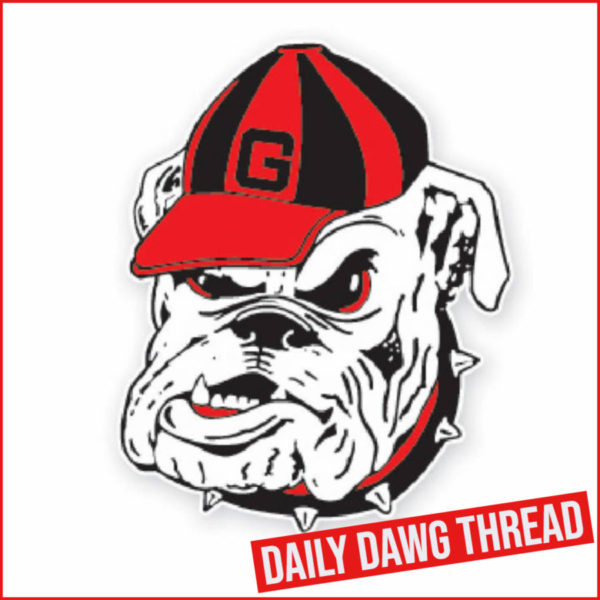 ---
BASEBALL: Dawgs Demolish Hofstra, Tough Road Ahead
Powered by a school-record tying 13-run outburst in the third inning, Georgia dispatched Hofstra 24-1 in an NCAA Regional elimination game Saturday in front of a crowd of 2,889 at Boshamer Stadium.
After two scoreless frames, the Bulldogs (36-22) batted around in the third as everyone in the lineup scored at least one run. The first 14 Bulldogs reached base in the inning. The Bulldogs pounded out seven hits including four home runs and were aided by seven walks and an error. In NCAA Regionals across the country Friday, Chapel Hill led all sites with 13 home runs. On Saturday, Georgia smashed seven home runs, one shy of the school record and most since tallying seven in a road win over top-ranked Vanderbilt last year.
Georgia's outburst began with Chaney Rogers drawing a walk after being down in the count 0-2. Josh McAllister followed and early in the count was looking to bunt. However, he ended up blasting a two-run home run, his fifth of the year. Ben Anderson followed with a solo shot, his ninth of the year. After Cory Acton reached on an error, Cole Tate drew a walk and Connor Tate crushed a three-run home run to left field. It was his team-leading 13th home run and made it 6-0. Georgia would add seven more runs to build a 13-0 lead with seven different Bulldogs collecting at least one RBI.
"We needed Liam (Sullivan) to give us a great start, at least six innings, and the big guy gave us seven," said Georgia's Ike Cousins head baseball coach Scott Stricklin. "He wanted to go back out there, but at that point, we wanted to get a couple guys some work. That's the best those guys have looked in a long time and now the rest of the staff is fresh for Sunday and hopefully Monday. It all started on the mound with Liam Sullivan."

Georgia's 24 runs tied the school record for most in an NCAA postseason game as Georgia once beat Ohio State 24-8 in a 2009 NCAA Regional game in Tallahassee, Fla. The 13-run inning tied a school record for most runs in an inning as it marked the fourth time and first since a 2004 win over Liberty in Athens. The 13-run outburst was the second largest in NCAA Regional history, eclipsed only by 18 runs by LSU in a 29-13 win over Georgia Tech in 1996 in Baton Rouge.
In the fifth, Anderson drew a leadoff walk and Acton blasted his fifth home run, a two-run shot to dead centerfield to make it 15-0. Three batters later, Parks Harber joined the home run parade with a three-run blast off the scoreboard, and it was 18-0. Harber tied Tate for the team lead with 13 on the year. Freshman Cole Wagner notched Georgia's sixth home run on the afternoon, a two-run blast in the fifth, and that made it 20-0. The Pride avoided the shutout in the seventh when Ryan Morash drove in Santino Rosso with a double. McAllister scored on an infield fly that was dropped. In the ninth, Luke Wagner added an RBI-double and McAllister capped the scoring on the day with another two-run home run to make it 24-1.
Sophomore left-hander Liam Sullivan provided seven innings, allowing a run on six hits with a walk and eight strikeouts to improve to 4-3. Coleman Willis and Collin Caldwell pitched an inning apiece as the Bulldogs now will need to win twice on Sunday to force a game seven here on Monday for the Chapel Hill Regional title.
"Coach (Scott) Daeley does a good job of calming us down, and today the message was hey we're just one bloop hit away from breaking things open," said McAllister. "It's about momentum. They had first and second and nobody out in the second, and we turn a double play and then Liam gets a strikeout. Coach Stricklin talks about momentum, and it shifted to our dugout."
The Bulldogs now face the loser of the VCU-North Carolina game in an elimination game Sunday at 1:06 p.m. The Rams and Tar Heels square off in a winner's bracket matchup at 7:06 p.m. Saturday. The winner of the early game Sunday would face the undefeated team in the regional later that day at 6:06 p.m. They would need to beat them twice in the double-elimination format. Hofstra ends its season at 31-22.
Today's Contents – Click to Read
---
WBB: Alisha Lewis Transfers To UGA
Alisha Lewis, who helped lead UCF to unprecedented success over the past two years, has transferred to the University of Georgia, head coach Katie Abrahamson-Henderson announced Saturday.
The 5-foot-7 guard will be a senior this upcoming season and has two years of eligibility remaining.
"I am thrilled to welcome Alisha to our Georgia family," Coach 'ABE' said. "Lish is a high IQ combo guard who led our team at UCF in both assists and steals. She can score in multiple ways and defend at a high level. I have enjoyed being a part of her development over the last two years, and I am excited she is a Georgia Bulldog."
As the No. 35-ranked overall prospect and No. 9 ranked point guard in the 2019 class according to ESPN, Lewis was one of the most highly sought after players in the nation coming out of high school.
The 2017 State of Delaware Player of the Year spent one season at Syracuse before transferring to UCF.
With the Knights, Lewis put together an impressive career. She was the 2021 American Newcomer of the Year and Sixth Player of the Year after averaging 9.3 points, 3.1 rebounds and 1.5 steals per game.
This past season, Lewis led the team with 111 total assists (3.7 per game) and 79 steals (2.6 per game). She also hit a team-best 42 percent from 3-point range (44-of-105). Lewis set the UCF record and tied the American Athletic Conference record with 10 steals in a game against Houston.
She helped lead the Knights to The American regular season title, conference tournament crown and the program's highest-ever NCAA tournament seeding.
Lewis is a native of Wallingford, Pa. She was a three-time state champion at Urusline Academy and also prepped at Strath Haven.
Today's Contents – Click to Read
---
Warren McClendon Photo Gallery
Watch a fullscreen slideshow
HERE.
Today's Contents – Click to Read
---
Jump To Comments