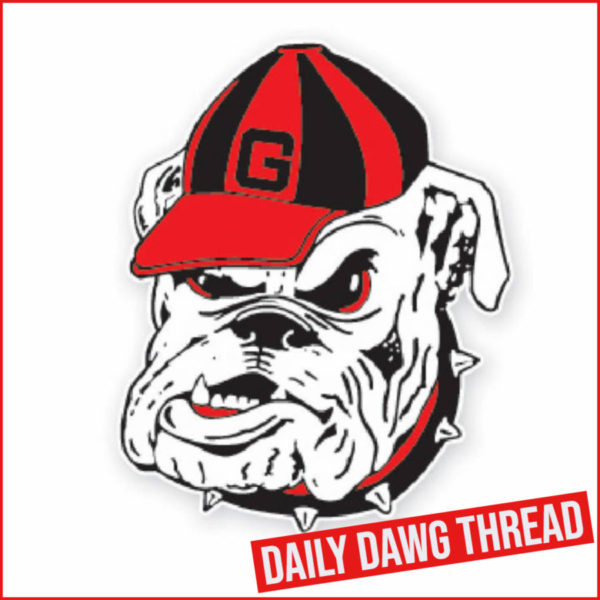 ---
T&F: UGA Men Finish Fifth At NCAA Outdoor Championships
Georgia took fifth thanks in large part to a pair of silver medals as the men's portion of the NCAA Outdoor Track & Field Championships in Eugene, Ore., wrapped up on Friday.
Sixth-year senior Darius Carbin made his last showing at Nationals his best showing as he battled for a runner-up finish in the high jump following a duo of early misses. Minutes later, junior Matthew Boling followed up his sixth-place finish in the 100-meter dash with a silver medal of his own in the 200m.
The Bulldogs got six more points when junior Elija Godwin responded to not making the 400m final in 2021 with a bronze medal in the event in 2022. The Covington, Ga., native topped his own previous school record 44.61 set at last year's Southeastern Conference Championships with a time of 44.50 on Friday night.
Georgia scored in all four of its scoring opportunities on the meet's third day. Boling's finish in the 200m and Godwin's finish in the 400m were the best in school history while Carbin's showing in the high jump was the best for the Bulldogs since 1987.
Teamed with two scorers earlier in the week, the Bulldog men finished with 32 points to take fifth while Florida (44), Tennessee (34), Texas (33) and Florida State (33) made up the top three. This marks the Bulldogs' fourth consecutive top-five performance, including claiming the 2018 national championship. Georgia has now scored at least 25 points at the last four national outdoor meets.
Junior Kyle Garland finished with three personal records to score 8,333 points for third (eight points) in the decathlon on Thursday. On Wednesday, senior Ahmed Magour scored a point for the Bulldog men in the javelin after launching his opening attempt 73.14 meters/239 feet, 11 inches to take eighth and earn another expected First Team All-America certificate.
Other than the decathlon running Wednesday-Thursday and the heptathlon going Friday-Saturday, the meet is set up to be a men's competition on Wednesday and Friday and a women's competition on Thursday and Saturday.
When Do The Bulldogs Start Day 4: Graduate transfer Jamari Drake and freshman Elena Kulichenko high jump on Saturday at 5 p.m. ET.  Senior Titiana Marsh completes the meet for UGA in the triple jump on the final day at 5:50 p.m.
Where To Catch The NCAAs: ESPN has exclusive rights to broadcast the meet and will feature the Nationals on a variety of platforms today at 5:30 p.m., on ESPN.
Live Results: To check out live results throughout the four-day season finale, please check: http://gado.gs/9dw
Coach Caryl's Comments: "This meet has been a learning experience for our men but also an indicator of the talent and resolve we have with this group as we got to compete at an amazing place," said Bulldog first-year head coach Caryl Smith Gilbert.
"The goal for us today was to score as highly as possible in every event.  We've been working incredibly hard on mental training and being resilient.  I'm super excited that we are expecting almost the whole team who is here to be back next year.  I am very proud of how we closed this meet going 4-for-4 on scoring opportunities and we can build on that next year in our quest to win the NCAA Championship.  My first season as a Bulldog has been one of the best yet."
The Lowdown: Carbin, a native of San Jose, Calif., was last a scoring All-American outdoors in 2019 when he finished seventh with a 7-3 clearance. Carbin missed his first try at the opening two heights on Friday before posting three first-attempt clearances, including at 2.24/7-4.25 for second place. The Bulldogs last had a runner-up finish in the high jump in 1987 with Dothel Edwards (2.28/7-5.75). After the 2020 season was canceled because of the pandemic, Carbin missed a majority of the 2021 campaign with an injury and returned on a mission this spring.
In the 200m, Boling, a Houston, Texas, native, blazed to a wind-legal 20.13 (0.6 meters/second) to be the second finisher across the finish line. He finished with 11 individual points as he recorded the top finish for a Bulldog in a 200m final in school history.
Boling matched his semifinal 100m time of 10.18 (0.6 m/s) to finish sixth for the second straight year in the final. He started the scoring for the Bulldogs on day three in the 100m as he surged ahead of the seventh-place finisher by .01 and the eighth-place finisher in .02. Boling was sixth in the 100m final and complemented that finish with a fifth-place finish in the 200m at the 2021 NCAA Championships.
The second batch of points on the day came from Godwin in the 400m. Ranked fifth nationally coming to Oregon, Godwin shaved off .11 of his previous No. 1 mark in the school record books to cross the finish line in third. This is the best finish by a Bulldog in school history in the outdoor 400m. Godwin, who hails from Covington, Ga., made it as far as the semifinal round at Nationals last year and was 11th overall.
---
BASEBALL: Jaden Woods Invited To USA Baseball National Team Summer Training Camp
Watch a fullscreen slideshow
HERE.
University of Georgia pitcher Jaden Woods has been invited to the USA Baseball Collegiate National Team (CNT) summer training camp, USA Baseball announced Friday.
Woods, a 6-2, 198-pound left-hander from Warner Robins, Ga., will compete for a spot on the final 26-man USA CNT roster. The camp will feature 48-50 of the premier non-draft eligible college players that will play a five-game intrasquad series in North Carolina from June 30-July 4. All five games of the series will be available to watch on USABaseball.com. The opening game will be held at the USA Baseball National Training Complex in Cary, N.C., at 7 p.m. on June 30. The Durham Bulls Athletic Park will host games two, three and four. Games two and four will begin at 6:35 p.m. ET while game three will start at 5:05 p.m. ET. Training camp will conclude with the series finale on July 4 at Truist Field in Charlotte at 6:05 p.m. ET.
USA Baseball will select the final roster after that series. The 26-man squad will represent the United States at Honkbalweek Haarlem in the Netherlands from July 9-15. Team USA will face Japan, Italy, Cuba, the Netherlands, and Curacao during group stage play. The second round will begin July 14 followed by the championship on July 15.
Woods made 25 appearances for the Bulldogs as a sophomore, tallying a 1-1 record, a 4.80 ERA and three saves. He led the team with 80 strikeouts in 54.1 innings pitched while holding opponents to a .227 batting average. He helped Georgia go 36-23 and advance to the NCAA Chapel Hill (N.C.) Regional. He earned Freshman All-SEC honors in 2021 after going 4-1 with a 4.58 ERA and one save in 17 appearances including four starts. Woods will begin his summer playing in the Cape Cod League for the Harwich Mariners. He is one of five Bulldogs headed to Cape Cod as that season opens Sunday.
The Bulldogs who toured with the USA Summer Team include pitcher Cris Carpenter (1987), pitcher Dave Fleming (1989), pitcher Brian Powell (1994), catcher Clint Sammons (2002), shortstop Kyle Farmer (2012), pitcher Robert Tyler (2015) and pitcher Cole Wilcox (2019). Wilcox along with pitcher Emerson Hancock (2019) are the most recent Bulldogs invited to a USA CNT summer camp.
Currently, there are 20 Bulldogs scattered throughout the country playing in summer leagues.
Cape Cod League: Corey Collins (Falmouth); Fernando Gonzalez (Yarmouth-Dennis); Parks Harber (Brewster); Liam Sullivan and Jaden Woods (Harwich)
California Collegiate League: Josh Stinson (Santa Barbara)
New England Collegiate Baseball League: Coleman Willis (Sanford)
Northwoods League: Dwight Allen II, DJ Radtke (Wausau); Charlie Condon (St. Cloud)
Sunbelt League: Charlie Goldstein (Alpharetta); Garrett Brown, Collin Caldwell, Bryce Melear (Atlanta); Max DeJong, Trippe Moore III (Gainesville)
Valley League: Chandler Marsh, Garrett Spikes, Cole Wagner, Luke Wagner (Charlottesville)
---
Stetson Bennett Photo Gallery
Watch a fullscreen slideshow
HERE.
---
Jump To Comments