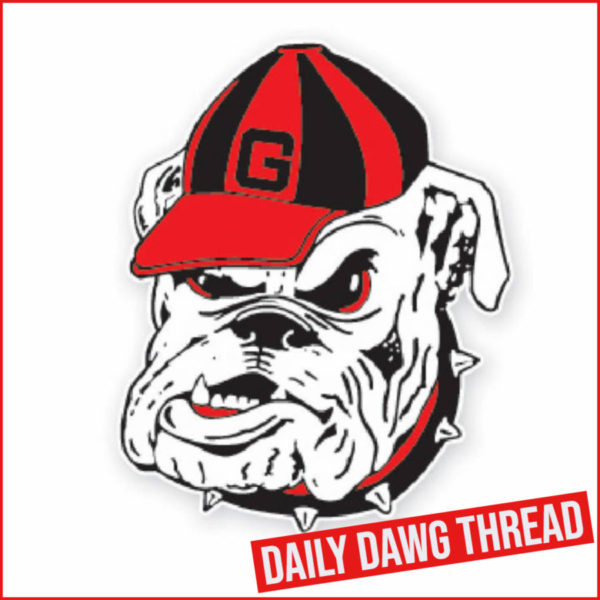 ---
MTENNIS: Bulldogs Roll Over Mercer
The No. 15-ranked Georgia men's tennis team kicked off its home outdoor season Monday with a 6-1 win over Mercer at the Dan Magill Tennis Complex.
Monday's match was a valuable outdoor warmup on the Henry Feild Stadium courts before the Bulldogs host No. 12 Texas on Tuesday. After only playing indoor matches the past couple of weeks, getting a match in outdoors was important, Georgia head coach Manuel Diaz said.
"It was great to be outside on a wonderful day here," Diaz said. "Our kids were looking forward to being outside. It's been a good three weeks indoors and we're finding our rhythm pretty quickly."
Unlike playing indoors, where the conditions are constant, playing outdoors brings the wind, sun and shadows into the mix.
"The ball is a little bit slower going through the air so the points tend to become a little bit longer and it requires a better shot to hit a winner," Diaz said. "That's usually our transition outside — you feel like you're not serving as fast or your ball is not really going through the court. It takes a couple of days, which we've had, and I think we felt pretty comfortable out there."
The Bulldogs easily captured the doubles point. At the No. 1 spot, Hamish Stewart and Tristan McCormick cruised to a 6-0 win over Lucas Wayenburg and David Georgadze. Georgia clinched the point at No. 2, where Trent Bryde and Philip Henning dispatched Samuel Barrow and Samuel Macleod, 6-1.
Blake Croyder, playing at the No. 4 spot, picked up the first singles win, beating Danny Flynn, 6-0, 6-4. Soon after, Stewart rolled to a 6-2, 6-1 win over Wayenburg at No. 1. Clinching the team victory was Paulsell at No. 5, where he beat Marceau Fouilhoux, 6-2, 6-1.
"I thought I played really well," Paulsell said. "It took me the first couple of games to get used to the conditions, but once I found it I just kept rolling."
With the team result decided, the rest of the matches were played to completion. McCormick defeated Georgadze at No. 2 singles, 6-4. 6-2. Mercer picked up its only win at No. 6, where Barrow defeated Miguel Perez Peña, 6-3, 6-4. Bryde closed out the match with a win at No. 3, beating Macleod in a third-set tiebreaker, 6-4, 1-6, 11-9.
"We can do a few things better but I'm very pleased with today's match," Diaz said. "It actually makes us, I think, a little bit more comfortable going into tomorrow's match — a bit opportunity against Texas tomorrow."
---
BASEBALL: Georgia Faces Wofford At Fluor Field In Greenville Tonight
The No. 14 Georgia Bulldogs hit the road for the first time this season as they battle Wofford at Fluor Field in Greenville, S.C.. First pitch set for 6 p.m, and the game will be available on the Georgia Bulldog Sports Network. Also, it will be streamed on the Greenville Drive's YouTube Channel.
The Bulldogs are 7-0 and have matched their best start under Ike Cousins head coach Scott Stricklin. The 2020 Bulldogs also began 7-0. The Terriers are 2-4 and visited Foley Field last Tuesday when Georgia posted a 7-1 victory to improve to 11-0 all-time in the series. With this past Sunday's game with Akron rained out, the Bulldogs will go with junior RHP Dylan Ross (1-0, 1.80 ERA)as part of a bullpen game. Ross has been the Sunday starter this year.
Recap From Feb. 22 Win Over Wofford: Graduate CF Ben Anderson went 4-for-4 with a double, home run and two RBI to pace a nine-hit attack while the bullpen provided 7.1 innings of two-hit ball in a 7-1 win. After a 22-minute delay that knocked out the lights, it became a bullpen game for Georgia in relief of Garrett Brown. Luke Wagner pitched 2.1 scoreless for the win as he struck out a career-high five. Jaden Woods tallied seven Ks over 3.2 innings to maintain the advantage. Sophomore Corey Collins had a two-run HR too.
Currently, Anderson ranks among the SEC leaders, batting .588-2-4. Collins has hit safely in 13 straight games dating back to last year while graduate SS Cole Tate has a seven-game hitting streak.
Georgia has a four-game week, playing in four different stadiums. After the Wofford game at Fluor Field, Georgia has a three-game set with rival Ga. Tech (7-1), featuring game one Friday at Tech at 6 pm, followed by Saturday's game in Athens at 2 pm. The series concludes Sunday at Coolray Field in Lawrenceville at 2 pm and serves as the 19th annual Spring Classic For Kids baseball game to benefit Children's Healthcare of Atlanta (CH0A). Proceeds from the ticket sales at Coolray go toward funding critical patient and family initiatives in the Aflac Cancer and Blood Disorders Center of CHOA.
Probable Pitching Matchup: UGA vs. Wofford
Tuesday: Dylan Ross (1-0, 1.80 ERA, RHP, Jr.) vs. Dom Agron (0-0, 5.40, LHP, Sr.)
Georgia Baseball Radio Links/TV Stream
Georgia Bulldog Sports Network (Announcers: Jeff Dantzler, David Johnston)
Free audio streaming of all Georgia Bulldogs games can be heard using the Gameday LIVE app.
Optimized for iOS7+ and Android 4.0+, Georgiadogs.com Gameday LIVE is now available for both smartphone and tablet in App Store and Google Play marketplaces. Georgiadogs.com Gameday LIVE is the official mobile application of Georgia athletics. Get the app here: georgiadogs.com/wireless/.
Tuesday Pregame Radio Show/Game Broadcast at 5:40 pm ET: https://georgiadogs.com/watch/?Live=4143&type=Live
Greenville Drive YouTube Channel Stream: https://www.youtube.com/channel/UCpfqhK0nD6dg7IUP150ugEQ
Ticket/Parking Information For Tuesday's Game at Fluor Field
Tickets are just $10, with a general admission seating plan. The Splendid Splinter, Que's and Fowl Pole concession stands will also be available during the game, including alcohol sales for those fans at least 21 years of age. Tickets can be purchased by clicking HERE. If you're attending the game, please make sure you are up-to-date on the Clear Bag Policy, which can be found by clicking HERE. Due to the construction on the Field Street side of the ballpark, only the Main Street Gate will be open for access.
---
SOFTBALL: Kylie Macy Named SEC Co-Freshman of the Week
University of Georgia freshman right-handed pitcher Kylie Macy has been named the Southeastern Conference Co-Freshman of the Week, the league announced Monday afternoon.
"I'm really proud of Kylie and happy for her to be recognized this week," said head softball coach Tony Baldwin. "She keeps improving each week and she is a real competitor in circle."
The Grayson, Georgia native highlighted a 5-0 week for the Bulldogs, pitching a five-inning perfect game against Bryant Friday evening at Jack Turner Stadium. Macy struck out 13 of the 15 batters she faced, not allowing a single Bryant hitter on base in Georgia's 18-0 victory. She struck out the first nine batters she faced in the game.
Macy's perfect game was the 11th of its kind in Georgia softball history and the first since 2016 when now-assistant coach Chelsea Wilkinson combined with Kylie Bass for perfection at Georgia Tech on April 13 of that season. Wilkinson was also the last Bulldog to record eight-straight strikeouts in a game, also that season.
The stellar performance came just two days after teammate Britton Rogers fell two outs short of a seven-inning perfect game against Gardner-Webb on Wednesday, resulting in a one-hit shutout.
The Bulldog pitching staff combined to allow just four earned runs to opponents in five games last week, striking out 46 batters and allowing just eight walks in 33 innings.
"I am really excited about the progress our pitchers are making," Baldwin continued. "We aren't where we want to be yet but we are making strides every day.
"I thought Britton had maybe the best week she has had at Georgia. She was in total command in both of her outings which is exciting to see. I thought Madison [Kerpics] was tremendous on Saturday in both of her outings."
---
BASEBALL: Jonathan Cannon Named SEC Pitcher of the Week
University of Georgia junior right-hander Jonathan Cannon has been named one of the Southeastern Conference Pitchers of the Week, the league announced Monday.
A 2022 preseason All-America and All-SEC selection, Cannon improved to 2-0 this past Friday and has yet to allow a run or walk in 14.1 innings this season. He pitched a career-high 8.1 scoreless innings in a 1-0 win over Akron at Foley Field. He carried a perfect game to the seventh. Cannon, a 6-6, 213-pound native of Alpharetta, Ga., shares the weekly honor with Micah Dallas of Texas A&M. In a win over Penn, Dallas went eight innings and allowed just two baserunners and one hit while retiring the last 17 batters he faced.
This is the second time in Cannon's career that he has earned SEC Pitcher of the Week honors. Last year, he was tabbed both National and SEC Pitcher of the Week in a 9-1 series-clinching win over top-ranked Vanderbilt in Nashville. An Academic All-SEC student, Cannon is majoring in real estate.
The 14th-ranked Bulldogs (7-0) are back in action Tuesday in Greenville, S.C., when they face Wofford (2-4) at Fluor Field, home of the Greenville Drive. First pitch will be at 6 p.m., and the game will be available on the Georgia Bulldog Sports Network as well as the Greenville Drive's YouTube Channel.
---
WTENNIS: Georgia Adds Match with Ohio State
The seventh-ranked Georgia women's tennis is adding a home match against No. 4 Ohio State to the 2022 schedule, head coach Jeff Wallace announced Monday.
The two historic programs will square off on Mar. 16 at the Dan Magill Tennis Complex. First serve is slated for 1 p.m.
The Bulldogs (3-2) return to action this Friday, Mar. 4 at 3 p.m. when they host Ole Miss in the SEC opener.
---
Jump To Comments