Today's Contents – Click to Read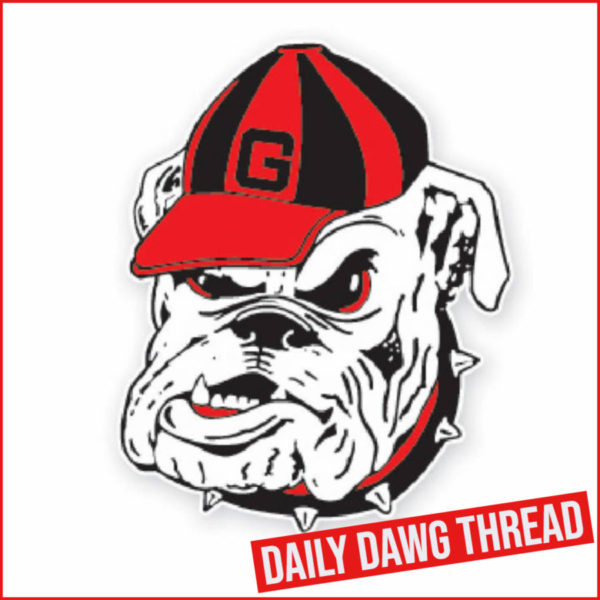 ---
SOFTBALL PHOTOS: UGA Run-Rules Appy State, Finishes Weekend 5-0
The 16th-ranked Georgia Bulldogs concluded a 5-0 weekend with a five-inning victory over App State Sunday at Jack Turner Stadium, 10-2.
Sophomore Jayda Kearney continued her strong week at the plate, knocking two home runs including a grand slam, driving in six runs in the game. Kearney concludes the week hitting .727 (8-for-11) with six runs scored, four home runs, and 12 RBI.
Fellow sophomore Sydney Chambley also had a pair of hits with a home run and three RBI. Junior Sara Mosley was the third Bulldog with a homer on Sunday.
As a team, Georgia hit 16 home runs in five games of the Bulldog Classic and slugged .880 on the weekend.
Watch a fullscreen slideshow
HERE
.
Freshman Kylie Macy improved to 5-0 in the circle Sunday, working four complete innings, allowing two runs on three hits. Macy fanned three and walked no batters. Sophomore Riley Orcutt closed the game in the fifth.
The Bulldogs put up a five spot in the second inning to take a lead. Georgia loaded the bases with no out then Kearney provided the early fireworks knocking her first career grand slam, Georgia's 13th home run of the Bulldog Classic. Later in the inning, Ellie Armistead raced home from first on a double down the left field line off the bat of Chambley, widening Georgia's lead to 5-0.
Kearney's second home run of the day, this time a two-run shot to left center, lengthening Georgia's lead to seven after three.
App State (11-7) jumped on the board in the top of the fourth with a two-run home run down the left field line, 7-2.
The Bulldogs answered back in the home half of the inning when Chambley and Mosley hit back-to-back home runs, Chambley's a two-run blast, to bring the Dogs' lead back to eight, 10-2.
Orcutt took over for Macy in the fifth, closing the game out in the circle and securing the victory.
Georgia hosts Georgia State Wednesday at Jack Turner Stadium to conclude its 16-game homestand. The Bulldogs and Panthers are set for a 6 p.m. first pitch.
Today's Contents – Click to Read
---
BASEBALL: Dawgs Get Win at Coolray
After being shutout Saturday in Athens, the Bulldogs (9-2) scored in five different frames and got started in the first to defeat the Yellow Jackets (10-2).
Bulldog sophomore Parks Harber drew a two-out, bases-loaded walk to put the Bulldogs in front 1-0 as he would go on to have a career-high 4 RBI on the afternoon. It scored Corey Collins who reached on a walk, took second on a base hit by Connor Tate and went to third when Cole Wagner was hit by a pitch.
In the third, Harber delivered again, smashing a 3-2 offering over the centerfield wall for a 3-0 lead. It was his second home run of the year. In the fourth, Tech right fielder Stephen Reid connected for his third home run of the year to cut Georgia's lead to 3-1. Georgia got the run back in the fifth as Collins blasted his second home run of the series and third on the year, a solo shot to make it 4-1.
"I was proud of the way we responded today, the guys toughed out some at bats," said Georgia's Ike Cousins head baseball coach Scott Stricklin. "We played a really good team the past three days. I'm glad we got the win today and that will give us some momentum going into next week. We wanted to get their starter out and get to the bullpen like we did Saturday, but yesterday we couldn't come up with the big hit when we had chances. Today, we got some big hits, and our defense played really well too. Overall, it was two really good teams playing and fortunately, we won today."
Redshirt sophomore Garrett Brown started for the Bulldogs and provided three scoreless frames with three walks and a strikeout. Sophomore Luke Wagner began the fourth and went two innings and surrendered one run with two walks and three strikeouts to improve to 4-0 on the year in 9.1 innings pitched. Tech loaded the bases with one out in the fifth, and Wagner came back to strike out Drew Compton and Collin Hall to maintain a 4-1 advantage. Sophomore left-hander Collin Caldwell began the sixth for the Bulldogs.
Tech pushed across a run and was looking for more when it loaded the bases with two outs. However, Caldwell came back to retire Tres Gonzalez. Tech loaded the bases with two outs in the seventh and managed one run on a walk. Sophomore Hank Bearden came on and retired Kevin Parada on the first pitch as the Bulldogs led 10-3 going to the eighth.
Georgia broke open the game in the seventh, batting around and scoring six runs on five hits. In the frame, Collins added a two-run single while Cole Tate, Harber and Garrett Blaylock also notched RBI to build a 10-2 lead. Fernando Gonzalez added a two-out run-scoring single in the ninth and a Tech error provided the final run.
Georgia is back in action Tuesday at SRP Park in North Augusta, S.C., when it begins a two-game set with Georgia Southern. First pitch will be at 6:35 p.m., and then the series concludes on Wednesday in Statesboro with a 6 p.m. start.
Today's Contents – Click to Read
---
TENNIS: Georgia Men and Women Defeat Mississippi State
Women:
The eighth-ranked University of Georgia women's tennis team the 56th-ranked Mississippi State Bulldogs Sunday afternoon in Southeastern Conference play.
"It's always fun to play here at the Dan Magill Tennis Complex," said Georgia head coach Jeff Wallace. "Two wins… We're off to a good start win SEC play. We played Mississippi State in the ITA Kick-off Weekend – lost the doubles point, but got them in singles play. Today I thought we played maybe the best doubles point we've played all year. It was exciting to see that, with all the focus and work we've been putting into doubles."
In doubles, Georgia (4-2, 1-0 SEC) swept Mississippi State (8-3, 0-1 SEC).
The experienced duo of graduate Morgan Coppoc and junior Ania Hertel cruised to a 6-1 win over Emmanouela Antonaki and Tamara Racine, while the freshmen tandem of Mell Reasco and Dasha Vidmanova defeated Marta Falcetto and Chloe Cirotte 6-3 to clinch the doubles point. On court three, graduate Meg Kowalski and freshman Guillermina Grant were up 5-1 before going unfinished.
In singles play, UGA picked up wins from No. 42 Lea Ma, No. 58 Kowalski, No. 99 Vidmanova, No. 101 Hertel and Coppoc. Hertel picked up the first win of the day for the Bulldogs, besting Mississippi State's Marta Falceto 6-1, 6-2. She was quickly followed by Vidmanova who overcame an early deficit in set one to win 6-3, 6-3 over Chloe Cirotte. Coppoc clinched the match for UGA, picking up a 6-4, 6-3 straight-set victory over Alexandra Mikhailuk.
While playing the match out, Kowalski defeated Alessia Tagliente 7-5, 6-2 after trailing 1-4 in the first set, while Ma picked up her sixth-ranked win of the year, topping No. 69 Emmanouela Antonaki (MSU) 7-6(5), 7-6(1). Reasco fell to Tamara Racine in a super tiebreaker 5-7, 6-4 1-0(7).
Next up, the Bulldogs will travel to Gainesville, Florida to take on the Gators Friday, March 11 at 5 p.m.
MEN:
With a backhand passing shot winner on his seventh match point, Georgia men's tennis senior Trent Bryde won in three sets at No. 4 singles and provided the clinching victory in the No. 22-ranked Bulldogs' 5-2 win over No. 24 Mississippi State on Sunday afternoon at the A.J. Pitts Tennis Centre.
Facing State's Bautista Vilicich, Bryde was unable to serve out the match leading 5-2 in the third set, but serving again at 5-4, with the game tied 40-all — another match point for Bryde and a break point for Vilicich — Bryde whipped a crosscourt backhand past Vilicich to close out a 3-6, 6-2, 6-4 victory to cap a strong start to SEC play for the Bulldogs.
Georgia (10-3, 2-0 SEC) opened conference play on Friday at Vanderbilt, beating the Commodores 4-2. Georgia is now 62-15 all-time against Mississippi State.
"I'm extremely proud of the fight in this group of guys," Georgia head coach Manuel Diaz said. "Our team got better today. Our boys fought a very good fight when we lost the doubles point and we were in a dogfight in singles, and we finish strong."
At the end of three tight doubles matches, Mississippi State (9-5, 0-2) came away with the point and a 1-0 lead. At No. 3, State's Alberto Colas and Carles Hernandez edged Erik Grevelius and Blake Croyder, 6-4. At No. 2, Georgia's Bryde and Philip Henning and State's Nemanja Malesevic and Davide Tortora headed to a tiebreaker, where the State squad prevailed, capturing the set 7-6 (7-5) and the doubles point.
Miguel Perez Peña got Georgia on the scoreboard with a strong showing at No. 6 singles, beating Tortora, 6-1, 6-4, to tie the match 1-1. State went ahead 2-1 with a win at No. 5, where Gregor Ramskogler beat Croyder 7-6 (7-3), 6-1. Moments later, No. 22-ranked Hamish Stewart earned Georgia's second singles win, beating Florian Broska in straight sets, 6-3, 7-6 (7-2). The tiebreaker was tied 1-1 before Stewart won six of the next seven points.
Tristan McCormick put Georgia ahead 3-2 with a three-set win at No. 2 singles. Facing State's Malesevic, McCormick dropped the opening set before taking control the rest of the way for a 4-6, 6-3, 6-1 win. Georgia needed to win one of the two remaining matches, both featuring seniors in Bryde and Henning, who was in a third set at No. 3.
After Bryde clinched the victory, Henning closed out a 6-4, 4-6, 6-1 win over Carles Hernandez, making the final score 5-2. The Bulldogs are back in action at the Dan Magill Tennis Complex next weekend when they host No. 5 Florida on Friday and No. 6 South Carolina on Sunday.
"It feels good to go home 2-0 in the SEC and we have a big weekend ahead with Florida and South Carolina coming in," Diaz said. "It will be a great weekend of tennis and we are counting on Bulldog Nation to lend us a hand and see some great tennis."
Today's Contents – Click to Read
---
Jump To Comments