Jump To Top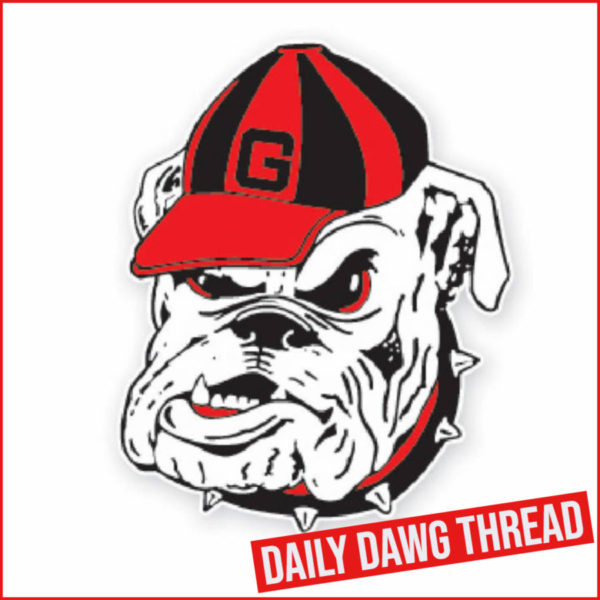 Baseball: Dawgs and Eagles put on an offensive display in N. Augusta, 17-11 UGA
An SRP Park record crowd of 6,015 saw Georgia outlast Georgia Southern 17-11 Tuesday.
The Bulldogs (9-3) scored in six of the eight innings it batted as junior Parks Harber smashed an opposite field grand slam as part of a five-run seventh to create some distance with the Eagles (7-5). Bulldog graduate Mason LaPlante went 4-for-5 with a home run and two RBI while graduate Connor Tate was 3-for-4 with two RBI to extend his hitting streak to a career-best 17 games (last five games in 2022 and all 12 this year).
In the second, redshirt freshman Charlie Condon extended his hitting streak to 11 games with his first career triple, and it drove in three runs to put the Bulldogs in front 4-3 after trailing 3-1 in the first. The Eagles struck for four runs in the top of the third to reclaim a 7-4 lead but Georgia responded again with a four-spot in the bottom of the inning for an 8-7 advantage. Georgia extended its lead to 10-7 in the fifth and 15-7 in the seventh. The Eagles drew closer with a four-run outburst in the eighth, and Georgia answered with two runs in the bottom of the inning to build a 17-11 lead.
Graduate Kyle Greenler provided 2.2 scoreless innings of relief with five strikeouts for the victory while Eagle reliever Mitchell Gross dropped to 1-2. Georgia got a pair of scoreless frames from sophomore Chandler Marsh and graduate Dalton Rhadans to highlight the pitching as each team employed seven hurlers on the night.
"I thought the most important thing is we answered every time they scored," said Georgia's Ike Cousins head baseball coach Scott Stricklin. "They scored in three innings, and every time they did, we did too. We didn't allow them to take over the momentum and that was important. Kyle Greenler got us out of a hole and settled the game down and was encouraging to see Chandler Marsh tonight too. Dalton Rhadans in the last two innings just calmed the game down. He throws nothing but strikes. It was good to see Parks Harber too with the grand slam. He called his shot. He said I'm going to get a big hit today, coach, and he did. We really needed that, he needed that and overall encouraged on how we answered tonight."
The series continues Wednesday in Statesboro, with first pitch slated for 6 p.m. (ESPN+). The Eagles will visit Foley Field on March 29. 
---
SOFTBALL: No. 19/18 Georgia (17-5) vs. Georgia State (8-12) tonight at Jack Turner
Georgia softball hosts Georgia State in the first home midweek contest of the season Wednesday at Jack Turner Stadium. The first pitch between the Bulldogs and Panthers is set for 6:30 p.m.
Date: March 8, 2023
First Pitch: 6:30 p.m., ET
Location: Athens, Ga.
Stadium: Jack Turner Stadium
Admission: FREE (no tickets required // seating is first come, first served)

Media Information
Streaming: SEC Network+
Play-by-Play: Jack Sadighian
Live Stats: GeorgiaDogs.com
Twitter Updates: @UGAsoftball
Follow the Bulldogs
» Wednesday's game will stream live on SEC Network+. Jack Sadighian will be on the call.
» Live stat links can be found on the softball schedule at GeorgiaDogs.com.
Upcoming Promotions at Jack Turner Stadium
» Admission to every home regular season Georgia softball game is FREE. No tickets are required. Seating is first come, first served. The UGA clear bag policy is in effect.
Clarke County elementary students in attendance at Jack Turner Stadium Wednesday will have the opportunity to join their teachers and staff on the field for pregame and can run the bases after the game. Students need to check in with their schools prior to 6:15 p.m. to participate.
Series History
» Georgia leads the all-time series against Georgia State 19-4
» Georgia is 13-4 in Athens in the series
» The Bulldogs have won the last nine meetings, two of which were on the road in Atlanta
» UGA won last season's meeting 6-2 on March 9
Recapping Last Week's Action
Georgia went 4-1 in the Bulldog Classic last weekend in the final tournament of the season. The Bulldogs were firing on all cylinders as the offense brought the loud bats and the pitching staff was lights out. Georgia blasted 12 homers and scored 36 runs as the pitching staff held opponents to six earned runs and fanned 36 batters, recording two shutouts.
A Look at What's Ahead
Southeastern Conference play begins this weekend with a three-game series against No. 18/21 Auburn in Athens. The three-game series kicks off Friday, March 10 at 6:30 p.m. Saturday's game between the Bulldogs and Tigers will air nationally on SEC Network at noon. The series will conclude Sunday at 2 p.m. between the Dogs and Tigers.
---
SEC MBB Tourney: Georgia (16-15, 6-12 SEC) vs. LSU (13-18, 2-16 SEC) tips tonight at 9 ET
Wednesday, March 8 at 9:00 p.m. ET
Bridgestone Arena (19,395) in Nashville, Tenn.
Series History: LSU leads, 69-48
Last meeting: UGA, 65-63, on Feb. 14, 2023
Watch: SEC Network (Mike Morgan, pbp; Joe Kleine, analyst)
Listen: Georgia Bulldogs Radio Network (WSB AM 750) Scott Howard, pbp; Chuck Dowdle, analyst; Adam Gillespie, producer
SEC Radio Network (SiriusXM: 138 or 190; SXM App: 961) Kevin Ingram, pbp; Matt Zimmerman, analyst
The Starting Five
• UGA has used 11 players to create 13 starting 5s, including different quintets in each of the last three games.
• All 12 Dogs who have logged playing time this season are averaging double-digit minutes per game.
• According to kenpom.com, UGA ranks No. 3 nationally in bench minutes, with reserves getting 44.7 of the PT.
• Seven different Dogs have made double-digit 3s this season, the most since eight did so in 1997-98.
• UGA is one of 4 teams in the nation with ten players who have grabbed 50 or more rebounds this season.
The Opening Tip
Georgia opens play in the SEC Tournament on Wednesday when the 11th-seeded Bulldogs take on the 14th-seeded LSU Tigers in the second game of the evening session. South Carolina and Ole Miss, the 12th and 13th seeds, respectively, will meet at 7:00 p.m. ET, with the matchup with UGA and LSU tipping 25 minutes after completion.
The Bulldogs wrapped up the regular season at 16-15 overall – +10 over last season's win total – and 6-12 in SEC play – +5 from the 2021-22 season – during Mike White's first campaign in Athens. Georgia's SEC victories include a trio of Ws over teams projected by virtually every bracketologist to earn NCAA Tournament bids – Auburn, Kentucky and Mississippi State.
Series History With LSU
LSU owns a 69-48 advantage in the all-time series between the Tigers and the Bulldogs, including a 6-3 mark in SEC Tournament matchups.
Earlier this season on Jan. 14 in Athens, Justin Hill's layup with 4.2 seconds remaining lifted Georgia to a 65-63 victory over LSU.
After the Tigers went up 63-62 on a KJ Williams turnaround jumper in the lane with 11 seconds remaining, Hill immediately took the inbounds pass and drove the length of the floor to connect on a shot high off the glass.
Hill also stole LSU's ensuing inbounds pass and connected on 1-of-2 free throws with 1.0 seconds remaining to close out the game's scoring.
Braelen Bridges led Georgia with 13 points, while Jabri Abdur-Rahim added 11 and Hill chipped in 10.
LSU led for a majority of the evening until Abdur-Rahim scored five straight points to put the Bulldogs up 49-46 at the 8:46 mark. Georgia pushed its advantage to 57-49 with 6:24 remaining before the Tigers rallied.
Williams' jumper completed a 7-0 surge by LSU before Hill's heroic drive delivered the win for the Bulldogs.
Wednesday's game between Georgia and LSU will be the first in SEC Tournament action in six days short of a decade. On March 14, 2013, the ninth-seeded Tigers avenged a regular-season loss to the eighth-seeded Bulldogs with a 68-63 victory at Bridgestone Arena.
SEC Player of the Year Kentavious Caldwell-Pope scored a career-high 32 points in his final game with the Bulldogs, but Georgia's second half comeback came up just short. KCP went on to become the No. 8 overall pick by the Detroit Pistons in the 2013 NBA Draft.
Charles Mann, then a freshman and today the Bulldogs' Director of Recruiting, also contributed 15 points, including 12-of-14 from the free-throw line.
Since we're playing LSU it is worth noting that Mann went on to finish second in SEC history with 896 trips to the line from 2012-16…trailing only "Pistol" Pete Maravich with 1,152 free throw attempts.
LSU controlled the first half, taking a 39-19 lead into the intermission. After trailing by as many as 23, Georgia roared back and had the ball trailing 66-63 with 12 seconds left, but Caldwell-Pope couldn't connect from distance to tie the game. After the miss, LSU's Andre Stringer made two free throws to secure the win.
UGA's SEC Tourney History
Georgia sports a 48-59 all-time record in 62 SEC Tournaments. The Bulldogs are 39-40 in SEC Tourney action since the event resumed in 1979 after a 27-season hiatus from 1953 to 79.
Georgia won SEC Tournament titles in 1983 and 2008 and also finished as the runners-up in 1940, 1981, 1988 and 1997.
Georgia has reached the semifinals 15 times, most recently doing so in 2016.
Scouting The Tigers
LSU finished regular-season play at 13-18 overall and 2-16 in SEC action under first-year head coach Matt McMahon.
The Tigers were 12-1 following a 60-57 upset of then No. 9/7 Arkansas in their league opener on Dec. 28 but dropped 16 of 17 decisions thereafter. Eleven LSU's first 12 SEC outings were against teams projected to make the NCAA Tournament field.
KJ Williams leads LSU in four of five major statistics, producing averages of 17.4 points, 7.6 rebounds, 1.2 steals, and 0.8 blocks per game. Justice Hill paces the Tigers in assists at 2.9 apg. 
Adam Miller also is scoring in double figures, chipping in 11.8 ppg.
Mike White Pregame Comments
On things he sees in practice heading into the SEC Tournament…
"Focus, overall approach, intensity level, excitement, attitude. It's been very good. We literally just walked off the floor, and we were as sharp as we've been. With that said, I thought we were just as sharp going into the last couple – came up on the short end of course. It would be very discouraging, especially having lost a few in a row, if we had shown up yesterday and or today with a decrease in the overall spirit and aura in the gym, and we have certainly not seen that. I'm excited about another opportunity tomorrow. I think our guys had a good one today. (I) look forward to getting in the arena tonight and shooting."
On having Terry Roberts and Kario Oquendo play better against LSU…
"We've got to do a better job defensively. We've got to make shots. We've just been really struggling shooting the basketball. We changed up our routine, our one-day-out routine from what we normally do and went really short just now. We'll go a little bit longer in the arena tonight and get a ton of shots. It will be strictly shooting for 40 straight minutes, hopefully in an effort to convert at a higher level, especially from three. But we need those guys to make shots, of course. We need them to be confident. At times, both Kario and Terry have performed at a very high level this season, and obviously, if you hope to advance in a conference tournament, you need your better offensive players to find themselves in a good rhythm."
On the consistent issues during the losing streak…
"First off, it was the schedule as we continue to talk about. It started with two road games against some of the better teams in the country. Arkansas is now playing at a really, really high level. Obviously, Alabama is arguably the best team in the country or in the conversation. Both of those teams, I think, have a chance to go to the Final Four. So, it really comes down to the next three. You've got Missouri coming in as an NCAA Tournament team. I thought we were really competitive there for a while – had a letdown there defensively where they made some shots, and emotionally, we just did not respond to that level of adversity. Could it have been different if we weren't coming off the two we were coming off of? Potentially, it could've been a little different, but we were coming off two tough, tough, ugly L's on the road and that carried over into the Missouri game, especially in the second half. Then, we've had two in a row where it's a little bit different, chances to win, and we're just really struggling to shoot the basketball with a bunch of open looks, a bunch of quality looks. You're never overly wide open in this league, it being an incredibly prolific defensive league. But I think we've lost some confidence offensively, and obviously, not converting from three two in a row where you're not getting better looks than that, and we've just got to be able to convert. We've got to snap out of it. Hopefully, we can make a few early to get us going, to get us some offensive momentum, especially making jump shots. We have to make jump shots. This team needs to make jump shots to have success."
On what would constitute a successful SEC Tournament…
"It's a bigger picture question that I hadn't considered. I'd like to play well. I'd like to play really hard with a lot of pride and passion tomorrow at 9:30, hopefully with an improved level of confidence offensively, and stay connected for 40 minutes and just see where it goes from there."
On the status of Stegeman Coliseum…
"I've got the utmost confidence in our leadership and our administration, and they'll do what it takes to fix the problem, to navigate the issues and evaluate and make the right decisions moving forward. You know what I know, and I was told a couple days ago, we wouldn't be able to practice at Stegeman. We normally don't practice in there anyway. We've been practicing upstairs. Staying the course, that's it. Our focus has been on LSU and the SEC Tournament."
On using past runs by lower seeds as motivation…
"'Crazier things have happened.' That's literally the phrase that I used yesterday in the locker room, along with 'Anything can happen come conference tournament time.' 'We're capable,' 'Stranger things have happened,' all of those things. The '08 team, unfortunately, I had a first row seat as an assistant at Ole Miss. Admittedly, I had to scout as well. I want to say our last game was a win in Stegeman, and we were on the bubble and really needed that win. Dave Bliss hit that bank shot at the buzzer which led to an awful weekend for us, having to bus home to Oxford and watch the rest of the tournament. By the end of the weekend, that Georgia staff from that year, and I've communicated clearly to those guys over the years, when they knock you out and had some adversity going on and there were good guys and a good staff, I know I found myself on Saturday and Sunday rooting hard for the Bulldogs to come through. It was a heck of a story, unbelievable run by Sundiata Gaines and the crew. We planned on actually sharing some of that tonight with our guys."
On how Stegeman Coliseum will impact recruiting…
"We are proud of Stegeman. I've only been here a year obviously, not even a year yet… but if we've missed on a recruit it hasn't been because of Stegeman. There are facility upgrades throughout the country, throughout athletics, and different types of sports and maintenance. All those types of things. Some of those things are out of our control. If they tell us we can't walk in there, we can't walk in there. We'll pivot and figure out what we have to do next. I have confidence in our leadership that we will figure it out. All that said, in addition, I thought we had a great environment this year. Our home games were loud and electric. The attendance was terrific we look forward to continuing to build a home-court advantage in the future, and we really look forward to the realignment of the seating, which should even increase environment next season."
On building a roster…
"The guys that have reaming eligibility that want to come back. Throughout conversations after every season decisions are made, whether they are mutual on one side or another. We'll get there in time. It's our motivation as a staff to challenge guys. We have these conversations pretty regularly, especially early season and mid-season. By the time it's mid to late January, you can stop having the conversation. Those conversations are about let's stay the course. When the ball stops bouncing for this team, this current team and this current team stops playing for one another, everyone in this locker room is going to have options. They are going to have opportunities to have discussions and conversations about what the next step is, and we're not there yet. We have basketball ahead of us. We are ready for tomorrow night. We are excited about 9:30 p.m. ET tipping it up against the Bayou Bengals. See where this thing goes. Those conversations will take place. There are plenty of guys to build around, for sure. We like the character of this team. We like the growth of this team. This team has come a long way. Obviously, we have hit some adversity here lately, but we continue to work and we have some guys certainly we can build around. It's just a matter of what's best for each individual in that locker room when the time comes."
On preparation for a tournament…
"To each its own, but with us, it's very simple. 100 percent of it is going into LSU. I say 100 percent, I'm lying. 100 percent is communicated to the team. We have an assistant coach who is working ahead to a certain extent on that second opponent, but what is being communicated to our guys over the past 48 hours and next 24 will be strictly LSU."
On LSU…
"A good team. I know records and I understand all of that. We beat three NCAA Tournament teams, and we've dropped a few in a row here. This is a really, really, really hard league. LSU was, if I'm not mistaken, 12-1 at one point having beaten Arkansas, who was a top-10 team in the country at the time who is again now playing like a top-10 team again. They have played a ridiculously grueling SEC schedule. I would assume, I haven't looked at the numbers, but it has to be as difficult as any schedule that's been played in our league this year. Obviously, we are a league that is going to get at least eight teams in. They have been very competitive. They have shown a lot of resiliency. They have guys that can make shots. They have a mismatch nightmare in KJ. He is one of the better players in our league of cores. They are good. We are going to have to play better than we have in these last few."
---
Jump To Comments