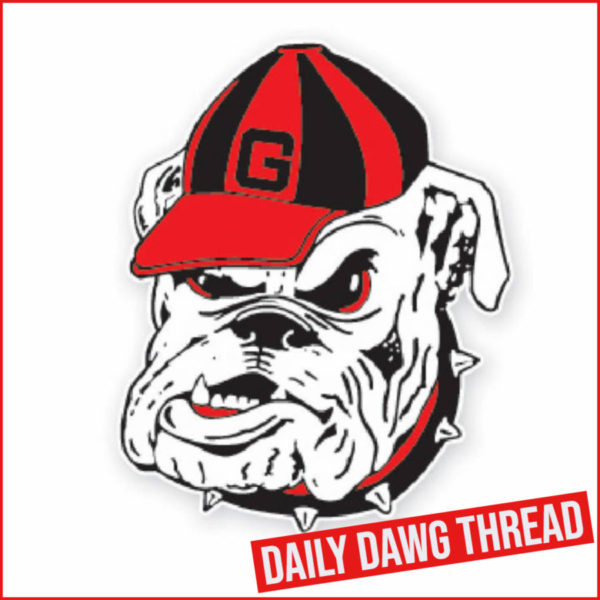 ---
Softball: Georgia Defeats Georgia State for 14th Straight Win
The 15th-ranked Georgia softball team won its 14th-straight game Wednesday evening, defeating in-state foe Georgia State 6-2 at Jack Turner Stadium.
The Bulldogs will carry a 20-2 record into Southeastern Conference play this weekend. Georgia's 14th-straight win ties for 10th-longest all-time, tying the 14-game mark set in 2003.
Sophomore Sydney Chambley earned her first career four-hit performance, the first Bulldog to do so in 2022. She hit a home run and scored three times in the game. Junior Sara Mosley added two hits of her own to the offense.
Britton Rogers worked four innings in her start, suffering a no decision. She allowed two runs on five hits. Madison Kerpics (7-1) earned the win out of the pen, working two scoreless innings. Kylie Macy closed the game in the seventh.
The Panthers (7-12) struck first in the contest when Daisey Hess delivered a two-RBI double in the top of the first to put Georgia State out in front 2-0.
With Bulldogs on the corners and one out, senior Lacey Fincher popped one up to center. The centerfielder dropped the ball, but Chambley tagged up and scored anyway to put Georgia on the board in the home half of the first, 2-1.
Chambley reached on a two-out infield single in the third. On the play, she took second on a throwing error by the pitcher then third on a wild pitch. She came in to score on a double to the wall in center off the bat of Mosley to tie the game at two-all going to the fourth.
Three Georgia home runs in the fifth inning broke the tie and put Georgia ahead by four. Ellie Armistead led off the frame with her fifth home run. Two batters later, Chambley moved into a tie for the team lead with her sixth home run, her third hit of the game. Following a walk to Mosley, Fincher delivered the third long ball of the inning to widen the new Bulldog lead to 6-2.
The fifth inning was Georgia's first three-home run inning since March 11, 2020, against Furman.
Georgia held the Panthers scoreless in the sixth and seventh en route to the midweek win.
Georgia will open the 2022 SEC schedule this weekend on the road with a three-game series at South Carolina. Friday's SEC opener is set for 6 p.m. at the Carolina Softball Stadium.
---
BASEBALL: Dawgs Get Win in Statesboro
The 18th-ranked Georgia Bulldogs beat Georgia Southern 5-1 Wednesday in front of a crowd of 2,747 at J.I. Clements Stadium.
Georgia (10-3) took a 1-0 lead in the first on a run-scoring single by Connor Tate, scoring Ben Anderson, who extended his on base streak to 11 games with a leadoff walk. The Eagles (7-6) tied it in their half of the frame on three walks, two wild pitches and a passed ball. Freshman right-hander Coleman Willis was making his first career start for the Bulldogs after a pair of relief appearances. Willis was lifted in the second when the Eagles loaded the bases with one out.
Georgia turned to freshman Chandler Marsh, and he got Jason Swan to pop out and Christian Avant to fly out to end the threat.
In the third, Georgia jumped ahead 5-1, scoring four runs on five hits to chase GSU starter Thomas Ross. Cole Tate (4-for-5), ignited the rally with a leadoff double and scored on a base hit by Corey Collins. Connor Tate followed with an RBI- double, and he eventually scored on a balk. With two outs, Chaney Rogers brought home Cole Wagner to cap the outburst. Cole Tate had his fifth career four-hit game.
Marsh provided 2.1 scoreless innings with two strikeouts for his first career victory. With one on and two outs in the fourth, Georgia looked to sophomore Jaden Woods. Jason Swann lined a double to right that Garrett Blaylock tracked down and quickly fired back in to hold Jesse Sherrill at third. Woods came back to strike out Avant to keep it 5-1. Woods tossed 3.1 scoreless innings with four strikeouts. Collin Caldwell started the eighth for the Bulldogs with a 5-1 edge and would strike out the side.
"Our bullpen did a tremendous job tonight and it started with Chandler Marsh coming in with the bases loaded and getting two outs on three pitches so that was a nice job," said Georgia's Ike Cousins head baseball coach Scott Stricklin. "Jaden Woods came in and did what he does, and I was happy to see Collin Caldwell and Jack Gowen coming in and finish with five strikeouts between them. We left some runs out there, and this is a tough place to play, but we were happy to get the win."
The Bulldogs begin a seven-game home stand on Friday as Lipscomb visits for a weekend series. First pitch at Foley Field will be at 5 p.m. The Bison are riding a five-game winning streak and are 9-4 on the year.
---
MBB: Season Ends with Loss in SEC Tournament
The University of Georgia men's basketball team closed out its season with an 86-51 loss to Vanderbilt in the first round of the 2022 SEC Men's Basketball Tournament Wednesday evening before 7,121 spectators at Amalie Arena.
Senior Braelen Bridges led Georgia (6-26, 1-17 SEC) with a double-double, tallying 15 points and hauling in 11 rebounds. Sophomore Kario Oquendo scored 11 points, while senior Noah Baumann pitched in with 10 points. For the evening, the Bulldogs shot 29.8 percent from the field.
"I think the biggest thing that hurt us was our lack of scoring early," said Georgia head coach Tom Crean following the game. "It has hurt us throughout the year. When we don't score, we're not quite the same on the defensive end…We got to the foul line a little too late in the first half. Once we did, we got there quickly. It just took too long to get to that place, and then, our lack of offense really affected us."
Scoring was limited for both teams in the early going, with a pair of Bridges layups making the score 4-4 at the first media break, a margin that would hold for nearly three minutes. After an Oquendo dunk at the 12-minute mark, Vanderbilt (16-15, 7-11 SEC) ran off a 21-2 run to take control of the contest, powered primarily by junior guard Scotty Pippen, Jr. The rest of Georgia's scoring for the half came at the foul line from Oquendo and Bridges as Vanderbilt took a 35-14 lead into the half.
As the second half opened, Georgia's offense was more aggressive as Oquendo drew a foul on the first possession, followed by Bridges breaking the field goal drought. However, Vanderbilt's outside shooting bolstered their lead, connecting on five threes in the first 10 minutes of the period. The Bulldogs continued to reach the free throw line, converting on seven straight foul shots near the midway mark.
With the contest drawing to a close, Georgia slightly narrowed the final margin, beginning with layups from graduate Aaron Cook and Bridges. After four straight points from Bridges, Baumann connected on a three and added in a layup to finish the scoring.
---
T&F: Kyle Garland and Elena Kulichenko Earn SEC Athlete of the Year Honors
Junior Kyle Garland has been named the Southeastern Conference Men's Indoor Field Athlete of the Year while first-year high jumper Elena Kulichenko has been named the Women's Indoor Freshman Field Athlete of the Year, according to a league announcement on Wednesday.
Garland is the first Bulldog to be named the SEC Indoor Men's Field Athlete of the Year. Kulichenko is the eighth Lady Bulldog to garner SEC Indoor Women's Freshman Field Athlete of the Year honors and the first for UGA since Jasmine Moore in 2020.
Garland, a native of Philadelphia, Pa., won his third straight SEC heptathlon after scoring a meet record of 6,205 points (No. 5 all-time collegiate performer) on Feb. 25-26. He posted four victories in his seven events en route to a 419-point conference win. Garland became the second SEC competitor in history (the other was former Bulldog Garrett Scantling) to win three heptathlon crowns and delivered Georgia its 10th straight league title in the heptathlon. Earlier in the year, Garland scored the 16th-best tally in collegiate history (6,163) at the Razorback Invitational.
Elena Kulichenko (Photo: UGA Sports Communications)
Kulichenko, a native of Odintsovo, Russia, finished fourth as the top freshman finisher in the SEC high jump with a clearance of 1.82 meters/5 feet, 11 ½ inches. She won the Samford Invite earlier this season with a meet record mark of 1.83m/6-0, which is tied for 15th nationally (No. 4 freshman). Kulichenko has finished in the top four in all four of her collegiate meets thus far.
Both Georgia competitors left on Wednesday en route for the NCAA Indoor Championships in Birmingham, Ala. Garland is slated to knock out his first four events on Friday starting at 11 a.m. Kulichenko will high jump on Saturday at 1:30 p.m.
---
Jump To Comments