Jump To Top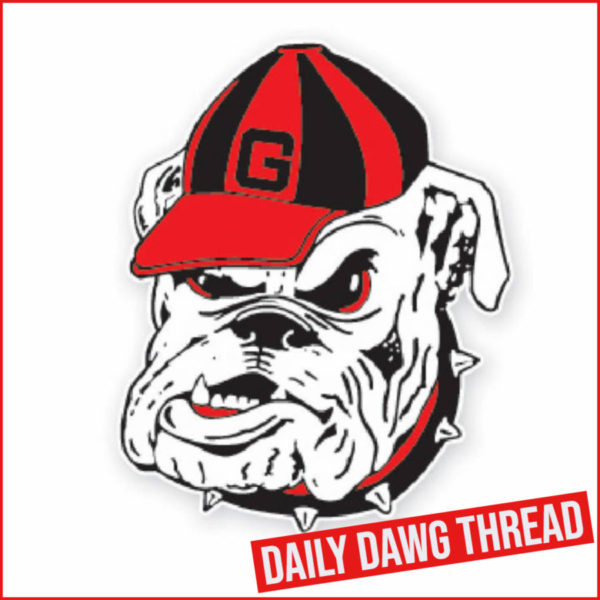 T&F: Kyle Garland Sets Collegiate Heptathlon Record
Fifth-year senior Kyle Garland set the collegiate heptathlon record to win his first national championship with the world's second-best score in history during the final day of the NCAA Indoor Track & Field Championships in the Albuquerque Convention Center Saturday.
Garland, a native of Philadelphia, Pa., topped fellow Pennsylvania native and Arkansas junior Ayden Owens-Delerme by scoring 6,639 points to Owens-Delerme's 6,518. Garland's score shatters his previous school record of 6,415 set earlier this year, leaves Ashton Eaton's 13-year-old collegiate record of 6,499 set at the 2010 NCAA meet behind and moves hinm to No. 2 in world history, trailing only Eaton's 6,645 scored in 2012. Garland now takes control of both the all-time score in the heptathlon and the decathlon outdoors after he went for 8,720 points after 10 events last spring for the Bulldogs.
This marks Georgia's third national championship in the event after Karel Tilga (6,264 points) won in 2021 and Devon Williams (6,177) captured gold in 2017. Garland was runner-up to Owens-Delerme last year with 6,200 and was also second to his teammate Tilga two years ago with the exact same score. The Bulldog men have now won seven NCAA individual crowns dating back to their first in 1995.
Garland scored the world's second-best day one total in the heptathlon by any performer in history (top collegian) to hold a 155-point lead going into the second day after four of seven events. He tallied a personal record in the long jump to help him finish with 3,773 points to lead Owens-Delerme (3,618).
During the final three events on Saturday, Garland blasted a personal record 7.74 in the 60-meter hurdles, taking second in the event and holding a 152-point lead overall. After popping a previous personal best in the open hurdles at SECs (7.77), Garland now moves from No. 3 to No. 2 in the school record books with Saturday's time.
Garland came in at 4.46 meters/16 feet, 7 ¼ inches, passed at the next height in the pole vault and then cleared six more bars to finish with his second personal best of the day. He soared over 5.16m/16-11 on his last attempt to finish third in the event and extend his lead to 214 points going into the 1000m.
In the 1000m, teammate Johannes Erm set the pace for Garland as Garland managed yet another personal record of 2:41.36 to take fifth overall and clinch his crown.
---
SOFTBALL: Georgia beats Auburn, twice
The 19th-ranked Georgia Bulldogs swept a doubleheader against No. 18 Auburn Saturday, winning the first SEC series of the season.
Georgia's Madison Kerpics pitched a complete-game shutout in the first game of the day as the Bulldogs won 5-0 to even the series against the Tigers (21-5, 1-2). The Dogs battled back from a four-run deficit in the series finale and used late innings heroics from Ally Kurland and Jayda Kearney to win the series in a 10-inning thriller, 5-4.
Georgia improves to 20-6 on the season and 2-1 in Conference play.
No. 19 Georgia 5, No. 18 Auburn 0
Georgia evened the conference-opening series with a 5-0 shutout of the Tigers behind a two-hitter from junior Kerpics (7-4) in the circle. Kerpics struck out eight batters and walked just two in her complete-game outing.
The offense scattered nine hits led by a three-hit game from Dallis Goodnight at the top of the order. Sydney Chambley contributed two hits in the contest.
The Bulldogs were the first on the board in the second inning. Chambley fired a two-out double down the right field line then took third on a throwing error by the right fielder. She immediately scored on a double to center off the bat of Kurland to put Georgia ahead 1-0.
Sara Mosley's second home run of the series and eighth of the season, a two-run shot to left, widened Georgia's lead to 3-0 in the third.
Georgia strung together some two-out production in the fourth. Ellie Armistead singled to center then stole second. The speedy Armistead scored easy on a base hit to right off the bat of Goodnight, lengthening the lead to 4-0 for the Dogs.
A wild pitch allowed Jaydyn Goodwin to score in the bottom of the sixth to make it a 5-0 lead for Georgia.
No. 19 Georgia 5, No. 18 Auburn 4 (10 inn.)
Sophomore Kylie Macy worked one inning in her start, allowing four runs on four hits. Shelby Walters worked eight and a third scoreless innings out of the pen in relief. Kerpics (8-4) pitched the final two outs in the 10th and picked up the win in the circle.
Georgia's offense combined for eight hits led by two from Lyndi Rae Davis. Three Bulldogs went deep including a game-tying two-run home run from Kurland in the seventh and a walk-off blast from Kearney in the 10th inning.
Auburn quickly put together four runs in the first inning to take an early 4-0 lead in the rubber game of the series.
The Dogs answered back in the bottom of the inning with an RBI single from Davis to put Georgia on the board, 4-1.
Mosley took Auburn's Maddie Penta deep in the fourth for her third home run of the series, fourth-straight game with a home run, and took the team lead with nine on the season, cutting the lead to 4-2.
Georgia rallied in the bottom of the seventh to erase the deficit. Pinch hitter Jaydyn Goodwin singled to lead off the inning. Kurland then blasted a two-run home run to center, knotting the game at 4-all and forcing extra innings.
After two and a half extra innings, it took a solo home run off the bat of Kearney to lift Georgia past Auburn 5-4 in 10 innings, securing the doubleheader sweep and the SEC opening series win.
Georgia is back in action Wednesday at Jack Turner Stadium hosting Furman in a midweek contest. First pitch between the Bulldogs and Paladins is set for 6:30 p.m.
Head coach Tony Baldwin's Remarks
On the game…
"That is a full day of softball. I couldn't be prouder of the way that we showed up and just competed. 17 innings today; 16 shutout innings. Hats off to our pitchers, particularly hats off to Chelsea [Wilkinson]. Last night we felt like [Auburn] was prepared for some of the things that we did. I don't think we were off by much, but credit goes to them on the success that they had. Today, we adjusted the plan – Chelsea adjusted the plan – and the pitchers executed perfectly. Shelby [Walters] came in and was lights out. Madison [Kerpics] pitched great in game one. And then up and down the lineup I thought we had a lot of big at bats. I still don't think our discipline in the batter's box is where it needs to be, but I think we can be better there. It's hard to complain with the kind of weekend that we had with the bats against that kind of pitching. Maddie Penta is as good as anybody in the country. I really believe the pitching that we faced leading into this weekend has prepared us and that is a big factor in the success. I'm proud of the way that we competed and grinded all the way to the end. We had fun doing the competition and that's what it's all about."
---
BASEBALL: Dawgs split doubleheader with Charleston Southern
Watch a fullscreen slideshow
HERE.
Georgia split a doubleheader with visiting Charleston Southern Saturday at Foley Field as the Bulldogs posted a 15-0 win in game one while the Bucs held on for a 5-4 win in game two.
Georgia (12-4) claimed the series two games to one over the Bucs (6-10) who avoided a sweep after dropping the opener Friday and then were one-hit in the first game Saturday. The Bulldogs were able to run-rule CSU in seven innings as graduate Connor Tate tied a school record by hitting three home runs in his first three at bats to give him six for the year. Due to inclement weather forecasted for Sunday, the teams played a doubleheader Saturday to complete the series.
"Game one, Liam Sullivan gave us a great start, and the offense was really clicking from all cylinders with Connor Tate hitting three home runs," Georgia's Ike Cousins Head Baseball Coach Scott Stricklin said. "We really could not have played much better in game one. In game two, we talked to them about it after game one, 'you have to turn the page. It is 0-0.' They had their good bullpen arms waiting. We knew if they got a lead, and Kaleb Hill gets in, it is going to be a real challenge. He is really good. Hats off to them. They played really well in the finale. They made a lot of really good defensive plays. Fernando Gonzalez hits a ball in the gap, and they run it down. They just made every single play. It is unfortunate. You never want to lose a game. You win a series, but we have got to finish. That is the disappointing part."
The Bulldogs will return to Foley Field on Tuesday when they play host to Wofford. First pitch will be at 5 p.m. The game will be aired on SEC Network +.
Game One: Georgia 15-0
A six-run first inning gave the Bulldogs a boost past Charleston Southern (6-10). Tate became the ninth Bulldog in school history to register three home runs in a game and the first do it in three consecutive at bats since Keegan McGovern against Charlotte in 2018. Tate's hitting streak was extended to 20 games with a solo blast in the first. Also of note, redshirt freshman Charlie Condon went 3-for-3 at the plate with three runs. Junior Garrett Spikes blasted two hits during his three at bats to plate four runners, tying his career high RBI.
Four additional runs gave Georgia a 10-0 lead in the second. Junior lefty Liam Sullivan (3-0) got the start and the win, working 5.0 innings without a hit and six strikeouts. Junior Zach Devito came in relief in the sixth to pitch an inning, allowing no hits. Charleston Southern's Evan Truitt (0-3) took the loss, tossing 3.0 innings, allowing 12 runs on 11 hits with four walks. The Bucs broke up the no-hit bid with one out in the seventh as Michael Gibson delivered a single off Luke Wagner. Georgia added five additional runs to their lead over the next four innings to win 15-0.
Game Two: CSU 5-4
The Buccaneers outlasted the Bulldogs in the second game of the day, 5-4.
Senior Nolan Crisp (1-2) got the start for Georgia, pitching 2.0 innings and allowing four runs on three hits with three strikeouts. Bulldog freshman Matthew Hoskins tied his career high with five strikeouts over 2.2 innings. Charleston Southern's Zac Robinson (2-1) got the win after throwing 3.0 innings, allowing only one run on one hit. Kaleb Hill (1) notched a save, tossing three innings and allowing one run on one hit with four strikeouts.
The Buccaneers took an early two-run lead in the first. Tate knocked a single to tally his hit streak to 21 games. Condon stepped into the box next and cranked his seventh homer of the season, a team high, and extended his hit streak to 15 games to tie the game, 2-2.
Charleston Southern added three more runs to the board, 5-2. Junior Josh Stinson slammed his first career home run in the bottom of the fifth, becoming the 13th Bulldog to hit a home run this season, to put the Bulldogs within two runs. Graduate Mason LaPlante blasted his second triple of the season and scored graduate Will David in the seventh as the Bulldogs pulled to within one but Hill preserved the win for the Bucs.
---
MTENNIS: Georgia sinks Vandy 7-0
The No. 7-ranked Georgia men's tennis team earned its fifth straight win Saturday, dispatching Vanderbilt 7-0 at the Dan Magill Tennis Complex. After winning the doubles point, Georgia won the first set in all six singles matches and rolled from there.
Georgia (10-5, 4-0 SEC) will try to make it six straight wins and go 3-0 during its three-match homestand on March 18, when the Bulldogs host No. 20 Tennessee. With Saturday's win, Georgia improved to 59-5 all-time against the Commodores.
Sophomore Thomas Paulsell, playing in his first match in more than a month, provided the clinching win at No. 6 singles. Paulsell dropped the first three games before taking command in a 6-3, 6-3 victory.
"Thomas did a great job," Georgia coach Manuel Diaz said. "He came out and was struggling to find his rhythm, but showed a lot of resolve and a lot of composure. He did a tremendous job, a very clean performance from him after that slow start. … We need him, we need him to be ready, and today he did a tremendous job — and it was great that he clinched the match."
Vanderbilt (5-9, 1-3) got off to a roaring start in doubles, with the team of Siim Troost and Jeremie Casabon blanking Georgia's No. 11-ranked team of Ethan Quinn and Trent Bryde, 6-0, at the No. 1 spot. The Commodores had also been up a break of serve at No. 3, but the Bulldog duo of Blake Croyder and Britton Johnston rallied against Joubert Klopper and Macsen Sisam and broke back to draw even. Meanwhile, at No. 2, Georgia's Philip Henning and Teodor Giusca cruised to a 6-1 win over Michael Ross and Nathan Cox.
The winner at No. 3 would decide the doubles point, and the match was decided in a tiebreaker. Georgia won the first five points and closed out the set 7-6 (7-2), on Johnston's backhand volley winner, putting the Bulldogs ahead 1-0.
In singles, Georgia captured the first set in all six matches. And first off the court was the No. 2-ranked Quinn, who went from 2-all in the first set against Cox to a 6-2, 6-0 victory. Quinn won his match less than 30 seconds after Henning closed out a hard-fought first set at No. 2, 7-6 (7-5), against Klopper.
Croyder made it 3-0 Bulldogs soon after, beating Ross, 6-3, 6-3, at No. 3 singles. One win away from securing the victory, Georgia had a lot of candidates for the clincher. Giusca was up a break of serve in the second set at No. 4, Paulsell was up a break in the second at No. 6, and Perez Peña was at 3-all in the second at No. 5.
In the end, it was Paulsell that delivered. Facing Sisam at No. 6, Paulsell quickly dropped the first three games. He then won the next six to take the opening set. Paulsell efficiently took care of business in the second, closing out a 6-3, 6-3 victory for himself while putting Georgia in front 4-0.
Paulsell said he had "a little rust and a little nerves" at the beginning. He credited volunteer assistant coach Will Reynolds with helping him settle into the match.
"I just kept taking deep breaths and kept trusting myself, kept giving myself positive affirmations, and I just kept going. Kept my head down and playing point-by-point," Paulsell said.
When you're not playing in every match, Paulsell said, it's tough to stay sharp. "But when you have my teammates motivating me every single day, it's good, it helps a lot," he said.
The teams played out the remaining matches, with Giusca beating Troost, 6-4, 6-3, at No. 4; Henning beat Klopper, 7-6 (7-5), 6-3, at No. 2, and Perez Peña prevailed 6-1, 7-6 (7-3) over Casabon at No. 5.
Keep up with all the latest news and information on the Bulldogs on georgiadogs.com or by following the team on Twitter (@UGATennis) and Instagram (@ugatennis).
Results – No. 7 Georgia 7, Vanderbilt 0
Doubles
1. Siim Troost/Jeremie Casabon (VU) def. Ethan Quinn/Trent Bryde (UGA), 6-0
2. Teodor Giusca/Philip Henning (UGA) def. Michael Ross/Nathan Cox (VU), 6-1
3. Britton Johnston/Blake Croyder (UGA) def. Joubert Klopper/Macsen Sisam (VU), 7-6 (7-2)
Singles
1. #2 Ethan Quinn (UGA) def Nathan Cox (VU), 6-2, 6-0
2. #15 Philip Henning (UGA) def. Joubert Klopper (VU), 7-6 (7-5), 6-3
3. #90 Blake Croyder (UGA) def. Michael Ross (VU), 6-3, 6-3
4. #101 Teodor Giusca (UGA) def. Siim Troost (VU), 6-4, 6-3
5. Miguel Perez Peña (UGA) def. Jeremie Casabon (VU), 6-1, 7-6 (7-3)
6. Thomas Paulsell (UGA) def. Macsen Sisam (VU), 6-3, 6-3
Order of Finish
Doubles: 1, 2, 3
Singles: 1, 3, 6, 4, 2, 5
---
Jump To Comments