Jump To Top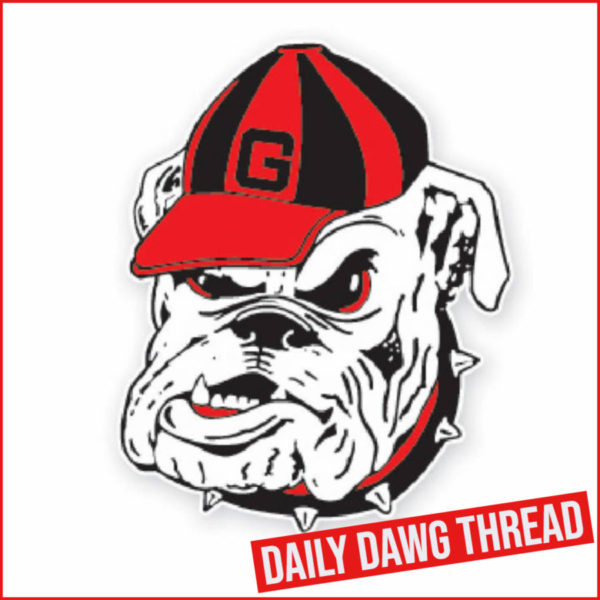 SOFTBALL: Dawgs run rules Aggies (8-0), sweep series in College Station
The 18th-ranked Georgia softball team recorded a series sweep of No. 24 Texas A&M Sunday, run-ruling the Aggies in six innings, 8-0.
The Bulldogs improve to 24-6 on the season and 5-1 in SEC play. Georgia's last SEC sweep was the final series of 2019 against then-No. 15 Ole Miss in Athens. The last time the Bulldogs swept an SEC opponent on the road was 2016 at then-No. 14 Missouri.
Junior Madison Kerpics (9-4) pitched six shutout innings, allowing just one hit. She fanned eight batters in the game, walking none. Kerpics held the Aggies hitless through three and a third innings.
Georgia's eight runs came on eight hits, led by a two-hit, five-RBI performance from freshman Jaydyn Goodwin. She homered and had a double. Sydney Chambley also had two hits in the game.
Chambley and Sydney Kuma each singled with one out in the top of the second. Goodwin stepped in and blasted a home run to right center to give Georgia the 3-0 lead. It was the second home run of her rookie season.
Dallis Goodnight drew a two-out walk in the fifth. She raced around the bases and scored on a long single to the wall in right from Sara Mosley, widening the lead to 4-0.
A four spot in the sixth inning widened the Bulldog lead to eight. Jaiden Fields led off the inning with a solo home run, her sixth homer of the season. Following a double by Lyndi Rae Davis, Chambley traded places with a ground-rule double to plate pinch runner Hayley Eaton and make it 6-0. Kuma reached on a dropped fly ball by the right fielder, then both Chambley and Kuma scored on a double to the left-center gap off the bat of Goodwin, her fourth and fifth RBI of the game, bringing the lead to 8-0.
Kerpics retired the Aggies in order in the bottom of the sixth to end the contest early for the Dawgs and secure the series sweep.
Box Score
---
WTENNIS: UGA defeats Auburn 5-2
The sixth-ranked University of Georgia women's tennis team defeated No. 8 Auburn 5-2 on Sunday afternoon at the Dan Magill Tennis Complex in Southeastern Conference action.
In doubles, Auburn (13-4, 3-2 SEC) swept Georgia (13-3, 6-0 SEC). No. 26 Guillermina Grant and Mai Nirundorn fell 6-2 on court one to No. 20 Ariana Arseneault and Carolyn Ansari, while No. 39 Meg Kowalski and Mell Reasco fell to No. 64 Angella Okutoyi and Adeline Flach 6-3, on court two.
In singles play, the Bulldogs won five matches. Grant provided the first win of the day for Georgia on court six. She cruised to a 6-1, 6-3 victory over Ali Despain. She was quickly followed by No. 122 Kowalski, who defeated Angella Okutoyi 6-3, 6-1. The win marked Kowalski's 100th career singles victory at the University of Georgia. No. 10 Lea Ma earned her ninth consecutive win at the top spot, defeating #46 Ariana Arseneault 6-2, 6-3, while No. 52 Reasco clinched the win for the Bulldogs with a 6-4, 6-4 victory over Kaitlyn Carnicella.
While playing the match out, No. 12 Dasha Vidmanova dropped her first match since the ITA Indoors to No. #41 Carolyn Ansari 6-1, 7-5, while No. 64 Anastasiia Lopata provided the final win of the day in a super tiebreaker on court four. The freshman topped DJ Bennett 6-3, 4-6, 1-0 (10-7) – her fifth consecutive win.
Georgia will return to action on Friday, March 24, against Tennessee at 5 p.m. The first 100 fans will receive a free University of Georgia women's tennis t-shirt.
Results
Doubles Results
1. #20 Ariana Arseneault/Carolyn Ansari (AUB) def. #26 Guillermina Grant/Mai Nirundorn (UGA) 6-2
2. #64 Angella Okutoyi/Adeline Flach (AUB) def. #39 Meg Kowalski/Mell Reasco (UGA) 6-3
3. Ania Hertel/Anastasiia Lopata (UGA) vs. DJ Bennett/Kaitlyn Carnicella (AUB) 4-5, unfinished
Singles Result
1. #10 Lea Ma (UGA) def. #46 Ariana Arseneault (AUB) 6-2, 6-3
2. #41 Carolyn Ansari (AUB) def. #12 Dasha Vidmanova (UGA) 6-1, 7-5
3. #52 Mell Reasco (UGA) def. Kaitlyn Carnicella (AUB) 6-4, 6-4
4. #64 Anastasiia Lopata (UGA) def. DJ Bennett (AUB) 6-3, 4-6, 1-0 (10-7)
5. #122 Meg Kowalski (UGA) def. Angella Okutoyi (AUB) 6-3, 6-1
6. Guillermina Grant (UGA) def. Ali Despain (AUB) 6-1, 6-3
---
MGOLF: Georgia tied for the lead in the Linger Longer Invitational at Reynolds Lake Oconee
The University of Georgia men's golf team carded a 5-under-par 283 on Sunday to rest tied for first in the team standings following the opening round of the Linger Longer Invitational at Great Waters Course at Reynolds Lake Oconee.
The 16-team field at the Linger Longer Invitational features four teams that are ranked in the Bushnell/Golfweek Division I Coaches poll. No 17 Alabama and the Bulldogs hold the 18-hole team lead after firing rounds of 5-under-par 283. 15th-ranked Virginia is third at 4-under-par 284, while top-ranked Vanderbilt is fourth at 2-under-par 286. Senior Connor Creasy, Hugo Lari of Kennesaw State and Georgia Tech's Connor Howe hold the 18-hole individual lead after shooting rounds of 4-under-par 68.
The Bulldogs were paced by round one leader Creasy and fellow senior Ben van Wyk who carded a round of 3-under-par 69 (T4). Junior Caleb Manuel fired an even-par 72 (T16), while freshman Carter Loflin shot a 2-over-par 74 (T33) and sophomore Maxwell Ford carded a 3-over-par 75 (T42).
Playing as individuals, sophomore Buck Brumlow shot 1-over-par 73 (T27) and graduate Michael Shears turned in a 9-over-par 81 (T80).
The Bulldogs will return to the course Monday, Mar. 20 for round two of the Linger Longer Invitational. You can follow along at Golfstat.com.
---
WBB: Upset effort falls short in NCAA Tourney
The No. 10 seeded University of Georgia women's basketball team dropped a SCORE decision to No. 2 seed Iowa in the Second Round of the NCAA Women's Basketball Championship at Carver-Hawkeye Arena on Sunday afternoon.
Fifth-year Diamond Battles led Georgia in scoring with 21 points. Fifth-year Brittney Smith and senior Javyn Nicholson followed with 12 points each. Senior Alisha Lewis had a team-leading 10 assists, and Jordan Isaacs led down low with 10 rebounds.
Georgia grabbed a quick 4-0 lead before Iowa knotted the score at eight and used a 7-0 run to build a 12-8 lead. Five points from Battles and a layup from Lewis gave the Lady Bulldogs a two-point advantage, but the Hawkeyes responded with nine points of their own to lead 19-17 at the close of the first quarter.
Four triples from the Hawkeyes extended Iowa's lead to 10 to start the second frame. A jumper from B. Smith and a pair of free throws from Nicholson cut Iowa's lead to four points with four minutes remaining in the half. A triple from Lewis capped a 9-0 run for the Lady Bulldogs to give Georgia a 35-34 lead. Iowa took a 41-40 lead after adding seven points to the board into the locker room at the half.
A pair of Isaacs free throws and a layup from junior Zoesha Smith tied the board at 46 midway through the third quarter. Back-to-back Nicholson layups gave the Lady Bulldogs a 52-51 lead. The Hawkeyes used seven uncontested points to end the third frame leading 58-54.
A 6-2 run from Iowa started the final quarter as the Hawkeyes led by eight. With less than three minutes left, Audrey Warren ripped a triple to put the Lady Bulldogs within two points, 68-66. Six Iowa points concluded the game as the Hawkeyes led 74-66.
Box Score
---
BASEBALL: Georgia goes winless vs. South Carolina
The 14th-ranked South Carolina Gamecocks completed a road sweep of Georgia Sunday, posting a 12-1 victory and extending their winning streak to 11 games.
The Gamecocks (20-1, 3-0 SEC) built a 6-0 lead by the third inning and then 10-0 before Georgia redshirt freshman Charlie Condon connected for his team-leading ninth home run in the sixth. Will McGillis and Gavin Casas hit two homers apiece to pace the Gamecocks' 10-hit attack. McGillis began the game with a home run off Bulldog starter Charlie Goldstein.
Jack Mahoney pitched six innings and allowed one run on six hits with a walk and six strikeouts to improve to 3-0. Goldstein fell to 0-1, allowing five runs on three hits with six strikeouts.
"You've got to be able to turn the page as quick as possible, you can't let it linger," said Georgia's Ike Cousins head baseball coach Scott Stricklin. "We did not play very well this weekend, certainly South Carolina played really well, they had a lot to do with that. Their starting rotation is as good as you're going to see. The bottom line is we've got to turn the page and move on and get ready to play on Tuesday (Ga. State) and then go to Auburn next in the SEC, and we certainly can't play the way we played this weekend. The team that played against Georgia Tech, that's the team who I think we are, and we didn't see much of that team this weekend."
Condon had two of Georgia's six hits on the afternoon and extended his hitting streak to 19 games. After Goldstein, Kyle Greenler, Dalton Rhadans, Collin Caldwell, and Will Pearson saw action on Sunday. The new 10-run rule came into play as the game ended after seven innings.
Georgia (13-7, 0-3 SEC) was swept at home in an SEC series for the first time since 2017 (Florida), and the first time in league play since 2019 (at Mississippi State). Up next, Georgia returns to Coolray Field in Lawrenceville, where it will face Georgia State on Tuesday at 6 p.m. The Bulldogs' next SEC series starts Thursday against the Tigers in Auburn. Georgia will play eight of its next nine games on the road.
Box Score
---
Jump To Comments