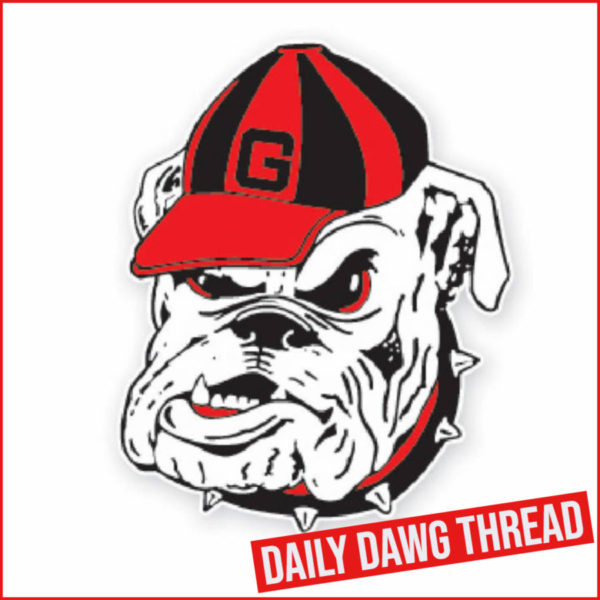 ---
BASEBALL: Georgia Beats Georgia State at Coolray Field
The 17th-ranked Georgia Bulldogs posted a 10-3 win over Georgia State Tuesday in front of a Coolray Field crowd of 1,054.
The Bulldogs improved to 17-4 by erasing an early deficit after the Panthers (14-7) struck for a pair of run on three hits in the first off freshman Coleman Willis. With one out and a runner at second, centerfielder Ben Anderson caught a fly ball and fired a strike to Parks Harber at third for an inning-ending double play. It was Anderson's first assist of the year and sixth as a Bulldog. In the bottom of the second, freshman Caleb Stewart connected for his first career home to put GSU up 3-0. The Bulldogs responded in the top of the third.
Garrett Spikes, Chaney Rogers and Anderson loaded the bases with singles and then Josh McAllister delivered a two-run single. Anderson (3-for-5, RBI) extended his on base streak to a team-best 19 games. With two outs, Cole Wagner was hit by a pitch to load the bases for Buddy Floyd. He picked up an RBI on a walk as ball four was a wild pitch and allowed McAllister to score to give the Bulldogs a 4-3 advantage. Floyd entered the game as a pinch-runner when Harber was hit by a pitch in the top of the third inning.
Sophomore right-hander Bryce Melear (1-0) started the third for the Bulldogs and provided outstanding relief, tossing three scoreless innings with seven strikeouts, both career highs, for his first career win.
"We had a lot of guys step up today and take advantage of an opportunity," said Georgia's Ike Cousins head baseball coach Scott Stricklin. "On the mound, Bryce Melear was really good, that's the best I've seen him throw. Max (DeJong) made his debut, and several position players came through tonight too including Buddy Floyd and Dylan Taylor. We got behind early and scored the final 10 runs of the game. Their starter (Mason) Patel was on a pitch count, and he was sharp the first two innings."
Freshman Chandler Marsh took care of the sixth. The Panthers put a pair of runners in scoring position with one out after two walks and a sacrifice bunt, and he came right back to register a pair of strikeouts. In the seventh, the Bulldogs looked to senior Jack Gowen to face the top of the order, and he retired three straight Panthers including a couple of strikeouts.
In the eighth, Anderson drew a one out, bases-loaded walk to score Taylor for a 5-3 lead. With two outs, Corey Collins extended his on base streak to a team-best 19 games with a bases-loaded walk. Then, Connor Tate broke open the contest with a two-run double for an 8-3 lead. A passed ball scored Collins and an errant pickoff attempt allowed Tate to score the final two runs as the Bulldogs batted around, scoring six runs on two hits and six walks. Trent Reddick fell to 1-1, taking the loss for GSU.
Georgia returns to SEC action Friday at Kentucky with first pitch slated for 6:32 p.m., and it will be available on SEC Network+ and on the Georgia Bulldog Sports Network.
---
MGOLF: Georgia Wins Linger Longer Invitational
The No. 10-ranked Georgia men's golf team won the Linger Longer Invitational on Tuesday by four shots over Vanderbilt.
Playing Great Waters Golf Course's par-72, 7,436-yard layout, the Bulldogs fired a final-round 8-under 280 to wind up at 28-under 836 for the tournament. The Commodores finished at 24-under 840, followed by Florida at 14-under 850.
Senior Trent Phillips paced the Bulldogs in the third round as he posted a 6-under 66. Phillips placed seven birdies on his card and punctuated the round with a 25-foot eagle putt and an animated fist pump on the par-5, 543-yard 18th.
"Things were tight with Vanderbilt, and I knew that putt could be big for our team," Phillips said. "That's why the emotion came out of me. I love being a part of this program so much, and I want to do whatever I can to help us win. This is great momentum for us heading down the stretch."
Freshmen Buck Brumlow and Maxwell Ford each recorded 1-under 71s, while juniors Nicolas Cassidy and Ben van Wyk both posted even-par 72s.
Phillips came in second at 10-under 206 as medalist honors went to Clemson's Jacob Bridgeman at 16-under 200. Van Wyk had a third-place showing at 8-under 208, followed by Ford in fourth at 7-under 209, Cassidy in 19th at 2-under 214, and Brumlow at 9-over 225.
"I could not be happier for these guys," said Coach Chris Haack, who picked up his 67th career victory on Tuesday. "They all put in the work, and they have great vision for where they want to go collectively and individually. To get a hard-fought win like this is a shot in the arm for these players. It will give us even more confidence as we work toward the postseason."
Playing as individuals, senior Eli Scott and junior Connor Creasy each signed for 1-under 71s, while senior Will Kahlstorf had a 5-over 77 and redshirt freshman JT Herman had a 6-over 78. Scott ended the tournament at even-par 216, followed by Creasy at 6-over 222, Kahlstorf at 10-over 226, and Herman at 22-over 238.
The Bulldogs will wrap up the regular season April 3-5 in the Calusa Cup in Naples, Fla.
---
Softball: Top Twenty Matchup – #17/21 Georgia (26-4) vs. #16/15 Clemson (19-8)
Date: March 23, 2022
First Pitch: 7 p.m., EDT
Location: Athens, Ga.
Stadium: Jack Turner Softball Stadium
Admission: FREE (no tickets required)
Promotions:
– 250 fans receive a free t-shirt
– Kids run the bases (kids 12 and under)
– double 'Commit to the G' app points (UGA students)
Media Information
TV: SEC Network
Play-by-play: Eric Frede
Analysis: Madison Shipman
Streaming: ESPN.com / ESPN app
The 17th-ranked Georgia softball team welcomes No. 16 Clemson Tigers to Jack Turner Stadium for a top-25 midweek matchup Wednesday evening. First pitch is set for a nationally televised audience on SEC Network at 7 p.m.
Follow the Bulldogs
» Wednesday's game will air nationally on SEC Network. Eric Frede (play-by-play) and Madison Shipman (analyst) will be on the call.
» Wednesday's game will stream live via ESPN.com and the ESPN app.
This Week's Promotions
» Admission to every home regular season Georgia softball game is FREE. No tickets are required. Seating is first come, first served.
» March 23 vs. Clemson
– The first 250 fans receive a free t-shirt
– Double 'Commit to the G' student rewards points for UGA students
– Kids Run the Bases: Children 12 and under can run the bases post-game
BULLDOGS BULLETIN
Series History
» Georgia trails the all-time series 0-1
» The Bulldogs dropped the first-ever meeting between the two teams on Feb. 26, 2020, 4-1, in Clemson
A Look at What's Ahead
Georgia will welcome the Texas A&M Aggies to town for a three-game SEC series this weekend. The series kicks off under the lights at 6 p.m. Friday. The first 200 fans receive a free t-shirt. Saturday's game will also begin at 6 and will air on SEC Network. Georgia softball great Kim Wendland will be recognized for her induction into the Circle of Honor Saturday. The series finale is slated for 2 p.m. on Sunday.
---
Jump To Comments