Jump To Top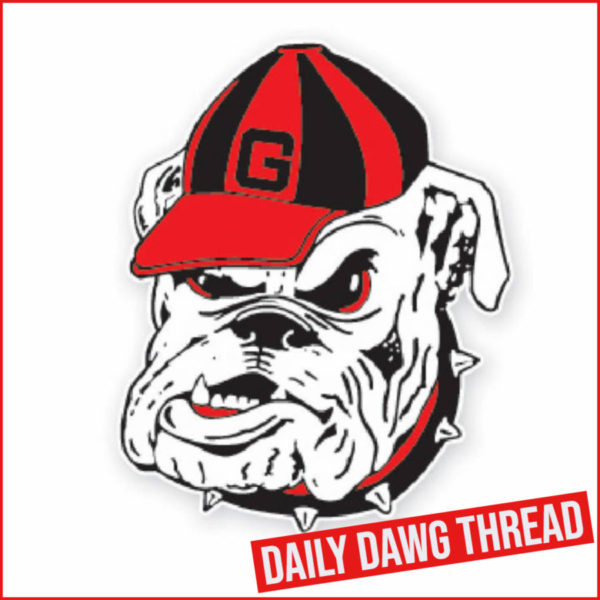 Softball: Dawgs clinch Mississippi State series with a 10-0 run-rule win
Watch a fullscreen slideshow
HERE.
Graduate pitcher Shelby Walters pitched a five-inning no-hitter against Mississippi State Saturday afternoon at Jack Turner Stadium. Georgia clinched the SEC series with a 10-0 run rule win.
The Bulldogs climb to 27-6 on the season and 7-1 in SEC play. Georgia has won seven-straight SEC games, its longest Conference win streak since 2010 (11 straight). Overall, Georgia's nine-game win streak is a season-best.
Walters worked the complete five innings, striking out two Mississippi State (22-10, 3-2) batters and allowing a pair of walks. The no-hitter is the second of the season for Walters (last vs. Samford on March 4). The no-no is Georgia's first against an SEC opponent since May 3, 2009 when Sarah McCloud and Christie Hamilton combined for the no-hitter at Arkansas.
Georgia's offense was also on display Saturday as the Bulldogs tied a season-best five home runs. Jayda Kearney was responsible for two home runs and four RBI. Sara Mosley, Sydney Kuma, and Jaydyn Goodwin all left the yard on the afternoon.
A pair of two-run home runs off the bats of Kearney and Kuma put Georgia ahead 4-0 in the first inning.
The home runs kept coming in the second inning. Goodwin led off the frame with a shot to center, her third of the season. Mosley's 12th home run of the season, a two-run blast to right center, widened the Georgia lead to 7-0.
With two out in the third, Goodwin stole second and took third on an errant throw down to second by the catcher. She immediately scored on a single to center from Ellie Armistead to lengthen the lead to 8-0.
Georgia's fifth home run of the game and the second off the bat of Kearney, was a two-run shot to left, bringing the score to 10-0.
Walters recorded a 1-2-3 fifth inning to secure the no-hitter and the win for the Dogs.
Georgia and Mississippi State will close the series Sunday at Jack Turner Stadium. First pitch has been moved up to 12 p.m. due to incoming inclement weather.
Head coach Tony Baldwin's Comments
On Shelby Walter's performance…
"Outstanding! I think that pretty much sums it up. She was in command. She was getting the ball to both sides of the plate. When she's doing that, she can be a handful. The velocity was really good. I thought she was sharp. Wednesday night, I thought she was almost too fresh. The stuff was really good. She just wasn't commanding it. Today, it was on point right from the first pitch, and I'm proud of the way the defense responded behind her. They made a lot of good plays."
On the performance of the hitters…
"I thought we did a really good job of commanding the strike zone. When we can do that, we can be pretty good. Today was a testament to that. Danielle Gibson Whorton has been doing an unbelievable job with the hitters. They've been working their tail off getting in some extra detail work, and it's starting to pay off. I feel like we're in a pretty good place, so we just have to keep working."
On the team's mindset going into tomorrow…
"It's just another day. In terms of big picture stuff, it's an important day in terms of doing what we need to do. We must be consistent in what we're doing. Right now, one of our themes is when you think consistently, you can behave consistently, and when you behave consistently you can get the outcomes you're looking for. Tomorrow is another opportunity for us to try and be consistent in how we think and how we behave and fight for the outcomes that we want."
---
Baseball: UGA gets first SEC win at Auburn
Powered by a school-record 16-run outburst, Georgia secured its first Southeastern Conference win by crushing Auburn 24-7 in eight innings due to the mercy rule in front of a sold-out Plainsman Park crowd of 4,096.
Georgia's 16 runs eclipsed the school mark of 13 accomplished three other times including in last year's NCAA Regional win over Hofstra in Chapel Hill, N.C. On Saturday, the Bulldogs led Auburn 8-7 before plating 16 runs in the eighth inning.
Georgia (15-9, 1-5 SEC) grabbed a 3-0 lead in the first. Graduate Ben Anderson led off with a double. With one out, Charlie Condon collected his league-leading 39th RBI on a run-scoring single. It extended his hitting streak to 23 games, five shy of the school mark set by Josh Hudson in 1999. Junior Parks Harber, who set a career-high with a five-hit and five RBI afternoon, followed Condon with a two-run blast. It was his ninth of the year and gave him a 12-game hitting streak.
Graduate Connor Tate (2-for-6, 2 home runs, 4 RBI) smacked his eighth home run of the season to start the third. Then, the Bulldogs loaded the bases with one out in the frame as Auburn starter Zach Crothfelt was lifted for Christian Herberholz. Georgia managed to plate one more when Cole Wagner drew a walk to cap the scoring to give Georgia 5-0 advantage. Auburn cut it to 5-1 in the bottom of the third on a flare to right, scoring Bryson Ware who had reached on a two-out single and went to second on a hit-by-pitch to Ike Irish. Auburn threatened again in the fourth, pushing across a run on two hits before junior left-hander Liam Sullivan came back to record strikeouts of Cole Foster and Ware to maintain a 5-2 edge. Georgia answered in the top of the fifth as Harber led off with a double and scored on a one-out RBI-single by Will David. A two-run single by Mason LaPlante stretched Georgia's lead to 8-2 in the frame.
Auburn (16-7-1, 2-4 SEC) cut it to 8-5 in the fifth on a two-run double by pinch-hitter Cooper McMurray off Dalton Rhadans, and then in the sixth, Ware smashed a three-run home run, his 11th of the season, to pull the Tigers to within one at 8-7. Junior Collin Caldwell (1-0) provided 1.1 scoreless innings but with one on and one out in the seventh, Georgia looked to senior Nolan Crisp who kept it a one-run contest and ultimately picked up a save, tossing 1.2 scoreless innings.
"We responded today, and we certainly needed that," said Georgia's Ike Cousins head baseball coach Scott Stricklin. "We were able to score some runs early again and build a lead but credit Auburn for making it a one-run game. However, we responded in a big way and hopefully now can build some momentum going into next week."
In the 16-run inning, Tate crushed a three-run home run while Harber had a three-run double. LaPlante and Murillo had two-run singles as the Bulldogs batted around twice with a total of 19 coming to the plate.
Georgia returns to Foley Field Wednesday at 6 p.m. for the final game of the Georgia Southern series. Earlier this month, the Bulldogs registered wins over the Eagles in North Augusta, S.C., and in Statesboro. The game will be streamed on SEC Network+ and available on the Georgia Bulldog Sports Network.
Box Score
---
WGolf: Georgia in 6th entering final round of the Liz Murphey
The Georgia women's golf team shot 4-over 292, two shots better than their opening-round effort, but slipped one spot to sixth in the field of the 51st annual Liz Murphey Collegiate Classic on Saturday. The Bulldogs enter the final round at the University of Georgia Golf Course at 10-over 586.
"It was a day when we thought we could make a move," head coach Josh Brewer said. "We had many birdie chances but unfortunately kind of stayed right where we were to start the day. But a lot more positive things happened so we've got to use that for the final round tomorrow and close strong on our home golf course."
Jenny Bae led the Bulldogs for the second consecutive round, signing for an even-par 72. Georgia also counted a pair of 73 from Caroline Craig and Jo Hua Hung and Candice Mahé's 74 while dropping Caterina Don's 76. Individually, Céleste Dao posted a 73 and LoraLie Cowart and Isabella Holpfer both shot 74.
Individually, Bae is tied for fifth, three shots off the lead. Additionally for Georgia, Hung is tied for 18th at 146; Craig is tied for 31st at 148; Cowart is tied for 37th at 149; Dao, Holpfer and Mahé are all tied for 42nd at 150; and Don is tied for 52nd at 152.
Bae played both sides at even-par for her 20th par-or-better effort in 25 rounds this season. Here loop featured 14 pars and a pair of birdies and bogeys. On the front nine, she birdied No. 2 and bogeyed No. 3. After the turn, she birdied No. 12 and bogeyed No. 13 before stringing together six straight pars.
Craig supplied the Bulldogs with a much-needed boost late in the day with birdies at both No. 17 and No. 18.
"I hit the ball a lot better today than yesterday," Craig said. "I gave myself a bit more birdie opportunities. It was tough because nothing was quite dropping, but I was able to snag a few key birdies. Going into 17 and 18, I was just looking to hit four solid shots to give myself a birdie chance, and both of them dropped. I almost had an eagle on the last hole. I just tried to stay in the moment and never stopped fighting."
No. 10 Auburn maintained a comfortable lead on the team field. The Tigers are at 13-under 563 through 36 holes, 11 strokes ahead of No. 4 South Caroilna. Rounding out the top-10 teams are No. 21 Florida at 581; Purdue and North Carolina at 583; the Bulldogs, No. 19 Virginia and Louisville all at 586; No. 9 Texas A&M at 589; and Arkansas at 591.
Auburn's Elina Sinz tops the individual field. She shot 2-under on 2-under on Saturday and is 5-under overall, a shot better than Louise Rhyqvist of South Carolina.
Sunday's final round is scheduled to begin with an 8:30 shotgun start. The Bulldogs will be paired with Purdue and North Carolina, teeing off from Nos. 4-7. Georgia's individual entrants will start at No. 14 and No. 15. Live scoring is being updated on a three-hole basis at golfstat.com.
Leaderboard
Auburn 277-286=563
South Carolina 290-284=574
Florida 288-293=581
Purdue 298-285=583
North Carolina 295-288=583
Georgia 294-292=586
Virginia 289-297=586
Louisville 295-291=586
Texas A&M 298-291=589
Arkansas 297-294=591
Charleston 298-297=595
Alabama 294-305=599
Georgia Southern 305-306=611
San Diego State 307-306=613
Daytona State                 320-313=633
Individual Leaderboard
Elina Sinz, Auburn 69-70=139
Louise Rydqvist, S. Carolina 69-71=140
Maisie Filler, Florida 71-70=141
Megan Schofill, Auburn 70-71=141
Jenny Bae, Georgia 70-72=142
Momo Sugiyama, Purdue 73-69=142
Amanda Sambach, Virginia 71-71=142
Katie Cranston, Auburn 69-73=142
Megan Streicher, N. Carolina 72-71=143
Crista Izuzquiza, N. Carolina 75-69=143
B.F. Garcia Poggio, Texasm A&M 75-69=144
Emma Schimpf, Charleston 74-70=144
Hannah Darling, S. Carolina     73-71=144
Additional Georgia Scores
T18. Jo Hua Hung 73-73=146
T31. Caroline Craig 75-73=148
*T37. LoraLie Cowart 75-74=149
*T42. Céleste Dao 77-73=150
*T42. Isabella Holpfer 76-74=150
T42. Candice Mahé 76-74=150
T52. Caterina Don 76-76=152
* competing as an individual
---
Jump To Comments