Jump To Top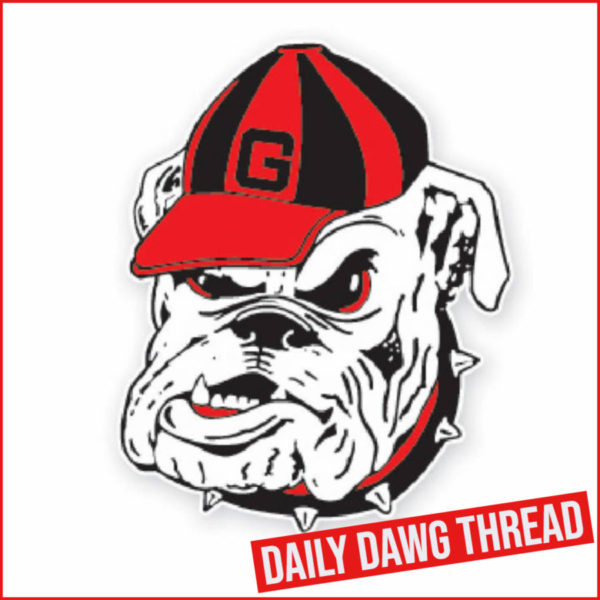 Video/Transcript: Nazir Stackhouse and Arian Smith posr-practice interviews – March 29, 2023
On the defensive line after losing Jalen Carter to the draft…
"It's not too much different, but it is an eye-opener for us guys who are not used to the pass-rush or some of us guys who are more one-dimensional. Tray Scott is working hard with us to help us work both ways in stopping the run, pass-rushing and being destructive on the field. We all know Jalen Carter was really good at doing that."
On Mykel Williams' growth…
"I would say just him maturing. That transition from high school to college is a big transition. But for some guys it's just a transition mentally. Mykel definitely showed a lot of talent when it comes to helping us out. Obviously, you saw a lot of that last season. He had around 2.5 sacks, and a big sack against Ohio State against a first-round offensive tackle. Him just showing us that shows us that in the future he's going to be a great guy when it comes to playing defensive end. He can play "Jack." Him transitioning from high school, you couldn't really see the difference in how he played. He played really hard in high school, and he's playing really hard now. This is just going to be exciting to watch his future with Georgia Football."
On the strength of the defensive line…
"Stopping the run, number one. That's Georgia Football. You can't describe Georgia Football any better than that. Stopping the run, and then our secondary is doing their best at covering great receivers. We have great receivers on our team. And then the pass-rushing is something that we are working on now. I don't doubt that we are going to get really good at it, and it's going to be a big impact."
On the impact of NIL…
"I feel like a lot of players enjoy NIL. But most of the time, we aren't even focusing on it. We are focusing on football."
On his touchdown in the Peach Bowl…
"It meant a lot. I'm sure everyone enjoyed it as much as I did."
On his goals for spring practice…
"My mindset is just to get better at football as a whole, not just going deep but small stuff, too. Everything – the details, blocks, catching short routes, taking it for 50. Mostly everything all around as a receiver."
---
Softball: Jayda Kearney and Shelby Walters have tabbed SEC Player/Co-Pitcher of the Week
University of Georgia softball student-athletes Jayda Kearney and Shelby Walters have been tabbed the Southeastern Conference Player and Co-Pitcher of the Week, respectively, the league announced Tuesday.
This is Kearney's third SEC Player of the Week award in her career and Georgia's first of the season. Walters earns her first SEC Pitcher of the Week. Madison Kerpics earned the award on Feb. 27.
Kearney hit .571 last week, going 4-for-7. Three of her four hits left the yard, including homering twice in game two against Mississippi State on Saturday. In that game, the junior's two two-run home runs were responsible for four of Georgia's ten runs in the game.
The Columbus, New Jersey native recorded a 1.857 slugging percentage, drove in six runs, and concluded the week with a .667 on-base clip with a pair of walks.
Walters went 2-0 with a save in nine and two-thirds scoreless innings, appearing in all three games last week. She highlighted the week tossing Georgia's first no-hitter of an SEC opponent since 2009 on Saturday, not allowing a hit in five innings against Mississippi State.
The graduate from Cohutta, Georgia, began the week working four innings in her start against Kennesaw State, striking out five Owls. She picked up her second save of the season, pitching Georgia out of a two-on situation in the top of the seventh in game one against Mississippi State.
Walters has combined with Kerpics to pitch 24-straight shutout innings back to March 18. The last time Georgia had three-straight SEC shutouts was 2006 (four-straight shutouts).
The Georgia Bulldogs (27-6, 7-1) hosts No. 16 Kentucky (20-7-1, 4-2) in Athens in a three-game series beginning Saturday. First pitch on Saturday has been moved up to 2 p.m. between the Bulldogs and Wildcats.
---
Baseball: Dawgs get Georgia Southern at home tonight before continuing road stretch
The Georgia Bulldogs (15-9) are in the middle of a nine-game stretch that features just one home date and that is tonight versus Georgia Southern (12-12) at Foley Field. The first pitch will be at 6:02 p.m. (SECN+) and be available on the Georgia Bulldog Sports Network.
Last week, Georgia went 2-2, beating Georgia State at Coolray Field in Lawrenceville, and then went 1-2 at Auburn. The Eagles dropped a Sun Belt Conference road series to Southern Miss this past weekend. After the midweek game with the Eagles, Georgia heads to Nashville to face No. 4 Vanderbilt (19-5, 6-0 SEC). The Commodores have opened SEC play with sweeps of No. 3 Ole Miss in Nashville and Mississippi State in Starkville.
Series History: Georgia leads the all-time series with GS 62-53-1 in records dating to 1972. The Bulldogs won both meetings earlier this month, posting a 17-11 win in front of an SRP Park record crowd of 6,015 in N. Augusta, S.C. on March 7 and then 9-4 the following day in Statesboro before a capacity crowd of 3,732. Georgia claimed the 2022 series 2-1.
Georgia's top hitters in the GS series this year have been Mason LaPlante (4-for-7, HR, 2 RBI) and Connor Tate (4-for-7, three RBI), while Charlie Condon is just 3-for-10, but those hits have been a triple and two home runs with nine RBI! Also, Georgia has been hit 12 times by GS with 17 walks.
Bombs Away: This week, Georgia stands ninth nationally with 49 home runs, and it could challenge the school record by the end of the season. The top three totals in Bulldog history are 109 (2009), 102 (1987), and 96 (2008). The most home runs in a season during the Scott Stricklin era have been 81 last season in 59 games.
Georgia redshirt freshman OF/1B Charlie Condon (.472-10-40) ranks among the national leaders in several categories. He has hit safely in 23 games and has team-leading 15 multi-hit games and 11 multi-RBI games. Graduate OF Connor Tate (.443-9-28) ranks among the national leaders with 43 hits and 81 total bases. He had a 22-game hitting streak end last week. Tate's 36 career home runs rank sixth in school history. He hit a pair in the 24-7 road rout of Auburn last Saturday.
Junior 3B/1B Parks Harber (.352-9-29) has been the most consistent Bulldog in league play, batting an SEC-leading .542 with three home runs and 11 RBI. He had the best series against USC, hitting .556 (5-for-9) with a double, two home runs, and four RBI, and then against Auburn, he batted .533 (8-for-15) with three doubles, a home run, and seven RBI. Harber has a career-best 12-game hitting streak.
On The Mound: The Bulldogs have a 5.81 ERA with 255 strikeouts and 116 walks. GS sports a 5.93 ERA with 200 strikeouts and 100 walks. On Wednesday, the Bulldogs are slated to start freshman Kolten Smith (1-0, 4.50 ERA) as both teams will likely employ a staff night with a conference series beginning Friday. Smith made his first career start and notched his first win against the Eagles in Statesboro. He went 3.1 innings and allowed one run on two hits with two walks and four strikeouts as part of a staff night. The Eagles will counter with junior RHP Ga'von Wray (0-1, 9.00 ERA).
NCAA Record-Tying 8th Inning Outburst: Georgia secured its first SEC win this past Saturday at Auburn with a record 16-run outburst in the eighth inning of a 24-7 rout of the Tigers. The game ended after eight innings due to the SEC 10-run mercy rule.
In the NCAA record book, the only other team to score 16 runs in an 8th inning was Southern Illinois in 1988 versus Murray State and Saint Mary's (Minn). The NCAA mark for runs in an inning is 21 by three teams, most recently by Valparaiso in the fifth inning versus Chicago State on April 2, 2010.
Radio/TV/Live Stats Information
Wednesday at 6 pm at Foley Field
Georgia Bulldog Sports Network (Jeff Dantzler & David Johnston): https://georgiadogs.com/watch/?Live=4381&type=Archive
SEC Network+ (Matt Stewart & Jason Jacobs): https://www.espn.com/watch/player?id=c70aa550-5d80-40c5-a94c-9959a6b98e35
Live Stats: https://georgiadogs.com/sidearmstats/baseball/summary
Tickets/Parking/Promotion Information
* A limited number of tickets are available in the Left Field Bleachers and in the Right Field Bleachers.
* Fans can get seats from other fans through our official secondary ticketing partner StubHub.
* Fans with tickets who are unable to come are encouraged to transfer them to other Bulldog fans, return them to UGAAA or resell them on StubHub.
* Foley Field Gates open one hour before game time.
* Free parking is available in the commuter surface lot behind the outfield.
* Promotions: Fans are encouraged to wear white. The first 500 fans will receive a 90s-themed baseball shirt.
---
WGolf: Jenny Bae and Savannah de Bock will open play in the Augusta National Women's Amateur
Jenny Bae and Savannah de Bock, current and future Georgia Bulldogs, respectively, will open play in the Augusta National Women's Amateur on Wednesday. Bae and de Bock are in an uber elite field featuring 72 of the world's premier amateurs competing in the fourth edition of the ANWA.
The tournament will begin with 36 holes of stroke play at Champions Retreat Golf Club on Wednesday and Thursday. The field will then be cut to 30 golfers for Saturday's final round at famed Augusta National Golf Club.
The majority of the golfers for the ANWA were selected based on the World Amateur Golf Rankings (WAGR). Bae is currently ranked No. 29 in the world, No. 8 among Americans. Among collegiate golfers, Bae is listed at No. 2 by Golfstat and No. 5 by Golfweek. De Bock is No. 40 in the world.
"It's definitely an huge honor to be invited," Bae said. "I get to play against a lot of the best amateur players in the world within every one of our tournaments, but for the players I've never met – I'm sure they're really good seeing that they also received invitations – I can't wait."
"I've never been to Augusta National," de Bock said. "It's going to be a first, and I'm really excited about it. I just want it to get here."
Bae is in the midst of one of the most statistically dominant seasons in Georgia's history. Her current stroke average of 70.42 is .62 per round, better than the Bulldogs' season record of 71.04 by Jillian Hollis in 2018. Bae has recorded 20 par-or-better scores in 26 rounds this season and is a combined 32-under on the year. She is only two par-or-better loops away from the school record shared by Marta Silva Zamora in 2011 and Bailey Tardy in 2016.
Bae has posted seven top-5 finishes in nine tournaments this season, including shooting a school-record 16-under en route to winning the Illini Invitational last fall.
A year ago, Bae shot 76-77=153 to tie for 43rd at the ANWA.
"It's the second time (at ANWA) so for me it's kind of a progress check for me to the point where I can say 'Ok. I'm doing good to the point that I got another invitation,'" Bae said. "It gives me another chance to show off and see what I can do so it's exciting. Last year I learned that I would have to play the course a little more conservatively and just focus on my targets on out there instead of hitting it really aggressively at the pin."
De Bock, who is from Ecaussinnes-dinghies, Belgium, already has posted two runner-up finishes in 2023, finishing second at the Junior Orange Bowl International and the Spanish International Ladies Amateur Championship. A year ago, she captured three victories, headlined by earning medalist honors at the European Ladies Amateur Championship. De Bock also won the Belgian International Amateur and Royal Belgian Golf Federation's King's Prize tournament and finished fifth at the World Junior Girls Championship in 2022.
Since 2020, de Bock has recorded six wins and 25 top-10 finishes in 50 WAGR events. She helped Europe win the 2021 Junior Solheim Cup and represented Belgium at the 2022 World Amateur Team Championships.
De Bock is hoping to soak up the experience this week at one of the world's most famous courses located in the same state where she will play collegiately starting this fall.
"Of course, I want to get the most experience from this," de Bock said. "It's my first year, so have no expectations, but if I had an objective, it would be to play the least three putts and finish close to par. I just want to do my best and see what happens.
"It's really nice because I'm here and know I'm going to be a Bulldog next year," de Bock added. "I'm so excited because everyone are Bulldog fans here. There are so many people who are like 'Go Dawgs' already, and it makes me proud to be a future part of UGA."
All told, five Georgia Golfers have qualified for the ANWA a total of seven times in the tournament's four-year history. That ledger includes Caterina Don in both 2019 and 2021, Isabella Holpfer in 2021, Candice Mahé in 2021, Bae in 2022 and 2023, and de Bock in 2023.
Bae and de Bock are actually paired to play together in the first and second rounds. They will tee off from No. 10 at 8:42 a.m. on Wednesday along with Jennie Park, who plays for Texas A&M. Georgia head coach Josh Brewer will serve as Bae's caddy for the third time. He also was on the bag for last year's ANWA and the 2021 U.S. Women's Amateur.
New in 2023, the first and second rounds of the Augusta National Women's Amateur will be broadcast live on Golf Channel (1:30-3:30 p.m. ET) from Champions Retreat Golf Club. NBC Sports will produce and broadcast three hours (Noon-3 p.m. ET) of live final-round coverage of the event at Augusta National. Additionally, Golf Channel's "Live From the Masters" will commence on Friday, April 1 at Augusta National to provide coverage of the Augusta National Women's Amateur, the Drive, Chip, and Putt National Finals, and the Masters Tournament. Live scoring will be available via anwagolf.com.
---
Jump To Comments