Jump To Top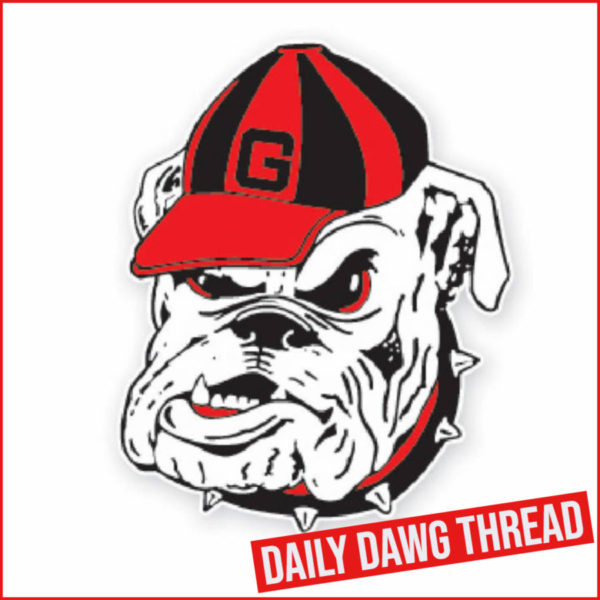 MTennis: Philip Henning clinched a 4-0 victory for the sixth-ranked Bulldogs against Florida Gulf Coast University in the first round of the NCAA tournament
Watch a fullscreen slideshow
HERE.
Georgia men's tennis fifth-year senior Philip Henning clinched a 4-0 victory for the sixth-ranked Bulldogs against Florida Gulf Coast University in the first round of the NCAA tournament at the Dan Magill Tennis Complex on Saturday afternoon.
The Bulldogs advanced to the second round of the NCAA tournament and will host the Oklahoma Sooners at 1 p.m. Sunday.
"It wasn't an easy match in any way," head coach Manny Diaz said. "We came out and we found that Florida Gulf Coast wasn't just going to roll over. They made a lot of balls. They made us work very hard. It's been a long two weeks and these guys needed this match to gain their bearings. I'm proud of how they handled the pressure."
Securing Georgia's first victory of the day, the sixth-ranked team of Ethan Quinn and Trent Bryde defeated FGCU's Randy Wilson and Magnus Johnson, 6-2. Henning and Teodor Guisca clinched the doubles point on court two, taking down FGCU's Marcelo Sepulveda and Guglielmo Stefanacci, 6-4.
In singles, Miguel Perez Peña led the way for the Bulldogs on court five, defeating FGCU's Eric Oncins, 6-1, 6-1, to increase Georgia's score to 2-0.
Despite the Bulldogs early lead, the scrappy Eagles would not go down without a fight and the remaining singles contests remained tight throughout the match.
No. 106-ranked Blake Croyder was the next Bulldog to win with a 6-3, 7-5 triumph over Stefanacci.
Court two ultimately decided the result of the match with the No. 19-ranked Henning clinching the win with a, 7-5, 6-1, victory over Sepulveda. The victory was the 101st of Henning's career.
"I feel like we played well today," Henning said. "We got off to a good start. We came out and played a very good doubles point on all three courts. Then in singles I feel like we did a good job getting momentum after the first sets. I feel happy."
The Bulldogs move on to the second round and will face Oklahoma at home at the Dan Magill Tennis Complex at 1 p.m. Sunday.
NCAA First Round Results
#6 Georgia 4, FGCU 0
Saturday, May 6, 2023 | Dan Magill Tennis Complex
Doubles Results
1. #6 Trent Bryde/Ethan Quinn (Georgia) def. Magnus Johnson/Randy Wilson (FGCU), 6-2
2. Teodor Giusca/Philip Henning (Georgia) def. Marcelo Sepulveda/Guglielmo Stefanacci (FGCU), 6-4
3. Blake Croyder/Britton Johnston (Georgia) vs. Carter Bradford/Eric Oncins (FGCU), 5-5, uf
Order of Finish: (1,2)
Singles Results
1.#2 Ethan Quinn (Georgia) vs. Magnus Johnson (FGCU) 6-4, 6-5, uf
2. #19 Philip Henning (Georgia) vs. Marcelo Sepulveda (FGCU) 7-5, 6-1
3. #113 Trent Bryde (Georgia) vs. Randy Wilson (FGCU) 5-7, 6-4, uf
4. #106 Blake Croyder (Georgia) def. Guglielmo Stefanacci (FGCU), 6-3, 7-5
5. Miguel Perez Peña (Georgia) def. Eric Oncins (FGCU), 6-1, 6-1
6. Teodor Giusca (Georgia) vs. Juan Lopez (FGCU) 7-6 (4), 1-0, uf
Order of Finish: (5,4,2)
---
WTennis: UGA swept Florida State 4-0 on Saturday evening in the 2023 NCAA Athens Regional
The third-ranked University of Georgia women's tennis team swept Florida State 4-0 on Saturday evening at the Dan Magill Tennis Complex, in the second round of the 2023 NCAA women's tennis tournament.
In doubles, Georgia (24-4, 12-1 SEC) swept Florida State (17-11, 8-7 ACC). The sophomore tandem of Dasha Vidmanova and Mell Reasco earned the first win of the day, topping Vic Allen and Ellie Schoppe 6-4, while fellow sophomores No. 25 Guillermina Grant and Mai Nirundorn clinched the doubles point with a 6-3 win over No. 55 Anna Arkadianou and Millie Bissett.
In singles play, the Bulldogs won three matches. No. 125 Kowalski defeated Alice Amendola 6-3, 6-1, on court five – this marked the graduate's 12th consecutive victory. She was followed by No. 81 Anastasiia Lopata who topped Millie Bissett 6-3, 6-3, while No. 63 Reasco clinched the match for the Bulldogs, defeating No. 124 Ellie Schoppe 6-4, 6-4.
Up next, the Bulldogs will take on the 13th-ranked Oklahoma Sooners in the round of 16 of the NCAA Tournament on Friday, May 12 in Athens. First serve is set for 5 p.m. This marks the 35th time in 38 seasons that Georgia has advanced to the round of 16.
Georgia Head Coach Jeff Wallace's Remarks
"It's nice to be in the Sweet 16, we've got a huge match coming up now. I thought Florida State played great against us. Doubles was a lot of fun, I really like how our teams are trending in the doubles court right now. One played probably their best match all year, and three was in the lead probably the whole way through, and two ended up clinching it. I liked the fact that we were up a lot on two, they came back and made it a great match, but we didn't panic. We just kept fighting and got it done there, so it was good to get up 1-0. Then, everybody's battling in singles. We got five out of six first sets, the one that we didn't get, Dasha got the second set, 6-1, so it was good to see our players fight. Meg, who was first off the court, did a great job. I thought Anastasiia really picked it up when we needed her to go in that second set with that third point. And then Mel wins the first set, gets down 4-1 in the second but finds a way to come back and fights her way to the finish for four points. It was a great match for us, Florida State's had a great year, so congratulations to them, and now we're excited about the Sweet 16, being able to play here in Athens next week. I hope that we'll get a ton of fans here."
Georgia Sophomore Mell Reasco's Remarks
On doubles match…
"I am really happy that we won doubles because we have been working all this week to improve our doubles and we did the right things in the match. So, I am really happy that we got it done."
On singles match…
"Of course, Florida State played their best, but just stayed on and I had it in the right position. The crowd helped a lot and I was really pumped about it so I just stayed positive and knew what I had to do."
On next weekend…
"I am super happy to still play here and have our last match of the season here at home. I look forward to the crowd. Hopefully, we have a good crowd like today or more. We have to do it for our seniors, and of course for Jeff."
Results
Doubles Results
1. Dasha Vidmanova/Mell Reasco (Georgia) def. Vic Allen/Elle Schoppe (FSU), 6-4
2. #25 Guillermina Grant/Mai Nirundorn (Georgia) def. #55 Anna Arkadianou/Millie Bissett (FSU), 6-3
3. Meg Kowalski/Lea Ma (Georgia) vs. Kianah Motosono/Olympe Lancelot (FSU), 5-4, unfinished
Order of Finish: (1,2)
Singles Results
1.#3 Lea Ma (Georgia) vs. #90 Vic Allen (FSU), 6-2, 1-6, 1-2, unfinished
2. #4 Dasha Vidmanova (Georgia) vs. #64 Anna Arkadianou (FSU), 5-7, 6-1, unfinished
3. #63 Mell Reasco (Georgia) def. #124 Ellie Schoppe (FSU), 6-4, 6-4
4. #81 Anastasia Lopata (Georgia) def. Millie Bissett (FSU), 6-3, 6-3
5. #125 Meg Kowalski (Georgia) def. Alice Amendola (FSU), 6-3, 6-1
6. Gigi Grant (Georgia) vs. Kianah Motosono (FSU), 6-2, 6-5, unfinished
Order of Finish: (5,4,3)
---
Baseball: Dawgs snap Vols win streak 3-1
Jarvis Evans and Chandler Marsh combined to strike out 13 in eight innings of relief to lift Georgia past Tennessee, 3-1, snapping the Volunteers' nine-game winning streak and even the series Saturday at Foley Field before a season-high 3,852 spectators.
Georgia (26-21, 9-14 SEC) was 5-for-6 in stolen bases in SEC play before Saturday and then went 6-for-7 during the contest as graduate Mason LaPlante tied a school record with four. The Bulldogs recorded 10 hits on the afternoon, with five batters tallying two hits apiece. Graduates Ben Anderson (2-for-5) and Connor Tate (2-for-2) picked up doubles, and redshirt freshman Charlie Condon slammed Georgia's only home run, his team-leading 20th.
"This was a big win, we're banged up and found a way to get a win. We got to get a hit with runners in scoring position," Georgia's Ike Cousins head baseball coach Scott Stricklin said. "Connor Tate and Charlie Condon have been really good for us. We need some other guys to step up. When that happens, it's contagious and the next guy can do it. Bottom line, we scored enough to win, and it's a big one. Hopefully we get momentum and bring it in tomorrow."
Freshman Jarvis Evans (2-0) was called from the bullpen in the first and inherited one runner after Georgia starter Charlie Goldstein exited the game early with a hamstring injury after facing the leadoff batter. Evans, who started on Tuesday and struck out a career-high six in 3.2 innings against the Owls, was even better against the Volunteers. He set a career-high with 5.1 innings and seven strikeouts before leaving with the bases loaded in the sixth. Marsh walked the first batter he faced on four pitches to make it 3-1, and then recovered to provide 2.2 scoreless innings with a career-high six strikeouts. Freshman Leighton Finley took care of the ninth for his fourth save.
The Bulldogs opened the scoring in the bottom of the first. With one out and a full count, Condon sent a single through the left side. Tate put the first run on the board with a double to center field, his 17th of the season to lead the team, driving in Condon, 1-0. In the third, Anderson led off with a single to deep left field and stole second. Condon drew a walk before both runners advanced on a wild pitch. Tate sent a sacrifice fly to center field, plating Anderson, as the Bulldogs led 2-0. Condon cranked his 20th home run of the season, this one off of Chase Dollander to tie the Georgia freshman record, to give the Bulldogs a 3-0 lead. Dollander went six innings and dropped to 5-5.
"It definitely was a wakeup call because Charlie (Goldstein) came out so early," Evans said. "Once we got in there and settled down, it was just like a regular start. It is what I am used to doing. Going into tomorrow, game three, we have to try and win the series, we are playing the best baseball we can."
Box Score
---
The Georgia women's golf team will open NCAA postseason competition Monday morning in a familiar locale – the University of Georgia Golf Course.
The Bulldogs will be among 12 teams and six individuals competing in the NCAA's Athens Regional, attempting to advance to the NCAA Championships. The 54-hole tournament will be contested from Monday-Wednesday at the UGA course. The top-5 teams and the low individual is not a member of those teams will earn bids to the national championships, which will be held May 19-24 at Grayhawk Golf Course in Scottsdale, Ariz.
Georgia, which is ranked No. 30 by both Golfweek and Golfstat, is the No. 5 seed in the tournament. Head coach Josh Brewer sees pluses and minuses to being at home.
"There's a lot of build up and anxiety at the same time because you have the pressure of getting out if you're hosting and one of the better schools," Brewer said. "You want there to be an advantage, but you also want to limit distractions. You learn from what you did at the Liz Murphey. You take the good and fix the things you can correct."
Georgia finished sixth at the 51st annual Liz Murphey Collegiate Classic in Athens in March. The tournament's final round was canceled due to inclement weather conditions.
The Bulldogs' Regional lineup will feature Jo Hua Hung, Jenny Bae, Candice Mahé, LoraLie Cowart and Isabella Holpfer, with Caterina Don serving as a potential substitute.
Georgia is looking to advance from Regionals for the third straight season.
In 2021, the Bulldogs and Bae swept the individual and team titles at the Columbus Regional before finishing 18th at the NCAA Championships.
Last spring, Georgia placed third at the Albuquerque Regional before a strong showing in Scottsdale. The Bulldogs tied for eighth in stroke play qualifying to advance to match play at the national championships for the first time since the format was introduced in 2015. Georgia dropped a 3-2 decision to Stanford, the eventual NCAA champs, in the quarterfinals to secure a fifth-place national finish. That represented the Bulldogs' best effort at the national championships since 2002.
The last time Georgia reached the national championships site three consecutive years was from 2007-09.
"We think we've figured out a formal," Brewer said. "Even though we're at home, we're keeping the same things we've done the past two years as far as three days before, two days before and one day before. Also, I think that this team has a knack. They're such great golfers, and they've displayed the ability to step up when the stakes are highest."
Brewer's goal for the Regional is for the Bulldogs to secure their first team victory of the season. Georgia finished as runner-up at the San Diego State Classic and has a pair of third-place showings. However, finishing fifth or better to advance to Scottsdale is the ultimate goal.
"You hope you don't worry about the second piece because you are trying to win a Regional, which is a big honor," Brewer said. "Also, you have to battle all the way through because at the end of the day, fifth is the same as first when you tee it up at the national championships."
Georgia will be paired with fourth-seeded Ohio State and sixth-seeded Maryland on Monday, teeing off from hole No. 10 in 11-minute intervals from 8:00-8:55 a.m. The Regional's top-3 seeds – South Carolina, San Jose State and Ole Miss – will tee off at the same time as Bulldogs, Buckeyes and Terrapins from hole No. 1.
The other six schools in the field, in seeded order, are Kent State, Charleston, Kansas, Furman, Augusta and Sacred Heart. The individuals competitors are led by Tulane's Carla Bernat, who is ranked No. 15 nationally by Golfstat.
The Bulldogs' Lineup
1. Jo Hua Hung – 5-4; Super Senior; New Taipei City, Taiwan; Chih Ping Senior High School
• Qualified for 2021 U.S. Open
• Opened 2023 slate by winning Lady Bulldog Individual Championship
• Top-20 finisher in all 5 tournaments during 2023
• UGA's top individual at the Cougar Classic, Lady Bulldog & SECs
2. Jenny Bae – 5-3; Super Senior; Suwanee, Ga.; Collins Hill High School
• Runner-up at 2023 ANWA
• Shot school-record 16-under to win Illini Invitational in the fall
• With 20 par-or-better rounds, two shy of UGA record
• 3-Time SEC Golfer of the Week this season (Oct. 13, Oct. 27 & April 5)
3. Candice Mahé – 5-8; Senior; Gourin, France; Lycee Sainte Jeanne D'Arc
• Top-10 finisher in 3 NCAA events – 5th at 2021 Regional, 3rd at 2022 Regional and 6th at 2022 NCAAs
• Defeated Rose Zhang in 2022 NCAA match play quarterfinals
• Competed in the 2021 ANWA
• Won 5 tourneys between 2015-19
4. LoraLie Cowart – 5-4; Sophomore; Carrollton, Ga.; Carrollton High School
• Competed in 7 tourneys as a sophomore, including six individually
• Represented UGA at the 2022 NCAA Albuquerque Regional and NCAA Championships
• Won the 2020 National High School Golf Association Invitational
5: Isabella Holpfer – 5-7; Junior; Vienna, Austria; HAK Stegersbach
• Played for Austria in the 2022 World Amateur Team Championships
• Placed 14th at the European Nations Cup – Copa Sotogrande in April
• Qualified for the 2021 ANWA
• Runner-up at the R&A Girls Amateur in both 2018 & 2019
SUB: Caterina Don – 5-6; Senior; Pinerolo, Italy; Istituto Maria Immacolata in Scuola Paritaria DM
• Earned 2nd collegiate victory at 2023 San Diego State Classic
• Shot a UGA-record 8-under 64 at 2021 Heroes Intercollegiate
• Won 2022 Joel Eaves Award for top GPA among UGA's female student-athletes who are seniors
Live Scoring
Click HERE
---
Jump To Comments