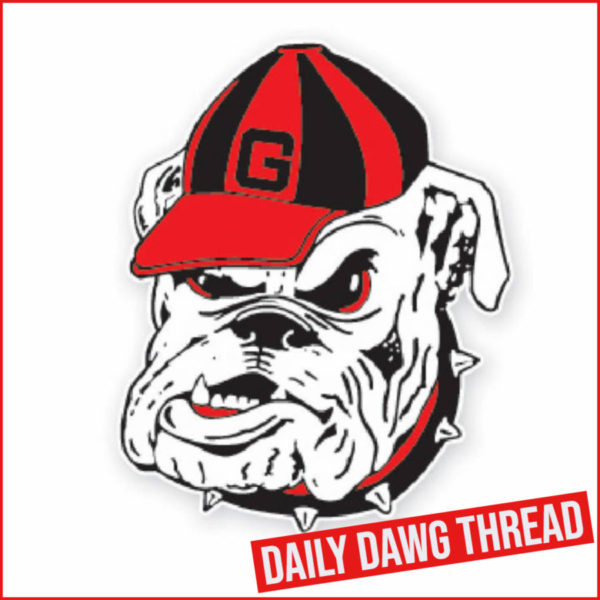 ---
BASEBALL: Dawgs Try To Avoid Sweep Today
Top-ranked Tennessee clinched a share of the SEC title after posting a 9-2 win over No. 22 Georgia Friday in front of a crowd of 4,420 at Lindsey Nelson Stadium.
The Volunteers improved to 45-6 overall and clinched at least a share of the SEC title with a 22-4 mark. If the Razorbacks (36-12, 16-8 SEC) don't win Friday, the Volunteers will capture the league title outright.
Georgia (32-18, 13-13 SEC) grabbed a 1-0 lead in the first courtesy of a solo home run by graduate Cole Tate (2-for-4, RBI). It was his second blast of the series and fourth of the year. He would lead off the third with a base hit and make it to third with one out before UT right-hander Blake Tidwell pitched out of trouble to keep it a 1-0 contest. UT surged ahead with a three-run outburst in the fourth off junior Jonathan Cannon. Jorel Ortega tied the game with a run-scoring double, and with two outs, catcher Evan Russell made it 3-1 with a his 11th home run of the season.
The Volunteers went to the bullpen, bringing in senior Camden Sewell to start the fifth. The Bulldogs loaded the bases with two outs and managed to cut it to 3-2 on a walk to Corey Collins but then left them loaded. UT answered quickly as Luc Lipcius smacked his 12th home run to start the bottom of the fifth to make it 4-2. A run-scoring single by Ortega extended the lead to 5-2 when Georgia made the move to the bullpen and brought in freshman Chandler Marsh. He would strike out a pair with the bases loaded but also issue one walk for a 6-2 deficit. UT would add a pair in the sixth and one in the seventh for the final. Georgia's Connor Tate finished 3-for-4 with a run scored.
Cannon dropped to 9-2 after having won his previous seven starts heading into the game with the Volunteers. On Friday, he surrendered six runs on 10 hits with five strikeouts over 4.1 innings. Marsh struck out a career-high five over 1.2 innings and allowed two runs on two hits with three walks. Sophomore Will Pearson took care of the final two innings for the Bulldogs and allowed a run on Russell's second home run of the game. Sewell improved to 5-1, tossing three innings and allowing a run on three hits. Bulldog freshman Coleman Willis pitched a scoreless inning with two strikeouts.
"They had a really good approach and got his (Cannon's) pitch count up, and they finally got to him," said Georgia's Ike Cousins head baseball coach Scott Stricklin. "He didn't locate as well as he normally does. They had a lot of really good at bats against him."
The series concludes Saturday with first pitch set for 1:02 p.m. The game will be available on SEC Network+, and the Georgia Bulldog Sports Network.
---
WTENNIS: Duke Stops UGA in NCAA Tournament
The 13th-ranked University of Georgia women's tennis team fell to the fourth-ranked Duke Blue Devils 4-1 Friday afternoon, in the round of the NCAA women's tennis tournament. The Bulldogs finish the season with a 19-7 record, including 10-3 in SEC play. The 2021-22 season marked the 35th-consecutive NCAA Tournament appearance for the Bulldogs and the 34th trip to the round of 16 under Coach Wallace.
"I thought we came and played some really aggressive tennis," said Georgia head coach Jeff Wallace. "We played with a lot of big heart, it just wasn't meant to be today. We had an opportunity in doubles and just didn't convert that. We will get better there next year. I'm excited about Morgan (Coppoc) and Alee (Harris) and the careers that they have had. We are all thinking about them right now, but we will be back."
In doubles, Georgia (19-7) dropped two of three to Duke (22-3). The freshmen duo of Mell Resco and Dasha Vidmanova dropped the match on court two, to No. 49 Chloe Beck and Elizabeth Coleman 6-3. The Bulldogs responded with a win on court one, No. 20 Morgan Coppoc and Ania Hertel defeated No. 17 Georgia Drummy and Karolina Berankova 6-3. The doubles point came down to court three, where Guillermina Grant and Meg Kowalski fell to Margaryta Bilking and Eliza Omirou 6-4.
In singles play the Bulldogs' lone win came from Hertel. Hertel cruised to a 6-1, 6-3 victory over Margaryta Bilking to put Georgia on the board. The Bulldogs dropped matches on courts one, two, and three. No. 17 Reasco fell to No. 9 Chloe Beck 6-3, 7-5, while Coppoc dropped a straight-set decision to Emma Jackson 6-0, 7-5. The Blue Devils clinched the match on court two. No. 99 Vidmanova fell to No. 14 Georgia Drummy 4-6, 7-5, 6-3
Up next, No. 17 Reasco and No. 20 Coppoc and Hertel will compete in the NCAA Individual Championships in Urbana-Champaign, Ill. May 19-28.
---
SOFTBALL: Four Dawgs Named All-SEC
A total of four University of Georgia softball student-athletes have been named to the All-Southeastern Conference Softball Teams, the league announced Friday.
Junior Sara Mosley, senior Lacey Fincher, and sophomore Jayda Kearney were tabbed All-SEC First Team while junior Sydney Kuma earned All-SEC Second Team honors. Four All-SEC performers is the most for the Georgia Bulldogs since the same amount in 2018.
"I could not be happier for Jayda, Lacey, Sara, and Sydney to be recognized by the league for the season they have had," said head coach Tony Baldwin. "Each one of them have their own stories that make them unique. They are a true joy to coach. They are competitors and represent all that Georgia Softball is all about."
The All-SEC Teams consist of 21 student-athletes on the First Team, 21 student-athletes on the Second Team, and a nine-member All-Defensive Team. No ties were broken.
Mosley, a native of Elijay, Georgia, led all Conference hitters in 2022 with a .470 batting average. She finished top five in hits (31), slugging (.833), and on-base percentage (.533) in SEC action. She recorded six multi-hit games in SEC play with five of two-or-more RBI. While her 15-game SEC hit streak was broken against Auburn, Mosley was on base in all 20 games she appeared in. She finished the season with a hit in every Conference game except one. On the season, Mosley hit .425, scattering a team-best 68 hits including 16 home runs with 10 doubles, driving in 51 runs. This is Mosley's first postseason SEC award.
Fincher, who hails from Tanner-Williams, Alabama, concluded the 2022 SEC schedule as one of the top sluggers in the Conference along with Mosely. Her nine home runs finished third while she finished top 10 in RBI (22), runs scored (20), batting average (.362), and slugging (.826). Fincher led Georgia with 10 multi-hit SEC games and seven multi-RBI performances. On the season, Fincher hit .355 with 16 home runs. Fincher was a member of the 2019 SEC All-Freshman Team.
Kearney, from Columbus, Jew Jersey, was Georgia's top run producer in Conference action this season, driving in 24 runs with eight home runs against SEC opponents. Six times she drove in multiple RBI including four-plus twice. She joined Mosley with six multi-hit games. On the season, Kearney hit .368 with 15 home runs and led the team with 54 RBI. Kearney was a member of the 2021 SEC All-Freshman Team.
Kuma, a native of Fresno, California, concluded the SEC season with a .324 average with 24 hits including six home runs, driving in 16 runners. She finished tied for fourth with 22 runs scored against Conference opponents. On the season, Kuma hit .353 with 12 home runs, 38 RBI, and a team-best 11 doubles with 51 runs scored. She made the most starts on the team (54), starting all but one game at second base. Kuma was a member of the 2021 SEC All-Newcomer Team.
The NCAA Softball Tournament Selection Show will air Sunday at 7 p.m. on ESPN2. The Bulldogs will hear its name called for the 20th-consecutive season.
---
MGOLF: Trent Phillips, Maxwell Ford, and Connor Creasy Receive Postseason SEC Honors
Georgia golfers Trent Phillips, Maxwell Ford, and Connor Creasy have received postseason honors from the Southeastern Conference, according to an announcement Friday by the league office.
In voting among the conference coaches, Phillips was chosen First-Team All-SEC, Ford was picked for the All-Freshman Team, and Creasy was named to the Community Service Team.
Phillips, a senior from Inman, S.C., became the first player in school history to garner First-Team honors all four seasons. He also joined Harris English, Russell Henley, and Brendon Todd as the only Bulldogs to be named All-SEC four times. Phillips leads Georgia and ranks fifth in the SEC with a scoring average of 69.63. He has a win and six additional top-10s this season, giving him three victories and 24 top-10s (third in school history) for his career. Phillips is No. 5 in the PGA Tour University Velocity Global Ranking and No. 11 in the World Amateur Golf Ranking. He was a finalist for the Byron Nelson Award and is on the watch lists for the Ben Hogan Award and the Haskins Award.
Ford, a native of Peachtree Corners, Ga., owns a scoring average of 71.52 and has two top-10s and two more top-20s this season. He came in second in the Puerto Rico Classic, where he set career marks for the finish, round (6-under 66), and tournament (16-under 200). His 16-under ranks third-best in school history. Ford garnered SEC Freshman of the Week honors three times during the regular season. He represented the Bulldogs in the Patriot All-America, where the players carry a bag that includes the name and branch of service of a fallen or severely wounded soldier.
Creasy, a junior from Abingdon, Va., served on Georgia's Student-Athlete Advisory Council this year. He participated in community service projects for the Food Bank of Northeast Georgia, the United Way of Northeast Georgia, Extra Special People, and Special Olympics. Creasy appeared in the Williams Cup and the Southwestern Invitational in the lineup and in the Puerto Rico Classic and the Linger Longer Invitational as an individual. He matched his career lows with a 4-under 68 and a 7-under 209 in the Puerto Rico Classic.
The Bulldogs will return to action Monday through Wednesday in the NCAA Regional at Traditions Club in Bryan, Texas.
---
Jump To Comments