Jump To Top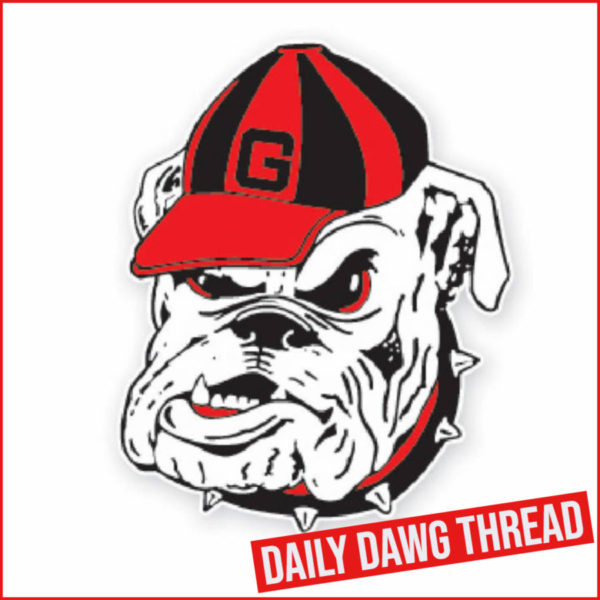 Softball Regional Highlights: UGA bombs North Carolina Central 12-0 in five innings
Watch a fullscreen slideshow
HERE.
Georgia improves to 40-13 on the season. The Bulldogs will take on Virginia Tech Saturday at 1 p.m. at Jack Turner Stadium. The winner will earn a spot in Sunday's regional championship game while the loser will face Boston University or NC Central at approximately 6 p.m. in the elimination bracket.
The no-hitter is the fourth in the NCAA Tournament history of the Bulldogs' program. The last was May 19, 2014, in Athens against NC State by current assistant coach Chelsea Wilkinson.
Shelby Walters, Madison Kerpics (18-6), Riley Orcutt, and Kylie Macy combined for the no-no. Kerpics, Orcutt, and Macy each tallied two strikeouts.
At the plate, Dallis Goodnight, Sara Mosley, and Sydney Chambley all had two hits. Chambley drove in five runs while Goodnight tallied three. They each knocked a home run in the game.
A 12-run first inning put the Bulldogs way out in front. The scoring started on an RBI single from Mosley to put Georgia on the board, 1-0. With bases loaded, Chambley knocked a grand slam, the second of her career, to go up 5-0. After an RBI hit from Jaiden Fields, Goodnight knocked her second home run of the season to widen the lead to 9-0. Back-to-back RBI hits from Mosley and Sydney Kuma followed by a sac fly from Chambley completed the 12-run first inning.
The Eagles (19-34) held the Bulldogs scoreless the remainder of the game as Georgia's staff combined to secure the no-hitter in five innings, 12-0.
Interviews:
Georgia Head Coach Tony Baldwin
Opening Statement…
"I'm just proud of the way that we came out and competed right at the beginning. I feel like it's been forever since we played a game, but we've had some really good practices. I thought they carried that into that first inning there in particular, and we started off really sharp with the bats. First no hitter I believe, since maybe 2014, and I think Chelsea Wilkinson, our pitching coach, was the last one to throw a no hitter for us in the postseason, so that's kind of cool. It was, I think, on this exact day, too. So, all in all, a really good game."
On what can be expected from Virginia Tech tomorrow…
"They have a really good team. They have a couple of different looks from the pitching staff. Offensively, you know that they're going to put hits together. We have to keep them in the yard. We've got to keep free bases to a minimum and, at the end of the day, we just have to go compete. That's what we can control. If we go and we're the best version of ourselves and we're letting it rip and competing with energy, connected, doing the things that are important to us, I like our chances against anybody. If you do that and you come up short, then you can tip your hat to those teams. But tomorrow we're going to come out and get after it and compete and try and do the things that we've done in practice this week and go get after them and see what happens."
Georgia Junior Sydney Chambley
On the offensive explosion in the first inning…
"I think something that we value is trusting our training and just going in the game and having fun and letting what we've worked so hard to do, just kind of letting it rip and come out naturally. I'm just proud that we did that very well, just trusting our training and keeping it simple and playing the game that we love to play."
Georgia Senior Sara Mosley
On scoring 12 runs in the first inning after struggling offensively in the SEC tournament…
"We worked our butts off this week in practice. We had a hard week of practice and that's just paying off, and we've just been so excited to play. Like [Coach Tony Baldwin] said, it feels like it's been forever since we've played, so just being out on the field one more time is just so fun."
Box Score
---
WGolf: UGA fired its best round ever in NCAA Championships competition on Friday, Bulldogs in second place
Led by a trio of under-par individual efforts, the Georgia women's golf team fired its best round ever in NCAA Championships competition on Friday. The 2-under 286 placed the Bulldogs second among the 15 teams that competed in the day's morning wave at Grayhawk Golf Club.
"I'm pleased and as we said last week at Regionals 'not bad,'" quipped head coach Josh Brewer. "You've got to be happy, but you also sense a little frustration because I feel like we could have maybe even taken it deeper. But that's probably being greedy. It's a long week and we played lot of good golf, so it's a good position to be in."
Jenny Bae's 2-under 70 and a pair of 1-under 71s from LoraLie Cowart and Jo Hua Hung paced Georgia on Friday. The Bulldogs' previous NCAA Champions record was a pair of 1-unders – a 287 in the final round in 1992 and a 295 on a par-74 layout in 1988.
Georgia also counted a 74 from Isabella Holpfer while discarding a 75 by Candice Mahé.
The Bulldogs teed off from No. 10 and played the back side of the course first on Friday
Bae, who recorded her school-record 24th par-or-better effort in 33 rounds this season, began with a quartet of pars before birdies at No. 14 and No. 18 moved her to 2-under at the turn. Following a bogey at No. 1, she birdied No. 4 and No. 7 to move to 3-under before giving one of those strokes back with a bogey at No. 9.
Cowart, who didn't shoot par or better in 29 regular-season rounds, notched her second red number is four NCAA tournament loops this spring. She chipped in from the bunker at No. 10 to open the day and went on to birdie No. 11 and No. 13 to move to 3-under through four holes. Cowart eventually finished at 1-under, following bogeys at No. 1 and No. 5.
"That was almost a fried egg up against the lip, but it kind of hit soft and went in the hole," Cowart said. "It was really exciting. (Assistant coach) Ember (Holloway) was back in the fairway, and I could hear her scream. It was just exciting to start that way. It let me know that, even though the shot from the fairway on 10 went right, I was hitting the ball well and it was going to be a good day. Golf is like 'Hey. It's your day.' When things are going your way, you run with it. I feel like I did."
Conversely, Hung struggled early before finding her footing. She birdied No. 11 but then went double-bogey, bogey to fall to 2-over through four holes. Hung regained one of those strokes with a birdie at No. 17 and pulled back to even with another at No. 2. She closed the day with a 30-foot birdie putt at No. 9 to record her 15th par-or-better round of the season.
"I had an early birdie on No. 11, but then I had a double so it kind of messed up my routine," Hung said. "In the middle of the round, I was trying to get my rhythm back. Somehow I found my tempo so I was able to shoot under par on the back nine. I'm glad I did a good job with that.
"There's definitely a lot of self talk on the course," Hung added. "Going double-bogey and bogey after that hurts your score. At the same time, I just tried to tell myself that we've only played four holes and there's a lot of golf left. I just tried to focus on each shot and stick with my routine. I think by doing that, that helped me get back to my rhythm."
Oklahoma State grabbed the early lead with an 8-under 280, led by the low loop of the morning, a 6-under 66, from Maddison Hinson-Tolchard. Following the Bulldogs and rounding out the top-10 teams in the morning were New Mexico at 287, Duke at 288, SMU and Texas Tech at 291, Arizona at 292, Michigan State and TCU at 293 and Augusta at 296.
Georgia will again be paired with Michigan State and Texas Tech for the second round. After playing in the morning on Friday, the Bulldogs, Spartans and Red Raiders will tee off in the afternoon on Saturday, opening at No. 1 in 11-minute intervals between 3:25-4:09 p.m. ET. Live scoring is being updated on a hole-by-hole basis at golfstat.com.
"I want the break," Brewer said. "I feel like we need the rest because it's been a long couple of days with early tee times. We'll go back and enjoy a nice dinner and not feel rushed to do everything. I'm happy for the girls, and hopefully we'll be able to continue this momentum tomorrow."
Friday''s First-Round Morning Wave Standings
Team Leaderboard
Oklahoma State 280
Georgia 286
New Mexico 287
Duke 288
SMU 291
Texas Tech 291
Arizona 292
Michigan State 293
TCU 293
Augusta 296
Oregon State 297
Virginia 298
Clemson 299
Tulsa 301
N.C. State 305
Individual Leaderboard
Madison Hinson-Tolchard, Oklahoma St. 66
Shannon Tan, Texas Tech 68
Rina Tatematsu, Oklahoma St. 68
Pimmada Wongthanavimok, Arizona 69
Jenny Bae, Georgia 70
Amanda Sambach, Virginia 70
Erica Sheperd, Duke 70
Lauren Zaretsky, Texas Tech 70
Lisa-Marie Pagilano, New Mexico 70
LoraLie Cowart, Georgia 71
Jo Hua Hung, Georgia 71
Additional Georgia Scores
Isabella Holpfer 74
Candice Mahé 75
---
MTennis: UGA took the doubles point and won at two of the top three singles courts, but it was not enough in a 4-3 loss to No. 3 Ohio State
Georgia ends the season with a 23-7 record after going a perfect 12-0 during the Southeastern Conference campaign. The Bulldogs made the NCAA quarterfinals for the 27th time in 35 years under head coach Manuel Diaz.
"This university is very proud of all of our guys," Diaz said. "We saw incredible enthusiasm and great crowds, with a lot of students coming out to our matches. We can be very proud of what we have accomplished, but we always want more. Today, the day belongs to Ohio State."
Georgia seized the early advantage, going up a break at all three doubles courts. The Bulldogs never relinquished the advantage as Blake Croyder and Britton Johnston finished first with a 6-3 victory against JJ Tracy and Cannon Kingsley.
Moments later, Georgia's No. 6-ranked tandem of Trent Bryde and Ethan Quinn clinched the doubles point with a 6-3 triumph over the No. 21-ranked duo of Justin Boulais and Robert Cash.
It marked the eighth-straight match Georgia has won the doubles point dating back to April 14.
Up 1-0, Georgia lost four first sets in singles to give Ohio State some momentum. No. 34-ranked James Trotter won his 27th-straight match of the year at the No. 4 spot to even things up at 1-1.
Quinn, Georgia's top singles player and No. 2-ranked nationally, was dominant in his 11th consecutive victory — this time taking down No. 24 Justin Boulais, 6-4, 6-2. Following Giusca's loss at No. 6, Bryde posted another straight-set triumph for the Bulldogs, ousting No. 22-ranked JJ Tracy, 6-4, 6-3 to put Georgia up 3-2.
Georgia was locked in tight battles at No. 2 and No. 5. Henning was up 40-30 at 5-all in the second set, but No. 11-ranked Cannon Kingsley stormed back to take the 6-4, 7-5 win.
That set up a winner take all match on court five, where Miguel Perez Peña led 5-2 in the second set, but lost five games in a row to fall 6-4, 7-5.
"We played a great doubles point and came out with great energy," Diaz added. "I couldn't have asked for more. We got off to a great start in singles. Ethan was incredible, and Trent played probably one of his better matches all year. Have to give credit to Ohio State. They hung tough and won some close first sets to get some momentum."
Tennis Match Results
Singles Results
1. #2 Ethan Quinn (UGA) def. #24 Justin Boulais (OSU) 6-4, 6-2
2. #11 Cannon Kingsley (OSU) def. #19 Philip Henning (UGA) 6-4, 7-5
3. #113 Trent Bryde (UGA) def. #22 JJ Tracy (OSU) 6-4, 6-3
4. #34 James Trotter (OSU) def. #106 Blake Croyder (UGA) 6-2, 6-2
5. #41 Alexander Bernard (OSU) def. Miguel Perez Pena (UGA) 6-4, 7-5
6. Jack Anthrop (OSU) def. Teodor Giusca (UGA) 6-4, 6-0
Doubles Results
1. #6 Trent Bryde/Ethan Quinn (UGA) def. #21 Justin Boulais/Robert Cash (OSU) 6-3
2. Philip Henning/Teodor Giusca (UGA) def. #16 James Trotter/Andrew Lutschaunig (OSU) 5-3
3. Britton Johnston/Blake Croyder (UGA) def. Cannon Kingsley/JJ Tracy (OSU) 6-3
Order of finish: Doubles (3,1); Singles (4,1,6,3,2,5)
---
WTennis: Another trip to the NCAA semifinals brings to a close Jeff Wallace's remarkable 38-year tenure leading the Bulldogs' women's tennis program.
The 2023 Southeastern Conference Tournament Champions fell to No. 1 North Carolina, 4-0, Friday evening at the USTA National Campus. Georgia ends the season with a 26-5 overall record, while UNC improves to 34-1.
Wallace, who announced earlier this month he will retire at the end of the 2022-23 season, wraps up his head coaching career with an overall record of 818-199 (.804). As the only women's tennis head coach to be named National Coach of the Year on four occasions, Wallace led Georgia to six national championships, 14 NCAA semifinal appearances, and 20 Southeastern Conference titles.
"This team is very special," Coach Wallace said. "When it's your last year to coach, you want to go out with a special group. The thing I'll think back to when remembering this team is just how much heart they played with. Just the heart they brought to the courts each day and the fight they brought, the determination. You don't finish first, second or third in the three biggest tournaments without them bringing that energy to everything that we're doing. I'm really proud of this team and really excited.
"When you coach 38 teams, all 38 teams are different in their own unique way. I'm very proud. We came here thinking, 'Hey, we can win this thing.' That was in our mind. We didn't come here and think, 'Let's just get to this round.' We came here to win this thing. That was our mission, that was our goal, unfortunately, we didn't accomplish it, but it wasn't from lack of belief, lack of work, lack of desire, lack of heart or anything like that. For me, this is it. I'm going to ride off into the sunset. It's kind of appropriate that my wife is sitting in the room back there. I'll get to spend the rest of my life with her – how exciting is that? I've got two great kids and four great grandkids."
Losses at the top two doubles courts put Georgia behind early. The Bulldogs' No. 1 duo of Dasha Vidmanova and Mell Reasco fell 6-1 before the No. 2 tandem of Gigi Grant and Mai Nirundorn lost 6-2.
In singles, Georgia lost at courts one, three, and five as North Carolina tallied a trio of straight-set victories to earn the 4-0 win.
The Bulldogs won a pair of first sets, highlighted by Meg Kowalski's 6-3 advantage against Reilly Tran. The All-SEC performer ends her career with 111 singles victories and 96 doubles wins.
"Drake and Jeff mean the world to me," Kowalski said. "It's been the best five years of my life. I know Jeff said six – it feels like I've been here for 15 years – but it's been the best five years ever. I've definitely excelled on the court and become a better player, but walking out these doors today, I know I am a better person and its because of my incredible mentors and the family I've gotten at UGA."
Georgia's dual-match season ends with plenty to brag about for both programs. Perhaps most notable is that the University of Georgia is the only school in the country to have its men's team reach the NCAA quarterfinals and its women's program make the NCAA semifinals.
Match Results
#1 North Carolina 4, #3 Georgia 0
Singles Results
1. #8 Reese Brantmeier (NC) def. #3 Lea Ma (UGA) 6-2, 6-4
2. #38 Anika Yarlagadda (NC) vs. Guillermina Grant (UGA) 4-0, unfinished
3. #1 Fiona Crawley (NC) def. #4 Dasha Vidmanova (UGA) 6-1, 6-2
4. #28 Carson Tanguilig (NC) vs. #63 Mell Reasco (UGA) 2-6, 6-0, 4-1, unfinished
5. #107 Elizabeth Scotty (NC) def. #81 Anastasiia Lopata (UGA) 6-4, 6-4
6. #100 Reilly Tran (NC) vs. #125 Meg Kowalski (UGA) 3-6, 5-4, unfinished
Doubles Results
1. Fiona Crawley/Abbey Forbes (NC) def. Mell Reasco/Dasha Vidmanova (UGA) 6-1
2. Elizabeth Scotty/Carson Tanguilig (NC) def. #25 Guillermina Grant/Mai Nirundorn (UGA) 6-2
3. Reese Brantmeier/Reilly Tran (NC) vs. Meg Kowalski/Lea Ma (UGA) 3-4, unfinished
---
Baseball: Fifth-ranked LSU clinched the final SEC series of the regular season with an 8-4 win over Georgia Friday evening at Foley Field
Fifth-ranked LSU clinched the final SEC series of the regular season with an 8-4 win over Georgia Friday evening at Foley Field before 3,725 spectators.
"We hung in there," Georgia's Ike Cousins Head Baseball Coach Scott Stricklin said. "The bullpen did a nice job. Zach DeVito, Collin Caldwell and Dalton Rhadans kept us there. We made it 8-4. Will David hits a ball to the wall, and it is almost 8-7. We gave ourselves a chance at the end, but it is really tough when you give up that many runs early."
Georgia's (28-26, 10-19 SEC) offense was powered by a pair of home runs by juniors Parks Harber and Sebastian Murillo. For Harber, it was his 18th of the year, while Murillo now has two in the series to give him six for the season. Harber put the Bulldogs on the board in the bottom of the first with a two-run home run as redshirt freshman Charlie Condon was on after getting hit by a pitch. The Tigers answered back in the fourth with three runs to take the lead. Josh Pearson was walked with bases loaded to score Cade Beloso. An RBI-run single by Dylan Crews and a sacrifice fly RBI from Tommy White gave LSU (42-12, 19-9 SEC) a 3-2 lead.
Georgia starter Charlie Goldstein (3-2) worked four and one-third innings, allowing five runs off six hits with two strikeouts before reliever Kyle Greenler took the mound in the fifth. LSU added three runs to its lead in the fifth, using a sacrifice fly with bases loaded to score Beloso. The Tigers followed up with a two-run single by Pearson for a 6-2 advantage.
White connected for his 18th home run of the season to start the sixth. Hayden Travinski followed with a home run to extend LSU's lead to 8-2. Georgia cut the Tigers' lead in the seventh with a pair of runs. Junior Fernando Gonzalez reached on a fielder's choice before Murillo cranked his second home run to bring Georgia to within four at 8-4.
LSU's starter Ty Floyd (7-0) maintained his perfect record, registering his seventh win of the season after tossing seven frames, allowing four runs on five hits with seven strikeouts.
DeVito provided two scoreless innings of relief while Caldwell went 0.2 innings, and Rhadans pitched the final frame as they combined for 3.2 shutout innings.
The series finale will be played on Saturday. Georgia will honor nine Bulldogs as part of Senior Day at 12:45. First pitch is slated for 1:02 p.m. The game will be live on SEC Network+ and the Georgia Bulldog Sports Network.
Box Score
---
Jump To Comments