Jump To Top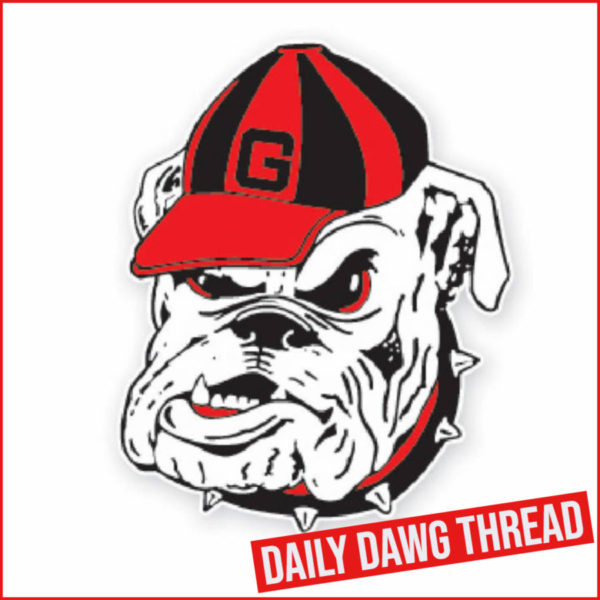 Softball Regional: Dawgs continue to blast home runs, beating Virginia Tech 8-3. Regional final is this afternoon
Georgia improves to 41-13 and have earned a spot in Sunday's Regional final in Athens. First pitch is set for 12 p.m. Georgia's opponent is TBD.
The offense scattered seven total hits, five going for extra bases in the contest. Seven different hitters combined for the seven hits with Jayda Kearney, Sara Mosley, Sydney Chamlbey, and Jaydyn Goodwin all leaving the yard on Saturday.
Madison Kerpics (19-6) worked five innings in her start, allowing two runs on four hits. She struck out one and walked one. Shelby Walters pitched two innings out of the pen, surrendering one run on two hits with a strikeout.
Goodwin put the Bulldogs in front in the third, sending the first pitch of the inning over the wall in center, 1-0 Georgia. The shot was her sixth home run of the season.
Virginia Tech's (38-19) Emma Ritter knocked a two-out, two-run home run in the fourth to go ahead 2-1 on Georgia.
The Bulldogs responded with four runs in the home half of the inning. With two on and one out, Sydney Kuma drove in pinch runner Hayley Eaton on a double off the wall in right-center to tie the game, 2-2. The next batter, Chambley, blasted her second home run of the Regional, a three-run shot, to put Georgia back in front, 5-2, after four innings. The home run tipped the double-digit mark for Chamlbey on the season at 10.
A two-run moon shot over the bleachers in center off the bat of Kearney lengthened Georgia's lead to 7-2 in the fifth. Mosley followed with a solo home run of her own, Georgia's fourth of the game, to bring the Bulldog lead to 8-2.
Virginia Tech got one back in the top of the sixth on an RBI groundout, 8-3.
Walters retired the Hokies in order in the seventh en route to securing the victory for Georgia.
Video Highlights
Box Score
Postgame Quotes
Georgia Head Coach Tony Baldwin
Opening Statement…
"Virginia Tech is a really good offensive team. I thought Chelsea [Wilkinson] and Madison [Kerpics] were really on point, a lot of soft contact. Didn't get as many swing and misses as [Kerpics] might normally, but I thought she commanded the ball really well. She made one mistake in five innings of pitching. That's pretty good against a really good offensive team. Shelby [Walters] came in, and I thought that second inning really looked like herself. She commanded the ball very well. Defensively, I thought we were really sharp. I just think that we had a really good week of practice. The girls worked hard. I think some of the time off that we've had over the course of season, whether it be a rain out here or bye weekend there, gave us an opportunity to go to work and practice hard leading up to the regional. I felt really proud of the way the hitters carried that into today."
On the plan defensively going into today's matchup against Virginia Tech…
"Limit the free opportunities was the first thing. I think if we can keep count leverage against them, that helps us apply a lot of pressure on them. Then, just do what we do. We can't get out of our place. You can't get to the postseason and then try and be a different person or different player. We have a good team. Virginia Tech has a good team, so it was just going to be about who could execute their stuff better. We were able to do that today, but we haven't accomplished anything. It's just part of the weekend. We got the better end to this one, but it's a long way to go."
Georgia Junior Sydney Chambley
On the offensive success the team found against Virginia Tech pitcher Emma Lemley…
"I think like Coach Tony said, we're just trusting our training. I think the preparation and the work that we've done going into the week and just what was to come. We just did a really good job of being competitive and trusting our zone that we're working with, so that, in the long term, paid off. Even if wasn't, we still just trusted the process."
Georgia Junior Jayda Kearney
On what makes this team so good…
"I think it's how much we love each other. We get so excited anytime anyone succeeds, and we do our best to keep pushing each other to succeed as much as possible. We pick each other up, and it helps with the chemistry on the field." 
Photos
---
Baseball: UGA grabs an SEC Tournament spot with Saturday's win over LSU
Georgia defeated fifth-ranked LSU 9-5 Saturday in front of a Foley Field crowd of 3,789 to clinch a spot in the SEC Tournament on Senior Day.

"Today we knew that we controlled our own destiny, as far as getting to play another day," Bulldog redshirt freshman Charlie Condon said. "We win. We take care of business. We get to play on Tuesday now, and that is big time."

Georgia (29-26, 11-19 SEC) got home runs from Connor Tate and Condon as part of a 12-hit attack to defeat the Tigers (42-13, 19-10 SEC). The Bulldogs will either be the 11th or 12th seed, depending on how Missouri fares against No. 19 Auburn Saturday. If Missouri wins, it will be the No. 11 seed, and the Bulldogs will be the 12th seed. The 11th seed plays the sixth seed on Tuesday at 10:30 am ET. The 12th seed faces the fifth seed in the final game of the day Tuesday, which is usually no earlier than 9 p.m. ET. The SEC Tournament bracket will be released late Saturday.

On Saturday, Tate's home run was his 16th of the year and the 100th for the Bulldog this season. In the fourth, Condon cranked his 25th home run of the season to put the Bulldogs in front 6-2. Condon has hit at least one home run in all 10 SEC series this season and holds the SEC freshman record for most home runs in a season.
LSU took a two-run lead in the first from a Tre' Morgan home run, his seventh of the year.. The Bulldogs evened the game in the second with a pair of runs. Back-to-back singles from junior Parks Harber and graduate Will David set up an RBI single from junior Fernando Gonzalez. With David on third, an error by the Tigers' third baseman Tommy White allowed him to tie the game. Tate put Georgia in front when he smashed a 3-1 offering for a 3-2 advantage. The Bulldogs extended their lead with three runs in the fourth. A sacrifice fly from graduate Ben Anderson scored junior Sebastian Murillo. Graduate Mason LaPlante was in scoring position on third as Condon launched Georgia's second home run of the afternoon.
The Tigers got a solo home run by Cade Beloso in the sixth. Georgia starter Liam Sullivan earned the win, going 5.1 innings and allowing three runs on three hits with five strikeouts. LSU starter Javen Coleman dropped to 1-2, surrendering four runs on four hits over three innings.
With two Tigers on base in the sixth, Brayden Jobert swiped home as part of a double steal to put LSU within two at 6-4. Georgia answered back in the bottom of the frame as Harber drew a walk with bases loaded to advance Anderson and extend the Bulldogs' lead back to 7-4. White connected for the Tigers' third home run of the afternoon in the top of the seventh. A Georgia rally in the bottom of the frame resulted in two runs. Sophomore Dwight Allen II reached on a fielder's choice as freshman Josh Tate went home. Anderson then stepped to the plate and send his second double of the game to left field, scoring LaPlante to give Georgia a four-run lead at 9-5.
After Chandler Marsh provided a scoreless frame and Collin Caldwell recorded a huge strikeout with the bases loaded in the ninth, senior Nolan Crisp was called in to get the final out as the Tigers left them loaded. For Crisp, it was his second save.
"Play one more day," Georgia's Ike Cousins head baseball coach Scott Stricklin said. "We get a chance to play on Tuesday. You win that then you get two more. This team is more than capable of making a run. I think they know that. We all know that. You just have to finish games. You go out Tuesday, and we just have to play really good baseball. I know these kids will fight."
UGA to open SEC Tournament play vs. South Carolina
Georgia will face South Carolina in the opening game of the SEC Baseball Tournament Tuesday at 10:30 a.m. ET at the Hoover Met in Hoover, Ala. 
The Bulldogs (29-26, 11-19) are the 11th seed, while the 13th-ranked Gamecocks (38-17, 16-13 SEC) are the sixth seed. Tuesday's action is single elimination and features eight teams as the top four squads earned first-round byes. Tuesday's winners advance to the double-elimination part of the tournament. 
USC swept Georgia in Athens to open SEC play in mid-March. It was part of a 1-9 league start for the Bulldogs, who stormed back to go 10-10 over their final 20 SEC games to earn a spot in the 12-team field. The Gamecocks finished third in the Eastern Division. 
This past weekend, Georgia dropped a home series to fifth-ranked LSU (42-13, 19-10 SEC) while the Gamecocks lost a home series to No. 18 Tennessee. 
The USC-UT series concluded with a pair of seven-inning games Saturday. 
All games leading up to the final will be carried on the SEC Network and Georgia's action will be available on the Georgia Bulldog Sports Network.
The SEC Tournament Championship next Sunday will be televised by ESPN2.
SEC Tournament Bracket
Tuesday-Sunday, May 23-28

Hoover Metropolitan Stadium, Hoover, Ala.

Tuesday, May 23

Game 1 (9:30 a.m.) – #6 South Carolina vs. #11 Georgia [SEC Network]

Game 2 (TBD) – #7 Tennessee vs. #10 Texas A&M [SEC Network]

Game 3 (4:30 p.m.) – #8 Kentucky vs. #9 Alabama [SEC Network]

Game 4 (TBD) – #5 Auburn vs. #12 Missouri [SEC Network]

Wednesday, May 24

Game 5 (9:30 a.m.) – #3 LSU vs. Winner Game 1 [SEC Network]

Game 6 (TBD) – #2 Arkansas vs. Winner Game 2 [SEC Network]

Game 7 (4:30 p.m.) – #1 Florida vs. Winner Game 3 [SEC Network]

Game 8 (TBD) – #4 Vanderbilt vs. Winner Game 4 [SEC Network]

Thursday, May 25

Game 9 (9:30 a.m.) – Loser Game 5 vs. Loser Game 6 [SEC Network]

Game 10 (TBD) – Loser Game 7 vs. Loser Game 8 [SEC Network]

Game 11 (4:30 p.m.) – Winner Game 5 vs. Winner Game 6 [SEC Network]

Game 12 (TBD) – Winner Game 7 vs. Winner Game 8 [SEC Network]

Friday, May 26

Game 13 (3 p.m.) – Winner Game 9 vs. Loser Game 11 [SEC Network]

Game 14 (TBD) – Winner Game 10 vs. Loser 12 [SEC Network]

Saturday, May 27

Game 15 (Noon) – Winner Game 13 vs. Winner Game 11 [SEC Network]

Game 16 ( TBD) – Winner Game 14 vs. Winner Game 12 [SEC Network]

Sunday, May 28

Game 17 (2 p.m.) – Winner Game 15 vs. Winner Game 16 [ESPN2]

All Times Central

The second game of each session will begin 30 minutes after the conclusion of the first game.
---
Jump To Comments