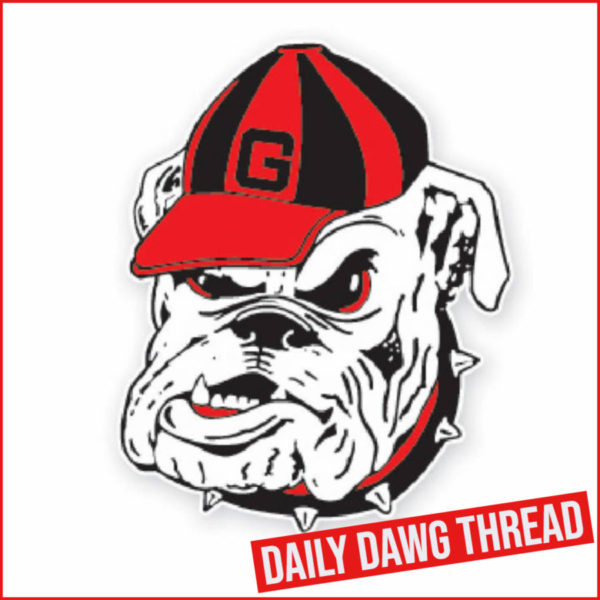 ---
SOFTBALL: Dawgs Win Two, Advance To Regional Final
The Georgia Bulldogs defeated UMBC, 6-3, and Liberty, 7-2, Saturday evening and early into the morning Sunday to stay alive in the NCAA Tournament and advance to the Durham Regional final against No. 12 Duke.
Georgia (42-17) will have to beat the Blue Devils twice on Sunday to advance to the Super Regional round of the NCAA Tournament against the winner of the Los Angeles Regional. First pitch is set for 2 p.m. Sunday. Game seven, if necessary, will be 30 minutes after.
Georgia 6, UMBC 3
Georgia's offense knocked four home runs in the first game of the evening, two from senior Lacey Fincher. Sophomore Aniyah Black and junior Sydney Kuma also went deep. Georgia out-hit UMBC 7-5.
Britton Rogers pitched three and a third innings in her start, allowing three runs on three hits. Riley Orcutt (1-0) earned her first-career win in relief, working two scoreless innings, striking out three. Madison Kerpics earned her fourth save, pitching the final inning and two-thirds.
A switch up in Georgia's batting order paid off as Fincher led off the game with a home run, her 17th of the season, to put Georgia ahead 1-0.
A pair of leadoff walks came in to score on a two-out single in the bottom of the inning to put the Retrievers (31-12) ahead 2-1.
Georgia answered back in with top of the second with a trio of runs. A leadoff single from Lyndi Rae Davis followed by a double from Savana Sikes put two in scoring position. Davis tagged up and scored to tie the game on a sac fly off the bat of Jaiden Fields. Black followed with a no-doubter, her fifth homer of the year, over the wall in left, putting the Bulldogs ahead 4-2.
A two-out solo shot to center off the bat of Kuma widened Georgia's lead to 5-2 in the top of the third. It was her 13th home run of the season.
A two-out wild pitch plated a Retriever run in the bottom of the fourth, cutting Georgia's lead to 5-3.
Fincher's second home run of the game added insurance for the Georgia Bulldogs, taking a 6-3 lead into the final three outs.
Kerpics held the Retrievers in the seventh to keep Georgia's season alive.
Georgia 7, Liberty 2
Kerpics (19-10) went the distance in the circle, pitching seven innings, allowing just two hits to the Lady Flames. She struck out eight opponents in her outing.
Junior Sara Mosley paced Georgia's offense, scattering three hits. Davis and Sikes each picked up two hits as the Bulldogs scattered 10 hits for its seven runs.
A one-out single up the middle from Mosley followed by a two-out walk to Kuma put a runner in scoring position. Davis dropped a flare into left center as Mosley raced home to score and put Georgia ahead 1-0 on the Lady Flames.
Kuma's second home run of the day was a two-run shot to right center, widening the Bulldogs' lead to 3-0.
The Lady Flames (44-18) broke up Kerpics' no hitter with a two-out, two-run in the bottom of the third, cutting Georgia's lead to 3-2.
Georgia loaded the bases in the top of the fifth and a walk to Fields pushed in Georgia's fourth run, making it a 4-2 advantage.
With Kuma on third, Davis knocked a long single to the wall in right, plating Kuma and making it 5-2. With two runners on, Fields singled up the middle to drive in both runners and make it a five-run lead for the Bulldogs.
Kerpics closed the game in the seventh, securing the win for the Dogs.
Georgia and Duke throw first pitch Sunday at 2 p.m. at the Duke Softball Stadium.
---
BASEBALL: Georgia To Open SEC Tournament with Alabama
The No. 25 ranked Georgia Bulldogs garnered the No. 6 overall seed and will open the 2022 SEC Tournament against No. 11 seed Alabama Tuesday at 10:30 a.m. ET.
The Bulldogs (35-20, 15-15 SEC) finished second in the Eastern Division behind top-ranked and SEC champion Tennessee. Georgia and Florida both finished 15-15 in league play, and the Bulldogs swept the Gators during the regular season to earn the No. 6 seed.
Alabama (29-25, 12-17 SEC) captured a series over fifth-ranked Arkansas including posting an 18-5 win Saturday in Tuscaloosa to help punch its ticket to the conference tournament. Earlier this season at UA, the Bulldogs claimed an SEC series two games to one over the Crimson Tide.
Georgia will be off Sunday and plans to practice at Foley Field Monday before departing for Hoover, Ala., site of the SEC Tournament. Tuesday's action is single-elimination with the winners advancing to the double-elimination part of the tournament that begins Wednesday. The event runs through Sunday at the Hoover Met.
---
BASEBALL: Georgia Wins See-Saw Finale 11-10
 The 25th-ranked Georgia Bulldogs walked off the Missouri Tigers 11-10 in front of 2,883 spectators at Foley Field, in the Southeastern Conference regular season finale.
 
"Huge win," said Georgia's Ike Cousins head baseball coach Scott Stricklin. "To have the game somewhat in hand at 7-3. Next thing you know it's 10-7 with all of the momentum in their dugout. We battled. We won the little battles, from the seventh inning on. We just found a way to get it done. It was a really gutsy win. I'm really proud of them. What a way to end the regular season."
 
Georgia's (35-20, 15-15 SEC) 11 runs came on 11 hits, led by a 2-for-5 walk-off performance by Fernando Gonzalez, and a pair two-hit performances from the Tate brothers, while five Bulldogs notched one hit apiece. Georgia trailed 10-9 going to the ninth before pushing across a pair of runs and was aided by a Tiger miscue.
 
On the mound, Liam Sullivan went two innings, giving up one run on two hits with four strikeouts. In relief, Jaden Woods went three innings, giving up two runs on four hits with a pair of strikeouts. Jack Gowen went one inning giving up three runs with a pair of strikeouts, Davis Rokose went .2 of an inning giving up two runs, Max DeJong went 1.1 innings giving up two runs on three hits with a strikeout, while Chandler Marsh earned the win with one scoreless inning and a strikeout. Marsh improved to 4-1.
 
Missouri (28-23, 10-20 SEC) pitcher, Carter Rustad went 2.2 innings, giving up five runs on three hits. In relief, Ian Lohse went 3.1 innings giving up two runs on two hits with four strikeouts, while Austin Marozas was tabbed with the loss. He went 2.1 innings giving up four runs on six hits. Auston Troesser closed out the game for the Missouri.
 
The Tigers struck first plating one run in the opening frame. After two scoreless innings, the Bulldogs exploded for six runs to take a 6-1 lead. Georgia plated a pair of runs on RBI singles by the Tate brothers. With the bases loaded, Chaney Rogers scored three runs on a triple off of the right center field wall, and Fernando Gonzalez plated the final run of the inning on a blooper to shallow left field toggle UGA a five run lead.
 
Missouri cut into the Georgia lead, plating two runs in the fourth to make it a 6-3 game. The Bulldogs answered in the bottom of the frame, scoring one run on sacrifice fly to deep center field by Ben Anderson to give UGA a four run edge. In the seventh inning, the Tigers exploded for seven runs on two hits to take a 10-7 lead.
 
Georgia plated two runs in the eight inning. With a full count and a runner on first, Cory Acton striped a long ball over the scoreboard to draw the Bulldogs within one of the Tigers. After a leadoff double by Connor Tate in the ninth, Parks Harber roped a single to left field to tie the game up at 10-runs apiece. With one out and runners on first and second, Fernando Gozalez grounded to second base, however a throwing error by Nander De Sedas allowed pinch-runner Dwight Allen II to score for an 11-10 walk-off.
 
"It's special to watch those guys (seniors)," said Stricklin. "Some of them can come back and do it again, but to have senior day on your home field and get a walk-off win is something that you will always remember."
 
Up next, the Bulldogs will head top Hoover, Ala. for the 2022 SEC Baseball Tournament. Action begins Tuesday May 24. Georgia's first round opponent and game time will be announced late Saturday after play around the league concludes. 
---
WGOLF: Dawgs in Top 10 at NCAA Championships
The Bulldogs posted a 3-over 291 – equaling the program's third-best round ever at the NCAA Championships – to climb seven spots to 10th on the leaderboard at Grayhawk Golf Club. Georgia is at 18-over 594 through 36 holes. While that's 13 shots off the lead, it's equally significant that the Bulldogs are 11 shots ahead of 16th, as the field will be cut from 24 teams to 15 following Sunday's third round.
This season, Georgia has a 289.91 average in the second round of its 11 tournaments, which is significantly better than the Bulldogs' opening round efforts of 294.36.
A day after posting nine birdies in the entire first round, Georgia recorded that many red numbers on the front nine alone on Saturday. For head coach Josh Brewer, the three birdies over the final three holes on Friday were vital.
"We played well, but it started yesterday honestly," Brewer said. "We fought back yesterday. I know it doesn't seem like much but making three coming in yesterday to finish the round showed us what was there if we settled down and played golf. We proved that today."
Candice Mahé equaled her best round ever at Georgia with a 3-under 69 to lead the way on Saturday. In the process, she joined Vicki Goetze, Shauna Estes and Summer Sirmons as the only Bulldogs to post a score in the 60s at the NCAA finals site.
"I'm only playing for my team," Mahé said. "Whenever I saw a leaderboard, I was not even looking as an individual. I was always looking for the team. We have had a rough season, but we've always stayed together all the time. We are always here for each other. They all had my back when I shot 81 so I feel like this time was my time to be great. Tomorrow we can go even lower so I'm excited to go into the third round."
Jenny Bae added a 1-under 71, Caterina Don posted a 75, and Céleste Dao and Jo Hua Hung both carded a 76 to round out Georgia's counting scores.
Mahé climbed 39 places on the individual leaderboard and is tied for sixth at even-par 144, while Bae is tied for 19th at 147, Don is tied for 29th at 148, and Hung is tied for 94th at 155.
Mahé was 6-under through her first 11 holes on Saturday, turning at 4-under after birdies at No. 2, No. 3, No. 7, and No. 9 and adding two more at No. 10 and No. 11. She cooled off with back-to-back bogeys at No. 12 and No. 13 but rebounded with a seventh birdie at No. 14. A double-bogey at No. 17 moved her to 3-under on the day, where she remained after just missing another birdie at No. 18.
"Today was a special round," Mahé said. "I was 6-under through 11 so I thought I could go really, really low. Unfortunately, it didn't end up the way I wanted, but we still have tomorrow and a couple of more days."
The Bulldogs posted six more birdies on Saturday than they did on Friday, executing their game plan entering the round.
"We talked about being a little more aggressive today," Brewer said. "We were a little timid. I'm not saying we should make bad decisions but there are chances to make birdies and you have to do it. This is a major championship, and you're going to have a bogey here and there. We decided we were going to attack when we thought we could and respect the golf course where it deserved it."
Bae was a perfect example of that strategy. Two of her four birdies were of the tap-in variety after nearly missing eagle putts at a pair of par-5s in No. 7 and No. 18. In fact, Georgia played No. 7 at 4-under as a team.
No. 1 Stanford leads the team field at 5-over 581, four shots better than No. 2 Oregon. Rounding out the top-10 teams are No. 17 Auburn and No. 15 UCLA at 586; No. 14 LSU at 587; No. 19 Texas A&M at 589; No. 10 Florida State at 591; No. 7 Arizona State and No. 11 Southern California at 592 and the Bulldogs at 594. There is a six-shot gap between Georgia and No. 13 Texas and Purdue, who are tied for 11th.
Georgia will be paired with the Longhorns and Boilermakers for Sunday's third round, teeing off from No. 10 in 11-minute increments between 10:25-11:09 am ET. Live scoring is available via golfstat.com.
Following the third round, a cut will reduce the field to the top-15 teams and the nine low individuals, not on advancing teams. That will be followed by a final day of stroke play on Monday to determine the top eight teams that will advance to match play as well as the individual national champion. The team national champion will be determined by a match-play format that will consist of quarterfinals and semifinals conducted on Tuesday followed by finals on Wednesday.
---
Jump To Comments