Jump To Top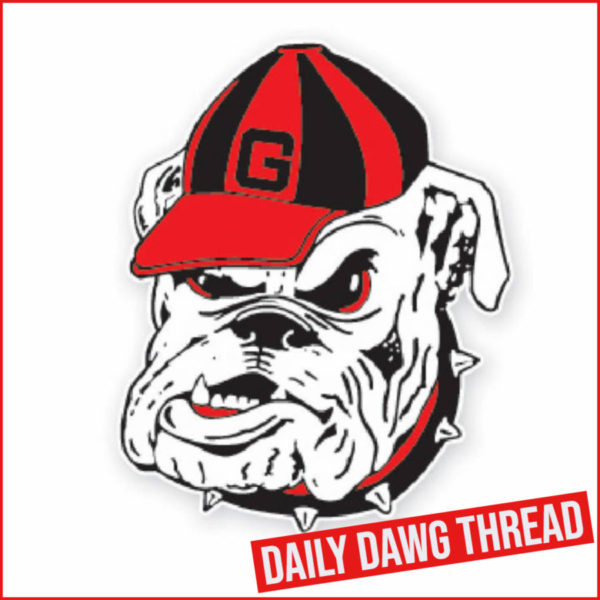 Softball: Georgia run rules Virginia Tech, punches ticket to NCAA Super Regional
Georgia improves to 42-13 on the season and will make its 12th NCAA Super Regional appearance in program history.
The Bulldogs will take on the winner of game seven in the Tallahassee Regional between (3) Florida State and South Carolina. Dates are TBD for next weekend's Super Regional.
The Bulldogs' 12 runs came on 13 hits, led by four hits, two home runs, and five RBI from junior Sydney Chambley. Dallis Goodnight and Sara Mosley each tallied two hits, while Lyndi Rae Davis joined Mosely with a pair of RBI. Seven hitters of Georgia's starting lineup each had a hit.
Chambley concludes the NCAA Regional hitting .778 (7-for-9), knocking four home runs, and driving in 13 runs. She slugged 2.111 and scored four times.
Graduate Shelby Walters pitched a complete game, going six innings and allowing three runs on five hits. She struck out five Hokies and walked none.
The Bulldogs wasted no time getting on the board in the opening frame. Goodnight led off the game with a double dropped into shallow left. After a flyout and a strikeout, Mosley drove in Goodnight with a double off the wall in left-center. She immediately scored on an RBI hit off the bat of Sydney Kuma to go ahead 2-0. Chambley and Jaydyn Goodwin followed with back-to-back home runs to make it a five-run first for the Dogs.
Chambley's fourth home run of the Regional, this one a two-run shot down the right field line, widened the lead to 7-0 in the top of the third.
A two-out solo blast off the bat of Davis brought the Bulldogs' lead to 8-0 in the top of the fourth.
Virginia Tech (39-20) broke up Walters' perfect game bid with a leadoff infield single in the bottom of the fourth. The leadoff single came in to score on a groundout to also break up the shutout, 8-1. The Hokies added another in the inning to cut into Georgia's lead, 8-2.
A four spot in the top of the sixth made it a 10-run game. With runners in scoring position, an RBI fielder's choice off the bat of Davis plated Ellie Armistead. Three-straight RBI singles from Jayda Kearney, Mosley, and Chambley extended the lead to 12-2. Chambley's hit, her fourth of the game, tied Georgia's NCAA Tournament single-game record.
A solo home run in the bottom of the inning finished the scoring in the game, 12-3.
Postgame Interviews
Georgia, Virginia Tech Quotes
Georgia Head Coach Tony Baldwin
Opening Statement…
"What a day, thankful that the weather held out, and we had such a great crowd. Hats off to Virginia Tech on such a great season. I have a lot of respect for their program, their coaching staff, and the way that they play the game. I feel very humble to be moving on past them. I'm just really proud of our players answering the bell again. Sometimes it's really hard when you play such an emotional game on the first day to answer that on the second day. I'm really proud of the way our team answered the bell. Shelby [Walters] was a battler out there and really controlled the game. Our offense was clicking and just strung together some good at-bats. Sydney [Chambley] this weekend has been, I would say, 14 weeks in the making, but we'll take it."
On what it means to make it to a Super Regional…
"I'm really proud of our ability to host the Regional and get through it. The goals for the program are the same at the end of the day. Like you said, there are a lot of them. I'm really proud of our ability to check this one off. Now, we'll go into recovery mode and get ready to play whoever we play next. The great thing about playing in our conference – and we're not the only conference, so I don't like saying that the SEC is the only place where you can play good softball – you play a lot of good teams. I think we had 10 of them playing for a Regional Championship today, so you get used to playing other teams that are every bit as talented as you and just as well coached as you. We're comfortable in that environment. Whoever it is that we have an opportunity to play against, we'll feel comfortable that we'll go there and compete and show up with the best version of ourselves, and we'll have the best opportunity to be successful. As a coach and as players, that's all you can ever do, put yourself in a place where you have the opportunity to be successful. Sometimes you can do a lot of things right and the outcome doesn't go your way. If you put yourself in the right place enough times, the odds start to shift in your favor.
Georgia Junior Sydney Chambley
On Georgia's strong day offensively…
"I think that we've done a really good job of fighting for what we want. One thing we worked really hard on this weekend was finding a way, just being determined and figuring it out. I think we did a really good job of that and passing the bat because all of the things that happened and the runs that were scored couldn't happen without one after the other passing the bat through the lineup. I think that process of just stepping up to the plate and getting your job done was our mindset and just really paid off for us."
Georgia Graduate Shelby Walters
On if these are the types of moments she envisioned at Georgia…
"These are exactly the kind of moments that I envisioned coming to Georgia. This team is so explosive and passionate about the game. I love all the girls who are on the field with me and the ones that are in the dugout cheering me on. We've got each other's backs. The mindset going into this game was that we just really wanted to attack their hitters and throw our best stuff, what we've been doing all season. We didn't want to let the moment get too big, just play good old softball."
Game Photos – To view larger photos – click HERE
Box Score
Stats
Video Highlights
---
MTennis: Georgia begins NCAA singles and doubles championships
The University of Georgia men's tennis team will be well represented in this week's NCAA singles and doubles championships, with the nation's No. 2-ranked singles player Ethan Quinn set to join Trent Bryde in doubles and Philip Henning in singles.
Action is slated to begin Monday morning at the USTA National Campus. As the No. 2 overall seed, Quinn will face Luc Fomba from TCU at 9 a.m. ET, before Henning battles Miami's Dan Martin at 2 p.m. ET in first-round singles action.
On Tuesday, the No. 4-seeded Bulldog duo of Bryde and Quinn face Garrett Johns and Pedro Rodenas from Duke in the Round of 32.
Quinn — who went an impressive 20-7 against nationally ranked foes this year — is the fifth Georgia player in program history seeded No. 1 or 2 in the NCAA singles championship. He joins an elite group that includes Mikael Pernfors in 1985, Al Parker in 1991, Matias Boeker in 2002 and John Isner in 2006 and 2007.
Henning enters the individual championships after compiling a 17-7 record at the second singles spot, which included a perfect 10-0 mark against SEC competition in the regular season. Henning is making his third appearance in the NCAA singles field after advancing to the second round last year.
In doubles, Bryde and Quinn formed a formidable pair this season and enter the NCAA doubles championship having won seven-straight matches. The tandem boasted a 22-14 overall record, which included a 17-9 mark at the No. 1 court. They also teamed together for 12 ranked victories.
A Bulldog has won the NCAA singles championship four times (Pernfors in 1984 and 1985; Boeker in 2001 and 2002). Georgia has claimed the doubles title on three occasions – Ola Malmqvist and Allen Miller in 1983, Boeker and Travis Parrott in 2001, and Isner and Antonio Ruiz in 2005.
---
WGolf: Georgia moved up two spots after the morning wave wrapped up third-round play at the NCAA Women's Golf Championships on Sunday
Georgia teed off from No. 10 at Grayhawk Golf Club and reached the midway point at 3-over. The Bulldogs played the first two holes of the front nine at 1-under before dropping seven strokes from Nos. 3-6. Georgia bounced back with a quartet of birdies at the 474-yard, par-5 No. 7 and eventually played the final three holes at 3-under as a team.
"The golf course finally turned into the championship course you expect, firm and fast," head coach Josh Brewer said. "It just took a while to adjust and kind of like we did yesterday at the end, we battled and got ourselves in a spot you want to be in heading into the final day of stroke play at the national championship."
Candice Mahé led Georgia on Sunday with an even-par 72, while the Bulldogs also counted a trio of 74s from Jenny Bae, Caterina Don and Jo Hua Hung.
Georgia will likely remain in ninth at the end of the day. The 15 teams in the afternoon wave on Sunday all began play multiple shots behind the Bulldogs and none of the higher seeded teams in the morning broke par as a team.
"It's the national championships so mediocre golf is not going to get you anywhere," Don said. "You always want to be in the right position starting the next day. You always want to be have the chance to do better tomorrow. I think our team has the chance to do better tomorrow and hopefully play on Tuesday."
The field was set to be trimmed from 30 teams to 15 following Sunday's round. After Monday's round, the top eight teams on the leaderboard will go on to a bracketed match play competition on Tuesday and Wednesday to determine the national champion.
The Bulldogs are among five teams separated by two strokes between seventh and 11th places entering Monday. No. 6 Texas A&M and No. 23 Arizona are tied for seventh at 5-over 869, followed by the Bulldogs and No. 16 Pepperdine at 6-over 870 and No. 24 Oklahoma State at 7-over 871.
Georgia also entered last year's final round of stroke play in ninth before securing the eighth-seed. In the Bulldogs' first appearance in match play since the format was instituted in 2015, Georgia dropped a 3-2 decision to Stanford, the eventual national champions, in the quarterfinals.
"We've been in this spot last year too so we know we can control our destiny tomorrow," Mahé said. "We'll try to stay focused and in the moment. Everyone is going to have to shoot really low if we want to make it into the top eight. We have the team to do it and believe we can do it. We just have to be patient tomorrow, and it's going to come our way."
Mahé fought back after a slow start. She bogeyed No. 12 and doubled No. 16 to sit 3-over through seven holes. She gained two of those strokes back with birdies at No. 17 and No. 2 but carded another bogey at No. 6. Mahé birdied both No. 7 and No. 8 to move back to even before a closing par at No. 9.
"Today I really tried to stay patient because it was playing really hard out there," Mahé said. "The pins were super hard. It was a bit windy, and the greens are getting faster and faster every day. I just tried to stay in my routine and maintain my focus. At the end, when I had the occasion, I tried to make my putts and it went good for me. We did a good job overall as a team because it was really hard today."
Don was playing her first competitive round since the final day of stroke play qualifying at the SEC Championships more than a month ago on April 15. She was incredibly steady to start the day, mixing a birdie at No. 14 with eight pars to turn at 1-under. Don bogeyed No. 3, No. 6 and No. 8 to finish at 2-over.
"It was nice," Don said. "I was waiting for my opportunity, and I was working hard while the others were playing. I was getting ready for whenever my opportunity came, and it was exciting to get out there."
Though 54 holes, Bae leads Georgia at 1-under 215, followed by Hung at 1-over 217, Mahé at 219 and LoraLie Cowart, who shot 80 on Sunday, at 226.
Georgia will likely tee off from No. 10 between 1:11-1:55 p.m. ET on Monday, the first round to feature live coverage on the Golf Channel. The network will air from Scottsdale from 4:00-10:00 p.m. ET. Live scoring is being updated on a hole-by-hole basis at golfstat.com.
The match play quarterfinals and semifinals will be on Tuesday, with Golf Channel coverage from Noon-2:30 and 4:30-10:00 p.m. The championship match will be held on Wednesday and televised live from 4:30-10:00 p.m. ET.
Sunday's Third-Round Morning Wave Standings
Team Leaderboard
Stanford 288-273-290=851
Wake Forest 279-280-299=858
Texas 292-276-290=858
Southern California 296-276-290=862
Florida State 288-286-289=863
South Carolina 286-276-302=864
Arizona 292-288-289=869
Texas A&M 287-284-298=869
Georgia 286-290-394=870
Pepperdine 295-279-296=870
Oklahoma State 280-291-300=871
New Mexico 287-288-301=876
LSU 294-288-295=877
Baylor 289-290-304=883
Duke 288-296-301=885
Individual Leaderboard
Catherine Park, USC 71-64-71=206
Ingrid Lindblad, LSU 70-72-68=210
Rose Zhang, Stanford 72-67-71=210
Madison Hinson-Tolchard, Oklahoma St. 66-70-74=210
Charlotte Heath, Florida St. 71-71-69=211
PimmadaWongthanavimok, Arizona 69-71-69=211
Huai-Chien Hsu, Texas 72-69-71=212
MeghaGanne, Stanford 68-72-73=213
Mathilde Claisse, S. Carolina 70-69-74=213
Adela Cernousek, Texas A&M 69-68-76=213
Lauren Walsh, Wake Forest 67-67-79=213
Georgia's Scores
Jenny Bae 70-71-74=215
Jo Hua Hung 71-72-74=217
Candice Mahé 75-72-74=221
LoraLie Cowart 71-75-80=226
Caterina Don sub-sub-74
Isabella Holpfer 74-76-sub
---
Jump To Comments