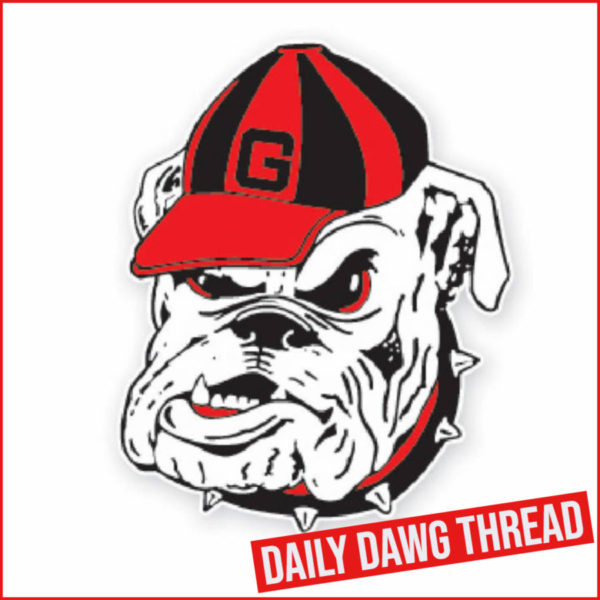 ---
WGOLF: Dawgs Advance To Match Play at NCAA Championships
The Georgia women's golf team had a simple goal for the 2022 NCAA Championships – securing a tee time for every day. After the Bulldogs shot the second-best round at the national championships in program history on Monday, the Bulldogs moved one step closer to doing so.
"It's just another day and another tee time," head coach Josh Brewer said after his team fired a 2-over 290 in the fourth and final round of stroke play. "We said we just wanted to have a tee time each day out here so check another box."
Georgia finished eighth in the 72-hole portion of the tournament to advance to the match play bracket that will determine the national champion. The Bulldogs will face top-seeded Stanford in the quarterfinals on Tuesday morning at 10:10 a.m. ET in a nationally televised match on the Golf Channel.
Candice Mahé fired at 4-under 68 – the second-straight day a Bulldog posted the low individual round of the field – to lead Georgia. The Bulldogs also counted an even-par 72 from Jo Hua Hung and a pair of 75s, the score signed for by Jenny Bae, LoraLie Cowart and Caterina Don.
Overall, Bae and Mahé tied for sixth on the individual leaderboard, both finishing at 1-over 289. That's the highest individual finish by a Bulldog since Marta Silva Zamora was fourth in 2011. All told, Georgia golfers now have 23 top-10 and 38 top-20 individual finishes at the national championships since 1979.
The Bulldogs teed off from No. 10 and played the back side of the Grayhawk Golf Club layout first.
Mahé's day went from solid to spectacular when Georgia needed it most. She turned at 1-under after mixing six pars with birdies at No. 11 and No. 18 and her lone bogey of the day at No. 12. Mahé remained at 1-under until chipping in from the bunker for birdie at No. 5.
"It has been a great day, but it started pretty chill, nothing crazy," Mahé said. "I think I was 1-under after nine. Honestly, I think the momentum was on 5 when I made that bunker shot. I was thinking I was just going to try to make par and move onto the next hole but good for me, it went in. I was like 'I'm 2-under, but I have no idea about the team.' I was trying to look, but I could not see the leaderboard. Then I made another birdie on 6 and another one on 8."
The bunker birdie started a surge when Mahé shot 3-under over the final five holes.
"When I made that bunker shot I said I think we're on a good vibe, but I didn't have any idea," Mahé said. "I tried to ask Josh and (assistant coach) Caroline (Westrup), but they just said 'You guys are good. Just continue to play your game.' Me, I'm so competitive that I wanted to make sure that when I signed my scorecard I had nothing to regret. I trusted every shot that I wanted to hit and it went really good for me today, but I'm most happy to be here for the team.
"I'm just really happy because we all work really hard," Mahé added. "We have struggled this whole season, but we made it where we want to be now. We're so excited to play tomorrow."
Mahé's effort led a strong stretch run for Georgia. After playing their final four holes at 1-over on Sunday, the Bulldogs covered the same portion of the course at 3-under a day later.
"I think I would've been ok if we played well," Brewer said. "I feel like that's all you can ask for as a coach. We have players who have prepped wonderfully. To see them close out this round – because we hit a little speed bump – making a couple of birdies coming in and making some tough pars under stress and TV cameras coming in, I'm just happy for them.
"It was strange," Brewer continued. "I was calm all day. I felt like we were ready, and they proved that I was correct. It's extremely exciting. It's the first time we've made it (to match play) as a program under this format so we're just excited to be competing again tomorrow."
Georgia will face Stanford on Tuesday, with UCLA meeting Auburn in the other half of the Bulldogs' bracket. Oregon will take on San Jose State and Texas A&M will play Florida State in the other quarterfinals. The quarterfinal winners will advance to the semifinals on Tuesday afternoon at 3:45 p.m. and 4:35 p.m. ET.
Much like just trying to earn a tee time, Brewer is keeping Tuesday's strategy simple.
"Just get the three points," Brewer said. "It sounds crazy but look at our track record. Jenny and Jo have been unbelievable during their time at Georgia. Candice and Caterina have played a lot of match play. LoraLie has had success at the USGA level. We don't fear anybody. Obviously, we'll respect the heck out of whoever we play, but what a wonderful opportunity in front of us. There's only eight of us left. We hope to be here saying we're one of two left tomorrow."
Mahé will meet NCAA medalist Rose Zhang in the third match to hit the course.
"I am really excited," Mahé said. "I love match play. I love playing against other girls. To me, it's much more fun that stroke play. Tomorrow, we have nothing to lose basically. I don't think anyone expected us here going into match play tomorrow, so we're really excited."
Monday's round continued an amazing stretch for Mahé. She entered the NCAA Regionals last week with a stroke average of 75.50 over 20 rounds this season. In seven rounds in the NCAA Regionals and Championships, Mahé's average is 71.71 with three rounds in the 60s. Prior to the Regionals, Mahé had one score in the 60s in 53 rounds at UGA.
On Monday, Georgia also guaranteed the program's 21st top-10 finish at the national championships since 1979 but the Bulldogs' first since finishing 10th in 2008. Georgia's 2-over 290 on Monday tied the Bulldogs' second-best effort ever at the NCAA Championships' finals site. Georgia also shot 290 in the final round of the 2001 NCAA Championships en route to capturing the national title. The best round ever was a 289 in the fourth round of the 1988 Championships; however, that was a 7-under score on a par-74 layout in Las Cruces, N.M.
The Golf Channel will cover the rest of the tournament live. Tuesday's quarterfinals will air from Noon-2:30 p.m. and the and semifinals be televised from 5:00-9:00 p.m. ET. The national championship match will be shown from 5:00-9:00 p.m. ET on Wednesday.
---
MTENNIS: Henning and Stewart Advance at 2022 NCAA Singles Championships
University of Georgia men's tennis All-Americans Philip Henning and Hamish Stewart concluded the first day of competition at the 2022 NCAA Singles Championships Monday, May 23, at the Khan Outdoor Tennis Complex hosted by the University of Illinois Urbana-Champaign in Champaign, Illinois with wins to move onto the Rd.32.
Georgia's No.1 singles player, Stewart started off the afternoon facing a familiar foe, FSU's Loris Pourroy. Just over two weeks ago No.11-ranked Stewart went up against No.51 Pourroy in his most recent match in the Second Round of the NCAA Tournament, winning 6-2, 6-3. Stewart continued the trend from his previous match winning the first 6-2. A back-and-forth second set was highlighted by Stewart's ability to come back three times in a row down a break to tie the match. However, the set ended with Pourroy on top to force a third. The match continued to go down to the wire, but Stewart ultimately claimed a 6-2, 4-6, 7-5 victory. Stewart now owns a 17-9 record against nationally ranked opponents and is 27-13 overall.
Georgia's No.2 singles player, Henning went toe-to-toe with Denver's James Davis. The two alternated leads throughout the whole first set and ultimately came down to a tiebreaker. No.50 Henning went up a quick 4-0 in the tiebreak and eventually sealed the deal taking the set 7-6 (7-4) over No.123 Davis. Down 3-1, Henning won 4 sets in a row to cement a 7-6 (7-4), 6-4 victory. He improves to 25-11 overall and 16-8 in dual competition.
"Hamish and Philip fought hard today," said head coach Manuel Diaz. "They had some rough patches but did a great job of finding their rhythm and played to win when it mattered. Looking forward to the challenge tomorrow."
THE SINGLES FIELD
No. 11 Hamish Stewart vs. No.58 Tadeas Paroulek
Stewart will face Baylor's Tadeas Paroulek at 11 a.m. ET in the Rd.32. Paroulek upset Ohio state's No.46-ranked James Trotter, 6-4, 6-4 in the Rd.64 on Monday.
No. 50 Philip Henning vs. No.7 Stefan Dostanic
Henning will face Southern Cal's Stefan Dostanic at 12:30 p.m. ET in the Rd.32. Dostanic defeated Mississippi State's No.17 Florian Broska, 4-6, 6-3, 6-2 in the Rd.64 on Monday.
THE DOUBLES FIELD
No. 37 Trent Bryde & Philip Henning vs. No.4 Cleeve Harper & Richard Ciamara
The senior duo of Bryde and Henning will face Texas' Cleeve Harper and Richard Ciamara at 5 p.m. ET. The two Bulldogs have crossed paths with various Longhorn doubles pairings throughout the 2021-2022 season. In the fall campaign, Bryde and Blake Croyder defeated Cleeve Harper/Seim Woldeab, 8-6 while Henning and Erik Grevelius defeated Eshan Talluri/Nevin Arimilli, 8-2. En route to Georgia's 4-3 victory over No.12 Texas in the spring, Bryde and Henning took.
2022 NCAA Singles & Doubles Championships
Date: May 23-28
Time: All-day
Location: Champaign, Illinois
Site: Khan Outdoor Tennis Complex
MEDIA INFORMATION
Season Stats: https://link.edgepilot.com/s/67baa88d/a9PnZgsgik68LLvSSfK4Kg?u=https://gado.gs/8bg
Live Stream:gado.gs/9d5 or download the TennisONE App
Live Stats: gado.gs/9d7
Tickets:gado.gs/9d6
Post-Season Media Guide: gado.gs/9d8
---
WBB: Dawgs Add Vandy Transfer
De'Mauri Flournoy, a top-100 prospect in the 2021 class who played her freshman season at Vanderbilt University, has signed with the Georgia Lady Bulldog basketball team, head coach Katie Abrahamson-Henderson announced Monday.
The Villa Rica, Georgia, native starred at Carrollton High School, where she developed into one of the nation's top recruits. During this past season at Vanderbilt, she played in 31 total games.
Flournoy will be a sophomore this upcoming season at Georgia.
"We are excited to have De'Mauri be a part of our program," Coach 'ABE' said. "She already has experience playing in the SEC, which should be a smooth transition to this upcoming season. De'Mauri has a scorers mentality and is going to be a really good combo guard for us. She has range on her shot and has a smooth pull-up jumper. I love the fact that De'Mauri is from the state of Georgia and wants be closer to her family, which fits our philosophy of family first."
Flournoy (pronounced Flur-NOY) averaged 12.5 minutes per game for the Commodores and finished with 117 points, 15 steals and 27 assists. She scored a career high 17 points against Chattanooga and played a career high 24 minutes against Tennessee.
The 5-foot-7 guard played for head coach Shon Thomaston at Carrollton. She was ranked as the No. 69 overall prospect by ESPN, No. 51 by Prospects Nation and No. 60 by Blue Star. She was also ranked as the No. 11 overall point guard nationally by ESPN following a stellar high school career.
Flournoy accumulated 1,560 career points, 343 assists and 241 steals through her junior season. She was named the 2020 Region Player of the Year and was a three-time first-team all-region selection. She was also an academic letterwinner on three occasions.
---
BASEBALL: Ben Anderson and Jonathan Cannon Earn SEC Honors
University of Georgia graduate center fielder Ben Anderson has been named the SEC Baseball Scholar-Athlete of the Year while junior pitcher Jonathan Cannon made the All-SEC first team in a vote of the league coaches, the SEC announced Monday.
Anderson, a co-captain and native of LaGrange, Ga., has already earned a degree in Biochemistry. He is working on a master's degree in Comparative Biomedical Sciences with plans to go to medical school after his baseball career.
He is batting .279 with five doubles, four triples, eight home runs, and 32 RBI in 53 starts. He was the 2022 Boyd McWhorter SEC Postgraduate Scholarship institutional winner for UGA. He had a 31-game on-base streak and thrice has led off games with home runs including to start the season. He has provided exceptional defense in 134 total chances including three assists. He is a two-time CoSIDA Academic All-District selection, an annual member of the SEC Academic Honor Roll, and the Dean's List. He is a member of LEAD, the UGA Athletic Association Leadership Academy, and the baseball player council.
Cannon, a junior native of Alpharetta, Ga., headlines the Bulldog pitching staff with a 9-3 mark and 3.62 ERA in 12 starts. In 74.2 innings, he has 65 strikeouts and 10 walks on the year. He leads the SEC in victories and ranks in the top 10 in ERA and Innings Pitched. Recently, he was named a semifinalist for the Dick Howser Trophy Award. He is on the Golden Spikes Midseason Award watch list.
Starting in 2004, the SEC recognized an SEC Scholar-Athlete in baseball, and Anderson becomes the third Bulldog to be honored, joining Gordon Beckham (2008) and Keegan McGovern (2018). Cannon is the first pitcher since Emerson Hancock in 2019 to earn First Team All-SEC honors.
---
BASEBALL: Georgia Begins SEC Tournament Play This Morning vs. Alabama
The Georgia Bulldogs open the SEC Tournament Tuesday morning against Alabama at the Hoover Met. First pitch is scheduled for 10:32 a.m., and it will be televised by the SEC Network and be available on the Georgia Bulldog Sports Network.
Georgia (35-20) finished tied for second in the SEC Eastern Division with Florida as both had a 15-15 league mark. The Bulldogs are the No. 6 seed in the SEC Tournament after sweeping Florida during the regular season. Georgia is No. 12 in the latest NCAA RPI. Georgia and the No. 11 seed Crimson Tide (29-25, 12-17 SEC) squared off during the regular season, and the Bulldogs won a road series two games to one by scoring in just two innings all weekend!
In game one, the Bulldogs scored four in the first including a three-run home run by freshman Cole Wagner in a 4-2 win. In game two, a two-out three-run double in the third by Parks Harber was enough in a 3-0 victory as Jonathan Cannon, Luke Wagner, Chandler Marsh and Jack Gowen combined on a two-hitter. In game three, Alabama tossed a three-hit shutout, also 3-0, behind Grayson Hitt, Brock Guffey and Dylan Ray. On Tuesday, the Bulldogs will start sophomore LHP Luke Wagner (5-1, 5.11 ERA). Georgia is 1-2 all-time against Alabama at the SEC Tournament.
The Bulldogs are 31-48 all-time at the SEC Tournament with their best finish 2nd (1985, 1986, 1989). If Georgia advances over Alabama, it will face No. 11 Arkansas (38-16, 18-12 SEC), the third seed, on Wednesday at 10:30 a.m. ET. The Bulldogs did not face Arkansas during the regular season. Georgia is batting .285 with 70 home runs while posting a 5.74 ERA and a .978 fielding percentage. The Bulldogs went 23-9 at home, 9-10 on the road and 3-1 in neutral site games. For the first time since 1998, Georgia went the entire regular season without playing an extra-inning game.
Bulldog graduate identical twins Cole and Connor Tate are leading the Bulldogs in batting. Shortstop Cole Tate (.355-5-28) and left fielder Connor Tate (.343-11-55) now hit No. 2 and 3 in the order. Connor has a shot at the Triple Crown. He has been even better in SEC action, batting .372-8-27 in 30 games while Cole hit .343-4-14 in just 18 league games. Cole missed three SEC series due to a stress fracture in his leg. Cole made the 2022 SEC Community Service team. In the past four games, Cole batted .500 (8-for-16) with five runs scored, three doubles, one home run and two RBI.
Bulldog graduate centerfielder Ben Anderson (.279-8-32) is now a two-time CoSIDA Academic All-District selection. The Bulldogs leadoff hitter plans to go to medical school following his baseball career. He has a degree in biochemistry and working on a masters in comparative biomedical sciences. He owns a perfect fielding percentage in 134 chances including three assists in 53 starts this year.
Probable Pitching Matchup
TUESDAY: UA – Garrett McMillan (4-5, 3.83 ERA, Jr., RHP) vs. UGA – Luke Wagner (5-1, 5.11 ERA, So., LHP)
Georgia Baseball Radio/TV Links/SEC Tournament Page
Georgia Bulldog Sports Network (Announcers: Jeff Dantzler & David Johnston)
Free audio streaming of all Georgia Bulldogs games can be heard using the Gameday LIVE app.
Optimized for iOS7+ and Android 4.0+, Georgiadogs.com Gameday LIVE is now available for both smartphone and tablet in App Store and Google Play marketplaces. Georgiadogs.com Gameday LIVE is the official mobile application of Georgia athletics. Get the app here: georgiadogs.com/wireless/.
Tuesday Pregame Radio Show at 10:10 AM ET: https://georgiadogs.com/watch/?Live=4200&type=Archive
SEC Network TV & Live Stats Link
SEC Network Announcers: Dave Neal, Ben McDonald & Kris Budden
SEC Network Link for Tuesday: http://www.espn.com/watch/player?id=628bac68-6015-4303-8199-50c42a89059f
SEC Baseball Tournament Tuesday Live Stats Link: http://statb.us/b/406829
SEC Baseball Tournament Information Page: https://www.secsports.com/championship/baseball
---
Jump To Comments