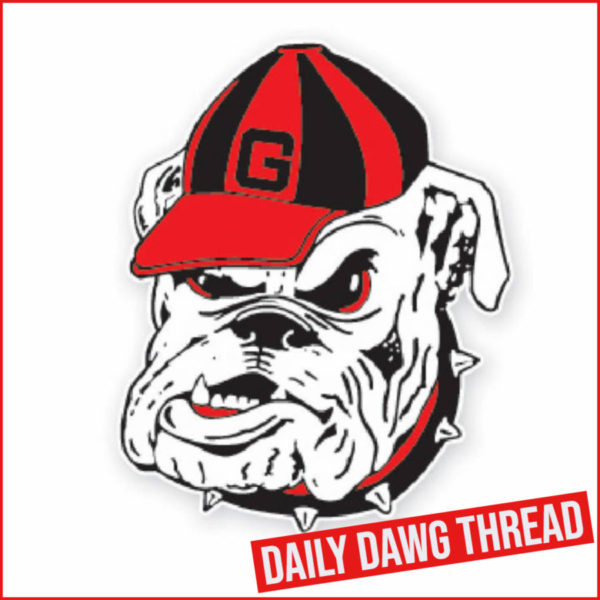 ---
MTENNIS: Hamish Stewart Advances to NCAA Round of Sixteen
University of Georgia men's tennis players Philip Henning and Hamish Stewart competed in the 2022 NCAA Singles Championships Rd. 32 on Tuesday, May 24. In addition, Henning and Trent Bryde competed in the Doubles Rd. 32 all at the Khan Outdoor Tennis Complex hosted by the University of Illinois Urbana-Champaign in Champaign, Illinois.
Georgia's No.1 singles player, Stewart had a day for the record books. In his first-ever appearance in the Rd. 32, No.11-ranked Stewart faced No.58 Baylor's Tadeas Paroulek. Stewart went up 4-3 in the first set after winning back-to-back deuce game points. However, the set went down to the wire leading to a tiebreaker resulting in Tadeas winning the first set. But Stewart bounced back and quickly went up 4-1 in the second and ultimately won, forcing a third. In the third set, Stewart went up 5-3 and put the finishing touches on the match claiming a 6-7 (5-7), 6-2, 6-4 victory. Continuing his day of firsts, Stewart advances to the Rd.16 for the first time in his collegiate career and received All-America honors for the first time. Stewart secured his 2022 All-America honors when he was seeded in the 9-16 position for the NCAA Singles Championships and reaching the Rd.16 also cemented the honor.
Georgia's No.2 singles player, Henning went up against USC's Stefan Dostanic. No.50-ranked Henning put the pressure on early in the first set going up 5-3 against the No.7-ranked Dostanic. Despite Henning's efforts, Dostanic took the first 7-5. Henning took the first game in the second set, but Dostanic led the rest of the way closing out the match 7-5, 3-6 over Henning. The 2022 All-SEC First Team honoree finishes the season 25-12 overall, 16-9 in dual play, posts a new career-high single-season single wins (24), a new career-high single-season dual singles wins (16), and extends his career singles record to 78 wins.
The senior duo of Bryde and Henning faced Texas' Cleeve Harper and Richard Ciamara in the Doubles Rd. 32. The No.37-ranked Bulldogs kept a tight match in the first set with the No.4 ranked nationallyLonghorns' duo. Bryde and Henning were up 5-4 in the first, but the set went down to a tiebreaker. Harper and Ciamara won the tiebreaker to claim the first set and the Bulldogs trailed throughout the second set with Harper and Ciamara winning the match 7-6(7-4), 6-3. Bryde and Henning finish the 2021-2022 season 15-10 overall, 13-10 in dual play and were a force as Georgia's No.2 doubles team finishing 11-6.
THE SINGLES FIELD
No. 11 Hamish Stewart vs. No.61 Eduardo Nava
Stewart will face Wake Forest's Eduardo Nava in the Rd.16, time is TBD. Stewart and Nava have met before when Georgia traveled to Winston-Salem, N.C. for a dual match against Wake Forest on February 6, 2022. In that match, Stewart fell to Nava 2-6, 5-7. To reach the Rd.16 Nava upset Arkansas No.23-ranked Alexandre Reco, 6-7, 6-4, 6-3. Stewart also faced Reco in the regular season at home winning, 6-1, 7-5 over the Razorback.
2022 NCAA Singles & Doubles Championships Results:
Singles Rd. 64:
No.11 Hamish Stewart (UGA) def. No.51 Loris Pourroy (FSU) 6-2, 4-6, 7-5
Philip Henning (UGA) def. No.123 James Davis (Denver) 7-6 (7-4),6-4
Singles Rd. 32:
No. 11 Hamish Stewart (UGA) def. No.58 Tadeas Paroulek (Baylor) 6-7 (5-7), 6-2, 6-4
No.7 Stefan Dostanic (USC) def. No.50 Philip Henning (UGA) 7-5, 6-3
Doubles Rd. 32:
No.4 Cleeve Harper/Richard Ciamara (Texas) def. Trent Bryde/Philip Henning (UGA) 7-6(7-4), 6-3
---
BASEBALL: Dawgs Bounced in Game One of SEC Tournament
Alabama eliminated 24th ranked Georgia 5-3 Tuesday in the opening round of the SEC Tournament at the Hoover Met.
"Well, I thought the game was won and lost in the first two innings," said Georgia's Ike Cousins head baseball coach Scott Stricklin. "We get off to a slow start and — that's what I said to the team in right field before we started was it's 9:30 in the morning, who's going to start, who's going to come out of the gate ready to play, and next thing you know it's 5-0 really quick. After then that I thought Jaden Woods did a great job of settling the game down, gave us a chance. This guy to my right (Parks Harber) got a big hit and gave us a run. We were able to scratch another two runs on an infield hit and a home run. It's 5-3.
"So as poorly as I felt like we were playing, we're still in the baseball game," Stricklin added. "And I thought Ben Hess for them did a great job of kind of shutting us down. Really, really good stuff. I thought (Brock) Guffey was really good, and obviously Dylan Ray, bullpen is very, very accomplished. Bottom line we got beat. We got outplayed. It's disappointing, but I know we've got more to play for, and we're going to rest up, get healthy and get ready for next week."
Alabama (30-25) built an early 5-0 lead, scoring three runs in the first and two in the second to chase sophomore left-hander Luke Wagner. Sophomore first baseman Park Harber got the Bulldogs on the board by blasting his team-leading 12th home run of the year, a solo shot in the second, to cut the deficit to 5-1.
Alabama ace right-hander Garrett McMillan pitched the first two innings and then the game went into a two-hour and six-minute rain delay. When play resumed in the bottom of the third, freshman right-hander Ben Hess was the new Tide hurler while Georgia looked to sophomore Jaden Woods in relief of freshman Chandler Marsh. Hess shut down the Bulldogs, retiring the first 13 batters he faced including a stretch of seven consecutive strikeouts before Harber lined a one-out single in the seventh. After Chaney Rogers drew a walk, Hess was lifted in favor of Brock Guffey. Following a groundout by Fernando Gonzalez, the Bulldogs had a pair of runners in scoring position for Cory Acton. He worked a full count before being called out on strikes.
Hess, who struck out a career-high 10 in 4.1 innings, improved to 3-1 while Wagner dropped to 5-2. Woods provided four scoreless innings of relief and tied his career-high with seven strikeouts. Senior right-hander Jack Gowen took care of the final two frames for the Bulldogs with two strikeouts.
Georgia graduate shortstop Cole Tate notched a single in the eighth to extend his hitting streak to eight games. Then his twin, graduate left fielder Connor Tate, smashed a two-run home run to centerfield to make it 5-3. It was his 12th home run, which ties Harber for the team lead. In the ninth, Alabama brought in closer Dylan Ray for the ninth, and he notched his seventh save.
Georgia (35-21) now will tune in at noon on Memorial Day when the NCAA Championships field of 64 will be announced on ESPN2. The Bulldogs are projected to be in the regional field and will learn their destination and seed during the selection show.
---
WGOLF: Georgia Falls in NCAA Quarterfinals
The Georgia women's golf team's stellar run at the NCAA Championships came to an end on Tuesday. The Bulldogs dropped a 3-2 decision to No. 1 Stanford in the quarterfinal round of the match play bracket at Grayhawk Golf Club.
"We fought," head coach Josh Brewer said. "I mean it's the No. 1 team in the country. We had a chance all the way down to the end. We're disappointed. We feel like we had a chance to win and should be playing again (in the semifinals) this afternoon. At the same time, to be here and get into the match play for the first time is just another stepping stone for the program. We've just got to build on it and take a bunch of positives from it from the week."
Juniors Caterina Don, who is from Pinerolo, Italy, and Candice Mahé, who is from Gourin, France, earned points for Georgia. Bulldog golfers led their Cardinal counterparts in two of the other matches, and the fifth matchup was tied for seven of 17 holes.
"I think it shows why they are such big cogs for their national teams, what they've learned at the European Team Championships and how their countries have prepared them," Brewer said. "Maybe we lean on them a little bit next year to help the other two or three who are here with them so we win all five matches – get a little greedy. Who knows, you just hope we get another chance because you never know what the future holds."
Don rallied to earn a 3-and-1 decision over Sadie Englemann to put Georgia up 1-0.
Stanford then won three straight matches within a 10-minute span, with Rachel Heck topping Jenny Bae, 2-up; Brooke Seay besting Jo Hua Hung, 3-and-2; and Aline Krauther clinching the victory with a 2-up effort over LoraLie Cowart.
Almost simultaneously, Mahé was closing out a 1-up victory over Rose Zhang, the world's No. 1-ranked amateur.
Don trailed for much of the front nine before birdies at No. 7 and No. 9 brought the match back to all-square.
"I started a little down, but then I made a couple of birdies that really helped me and kept me going," Don said. "I made an eagle on 10, and that was really nice. It was fun overall to play match play again."
Don holed out from 162 yards at No. 10 to earn her first lead of the day.
"It is definitely one of the hardest holes on the course," Don said. "Once you're in the fairway, you still need to be very careful with your second shot. I had a really good number and just trusted my swing and hit it."
Englemann rallied to tie the match at No. 11, but Don then won No. 12 and No. 16 before closing out the match at No. 17.
Mahé never trailed in her back-and-forth match against Zhang, who captured the NCAA individual title on Monday and was named National Player of the Year shortly after her match on Tuesday morning.
Mahé won back-to-back holes with a birdie at No. 2 and a par at No. 3 before Zhang tied it up through No. 5. Mahé took No. 6 with a par, but Zhang captured No. 7 with a birdie. Mahé went back up No. 8 and led 1-up at the turn.
Zhang tied the match for a third time with a birdie at No. 10. Mahé regained the lead at No. 14 with a birdie only to have Zhang bring it back to all-square at No. 16. Mahé inched ahead with a birdie at No. 17 and the golfers both accepted par on No. 18 after Stanford clinched the victory.
Georgia arrived in Scottsdale ranked No. 27 in the nation and seeded 20th in the 24-team field before cruising through the first three rounds of stroke play to stand 10th on the leaderboard when the field was cut to 15 teams after 54 holes. The Bulldogs then posted the program's second-best score in NCAA Championships history on Monday to climb to eighth and advance to match play.
"I'm very proud of everyone on the team," Don said. "I feel like not many people believed that we could make it this far. A lot of people here on this team believed we could go even farther. That's why we are disappointed right now. But it's also a good learning opportunity and hopefully we'll be back next year stronger and ready when the opportunity presents itself again and we can keep going."
Reaching the quarterfinals officially earned Georgia a tie for fifth in the team standings. That's the Bulldogs' best NCAA finish since placing fourth in 2002. Overall, Georgia has now posted 21 top-10 and 28th top-20 finishes at the national championships since 1979.
"It's going to feel lot better a week from now, a year from now, when you can take a step back," Brewer said. "When you get here, you do think you're going to win the championship, but it's been a really special past 30 days. We did it last year too. We've showed up at the right time, which is what you really want. I'm proud of the group and how they rallied after our finish at SECs. Now, you feel like we have some momentum heading into the summer and we'll get ready for the fall."
The Bulldogs advanced through Regionals to the NCAA Championships for the second straight year, their first consecutive trips to the finals since a string of four consecutive from 2006-09. That looked improbable after Georgia finished 10th at the SEC Championships last month, not even qualifying for the match play bracket in Birmingham before tying for fifth in Scottsdale.
"Deep down I knew we we'd been close, and I was just waiting for us to take off and play well" Brewer said. "We did it at the right time. Everyone's season but one has to end this way, but hat's off to Stanford. There's a reason they are the No. 1 team in the country."
All six Bulldogs in Scottsdale gave Georgia vital rounds during the week.
Bae and Mahé led the way by tying for sixth individually. In the process, they became the first Georgia teammates to earn top-10 NCAA finishes since 2002. Hung contributed an even-par 72 on Monday, her team-leading 16th par-or-better loop of the season. Don led the Bulldogs in the first round and posted counting scores each day of stroke play before winning her match on Tuesday. Cowart and substitute Céleste Dao each played two stroke play rounds and delivered counting scores.
"We knew we have depth and we've shown it," Brewer said. "It's nice to have all of them play well and put critical rounds on the board for us. When you get to the national championships and finish top-5, it's a pretty darn good year."
---
T&F: UGA Opens NCAA Postseason At East Prelims
The second-ranked Georgia men and the 22nd-ranked Lady Bulldogs took a combined 22 team members to compete and have a total of 26 entries for the meet. There are 48 competitors from the East Region in every individual event and 24 in the relays.
The NCAA West Prelims will be running simultaneously in Fayetteville, Ark., with the same format. The top 12 in each event from both regions will advance to the NCAA Outdoor Championships in Eugene, Ore, on June 8-11.
Two Bulldogs ranked in the nation's top four in the multi-events earned the right to skip the Prelims by automatically qualifying for the NCAA Championships (senior Johannes Erm, junior Kyle Garland – decathlon).
Garland set the collegiate record (8,720 points) en route to a silver medal at the USATF Combined Events Championships during the first weekend of May.
Erm completed his first decathlon of the year at the Southeastern Conference Championships two weeks ago and won by more than 400 points.
When Do The Bulldogs Start Competition? Similar to the NCAA Championships, this meet is set up where one gender competes one day and then the other gender competes the next, and that pattern is followed all four days. Senior Alencar Pereira will be the first Bulldog competitor as he will be in the men's hammer field at 10 a.m. on Wednesday. Senior Sam Bowers is slated to start Georgia's competition on the track off at 6:30 p.m. in the first round of the 1500 meters that first day.
The women's first day will be on Thursday. Juniors Ana da Silva and Elsie Igberaese and sophomore Charlotte Cattermole-Williams will be in the hammer field at 10 a.m. while senior Imani Carothers and freshman Eddiyah Frye are slated to start in the 100m hurdles' opening round at 6 p.m.
Temperatures are expected to range from the mid 50s to low 80s with a threat of rain all four days. Thursday and Friday are currently the highest percentage chance for there to be thunderstorms in the area.
Live Results: For live results between Wednesday and Saturday, please click on: http://gado.gs/9dd
Live Stream: The NCAA East Prelims will be live streamed all four days.
Here is the link for the meet:
---
Jump To Comments