Jump To Top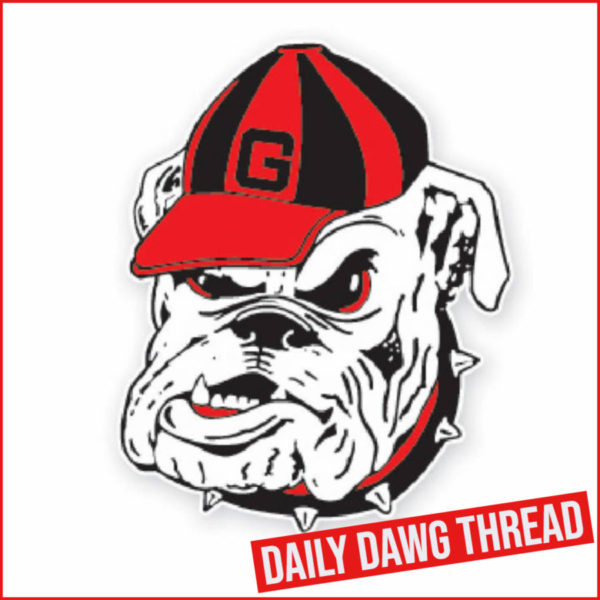 A $175.2 million athletic budget, as well as a new track and field facility, was unanimously approved by UGAAA
The budget projection for 2024 represents nearly an eight percent increase from the 2023 budget of $162.2 million. 
Among the other agenda items discussed on Friday, J. Reid Parker Director of Athletics Josh Brooks introduced preliminary plans for a new track and field facility, which received unanimous board approval. Head football coach Kirby Smart joined the board in person, and head track and field coach Caryl Smith Gilbert recorded a video message to discuss how the new facility will benefit both programs. 
"This project will continue to elevate our track and field programs to compete in SEC and NCAA championships," Smith Gilbert said in her recorded remarks. "Our own dedicated space off South Milledge will provide an area for our athletes to train all year long. It will bring young people to our campus to compete in junior events, while giving us an area to host elite SEC and NCAA competition. This will be a truly one-of-a-kind facility, and I want to thank Josh Brooks, President Jere W. Morehead and the entire athletics board for making this happen."
Design plans for the new track and field facility — which will be located on South Milledge across the street from the soccer and softball complex —  are scheduled to begin this summer. The new venue allows Georgia student-athletes to have a place to train all year while providing opportunities to host SEC and potentially NCAA national championship events. There are also plans to build a new indoor facility, which will become the only indoor track and field complex in the state of Georgia. The name of the new venue will remain Spec Towns Track. 
The current track and field space located off South Lumpkin Street will be converted to two full-length all-grass football practice fields.
"One thing I know about Coach Smart is he is highly focused on efficiencies in everything he does," Brooks said. "He wants to find efficient ways to practice, and there is a lot of truth to the issues we've had with our current practice fields. There is a lot of strain on our turf facilities staff to keep that field in great shape when half the day it is getting shade, so that has been a challenge as well. For our football program, it is better to practice on grass fields than turf, so to be able to have two side-by-side grass fields is huge. It makes for a much more efficient practice."
---
Softball: Dawgs fall to No. 3 Florida State 8-1 in game one of the 2023 NCAA Tallahassee Super Regional
Georgia enters Friday's game two 42-14. Saturday's game will begin at 8 p.m. ET on ESPN in Tallahassee.
Madison Kerpics (19-7) pitched two and a third innings in her start, allowing four runs on six hits to the Seminoles. She struck out two and walked one. Shelby Walter worked two innings out of the pen, giving up four runs on two hits. Kylie Macy had a scoreless inning and two-thirds outing, giving up one hit.
The offense scattered six hits, two coming off the bat of Sydney Kuma including a home run, Georgia's lone run. Dallis Goodnight and Lyndi Rae Davis each had a hit at the top of the Georgia order.
The 12th home run off the bat of Kuma put Georgia on the board 1-0 to lead off the top of the second inning, 1-0.
Florida State (54-9) broke through in the home half of the third with four runs. A pair of RBI doubles and a single, along with an RBI fielder's choice, pushed four runs across for the Seminoles, 4-1.
A pair of bases-loaded, two-RBI singles plated four runs for FSU in the bottom of the fifth, widening the lead to 8-1.
Video Highlights
Box Score
---
T&F: UGA finished Thursday 14-for-14 with five advancing to the NCAA Championships and nine qualifying for Saturday's quarterfinals at the NCAA East Prelims
The Bulldog track and field program finished a perfect 14-for-14 with five entries advancing to the NCAA Championships and nine qualifying for Saturday's quarterfinals to highlight day two of the NCAA East Prelims Thursday.
Fifth-year senior Titiana Marsh led the way from the qualifiers as she punched her ticket in the jumps to the ninth NCAA indoor or outdoor meet of her career. Kaila Jackson, Autumn Wilson and Brandee Presley set the tone on the track by qualifying in both the 100-meter dash and 200m.
Thursday brought another five automatic qualifiers for Georgia who punched their tickets to the NCAA Outdoor Championships.
Ana da Silva made a three-spot improvement from her 2022 Prelims finish to take 11th and punch her ticket in the hammer throw.
Da Silva returned hours later in the shot put and qualified for her second straight trip to Nationals by grabbing the 12th and final spot.
The Lady Bulldogs picked up a pair of qualifiers in the javelin, one a repeat visitor and one a first-timer. Julia Harisay had her best effort of the day on her second try, while Erin McMeniman's only fair toss of the competition gave her an 11th-place finish.
Marsh started her series with her best long jump mark and finished 10th to qualify. A fifth-year senior for the Lady Bulldogs, Marsh has now qualified for Nationals an extraordinary nine times (the 20202 outdoor season was canceled due to the COVID-19 pandemic).
On Wednesday, the Bulldogs qualified their first two competitors for the final rounds as Marc Minichello (javelin) and Alencar Pereira (hammer throw) finished in the qualifying top 12.
Similar to the NCAA Championships, this meet is set up where one gender competes one day and then the other gender competes the next, and that pattern is followed all four days. Day two featured the women and Georgia managed to get nine competitors through in five events to the women's quarterfinal round on Saturday.
Bella Witt was the 17th qualifier in the 100m hurdles with an all-conditions best of 13.15 (+4.9 meters/second). Witt will be racing in the final at 6:15 p.m. on Saturday.
Jackson, Wilson and Presley made it 3-for-3 for the Lady Bulldogs in the 100m opening round with three personal records (two of those being windy readings). The trio will race in the 100m quarterfinal at 6:35 p.m. on day four.
Yet another freshman, Aaliyah Butler, made certain there was no question of her qualification in the 400m first round, winning the opening heat in 52.49 and finishing sixth overall. Her quarters will be at 6:50 p.m. on Saturday.
Dominique Mustin followed up her personal record at SECs with a quarterfinal qualifier in the 400m hurdles at the Prelims. She will race at 7:25 p.m. on Saturday.
The trio from the 100m returned in the 200m and all made it into the top 24 to advance, including Jackson who had the seventh-fastest time of the day (22.68). Their quarterfinal will be at 7:30 p.m. on day four.
Wednesday's competition belonged to the men and the Bulldogs put seven competitors through in five events to the men's quarterfinal round on Friday: Keshaun Black (100m), Elija Godwin, Christopher Morales Williams (400m), Will Sumner, Clay Pender (800m), Caleb Cavanaugh (400m hurdles), Matthew Boling (200m).
There are 48 competitors from the East Region in every individual event and 24 in the relays. The NCAA West Prelims is running simultaneously in Sacramento with the same format. The top 12 in each event from both regions will advance to the NCAA Outdoor Championships in Austin, Texas, on June 7-10.
One of the Bulldogs traveling as a relay alternate is the national leader in the decathlon and has earned the right to skip the Prelims by automatically qualifying for the NCAA Championships. College record holder Kyle Garland most recently won the Southeastern Conference title with a meet record score of 8,589, which ranks second on the all-time collegiate list.
When Do The Bulldogs Start On Friday? The men's 4x100m relay team will take the track at 5 p.m. on day three to start the action. Between the aforementioned relay and the 4x400m relay at 8:45 p.m., eight Bulldogs will be competing in six events.
Live Results: For results between Wednesday and Saturday, please click on: http://gado.gs/aly
Live Stream: The NCAA East Prelims will be live-streamed by ESPN all four days.
Here are the links for each day:
Day 3 (Friday) – http://gado.gs/am1
Day 4 (Saturday) – http://gado.gs/am2
The Lowdown: Da Silva, a native of Ribeirao das Neves, Brazil, made a nine-inch improvement to her opening toss in the hammer to reach 62.27 meters/204 feet, 3 inches and hold on for 11th place. Her third-best performance of the year helped bump her from 14th in 2022 to the Nationals field in 2023.
Later in the afternoon, the 2022 SEC outdoor shot put champion came through on her last attempt in the shot to squeeze into the field in Austin. Her mark of 16.60m/54-5.50 was a quarter inch ahead of the 13th-place finisher to secure da Silva's spot.
The Lady Bulldog duo who are both Ivy League graduate transfers lengthened their seasons by finish in the top 12 of the javelin. Harisay, whose stepfather is Georgia throws coach Don Babbitt, went 48.38m/158-9 out of the second group to take ninth and qualify for her first Nationals after graduating from Princeton.
McMeniman, a Brown University graduate, managed only a single fair throw on her first attempt (48.15m/157-11) for 11th. This will mark her second trip to the NCAA Championships after finishing 24th last year for the Bear.
Marsh did what she has done every single indoor or outdoor season since she arrived in Athens during the fall of 2018: qualified for the NCAA Championships. This time, Marsh opened with a mark of 6.24m/20-5.75 for 10th, sliding in the top 12 by two inches.
There were also six Georgia women who qualified for the quarterfinals on Thursday. Witt, who is from Calabasas, Calif., was fourth in the sixth heat and 17th overall in the 100m hurdles. Her time would have been seventh in the Lady Bulldog record books had the race not have registered windy.
Three started the 100m first round and three secured a spot in the event's quarterfinals. Jackson came out of the fifth heat and topped all of the 47 other competitors with a blazing 10.95 thanks to a +2.6 wind working behind her. Had her time been legal, it would have unseated Debbie Ferugson's 26-year-old school record of 10.97.
Jackson's freshman teammate Autumn Wilson was the next Georgia runner to punch her ticket to the quarters in the 100m. Her legal wind finish of 11.17 ranked ninth in the opening round and put her one spot behind Jackson in the school record books and one spot ahead of the legendary Gwen Torrence (11.20) in third. The Lady Bulldogs completed the 3-for-3 sweep with recent graduate Brandee Presley going 11.21 for 11th in the same windy heat that Jackson ran.
Not long after the 100m, the three Lady Bulldog training partners returned to the track and all ran times fast enough to earn another 200m race on Saturday. As she was in the 100m, Jackson led the way with a windy (+3.7) 22.68 while Presley ran a windy (+2.4) personal record of 23.14 to take 20th. Wilson was the final qualifier of the night with a 23.17 to take 23rd.
Butler posted back-to-back career bests at the SEC meet to shoot to No. 3 in the school record books and followed that up with her first 400m quarterfinals qualification. She is also slated to run in the relays on Saturday.
Mustin bolted out of the blocks in the sixth heat and ran a 57.35 to finish sixth overall. The Texas A&M transfer is expected to line up in the 4x400m relay as well on the meet's final day.
Results and recaps from the NCAA East Prelims will be found at georgiadogs.com. News and updates from Georgia's track and field and cross country teams are always located on Twitter/Instagram at @UGATrack.
Day 1 NCAA Championships Final Qualifiers
Name Event Place / Mark
Marc Minichello Javelin 3rd / 74.74m/245-2
Alencar Pereira Hammer Throw 3rd / 70.98m/232-10
Day 2 (WOMEN)
Julia Harisay Javelin 9th / 48.38m/158-9
Titiana Marsh Long Jump 10th / 6.24m/20-5.75
Ana da Silva Hammer Throw 11th / 62.27m/204-3
Erin McMeniman Javelin 11th / 48.15m/157-11
Ana da Silva Shot Put 12th / 16.60m/54-5.50
Day 1 NCAA East Prelims Quarterfinal Qualifiers
Name Event Place / Mark
Matthew Boling 200m 4th / 20.17
Elija Godwin 400m 4th / 45.90
Caleb Cavanaugh 400mH 4th / 49.86
Christopher M. Williams 400m 13th / 46.31
Will Sumner 800m 16th / 1:49.35
Keshaun Black 100m 17th / *10.17
Clay Pender 800m 22nd / 1:49.82
Day 2 (WOMEN)
Kaila Jackson 100m 1st / *10.95
Aaliyah Butler 400m 6th / 52.49
Dominique Mustin 400mH 6th / 57.35
Kaila Jackson 200m 7th / 22.68
Autumn Wilson 100m 9th / *11.17
Brandee Presley 100m 11th / *11.21
Bella Witt 100mH 17th / *13.15
Brandee Presley 200m 20th / *23.14
Autumn Wilson 200m 23rd / 23.17
*personal record
---
WGolf: Former Georgia golfer Bailey Tardy in the field for the U.S. Women's Open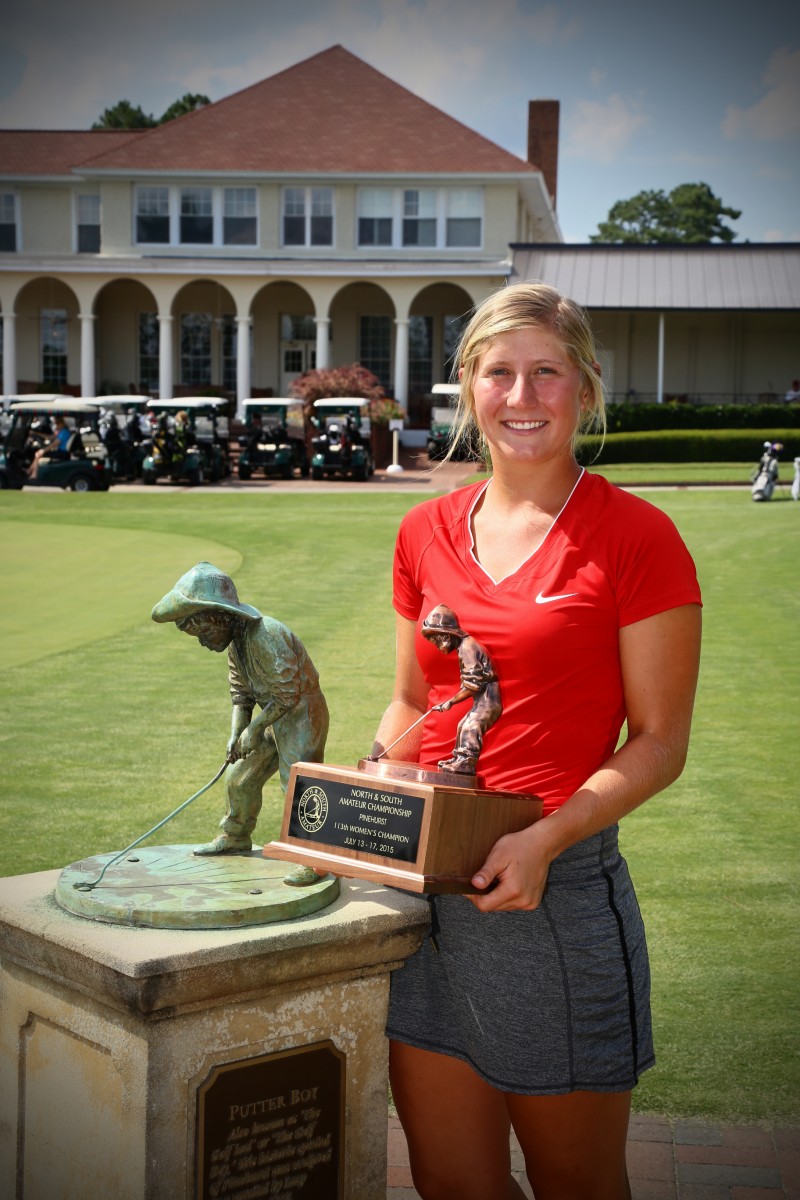 Former Georgia golfer Bailey Tardy earned a spot in the field for the U.S. Women's Open earlier this week in dramatic fashion at Somerset Country Club in Mendota Heights, Minn.
Tardy birdied the fourth hole of a playoff with Jennifer Chang for the site's second qualifying spot for the Open. Tardy and Chang both shot 4-under 140 over 36 holes, two strokes off the pace of Amy Olson.
Tardy will be competing in her fourth U.S. Open, following appearances in 2014 in Pinehurst, N.C.; 2016 in San Martin, Calif.; and 2017 in Bedminster, N.J.
The 2023 U.S. Women's Open will be held at historic Pebble Beach Golf Links for the first time ever on July 5-9.
Tardy graduated from Georgia in 2019 after turning professional earlier that year. She was a two-time All-American for the Bulldogs and was named 2016 SEC Freshman of the Year. Tardy posted 12 top-10 and 19 top-20 finishes in 26 career tournaments, including victories at the 2015 Windy City Collegiate and the 2016 NCAA Bryan Regional. She compiled a 72.98 stroke average over 70 rounds, with 36 par-or-better scores.
Tardy is in her rookie season on the LPGA Tour. She secured her card by finishing second in the LPGA Q-Series qualifying school last fall. Tardy spent four years on the Symetra and Epson Tour, posting 14 top-10 efforts and winning the 2021 Copper Rock Championship.
---
MTennis: Ethan Quinn wins quarterfinal match, semifinal next
For the 14th time in program history, a Georgia men's tennis player has reached the NCAA Singles Championships semifinal, as No. 2 Ethan Quinn won his quarterfinal match against Michigan's Andrew Fenty, 6-2, 6-4, on Thursday morning at the United States Tennis Association National Complex.
Quinn is now the 11th Bulldog to reach the semifinal and only the second Georgia freshman to do so, joining Al Parker, who fell in the Final Four during his first season collegiate season in 1988. The Fresno, Calif. native has now won 15 consecutive singles matches and is 20-1 dating back to Feb. 19. His straight-set win against Fenty, who is ranked No. 20 in the Intercollegiate Tennis Association singles poll, moves Quinn to 32-10 on the year and 24-7 against ranked opponents.
The redshirt freshman will compete for a spot in the national championship on Friday, May 26 against No. 9-16 Chris Rodesch, who played on court one for the team champion Virginia Cavaliers. A junior, Rodesch is ranked No. 9 in singles with a 29-6 record, including 18-1 on the top court.
Quinn will look to become the first Georgia player to advance to the finals of the NCAA Singles Championship since John Isner did so in 2007 and win the fifth singles national championship in program history.
"Chris has had plenty of experience playing at the number one position and he's playing very well right now," said Coach Diaz. "It's going to be a big challenge. He not only has a great serve but has a very complete game in all aspects. He will be looking to come forward at the right time. We will need to return well, we need to take care of our serves and impose our game."
The first three games of the quarterfinal match were all won by the returning side. With Quinn serving up 2-1, he would hold twice and break Fenty to take a 4-2 lead and go on to win the opening set by a 6-2 score. The Bulldog took 13 of 22 total return points in the set, which lasted just under 40 minutes, good for a 59 percent clip.
Quinn quickly broke Fenty in the second set to take a 2-0 lead, but the Michigan Wolverine bounced back, picking up a break to get the set back on serve at 3-3. In the following game, Fenty quickly went up 30-love. Following a double fault, Quinn got a break by forcing long three shots from his opponent, going up 4-3. The remainder of the set held serve, giving the match to Quinn, 6-2, 6-4.
The 2023 SEC Freshman of the Year, Quinn is now part of a prestigious list of Bulldogs to make the semifinal, which includes Patricio Arnold, George Bezecny, Matias Boeker, Stephen Enochs, John Isner, Wade McGuire, Francisco Montana, Parker, Mikael Pernfors and John Roddick.
Coach Diaz' Remarks
"Ethan is very competitive and has worked very hard for this moment," said head coach Manuel Diaz. "All along, this has been one of his goals as a freshman, to win this tournament. He's taking it one step at a time. He's improved so much. He had a great fall and while he had a rough start to the spring, he did a tremendous job of staying the course and continuing to work hard. He believed and is now playing with great confidence. He's just taking it one step at a time, one match at a time, which is what we want from him. He's going to be ready to play his best tomorrow."
"A fantastic match by Ethan," said Coach Diaz. "I thought he played exceptionally well and was very solid in all aspects. Even when challenged in the second set, he did a great job of battling through the difficult moments and showing tremendous composure. To me, he did everything very well. He served well, he hit his forehand with authority, his backhand was super solid and he's making a ton of returns. It was a very complete match."
Results
Singles Results
Round of 64 – 05/22/23
No. 2 Ethan Quinn (UGA) def. Luc Fomba (TCU) 6-7(7), 6-2, 7-5
Dan Martin (MIA) def. Philip Henning (UGA) 7-6(4), 6-4
Round of 32 – 05/23/23
No. 2 Ethan Quinn (UGA) def. Ryan Seggerman (UNC) 6-4, 6-4
Round of 16 – 05/24/23
No. 2 Ethan Quinn (UGA) def. No. 9-16 Nishesh Basavareddy (STAN) 6-3, 4-6, 7-5
Quarterfinals – 05/25/23
No. 2 Ethan Quinn (UGA) def. Andrew Fenty (MICH) 6-2, 6-4
Doubles Results
Round of 32 – 05/24/23
Garrett Johns/Pedro Rodenas (DUKE) def. No. 4 Trent Bryde/Ethan Quinn (UGA) 6-4, 7-6(5)
---
UGA Athletic Association Board of Directors annual spring meeting report
A contract extension for J. Reid Parker Director of Athletics Josh Brooks, a glowing academic report and presentations from Brooks and University of Georgia president Jere W. Morehead highlighted the first day of the UGA Athletic Association Board of Directors annual spring meeting on Thursday.
President Morehead announced that Brooks' contract will be extended six years, to June, 2029, with an increased compensation package of $1.025 million that will escalate $100,000 per year.
"I am extremely grateful," Brooks said. "I got into this business 20-plus years ago as a student equipment manager. My first job at Louisiana Monroe was making $20,000 a year in football operations. I never got into this business to make money. I got into this because I love to serve student-athletes and work in college athletics.
"Working in Athens and at the University of Georgia is a dream for me. I want to spend the rest of my career here. I want to retire here. It's a blessing and it is extremely gratifying to see your hard work be recognized. Again, it is not about the money for me. It is more about the years because I want to be here for a very long time."
In his report, Brooks touched on a wide range of topics, including:
Academic Achievements of UGA Student-Athletes
– Bulldog student-athletes boasted a record-setting 3.22 fall GPA and the second-highest spring GPA in Georgia history with a 3.18. Brooks also noted the 3.19 cumulative GPA for this academic year is the highest on record for Georgia student-athletes.
– Callie Dickinson — a member of the Georgia women's swimming and diving program — along with football student-athlete Jack Podlesny earned SEC postgraduate scholarships.
– Dickinson also garnered the H. Boyd McWhorter SEC Scholar Athlete of the Year Award, the highest honor a SEC student-athlete can receive. Brooks stated the Georgia men's and women's swimming and diving programs have earned this award nine times — more than any other program in the SEC. Georgia also ties for the conference lead with 11 overall winners.
– Volleyball's Sage Powell and track and field's Matthew Boling were named SEC Brad Davis Award Winners. Boling also earned SEC Scholar Athlete of the Year for a record-breaking fourth time in his career.
– Brooks highlighted the more than 50 student-athletes who have summer internships and five who will participate in study abroad programs.
Winter and Spring Athletic Achievements
– Brooks noted the success of basketball coaches Mike White and Katie Abrahamson-Henderson in their first seasons leading Georgia basketball.
– White's team boasted the second-best win improvement in the nation last year and signed the No. 13-ranked recruiting class in the country for the upcoming season. Coach ABE — the Atlanta Tip-Off Club Coach of the Year — led the Lady Bulldogs to the program's most wins in five years with 22 victories and a NCAA tournament berth.
– Brooks also praised the success of Georgia's men's and women's tennis teams that each won SEC titles and made deep runs in the NCAA tournament. Brooks noted that the men's and women's golf teams swept individual and team titles at NCAA regionals on their way to nationals.
– Softball advanced to a Super Regional after a second-place finish in the SEC standings under the leadership of head coach Tony Baldwin.
– Both track and field programs will compete in the NCAA outdoor championships after top-5 finishes in the indoor championships. Head Coach Caryl Smith Gilbert was named the USTFCCCA South Region Men's and Women's Coach of the Year.
– Brooks praised Keidane McAlpine for his leadership of the women's soccer program, which signed the No. 1 returning player in women's college soccer in Croix Bethune and Georgia native Hannah White.
– Brooks also paid tribute to legendary women's tennis head coach Jeff Wallace, who is retiring after leading Georgia to 819 wins, 20 SEC titles and six national championships in 38 seasons. He also welcomed new women's tennis head coach Drake Bernstein.
– He highlighted women's golfer Jenny Bae, who finished runner-up at the Augusta National Women's Amateur and won the NCAA Athens Regional and also track and field's Kyle Garland, who continues to excel in the decathlon.
– Brooks recognized six teams currently ranked in the top-10 nationally, including women's tennis (second), men's tennis (seventh), softball (seventh), men's track (third), women's track (eighth) and equestrian (sixth).
Learfield Directors' Cup
– Brooks noted Georgia's success in the Learfield Directors' Cup. Although final rankings do not come out until June, Georgia is on pace to finish in the top-10 following a No. 27-ranking at the conclusion of the fall and a No. 13 mark in the winter.
SEC Coaches of the Year
– Brooks recognized football's Kirby Smart, men's tennis' Manny Diaz and volleyball's Tom Black for earning SEC Coach of the Year honors.
Facility Upgrades
– Brooks gave an update on several facility projects, including the Bauerle Pool at the Ramsey Center, which will be named in honor of legendary Georgia swimming and diving coach Jack Bauerle.
– Construction is on schedule at the six-court Lindsey Hopkins Indoor Tennis Facility,
– Sanford Stadium South Side improvements are still on schedule. Phase 1 is set to finish in August of 2023, with Phase 2 to follow.
– Construction on Foley Field and the Jack Turner Softball Stadium will begin this summer. The $45 million Foley Field project and $38.5 million Jack Turner Stadium improvements were approved earlier this spring.
– The Foley Field project includes additional seating, new locker room, coaches offices, hitting labs, pitching labs and expanding the canopy on existing seats.
– The Jack Turner Stadium addition will include pitching and hitting labs, locker room and a new weight room for several sports.
– Updates to the Butts-Mehre Heritage Hall museum are slated to begin this summer. The emphasis on that project will focus on honoring Coach Vince Dooley as well as Georgia's national championships.
– Brooks also announced a new basketball weight room in Stegeman Coliseum for both men's and women's basketball. The project budget is $1.8 million, with renovations set to take place between May-August, 2023.
Fundraising Updates
– The Georgia Bulldog Club raised a record total of $86.4 million in 2022, and has already topped that mark with a new school record of $97.7 million raised so far in 2023.
Highlights of President Jere W. Morehead's remarks included:
– President Morehead celebrated the conclusion of an historic year at the University of Georgia and congratulated the more than 7,600 students who graduated during ceremonies this spring
– He praised the UGA Alumni Association, which now totals more than 350,000 members.
– President Morehead thanked everyone in the athletic department who made sure commencement could be held at Sanford Stadium, with a special thanks to Brooks for helping free up additional seats at the stadium for graduation.
– He also extended a congratulations to Brooks for being named one of six finalists for the Sports Business Journal Athletic Director of the Year award. He stated this was a terrific recognition, especially after only two years as Georgia's athletic director.
– President Morehead concluded his remarks by thanking members of the Athletic Board for their tremendous work this year.
Professor David Shipley, Faculty Athletics Representative, gave his academic report, which included the following highlights:
– In addition to a record-setting 3.19 GPA this year for Georgia student-athletes, Shipley pointed out that men's tennis led all men's teams with a 3.71 team GPA, while women's cross country led all women's sports with a 3.75 GPA.
– Shipley emphasized that 341 Georgia student-athletes — 65.9 percent — finished at or above a 3.0 GPA this spring.
– Callie Dickinson became the fourth Georgia student-athlete during Shipley's tenure to earn the prestigious H. Boyd McWhorter SEC Scholar Athlete of the Year honor. Dickinson is completing her master's degree in comparative biomedical sciences and plans to attend medical school to become an orthopedic surgeon.
– He also noted that both men's and women's swimming and diving teams were selected as Scholar All-America Teams by the College Swimming and Diving Coaches Association of America.
– A total of 99 Georgia student-athletes received their degrees on May 11 and 12.
– 78 Georgia student-athletes were named to the SEC Fall Academic Honor Roll, while 75 were named to the SEC Winter Academic Honor Roll for having a GPA of 3.0 or higher and a minimum of 24 hours.
– Shipley ended his remarks by praising former Bulldog football star and current Philadelphia Eagles linebacker Nakobe Dean, who is back on campus taking classes to finish his in mechanical degree. Former Georgia wide receiver Malcolm Mitchell was the keynote speaker for the Phi Kappa Phi Honors society.
Georgia head coaches McAlpine, Black and Stefanie Williams Moreno participated in a panel discussion facilitated by Senior Deputy AD Darrice Griffin. Highlights of that conversation included:
– Each coach gave reports on their respective programs.
– Volleyball had its first All-American in 20 years with Kacie Evans, who returns this season, while soccer made the NCAA tournament for the first time since 2014. It was the soccer program's first time to host a NCAA tournament match since 2007.
– One of the topics discussed was the biggest challenge facing coaches today. Coach McAlpine mentioned keeping culture where it needs to be as well as providing opportunities for student-athletes and ensuring student-athlete health and well-being.
– Coach Moreno emphasized the three things they look for in student-athletes — person, student-athlete, athlete. She noted that Georgia has done a fantastic job with taking care of student-athletes and preparing them for life.
– Coach Black mentioned his goals of having a nationally prominent program, preparing student-athletes for life and then enjoying what the program does each day.
President Jere W. Morehead comments
On the decision to extend Brooks' contract …
"He is down to two years remaining on his current contract, and all of his peers in the SEC have longer pending contracts, so I thought it was important to show Josh our collective confidence in his performance and our desire that he remain the athletic director at the University of Georgia for an extended period of time."
J. Reid Parker Director of Athletics Josh Brooks comments
On the Learfield Directors' Cup standings …
"You do not end up near the top of the Learfield Cup one day without making that a goal and a priority. I think we have to say it and we have to believe in it. Obviously, it is a challenge. We know there are other universities that have many more sports programs — you can only count 19, but they get to drop lower scores. It is a comprehensive look at all your teams. You look at your teams that aren't scoring and how do we get them scoring? How do we get the ones that are scoring to go higher? There are still so many things to happen, but I am projecting us to have a very good finish. It is going to be a tough race for the top spot in the SEC — a razor-thin margin between a handful of schools — so it will be fun to watch this play out."
On improvements to Foley Field…
"The focus is on student-athlete amenities first and foremost. We are talking about the locker room, the lounge, the hitting facility, the pitching lab — the areas that they spend 365 days in. We know when this project is done it still won't be as big as some other schools that have larger capacities, and we may grow one day to larger points, but our first focus has to be on student-athlete amenities, so when they are recruiting they get to see where they will spend their time. When this project is complete, it will be in line with all of our peers in terms of student-athlete spaces."
---
Jump To Comments